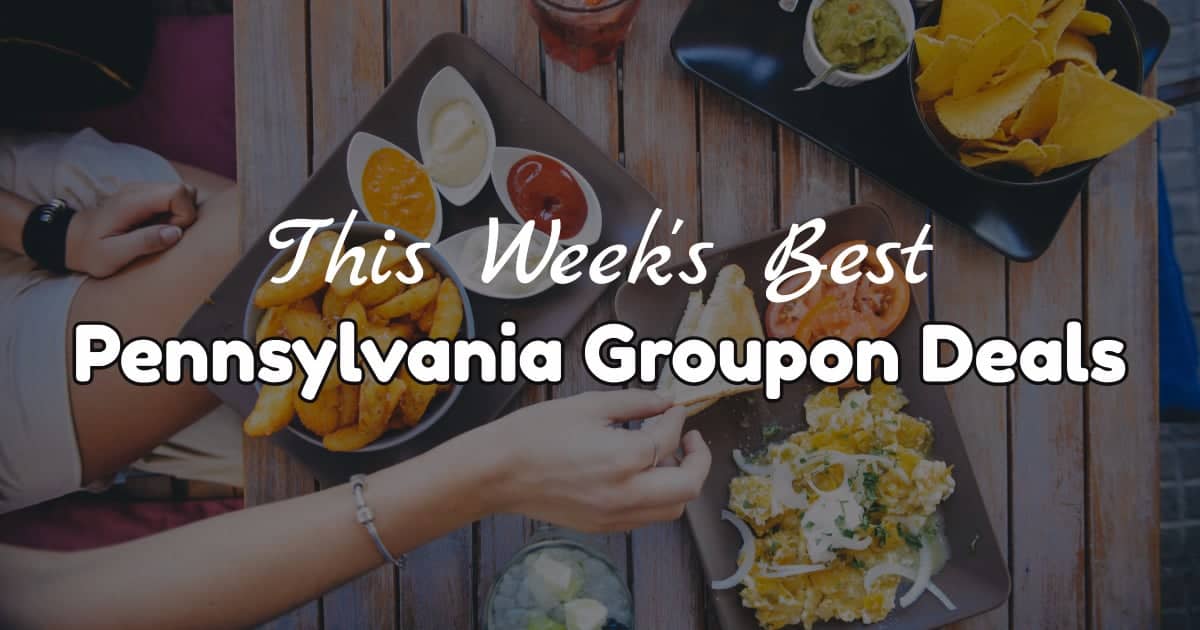 Looking for a great deal while traveling in Pennsylvania? Then you've come to the right place. There are thousands of Pennsylvania Groupon deals out there, and I've waded through them to bring you some of the best.
Whether you are looking for the best Groupon deals in Philadelphia, Pittsburgh, or any of the other large and small communities around the state, I've got you covered. This guide will be updated every two weeks with the latest Groupon deals in Pennsylvania.
In the meantime, keep in mind that some Groupon deals have a limited quantity or can expire. Make sure you act fast and purchase them if they are still available or you might miss out.

Disclaimer: I am a Groupon affiliate. If you make a purchase through one of the links on this page, I will make a small commission at no additional cost to you. This money will go towards the upkeep and maintenance of this site.
Last updated: December 21, 2016
Here are this week's best Pennsylvania Groupon deals!
Pittsburgh Helicopter Tour from Stellar Copters – Up to 51% off
Want to see Pittsburgh from a new angle? Buy this Groupon from Stellar Copters and take a helicopter tour of the skyline of downtown Pittsburgh from above. There are options for a seven-mile tour or a twelve-mile tour, both at great prices.
This is a great tour for anyone who wants to see Pittsburgh from above or check a helicopter ride off of their bucket list without breaking the bank.
Ghost Tours from Gettysburg Ghost Tours in Gettysburg – 44% off
There is no better place in Pennsylvania to do a ghost tour than in Gettysburg, and Gettysburg Ghost Tours is one of the most popular providers. This deal is for two or four people and includes their one-hour Black Cat tour through the streets of downtown Gettysburg.
If you've always wanted to take a ghost tour in this historic place, don't miss this deal.
Snow Tubing at Blue Mountain Resort in the Poconos – Up to 50% off
Snow tubing is one of the best ways to enjoy Pennsylvania's ski resorts, and you can get up to 50% off of snow tubing passes at Blue Mountain Resort with this deal. Passes are good for 2-10 people to go tubing for four hours. One option even includes dining credit.
Wine Tastings at Naylor Wine Cellars near York – Up to 43% off
Sample some of the delicious wines of York County's Naylor Wine Cellars with this great Groupon Deal. Wine Tastings include five samples and a keepsake glass for either four or six people. Founded in 1978, Naylor Wine Cellars is one of the oldest wineries in Pennsylvania, and their vineyard supplies grapes for both their own winery, as well as others in the area.
The Warehouse Hotel at The Nook in Lancaster County – From $62 a night
If you love staying active, The Warehouse Hotel is for you. Attached to Spooky Nook Sports Complex, the largest facility of its kind in the United States, you won't be at a loss for things to do here. Of course, you are also located in Lancaster County, a popular travel destination. This is a great deal for anyone planning to visit this area in the coming months.
Steel City Yellow Jackets ABA Basketball Tickets – Up to 40% off
Did you know that Pittsburgh is home to a semi-professional basketball team? That's right, the Steel City Yellow Jackets of the ABA play their home games at the GreenTree Sportsplex, and their tickets can be had for as little as $3 with this great Groupon Deal.
Click here to buy tickets to support the team.
Chocolate Tasting and Museum Visit in Hershey – Up to 46% off
The Hershey Story Museum tells the story of Milton Hershey and the chocolate company that he built in Hershey, Pennsylvania. I featured this museum in the past and really enjoyed my visit. When I visited, I was able to do a chocolate tasting, which is included in this deal. Try six liquid chocolates from around the world and see how they vary by region.
This deal is good for either two or four people.
Briar Rose Bed and Breakfast near Lewistown – $99/night
Looking to get away for a night? Don't miss this Groupon deal to stay at the Briar Rose Bed and Breakfast near Lewistown, Pennsylvania. Right now, a one-night stay for two is being offered at a 53% discount.
In addition to the room, the deal includes breakfast, wine glasses from Seven Mountain Wine Cellars, and much more.
Chew Philly Food Tour in Philadelphia – 42% off
Take a food tour through the Chestnut Hill or Manayunk areas of Philadelphia with Chew Philly. These food tours are a great way to learn the history of the area and enjoy some of the best foods to be found there.
These 2.5 hour tours include stops at six different restaurants to sample their best dishes. Most people consider these tours to replace a meal, so you know you'll be getting a nice amount of food.
Segway City Tour with Wheel Fun Tours in Philadelphia – 50% off
Riding a Segway is a great way to tour a city, and this Pennsylvania Groupon deal gives you 50% off of a tour of downtown Philadelphia with Wheel Fun Tours. This guided tour takes visitors through Philly's Old City and offers great insight into the history and culture of the area. You can even bump up your tour to the three-hour tour which takes in 30 different destinations in the city.
Do you know of a great Groupon deal in Pennsylvania? Email [email protected] and let me know!