Disclosure: This article may contain affiliate links. We will make a small commission from these links if you order something at no additional cost to you.
In the year 1794, the newly formed United States of America faced one of its first major crises. A group of farmers along the frontiers of Pennsylvania were upset because of what they saw as an unfair tax on whiskey. What started as a ragtag group of men a few years prior, started to form into more of a cohesive unit led, in part, by David Bradford.
Bradford, a wealthy merchant from Baltimore, moved to Washington, Pennsylvania in 1781 and built the finest home on the western frontier. Unlike many in his day, Bradford made a point of becoming friendly with the local farmers, which is how he got involved in what became known as the Whiskey Rebellion.
Ultimately, the Whiskey Rebellion amounted nothing, as the sheer size of the American army commanded by President George Washington defused the situation before much blood could be shed.
Because of his part in the rebellion, David Bradford fled to New Orleans, eventually building Myrtles Plantation, which some now call "the most haunted house in America."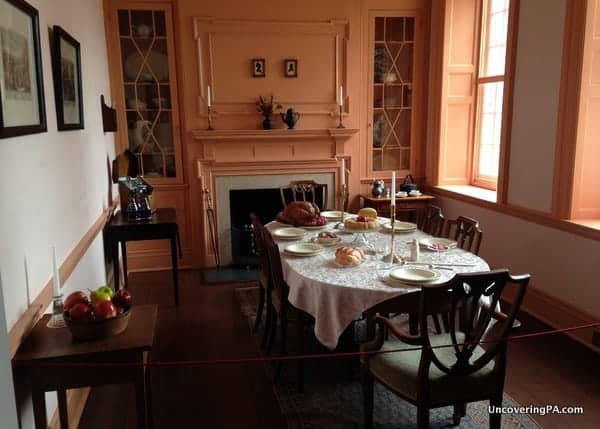 Today, the Bradford House sits along two busy streets in downtown Washington, Pennsylvania. The town that was built around his stately manner came to be named after the man who led troops against Bradford's band of rebels.
Walking through the front door of the house, you can instantly tell that Bradford was a wealthy man. While none of the furniture in the home was owned by Bradford himself, the period pieces give you a great look at a home that would have been quite palatial by frontier standards.
Truthfully, the home itself is not the star attraction of a visit to the Bradford House. Instead, much like the nearby LeMoyne House, it's the stories of the building that make this a fascinating place to visit. After all, the Whiskey Rebellion is a little known aspect of American history that is a great example of some of the growing pains that the new nation had.
Wondering the corridors and rooms that once held meetings by would-be revolutionaries, you can get a real sense of what life was like during this intriguing period in American history.
If you enjoy learning about unknown, but significant, events in history, I highly recommend a visit to the Bradford House in Washington County, Pennsylvania.
Note: My visit to the Bradford House was hosted by the Washington County Historical Society. However, the opinions expressed in the article are my own and were not subject to review.
---
The Bradford House
Hours: Wednesday-Saturday: 10am-4pm
April-November
Other times by appointment

Cost: Guided Tours: $5 per person

Website: BradfordHouse.org

Address: 175 South Main Street
Washington PA 15301
See map below for other area attractions.
---