Taking the train across Pennsylvania is one of my favorite ways to travel across the state. Unfortunately, though, outside of the Harrisburg to Philadelphia corridor, travel travel is often limited to only a single train in each direction per day. However, for those who have the flexibility to take the train, it provides a clean and easy way to get to your destination.
Keystone Train (Philadelphia – Harrisburg)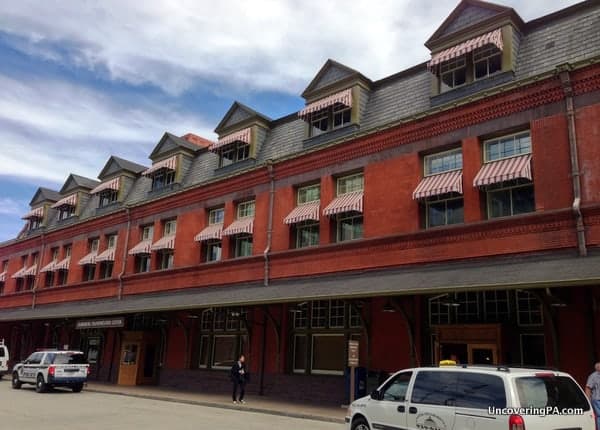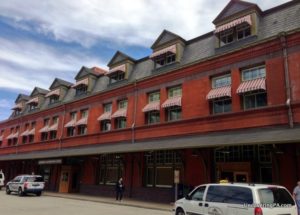 Technically, this train travels from New York City to Harrisburg, but for our purposes, we'll just discuss the Philadelphia to Harrisburg route. The Keystone train runs 14 times a day westbound and 13 times a day eastbound Monday to Friday, but only 9 times a day on Saturdays and/or Sundays. Check the Amtrak site for their holiday schedule as some trains do not run on national holidays.
The trains that run along the Keystone line are some of the oldest still in service by Amtrak and are not as nice as many of their long-distance trains. That being said, the trains are clean and continue to operate well. It's worth noting, however, that there is no dining car on the Keystone Train, so bring any food and drinks you want on board with you.
There are ten stops between Philadelphia and Harrisburg, but not every train stops at them all. Major stops include Elizabethtown, Lancaster, and Paoli, where all trains will stop. Stops that are serviced by some trains include Middletown, Mount Joy, Parkesburg, Coatesville, Downingtown, Exton, and Ardmore.
For more information about taking the Keystone Train, check out Amtrak's website.
The Pennsylvanian (Pittsburgh to Philadelphia)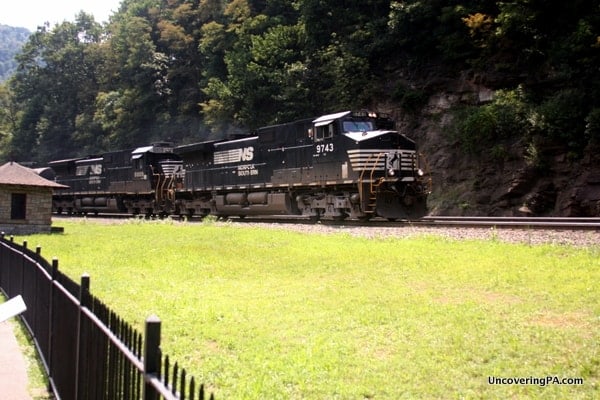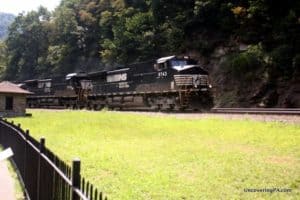 The Pennsylvanian train runs once a day in each direction from Pittsburgh to Philadelphia, with continuing service to New York City. The train is quite slow, but does provide a great way to see the countryside of Pennsylvania.
One highlight of this train is the trip through the Horseshoe Curve near Altoona, one of the greatest engineering feats of its day. When I completed the trip, the conductor mentioned our trip through the curve, but that may not happen on every journey.
Major stops along the Pennsylvanian line include Johnstown, Altoona, Harrisburg, and Lancaster. The train also stops in Greensburg, Latrobe, Tyrone, Huntingdon, Lewistown, Elizabethtown, Exton, and Paoli.
The train leaves Pittsburgh at 7:30am and leaves Philadelphia at 12:12pm. While the train is the same older style train that is used on the Keystone line, the Pennsylvanian does include a dining car.
For more information about taking the Pennsylvanian Train, check out Amtrak's website.
Getting to Pennsylvania by Train
For those looking to visit Pennsylvania by train, there are many direct trains that offer service to three major cities.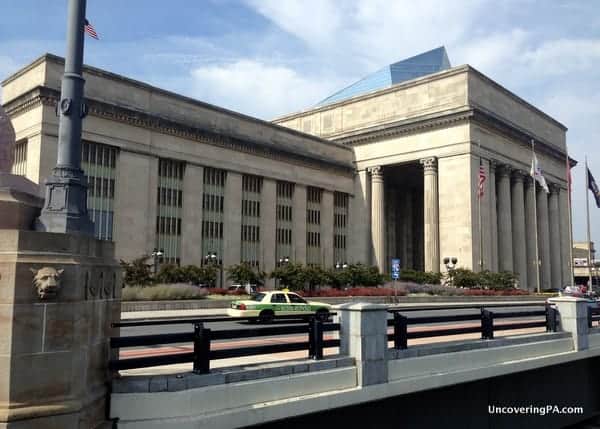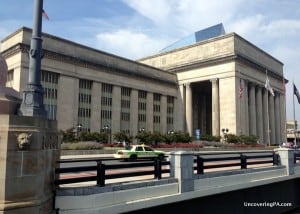 If you are coming from New York, there are more than a dozen trains that travel to Philadelphia each day. Of those, a minimum of eight continue on the Harrisburg, and one per day travels to Pittsburgh. Visitors from New York can also catch daily service to Erie, Pennsylvania.
Trains from Chicago offer service to Philadelphia, Pittsburgh, and Erie on a daily basis. If you are coming from Washington DC, you can catch a train to either side of the state, with frequent service to Philadelphia and daily service to Pittsburgh.
Other major US cities with direct service to Philadelphia include Atlanta, Baltimore, Boston, Cincinnati, Indianapolis, Miami, New Orleans, Orlando, Richmond, and Savannah. If you are coming from the west coast, it is possible to connect in Chicago for service to Pennsylvania.
Other than the two mentioned above, trains that service at least one station in Pennsylvania include:
If you like trains, a few great places to visit include Steamtown National Historic Site, the Horseshoe Curve in Altoona, the Railroad Museum of Pennsylvania, and the old East Broad Top Railroad.