Disclosure: This article may contain affiliate links. We will make a small commission from these links if you order something at no additional cost to you.
In the Lawrenceville neighborhood of downtown Pittsburgh, you'll find a curious sight. Along busy Liberty Avenue is a church that draws hundreds of visitors every day. Wearing mostly casual clothes, they stream in and out of the church at all hours of the day and night. However, this church really isn't a church, at least not anymore.
Built in 1902 as St. John the Baptist Roman Catholic Church, the building was used as a place of worship for 91 years. After lying dormant for three years, it was given new life in one of the most unusual ways possible: as a brewery. The aptly named Church Brew Works has been open ever since.
When you first walk up to Church Brew Works, you might be surprised how much it still looks like a church. In fact, if you were to remove the brewery signs from the front of the church and change the marquis to a more Biblical message, you likely wouldn't even know that it was no longer a church.
Passing through the doors and foyer, you enter the former sanctuary of the church. Now home to the brewery's restaurant and bar, it's certainly an awe-inspiring sight.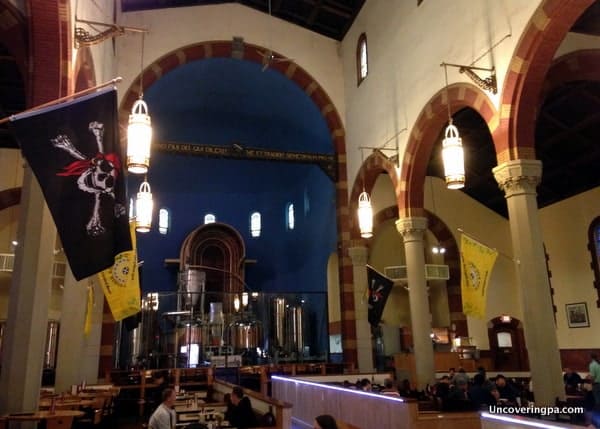 Above the altar, where a preacher once likely spoke about the sins of alcohol, sits several large brewing kettles, each large enough to ensure a party of Biblical proportions. Had many of the teetotalling parishioners 100 years ago known what would become of their church, it's likely that many unholy words would have passed through their lips.
Gazing around the building, the brewery is an odd mix of liturgical remnants and modern brewing equipment. High above the heads of diners, the stained glass windows of the church remain in place casting a subtle hue below. The church's pews have been repurposed as seating at the many tables and, interestingly enough, as the top of the brewery's bar.
However, the appeal of Church Brew Works isn't just from its building. In fact, the beer and the food is some of the best I've had in Pennsylvania. Not that I should have been surprised, as Church Brew Works won the 2012 Brew Pub of the Year Award at he Great American Beer Festival, one of the highest awards a small brewery can receive.
Anxious to try their brews, I ordered a sampler of eight of their top brews. Utilizing religious sounding names like Celestial Gold, Pious Pale Ale, and Pious Monk Dunkel, the brewery brings their religious heritage into the beer. When the sampler came out, I was quite surprised at its size. It definitely was big enough to split with another person. However, the quality of the beer made me quite happy that I was dining alone.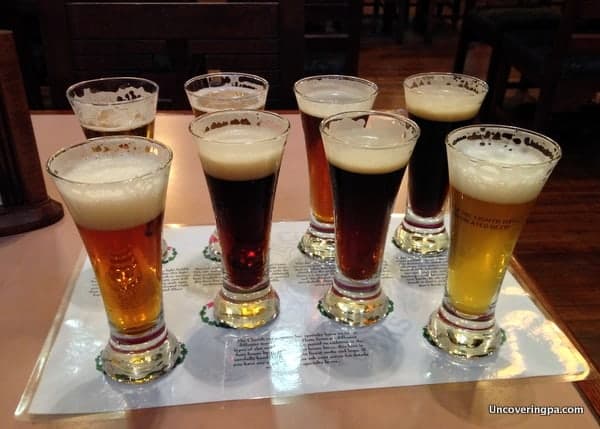 The beers reminded me a bit of the story of Goldilocks and the Three Bears. Sampling beer after beer, I kept thinking to myself, "It's not too hoppy. It's not too sweet. It's just right." This lack of super strong flavors meant that many of the beers would be pleasing to almost any beer drinker's palate.
For food, I opted to try their perogies and beer cheese soup. Both were quite good, and I would definitely recommend trying them when visiting.
Church Brew Works also offers a line of homemade sodas, which is great for those who choose not to drink or who are too young. When I visited, they had birch beer and pistachio soda. Despite being intrigued by the pistachio, I couldn't resist a homemade birch beer. I certainly wasn't disappointed by the birch beer, as it tasted excellent.
Thinking back on my visit to Church Brew Works, it's definitely somewhere I'd go back to. The quality of the beer, food, and soda was top notch, and the novelty of the location is quite amazing.
A visit to Church Brew Works is definitely something I would recommend to any beer lover in Pittsburgh.
See map for other area attractions.