Please do your best to limit your travels around PA during this time. If you decide to travel, please check the status of the places you are going. Some places around the state are temporarily closed or have changed their hours. We will not be updating individual articles to note these changes. Stay safe and wear a mask!


I'm not going to lie. When I heard that the tiny town of Eldred, Pennsylvania, had a World War II museum, I really wasn't expecting much. I figured that it would probably have a few keepsakes from local soldiers and maybe even a few souvenirs brought back from Germany and Japan. However, even before I entered the museum, I knew that I was going to be pleasantly surprised.
When you drive up to the Eldred World War II Museum, the first thing you notice is the large 3-D mural on the outside. Featuring a tank exploding from the walls of the museum, the mural is certainly eye-catching and no doubt draws in its share of visitors by itself.
Moving inside, I was quite surprised at the large size of the museum. Featuring half a dozen large rooms filled with thousands of items related to the entire war, this is not your typical small town museum.
Disclosure: This article may contain affiliate links. We will make a small commission from these links if you order something at no additional cost to you.
During the war, Eldred was the site of a large munitions factory that operated from 1941 until mid-1945 and employed over 1,500 people, most of whom were women. The museum, that has been open since 1996, tells the story of not just the local involvement in the war, but the entire war itself. Focusing on the personal side of the war instead of the units, the museum has a much more personal and in-depth feel than many other war museums.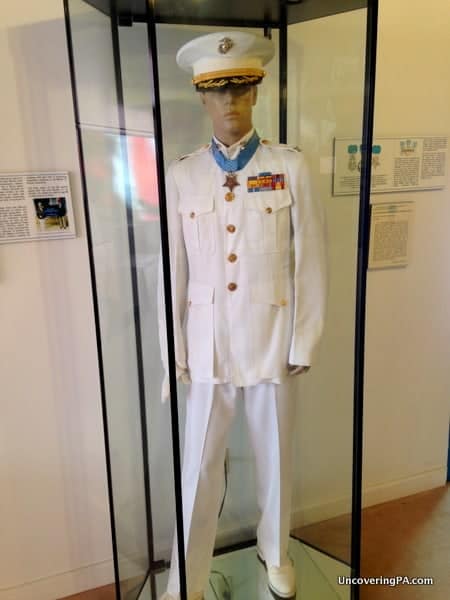 However, that doesn't mean that the museum doesn't tell the story of the war. Far from it. In fact, I would say that the narration of the war is one of the most complete I have seen in any museum. Everything is covered from the different campaigns, including the rarely covered Eastern Front, to America's civil defense, and the women who worked in the many factories.
There is even a new section that focuses on the Holocaust, though admission is restricted to ensure young eyes don't see too much.
One especially impressive section focuses on the exploits of Mitchell Paige, a soldier born in Washington County, Pennsylvania. Paige earned a Medal of Honor for his exploits on Guadalcanal where he single-handedly caused the retreat of hundreds of attacking Japanese soldiers. The museum focuses an entire section to Paige and is fortunate enough to have many of his personal effects, including his Medal of Honor.
Throughout the museum, there is a fantastic collection of keepsakes and souvenirs donated by both locals and those who live outside the area. The museum's collection features hundreds of military uniforms from the war and souvenirs brought back from Germany and Japan. One macabre highlight was a photo album from a local German woman that features a picture of herself as a small child being hugged by Adolf Hitler.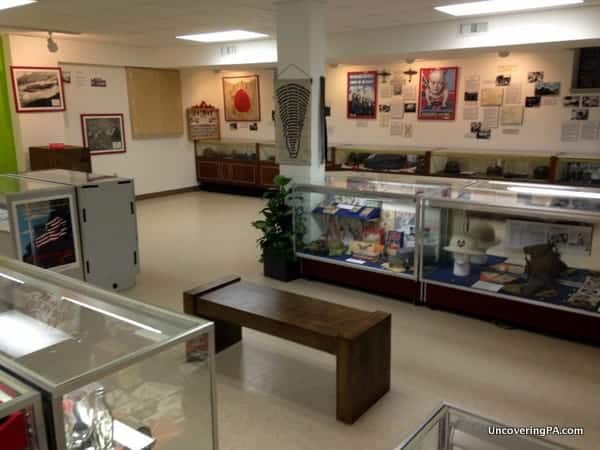 For anyone interested in researching the war, the Eldred World War II Museum has a collection of over 10,000 books related to the war, and the museum has written down interviews with more than 4,000 veterans.
I can't emphasize enough how impressed I was with the quality and detail of the Eldred World War II Museum. Despite being a privately owned museum in a small town, it is one of the state's most interesting history museums. Anyone with an interest in military history should put a visit high on their list of things to see and do in McKean County, Pennsylvania.
Note: Special thanks to the Allegheny National Forest Visitors Bureau for hosting my visit to the Eldred World War II Museum.
---
Eldred World War II Museum
Hours: Tuesday-Saturday: 10am-4pm
Sunday: 1pm-4pm (April-December)

Cost: Free, Donations are accepted

Website: EldredPaWWIIMuseum.com

Address: 201 Main Street
Eldred, PA 16731
See map for other area attractions.
---