Disclosure: This article may contain affiliate links. We will make a small commission from these links if you order something at no additional cost to you.
If you've read my writing for a while, you'll know that I'm a bit obsessed with trains. For me, they are the perfect form of transportation. Give me the choice between a 2-hour flight and a 2-day train ride, and I'd choose the train every time.
Unfortunately though, trains are becoming less and less common as a form of transportation in America. However, that hasn't always been the case. In fact, a hundred years ago, Pennsylvania was the hub of train travel throughout the US, with more than two dozen train companies and 11,500 miles of active train tracks in Pennsylvania alone.
Even more impressive, the Philadelphia-based Pennsylvania Railroad was at one time the largest publicly traded corporation in the world, employed 250,000 people, and had a budget larger than the United States government.
However, with the advent of interstate highways and more reliable airplanes, the entire rail system nearly collapsed throughout the entire US in the mid-20th century.
For more information about the history of the railroad in Pennsylvania, check out this great article from ExplorePAHistory.com!
Fortunately, though, the state of Pennsylvania realized the need to preserve these amazing pieces of history and opened the Railroad Museum of Pennsylvania in 1975. Over the years, their collection has grown to over 110 pieces from 18 different Pennsylvania railroad companies.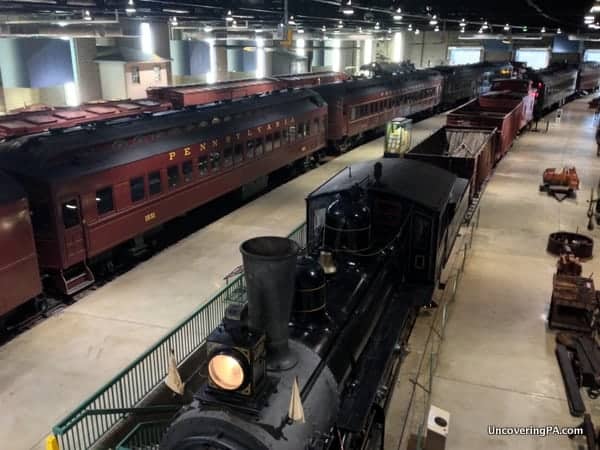 Located in the peaceful town of Strasburg, in the heart of Lancaster County's Amish country, the Railroad Museum of Pennsylvania is one of the most amazing places I've had the privilege of visiting.
At over 600 feet long, the building itself is set up like a giant train station, with four long rows of train track and platforms in between. In many ways, it reminded me of many of the train stations I've had the privilege of seeing in many large European cities.
Each track is loaded with a variety of different train engines, cars, and cabooses. Displays span from the mid-19th century until the mid-20th century, all of which have been fully restored (at least externally) and are quite beautiful to look at.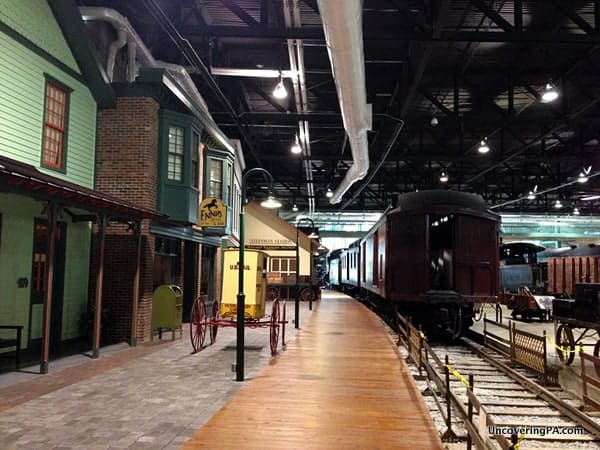 When I first walked into the museum, I was greeted by a carefully recreated 1915 train station, complete with shop windows, luggage racks, and a ticket counter. Inside the station is a brief movie that explains the history of the railroad in Pennsylvania and the Railroad Museum of Pennsylvania.
There is also an area of model trains that kids can play with, making the museum great even for kids who don't like history.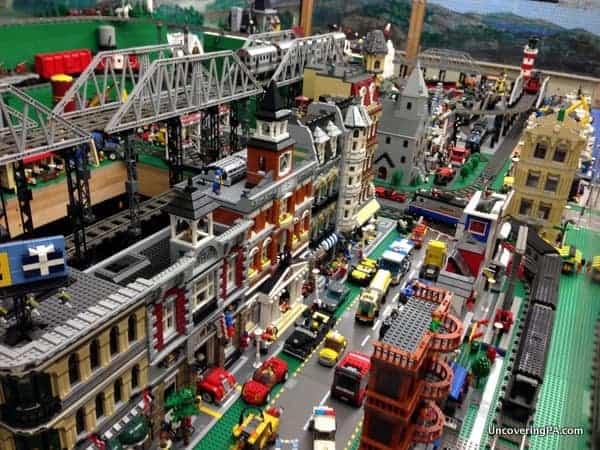 As I walked through the collection of trains, I was struck by the beauty and diversity of these iron horses.
My personal favorite piece was a beautifully restored GG1 train that was used by the Pennsylvania Railroad in the 1950s. Built with a shiny finish and classic lines, I dare anyone not to see the beauty in this train engine.
In addition to the many restored trains inside, there is also an outdoor area that features trains that range from mostly restored to barely held together. While these trains might not be as beautiful as the ones inside, it's not hard to appreciate the potential of these trains.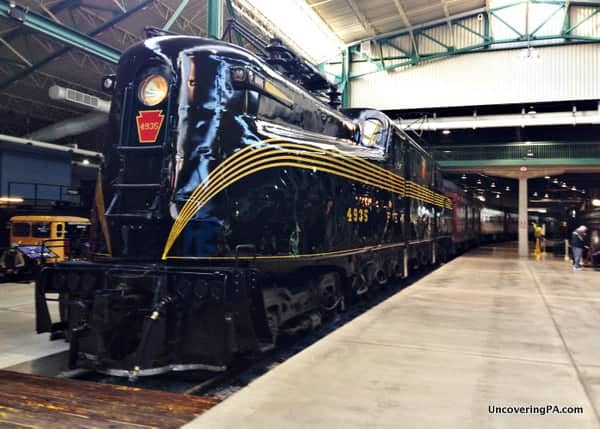 While walking through the museum, there are several different ways to learn more about the trains. Many of the trains have great signage that provide information on both that type of train and specific information about that particular one.
Many, but not all trains, either allow you to climb the train's stairs or provide a wooden staircase that leads to a viewing platform. While this was a great chance to more closely inspect the trains, I was a bit bewildered why they didn't have this as an option for every train.
There were also several train cars that had been fully restored and you could enter. My favorite was a Victorian-style passenger car that transported me right back to the turn of the century. If they still ran trains like that, I have no doubt that more people would want to ride the rails.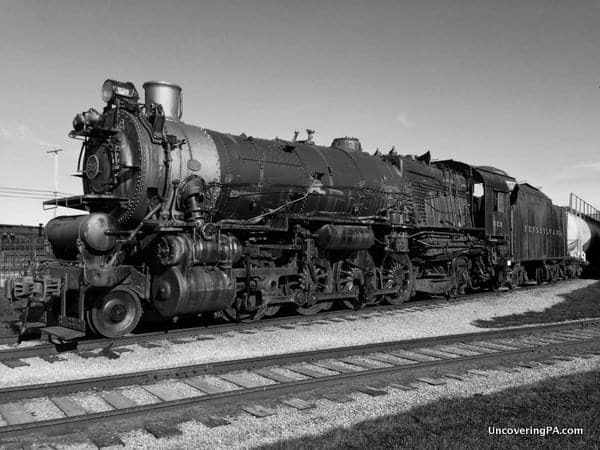 If I had one complaint about the museum, it's that there wasn't more of an opportunity to closely inspect the interiors of the trains. While I can certainly understand that it isn't feasible to put a staff member on each train, it's a shame that they couldn't figure out a way to allow visitors the privilege of sitting in the old cars or staring out the front windows of an antique train engine.
However, if you love trains and you love history, the Railroad Museum of Pennsylvania is an absolute must-see.
It's a visit that you won't regret choo-choo-choosing!
Visiting the Railroad Museum of Pennsylvania
The Railroad Museum of Pennsylvania is located in Strasburg in Lancaster County, directly across the street from the Strasburg Railroad.
It's also located a short distance from the Choo Choo Barn and the National Toy Train Museum, giving you a ton of great railroad things to do in one place. Looking for an authentic railroad souvenir? The local antique stores have a great selection of train-related memorabilia.
Note: I was given complimentary admission to the Railroad Museum of Pennsylvania in order to gather data for this review. However, all opinions are my own and were not subject to review.
Want to explore more of PA's railroading history? Check out the East Broad Top Railroad, the Lake Shore Railway Museum, ride the Tioga Central Railroad, or explore the Lehigh and Keystone Valley Model Railroad Museum.
---
Railroad Museum of Pennsylvania
Hours: Wednesday-Saturday: 10am-4pm
Sunday: 12pm-4pm

Cost: Adults: $10, Seniors (65+): $9,

Children (3-11): $8, Ages 2 & under:

Free

Website: RRMuseumPA.org

Address: 300 Gap Road
Ronks, PA 17572
See map for other area attractions.
---