Disclosure: This article may contain affiliate links. We will make a small commission from these links if you order something at no additional cost to you.
Pennsylvania is home to nearly four dozen arboretums and botanical gardens, but few have as much history or are more beautiful than the John T. Tyler Arboretum in Delaware County, PA.
The land that would eventually become the Tyler Arboretum was purchased from William Penn by Thomas Minshall in 1681. Over the next 263 years, eight generations of Minshall's descendents would live on the land.
In 1825, brothers Jacob and Minshall Painter would began planting the arboretum in the quest to study the natural world. Over the next 51 years, the brothers would plant 1,000 trees from all over the world.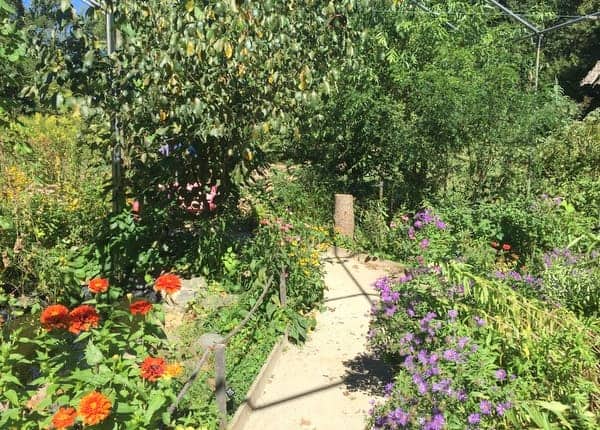 In addition to the arboretum, and land was also used for a farm until 1944. At that time, Laura Tyler, a descendent of Minshall Painter, donated the land to a trust to be used as an arboretum named after her late husband, John J. Tyler.
Over the last seven decades, Tyler Arboretum has grown to 650 acres of protected lands and one of the best arboretums in the Philadelphia area. Visitors can walk the 17 miles of trails through both manicured gardens and the wooded hillsides of the region, both of which offer a variety of interesting landscapes.
The entrance to Tyler Arboretum is through the visitor center, which also features a small gift shop. After purchasing tickets, the grounds are open for you to explore. During my visit, I opted to head to the left to start my exploration.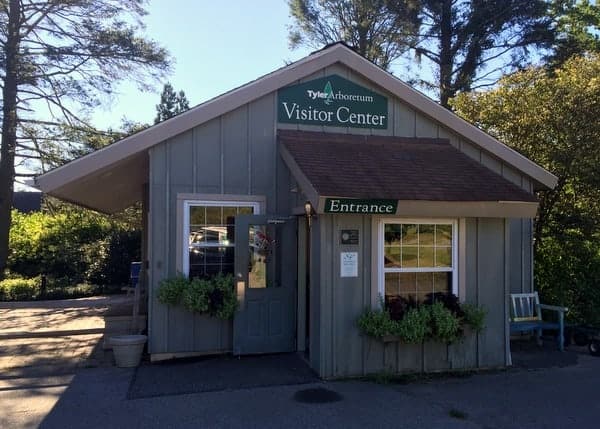 While walking through the gardens early on a weekday morning, I noticed many families with children, who seemed to very much enjoy the small play areas scattered through the gardens. There are also opportunities for them to see the beautiful landscapes of the arboretum.
The gardens of Tyler Arboretum feature everything from unique trees to fields and flower gardens. During the summer months, a butterfly garden allows visitors to see the life cycle of these beautiful creatures up close.
The Native Woodland Walk takes visitors through a well-manicured forest that is home to several fun structures and tree houses. These buildings are designed to let kids of all ages explore their imagination and enjoy this magical forest.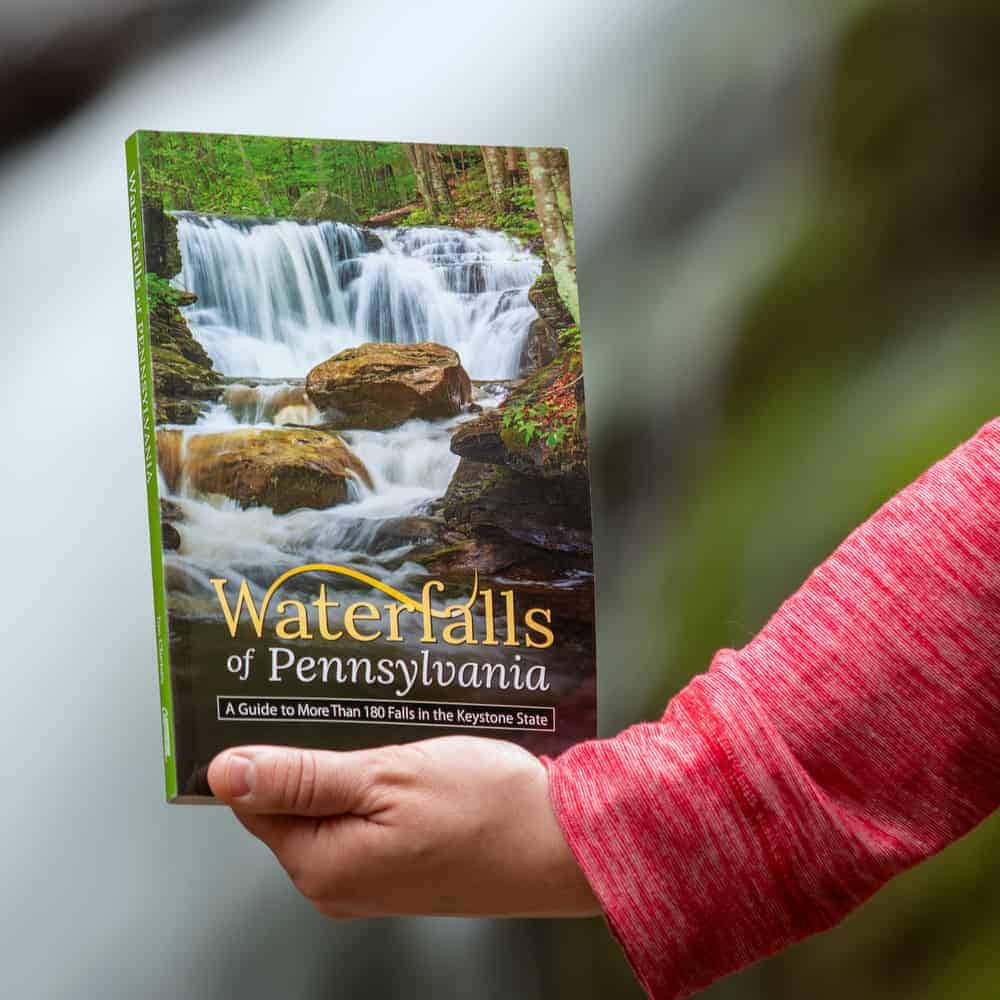 "Waterfalls of Pennsylvania" by Jim Cheney
If you love PA waterfalls, you won't want to miss this waterfall book from Jim Cheney, author of Uncovering PA, featuring more than 180 great waterfalls. Order it now on Bookshop.org or Amazon.
Near the Native Woodland Walk, sits Tyler Arboretum's pond and a replica of author Henry David Thoreau's cabin at Walden Pond. Visitors can check out this cabin and learn a bit about what life was like during Thoreau's stay and the pond and what he learned while he was there.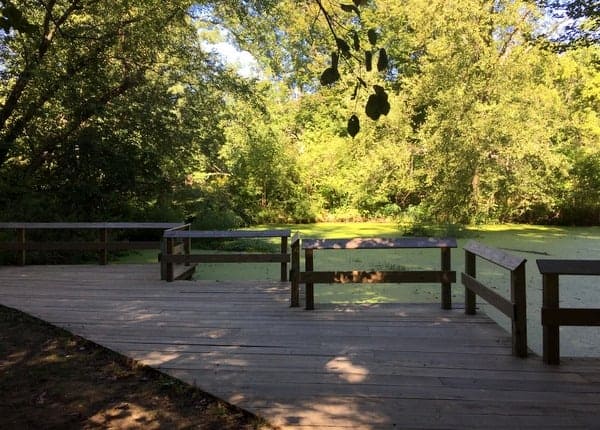 Near the cabin and pond is the start of the Rocky Run Trail.
This trail is one of six trails that traverse the forests surrounding Tyler Arboretum. They are separated from the main grounds by a series of gates and fences, which keep large animals like deer out of the arboretum's gardens.
The Rocky Run Trail is a 1.9-mile trail that passes through some of the most beautiful portions of the forest around Tyler Arboretum. Portions of the trail are wide and flat, while others get a bit more rocky and narrow. While there are a few small hills, there isn't much that should be an issue for anyone able to handle the rocky terrain.
My plan was to hike the blue-blazed Rocky Run Trail to something on the map named "Indian Rock." From there, I was going to hop onto the white-blazed Minshall Trail and then the red-blazed Painter Trail to make a bit of a loop that would take me back to a different portion of the manicured gardens.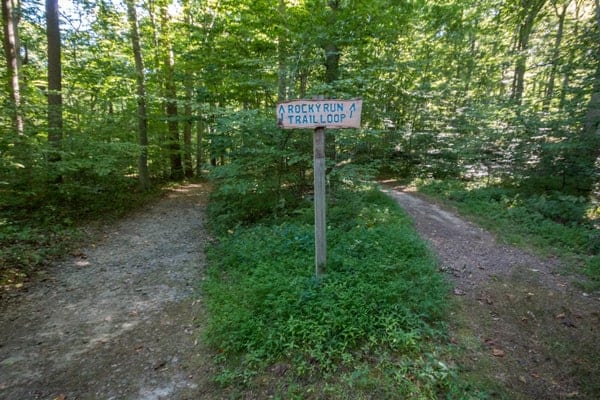 The hike started out well enough, but I quickly discovered that the trails here are very poorly marked. Blazes were not common enough, and trail turns and intersections were often not marked at all.
While I was able to find my way to Indian Rock, I believe, I had trouble finding my way back using the custom route that I made for myself. I somehow ended up on the orange-blazed Dismal Run Trail, not realizing my mistake until I'd hiked the trail for 5-10 minutes. Fortunately, I was able to use a combination of the map application on my cell phone and the hiking map that I'd picked up in the visitor center to figure out where I was.
Because of the lack of markings on these trails, I wouldn't start them without a map and a good idea of where you are going. I consider myself a fairly experienced map reader and hiker, and I still managed to get myself a bit turned around. Fortunately, all of the trails here eventually loop back to the main portion of the arboretum, but be prepared for the possibility of a longer, or shorter, hike than you imagined.
Hopefully, Tyler Arboretum will invest a bit of time and money into making these trails a bit clearer. They really offer a great opportunity to get out into the forest, and I wouldn't hesitate to hike them again if they were more properly marked.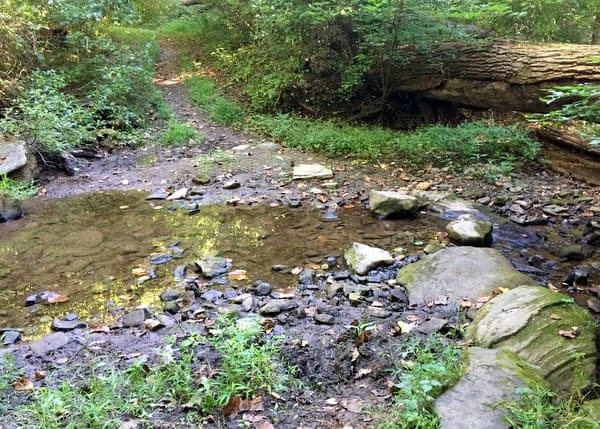 Eventually, I found my way back inside the gates and continued my walk through the manicured portion of the arboretum.
The southern portion of Tyler Arboretum consists of a large meadow, manicured forests, and a maze. This area is great for a stroll through the grounds and you can even check out an overlook and several tree houses.
Overall, I had a nice time exploring the 650 acres of Tyler Arboretum. The grounds are well-maintained and offer a bit of something for every outdoor lover. While the hiking trails desperately need to be more clearly marked, they offer a nice way to explore the woods. However, those going just to hike could also check out Ridley Creek State Park, which abuts the arboretum.
However, if you are looking for a nice mix of maintained gardens, natural trails, and unique structures that children of all ages will like, Tyler Arboretum in Delaware County, Pennsylvania, is a great choice.
Note: My visit to Tyler Arboretum was hosted by the site. However, the opinions expressed are my own.
Looking for other great gardens and arboretums? Check out the nearby Longwood Gardens and Bartram's Garden. Further afield, the Arboretum at Penn State is a great destination.
---
John T. Tyler Arboretum
Hours: October-March, Monday-Friday: 9am-4pm, Saturday-Sunday: 9am-5pm
April-September, Monday-Friday: 8am-6pm, Saturday-Sunday: 8am-8pm

Cost: Adults: $15, Children: $9

Website: TylerArboretum.org

Address: 515 Painter Road
Media, PA 19063
See map below for other area attractions.
---