Disclosure: This article may contain affiliate links. We will make a small commission from these links if you order something at no additional cost to you.
There's a new craze sweeping the Pennsylvania alcohol scene: craft distilleries. Since 2005, when Philadelphia Distilling opened the first distillery in Pennsylvania since prohibition, there has been an increasing number of liquor producers opening for service across the state. All told, by mid-December 2014, close to 25 distilleries are open across the state, and that number is quickly growing.
One of the newest distilleries to open in Pennsylvania is Blackbird Distillery in Brookville, a small town along I-80 in Jefferson County, Pennsylvania.
I had the opportunity to visit Blackbird Distillery just a few weeks after their opening in early April 2014 (and I've since been back twice more). In fact, the distillery was so new, that the road it was on wasn't even on the map yet. Fortunately, though, I was able to find Blackbird Distillery without too much difficulty as it was only located a mile off Interstate 80.
Driving up to Blackbird Distillery, it's impossible to miss the old pickup truck that sits at the street, welcoming visitors to the distillery and giving you a taste of what you'll experience when you walk in the door. As the only distillery that "makes moonshine the primitive way," Blackbird Distillery really strikes to play up the backwoods impression that many have of moonshine.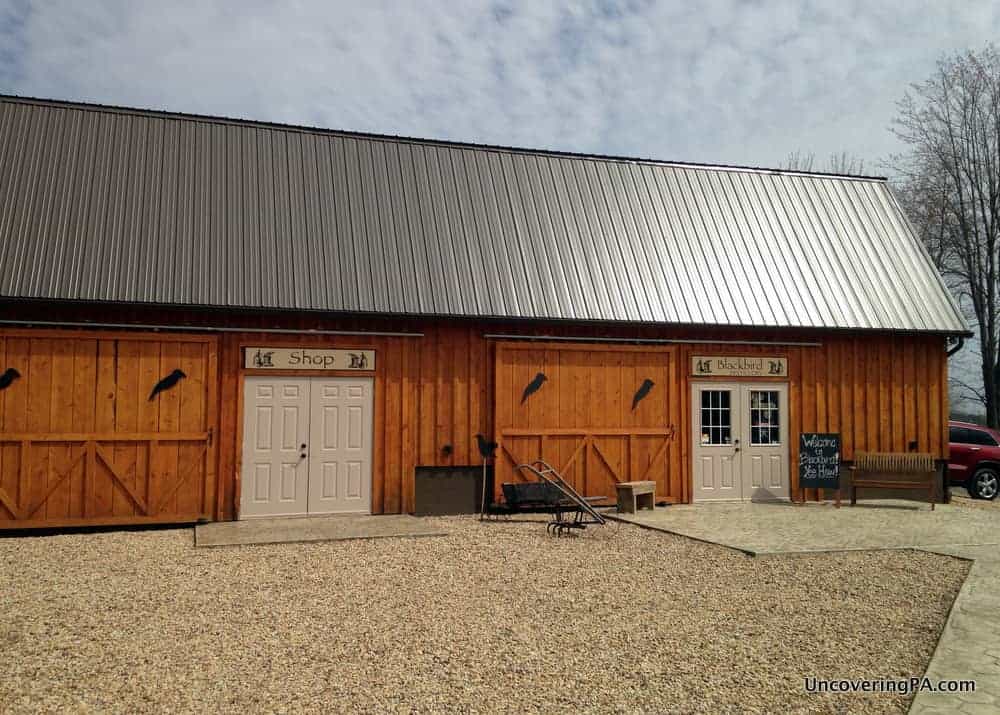 As soon as I entered the distillery, I was greeted at the door by an incredibly friendly woman who looked like she might have just come from a secret still in the woods. Her overalls and Appalachian accent did nothing to quell this impression. However, I eventually learned that it was all an act.
The woman who greeted me at the door was Jennifer Black. She and her husband own Blackbird Distillery, and while she manages the front of the shop, he's in the back hand-making his delicious PA moonshine.
The first order of business whenever I enter a tasting room is to sample the wares. If you've never visited a Pennsylvania distillery, it's worth noting that they are limited by law to very small samples of the liquors. However, this forces you to sip and get a better taste of the sample.
Blackbird Distillery offers moonshine in a variety of different fruit flavors. All told, there are 11 different flavors, as well as an aged moonshine without any of the extras. Unfortunately, due to the sheer number of choices, I was unable to taste all of the flavors. However, the ones I did have were delicious.
I'm typically not a big fan of liquor, unless it's mixed in with a healthy dose of other liquids. However, I found many of the flavors of moonshine to be quite nice. Personally, I really enjoyed their apple-flavored shine.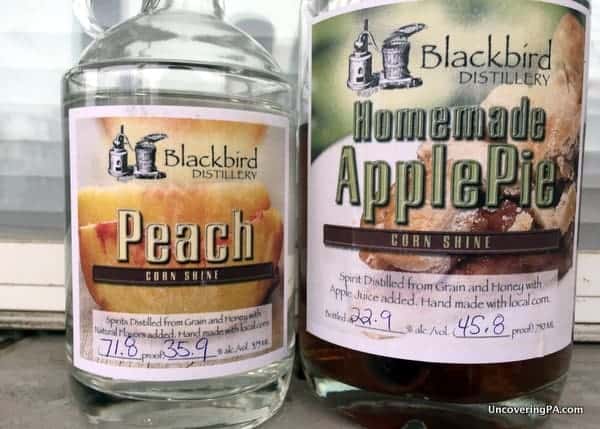 Blackbird offers two apple flavors. Apple Black has just apple flavoring, while Apple Pie Moonshine is mixed with apple juice and has a much softer flavor of liquor. Personally, this was my favorite of their offerings, and one I was excited to bring home. Their Peach Corn Shine was also very good.
Once I'd sampled the liquors, I took some time to check out the rest of the offerings at Blackbird Distillery. The shelves of the tasting room are packed with meats, cheeses, and a variety of pickled vegetables. Nearly everything for sale in the shop was made by Blackbird Distillery and packaged by hand.
I was able to try a few samples of their products, and I was very impressed. I likely would have spent way too much money on their meats, cheeses, and pickles, but had to restrain myself given I still had four days before I would be home.
I'm not really a liquor guy. In fact, I rarely drink it at home, opting instead for a nice beer or wine. However, I must say that I was really impressed with the offerings at this brewery in Brookville, PA. I found them to be well-balanced, with enough fruit flavor to even make drinking them straight enjoyable.
Combine that with their humorous schtick and their excellent meats, cheeses, and vegetables, and you have a fantastic place to visit when traveling along I-80 in Jefferson County and the Pennsylvania Wilds.
---
Blackbird Distillery
Hours: Monday-Saturday: 9am-7pm
Sunday: 9am-5pm
Winter hours may vary

Website: BlackbirdDistillery.com

Address: 93 Blackout Alley
Brookville, PA 15825
See map for other area attractions.
---