Disclosure: This article may contain affiliate links. We will make a small commission from these links if you order something at no additional cost to you.
I've been to a lot of different art museums in Pennsylvania. Many of these grand institutions are held in buildings of equal grandeur. Buildings that seem like they could be tourist attractions unto themselves and feel equal to the majestic stylings of their impressive collections. The Brandywine River Museum of Art is not one of these.
Instead, the Brandywine River Museum of Art's tranquil exterior and setting along the Brandywine River in Chadds Ford, Pennsylvania, fits perfectly with the calming and natural feeling of its collection. Not that this should be entirely surprising, as many of the artists featured within its walls spent their careers painting in and around Delaware County.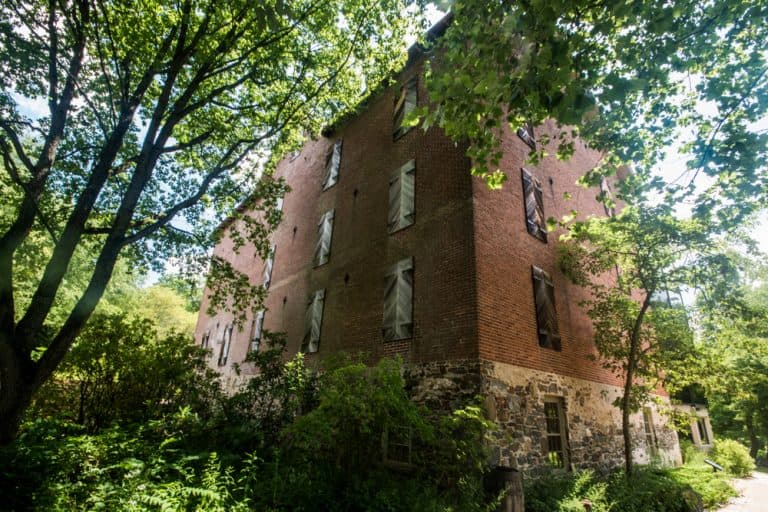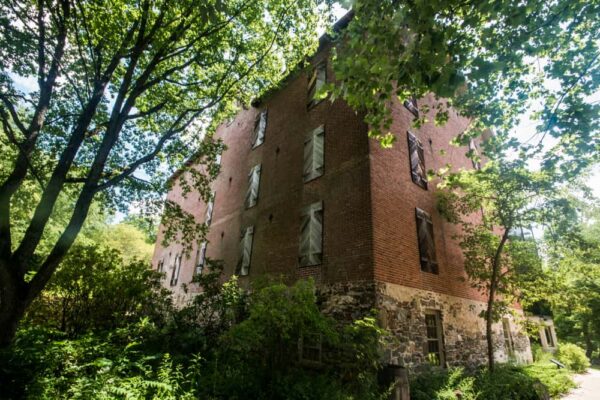 The Brandywine River Museum is housed half in a restored 19th century mill and half in a modern building with very large windows overlooking the Brandywine. This mix of classic and modern architecture, along with the natural beauty outside, make this one of the most beautiful buildings I've seen in the state and a perfect complement to the works featured inside.
The museum's first floor features works by a variety of artists from Brandywine School, a style of art popular in the region during the late 19th century. Focusing heavily on everyday subjects, the pieces of art on display are quite different from those you'd find at other art galleries. Paintings of things like dogs in a cage and hunting equipment line the walls of the museum.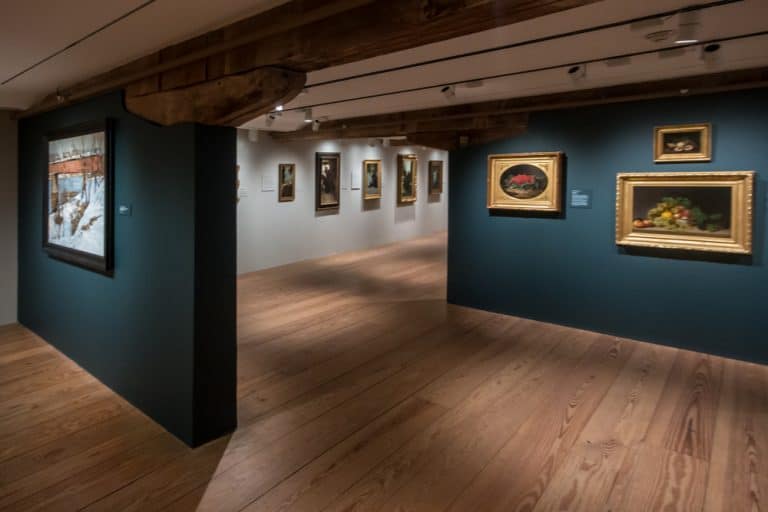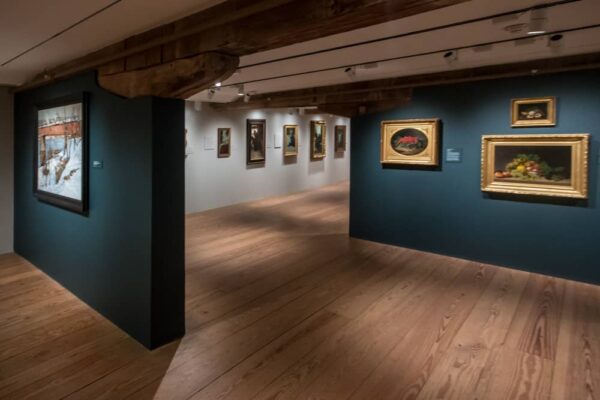 The first floor also features the works of Howard Pyle, the man who started the Brandywine School. Pyle was an illustrator of novels, but also frequently painted scenes from the Revolutionary War. These scenes from the war really caught my eye and did a great job showcasing Pyle's quality as an illustrator.
The second floor of the museum is home to two temporary exhibit spaces. While the featured exhibits change out once or twice a year, they typically focus on either local artists, illustration, or the Brandywine School. During my visit, they had an excellent collection of political cartoons on display, including some from Rube Goldberg, but that exhibit ends August 23, 2015. Full information on current and upcoming temporary exhibits can be found on the museum's website.
The third floor of the museum features rooms dedicated to NC Wyeth, Andrew Wyeth, Jaime Wyeth, as well as a few other assorted family members. What I especially enjoyed about this floor was seeing how three generations of the same family could have similar styles, but each have their own spin on a subject.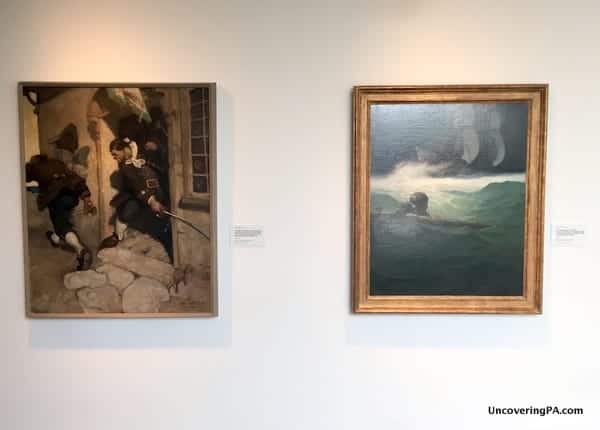 NC Wyeth is best know for his literary illustrations, and the museum has several different paintings from his illustrations in "Treasure Island." I really enjoyed seeing these pieces up close and getting to examine a larger version of what you'll still find in this classic novel.
Andrew Wyeth, the most well-known of the clan, also has the largest space dedicated to his works. The works here cover nearly all of Wyeth's career and feature a variety of styles and subjects, with many of the paintings featuring local inspiration. Unfortunately, no photos were allowed in this area, but trust me, this area is worth the price of admission on its own.
The last room of the museum features works by Jaime Wyeth, along with other members of the family. Since it features multiple artists, there is a bit more variety here, but it all still has a similar feel. Pieces are still being added to the collection and placed in this room. In fact, a 2015 piece by Jaime Wyeth was on display in the museum during my visit. This unique piece featured a screen door along with a painting of artist Andy Warhol.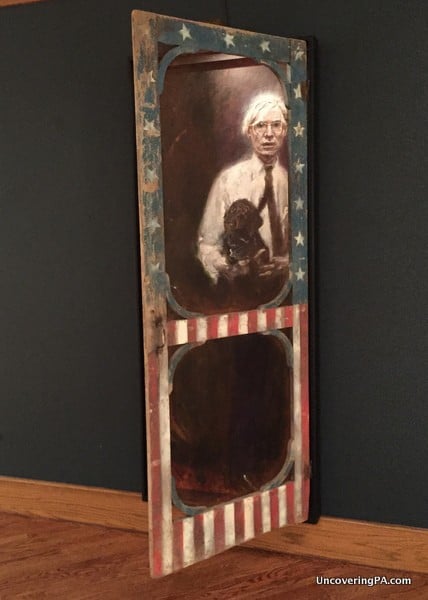 In addition to the exhibits, the Brandywine River Museum of Art also offers tours of both NC Wyeth's and Andrew Wyeth's nearby studios. These tours leave from in front of the museum several times a day and are an additional cost. Unfortunately, I didn't have a chance to visit them during my visit, but I've heard that they are well-worth seeing.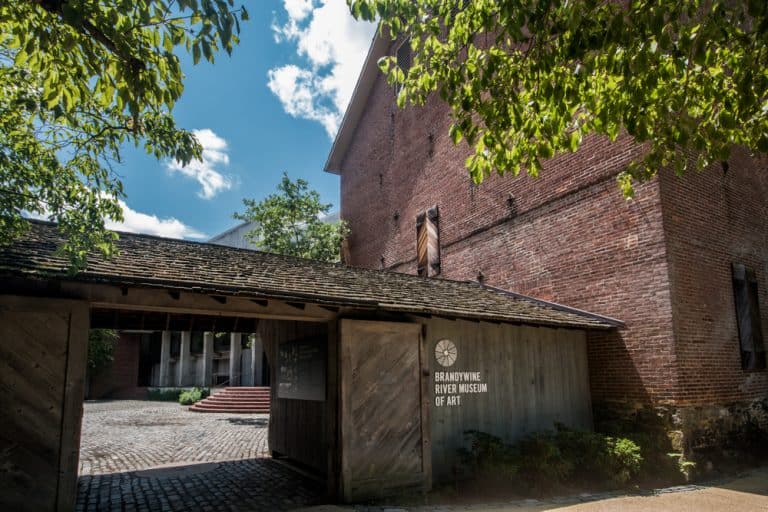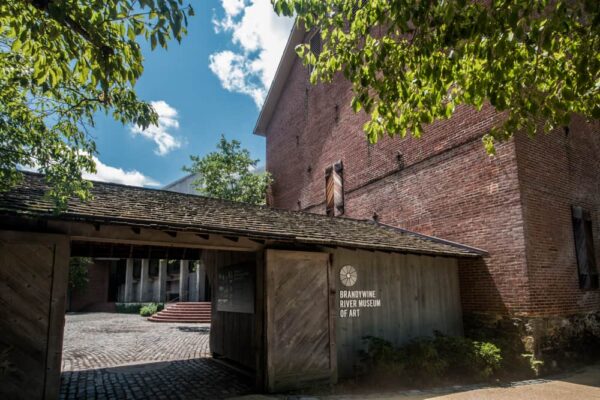 The Brandywine River Museum is part of the Brandywine Conservancy, which offers a nice walking trail along the river. Starting from the backside of the museum, this one-mile trail follows the river upstream and passes through a variety of habitats. It can be a great way to experience the area that inspired the painters of the Brandywine School.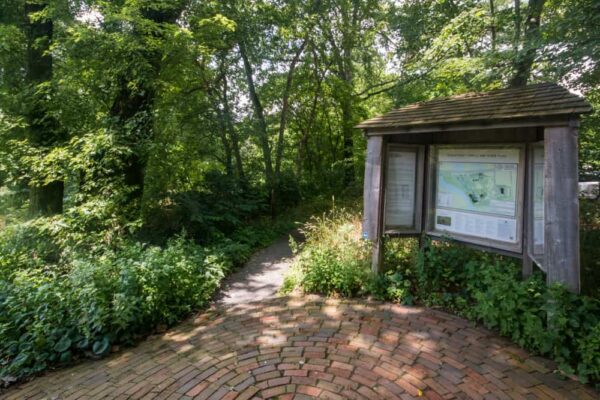 Overall, I very much enjoyed my visit to the Brandywine River Museum of Art. The peaceful setting and unique art combine to make this one of my favorite art museums in Pennsylvania. If you love art, add this to your must-see list.
Note: My visit to the Brandywine River Museum of Art was hosted by the museum. However, the opinions expressed are my own.
---
Brandywine River Museum of Art
Hours: Wednesday-Monday: 9:30am-4:30pm

Hours can vary by season, please confirm current hours on the website

Cost: Adults: $20, Children: $8
Studio tours extra.

Website: Brandywine.org/Museum

Address: 1 Hoffman's Mill Road
Chadds Ford, Pennsylvania 19317
See map below for other area attractions.
---