Disclosure: This article may contain affiliate links. We will make a small commission from these links if you order something at no additional cost to you.
Without a doubt, there are many incredible places to see Christmas lights in PA. However, the majority of them cost money to visit. Fortunately, though, one of the best in the state is totally free to check out: the Christmas lights at Peddler's Village.
Peddler's Village is a quaint shopping center located in Bucks County, about halfway between Doylestown and New Hope. It features more than 60 local and unique shops and restaurants centered around beautifully landscaped gardens.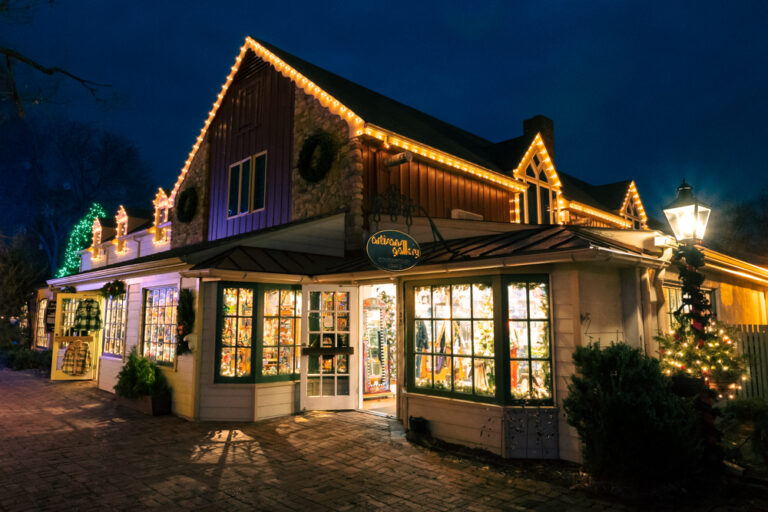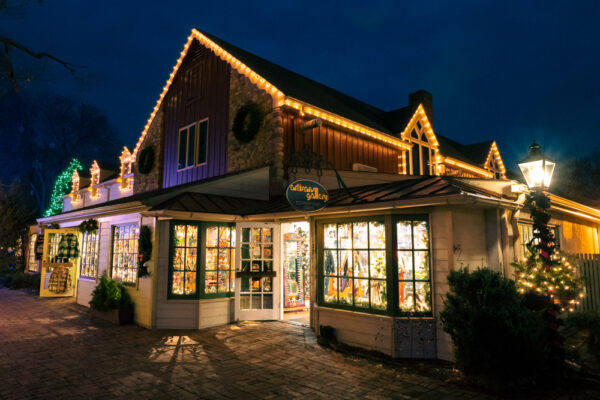 When walking the grounds, it almost feels like you are walking through a cross between a quiet English village and a colonial American town. Regardless of how you describe it though, it's quite a beautiful shopping area, even without the lights.
As one of the most visited attractions in the Philadelphia region, it's popular any time of the year but really comes alive during the holiday season with more than a million twinkling lights when it becomes one of the best places to see Christmas lights near Philadelphia.
Wanting to see these lights for myself, I had a chance to visit on a beautiful evening in December.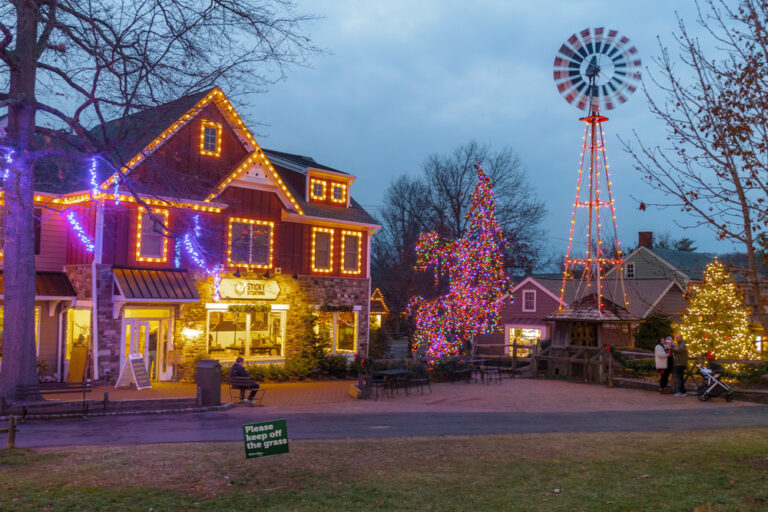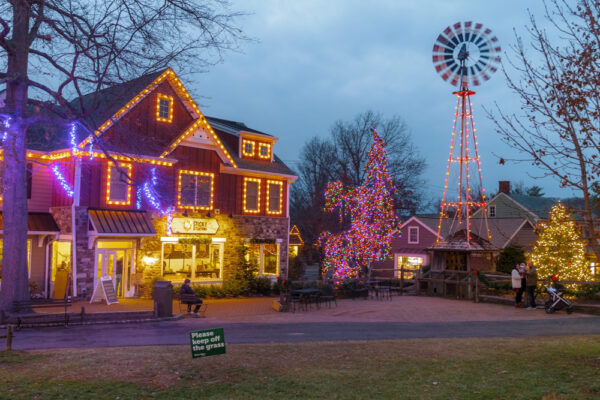 Even though my family and I visited to see the lights, we actually got to Peddler's Village a bit before dark so that we could check out the stores.
While this isn't an article about visiting the village for shopping, we were quite impressed by the quality and diversity of the shopping experience at Peddler's Village. I would definitely love to visit again and spend a bit more time checking out the stores and restaurants here.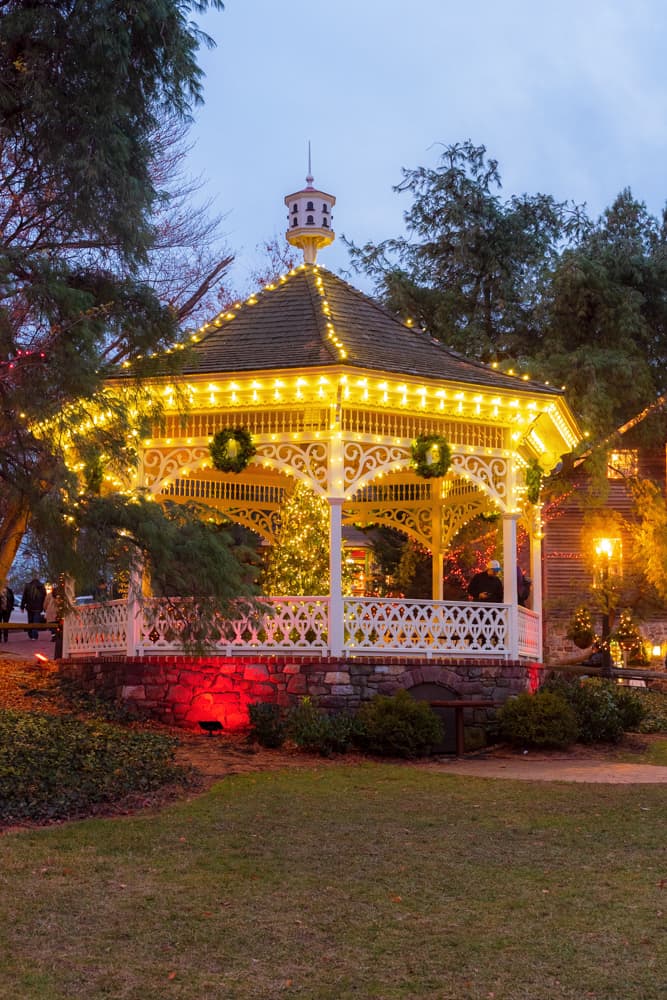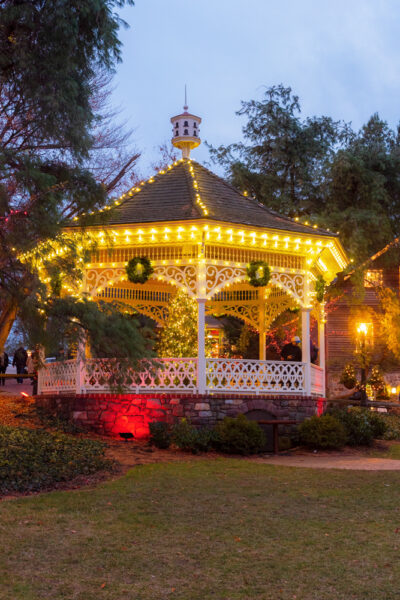 I also enjoyed having a flight of beers at Free Will Brewing Company's taproom while waiting for the lights to come on. You can even grab a beer from here to take around with you as you enjoy the lights, which is a fun feature of the village.
Another enjoyable activity was looking at the amazing gingerbread houses that were a part of the village's annual competition. These works of art were awe-inspiring and are worth visiting to see even if you don't stay for the lights. My kids loved looking at all of the intricate details of the houses.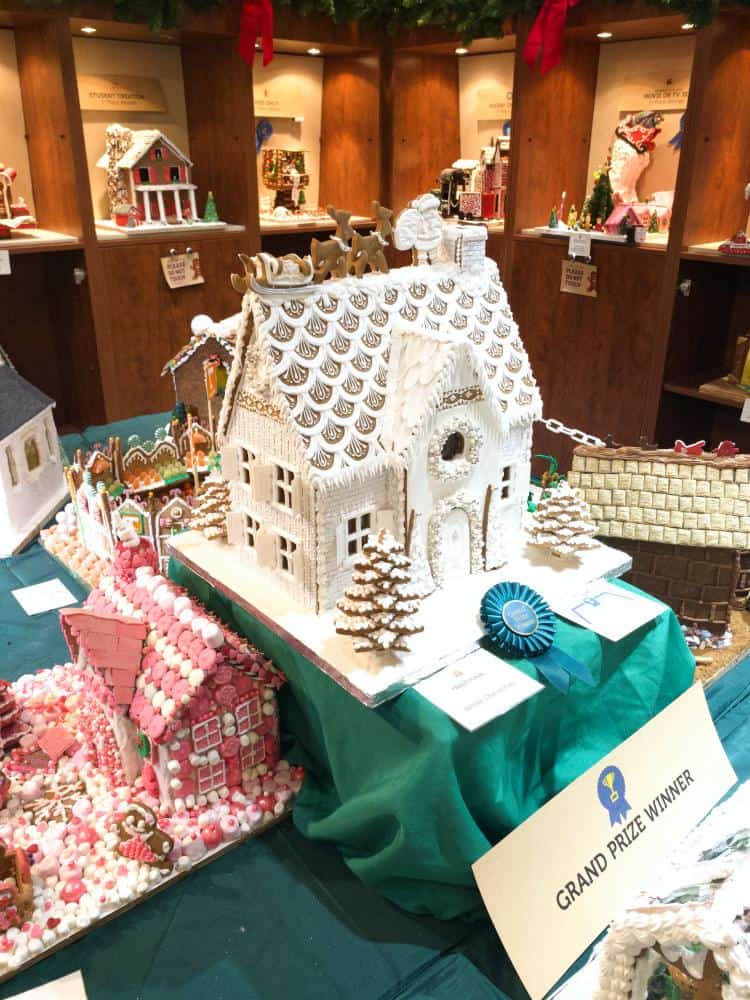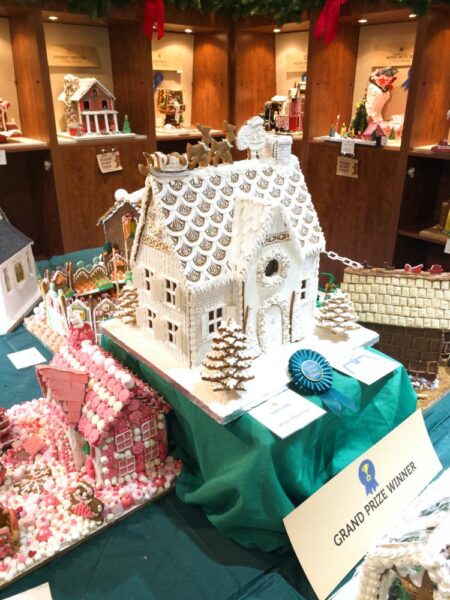 It's also worth noting that there's a hotel within Peddler's Village, the Golden Plough Inn. I haven't personally stayed here, but if you are looking for somewhere to stay while visiting the village, it has quite good reviews online.
The lights at Peddler's Village all turn on around sunset, though some were on well before that, offering a nice ambiance for our late afternoon shopping.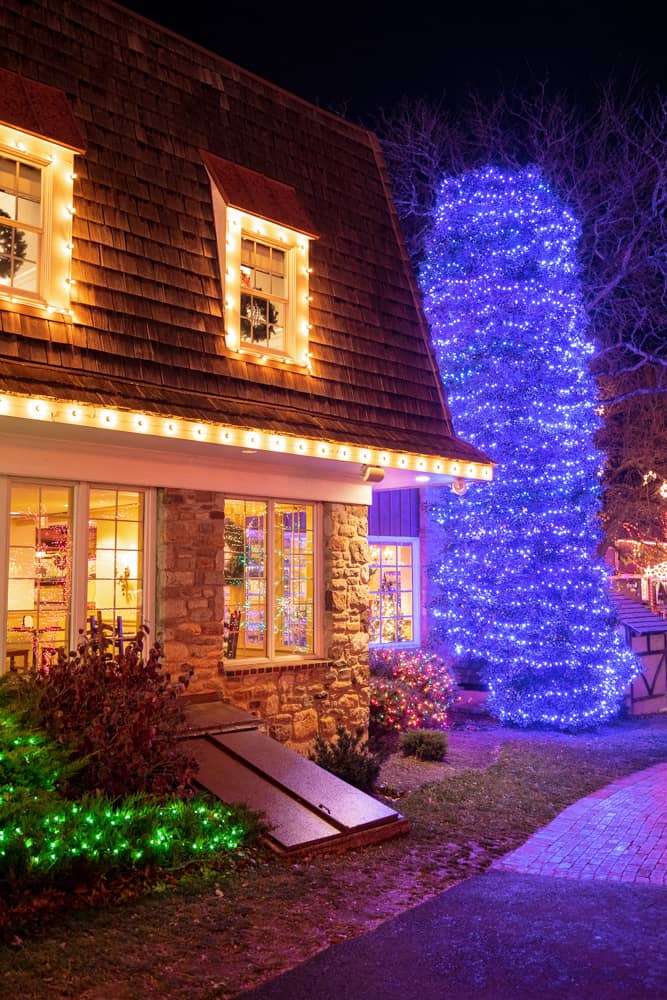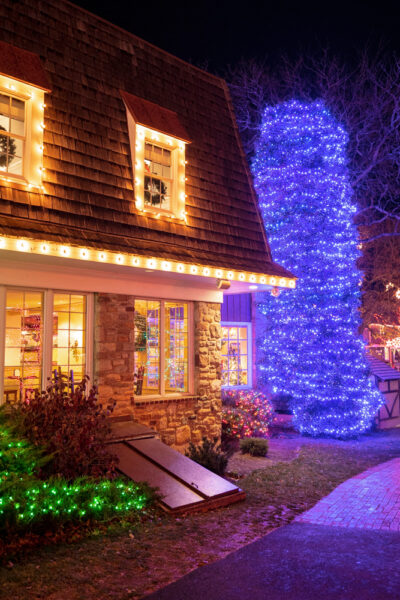 The majority of the lights are located within the Village Green and Upper Village Green area of the center. This is a beautiful area with green lawns and trees surrounded by cute shops and restaurants.
When we first arrived a bit before sunset, I thought that it was a beautiful area. Then, as evening approached and the lights begin to glow brighter and more numerously, I was in awe of the beauty here.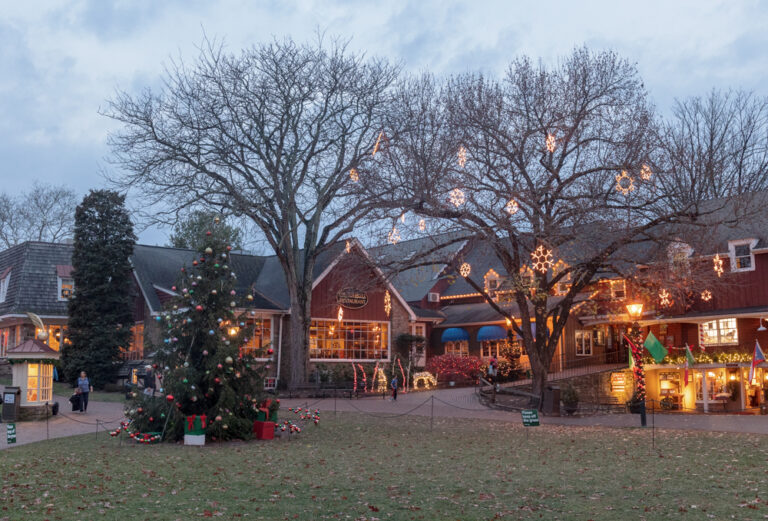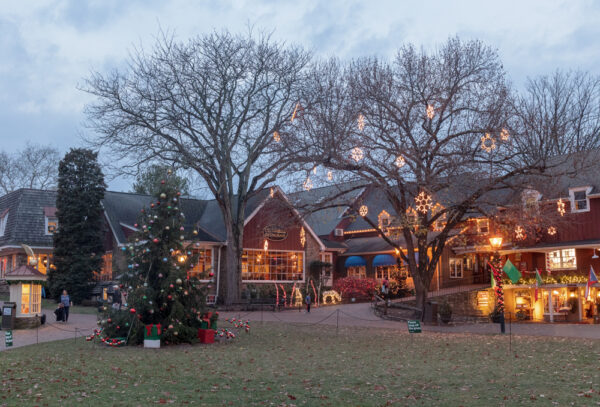 While the space isn't as large as some other light displays I've visited in PA, the density of the lights, as well as the unique setting, make this one of my favorite holiday light displays near Philly.
Most of the displays here consist of wrapped trees, which are incredibly well done, and lights that decorate most of the buildings. There are also several Christmas trees scattered around the grounds.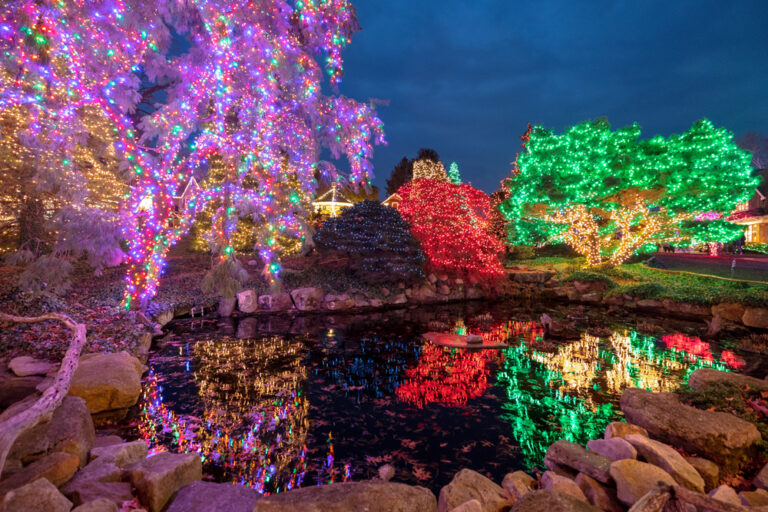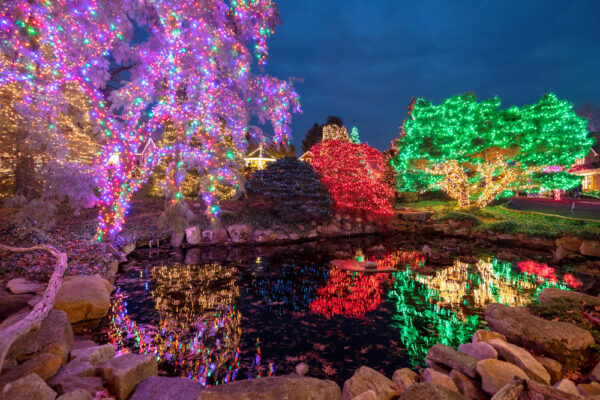 While the lights at Peddler's Village are pretty amazing, it is worth noting a few things that you won't find there on most days.
For example, you won't find any whimsical light displays as you find at many shows, like at the nearby Christmas lights at Shady Brook Farm. You also won't hear any live music playing festive holiday songs, which I was actually a bit surprised wasn't there.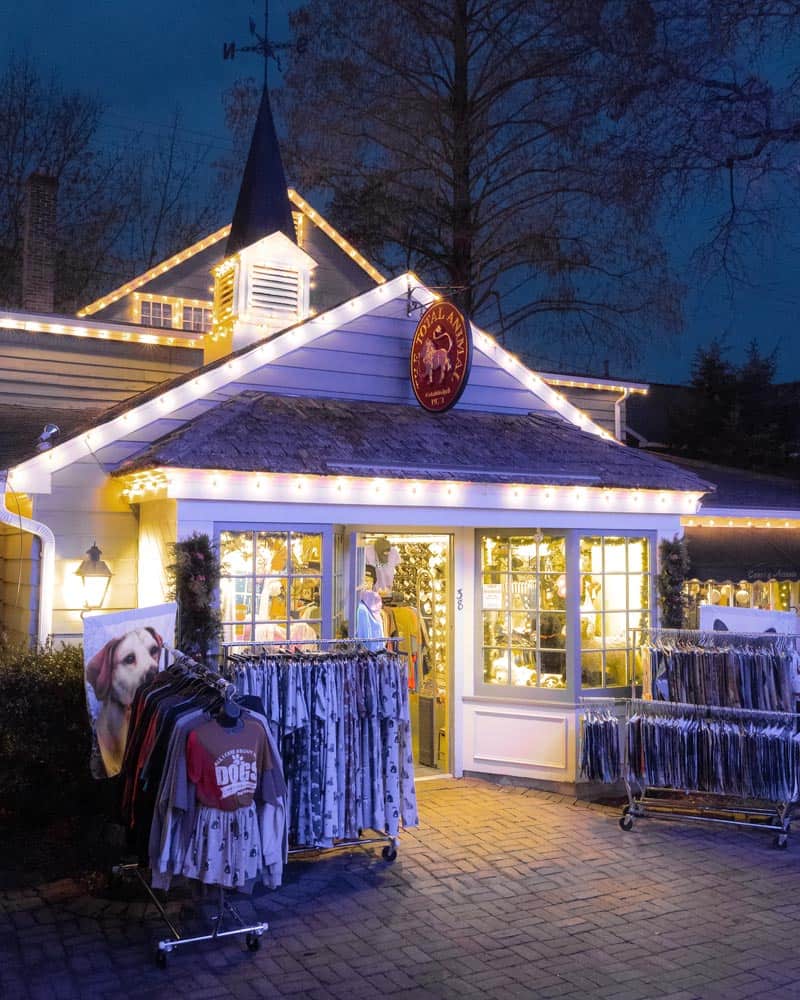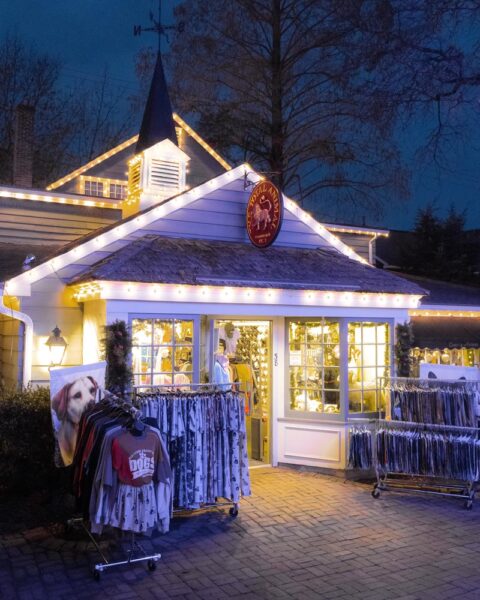 However, there are two events at Peddler's Village during the holiday season: Holly Jolly Weekend held the first weekend in December and Kickoff to the Holidays the weekend before Thanksgiving.
At these events, you'll find holiday activities, photos with Santa, live music, and much more to enjoy. However, it will also be a lot more crowded at the village.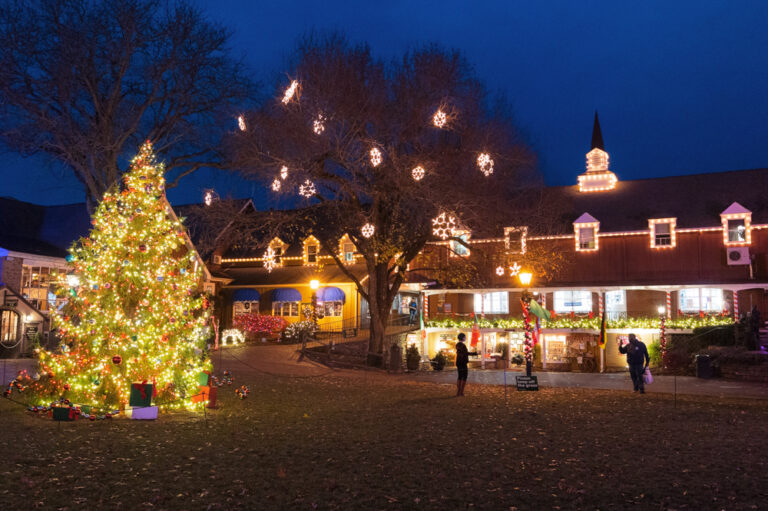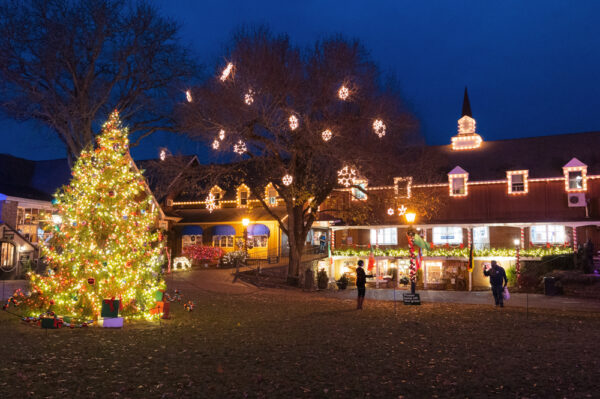 Ultimately, though, whether you are looking specifically for free Christmas light displays in Pennsylvania or simply want to enjoy a unique and beautiful holiday experience in Bucks County, Peddler's Village is really a fantastic spot to check out during the holiday season.
I know I can't wait to visit again.
In 2022, the lights at Peddler's Village are turned on daily from November 19 through January 9, 2023. During most of the season, shops and restaurants have extended hours into the evening so you can do some shopping or dining while enjoying the lights.
Looking for more places to visit nearby? Check out Fonthill Castle, the New Hope and Ivyland Railroad, and the best breweries in Bucks County.