Disclosure: This article may contain affiliate links. We will make a small commission from these links if you order something at no additional cost to you.
Philly is a great city to visit any time of the year, but Christmas in Philadelphia is truly special. And, while there are many festive spots to visit in the area, one of my favorite ways to enjoy the season is by checking out many of the great Christmas lights in Philadelphia and its suburbs.
These Christmas light displays really set the mood for the holiday season, and are sure to bring you joy whether you are a Buddy the Elf or a Grinch.
All of the light displays listed below are within 90 minutes of the city, with most being either within the city or less than an hour away, making them easy to visit from Philly.
So, without any further ado, here are my favorite places to see Christmas Lights in Philadelphia and the surrounding area.
Miracle on South 13th Street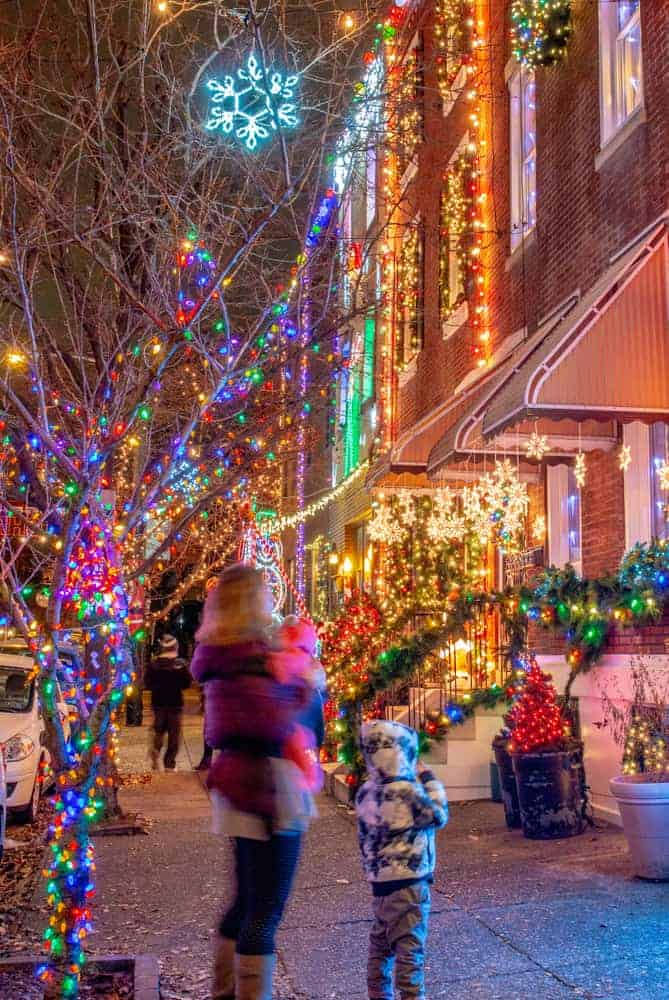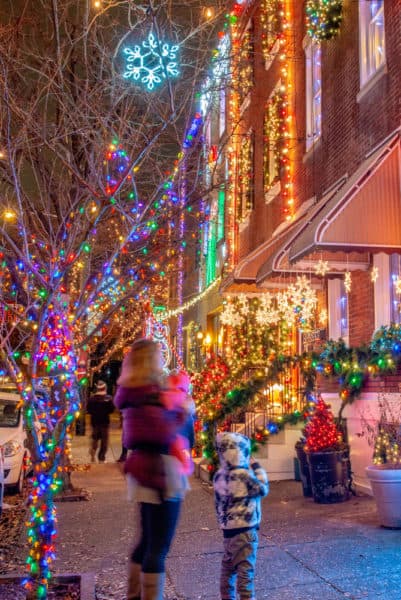 Located in South Philadelphia, the Miracle on South 13th Street is, without a doubt, one of the best places to see Christmas lights in Philly.
This one-block stretch of South 13th Street between Morris and Tasker Streets features more holiday decorations than you'd find in most neighborhoods. Nearly every house on this block is decked from top to bottom with thousands of lights and other decorations that are sure to put you in a festive spirit.
Visitors can either drive down the street or walk to see these festive and free lights.
Holiday Light Show at Shady Brook Farm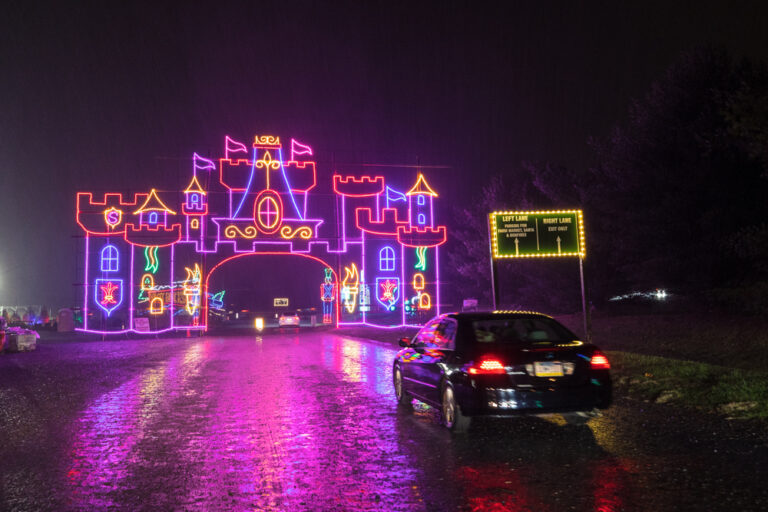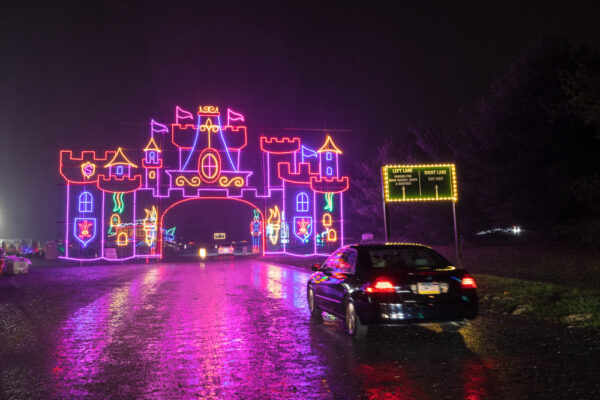 The Holiday Light Show at Shady Brook Farms is located near Yardley in Bucks County, PA, roughly 35-40 minutes north of the city.
With more than three million lights, this might be the largest display of Christmas lights in Pennsylvania. The driving route through the display is just over a mile long and showcases hundreds of displays, including some very unique ones featuring cartoon characters and famous buildings from around the world.
There is also an area where you can get out of your car and walk through lights, enjoy a campfire, and more.
Love Park and Dilworth Park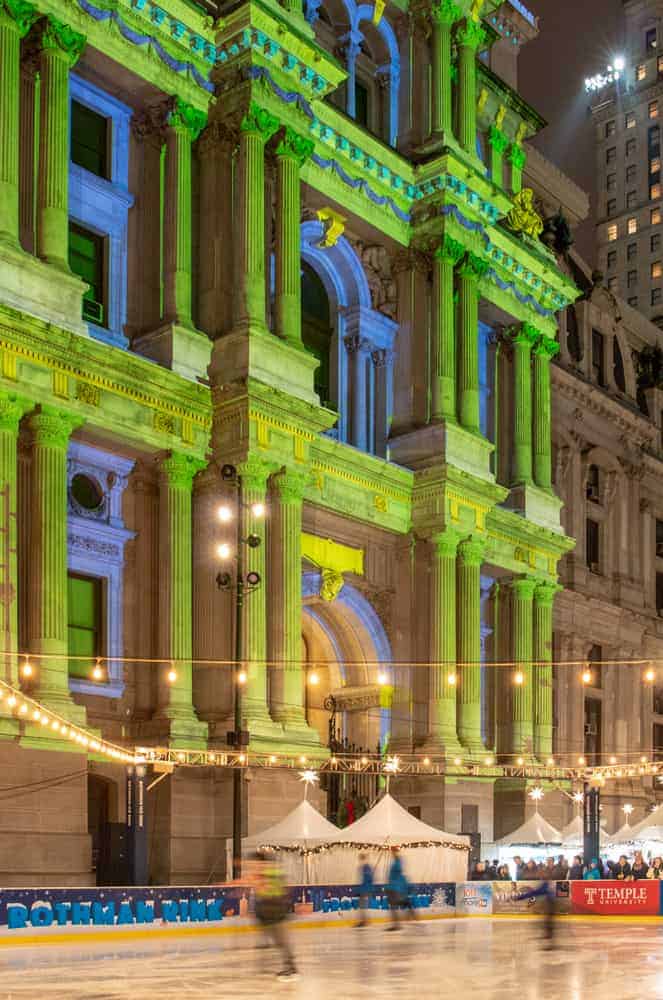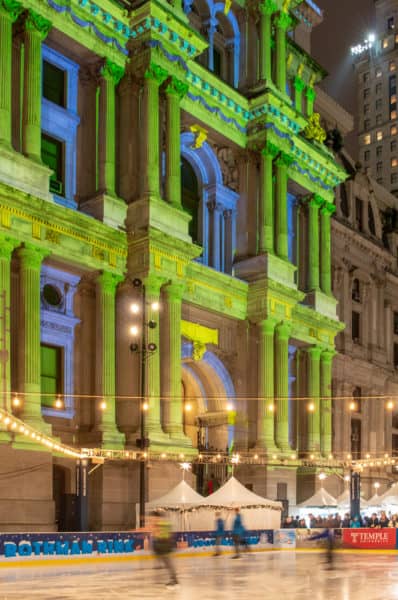 Located in Center City, Love Park and Dilworth Park feature a variety of attractions, including some of Philadelphia's best Christmas light displays.
The focal points of these parks, however, are the many great shops found in the Christmas markets. That makes this a great area to come to see lights while finishing your holiday shopping.
And, while in the parks, don't miss the Deck the Hall Light Show, which is shown on a regular rotation on the facade of City Hall and is one of the most fun holiday displays you'll find anywhere.
Longwood Gardens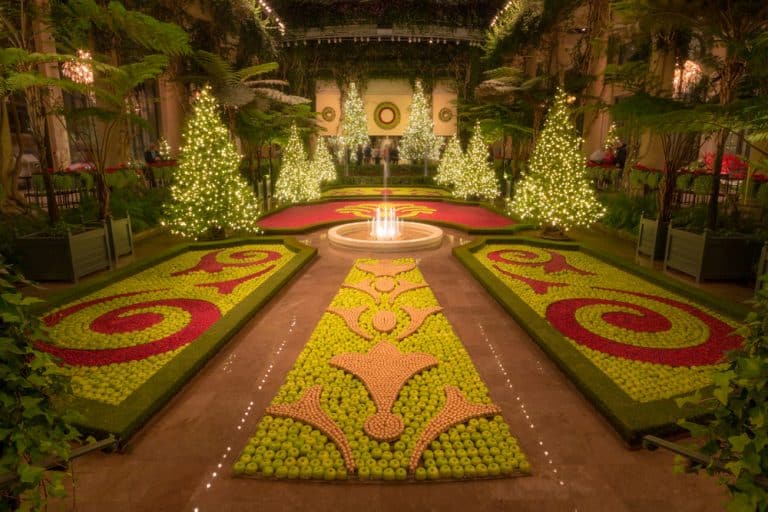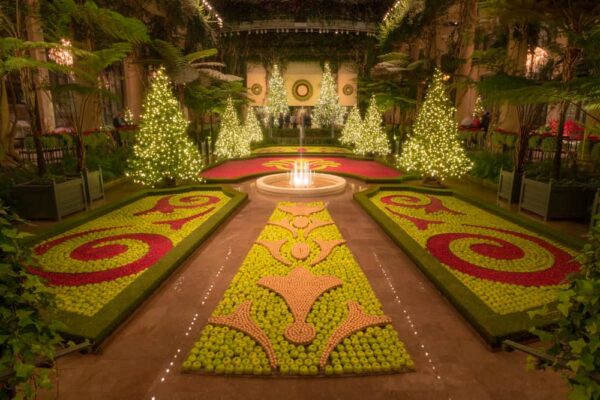 Located an hour west of Philadelphia, Longwood Gardens is truly one of the best places to visit during the holiday season in PA.
While you might think a botanical garden is just a warm-weather destination, Longwood Gardens does an amazing job with its Christmas shows. Visitors can see hundreds of thousands of lights throughout the indoor and outdoor gardens, fountain shows set to music, and other live entertainment.
LumiNature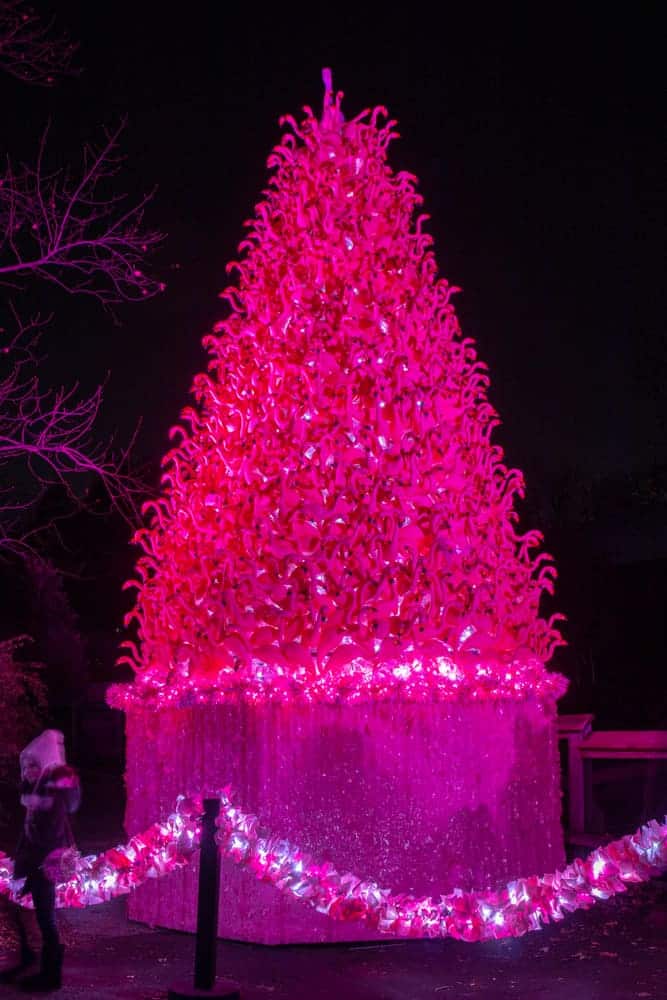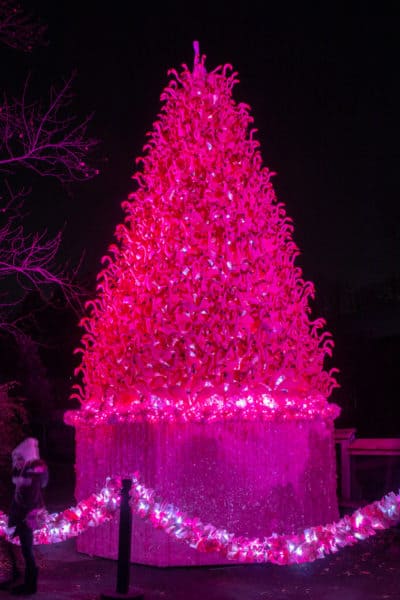 Of all the places on the list here, LumiNature might be the least festive. That's because this attraction is not just designed to be a place to see Christmas lights in Philadelphia, but is also devoted to showcasing the beauty of nature and the world.
Of course, that makes this display, which is located at the Philadelphia Zoo, one of the most unique places to visit during the holiday season.
LumiNature features dozens of unique and creative displays, most focusing on the types of animals that you find in the zoo and teaching about how to preserve the world, all done with a festive twist.
Peddler's Village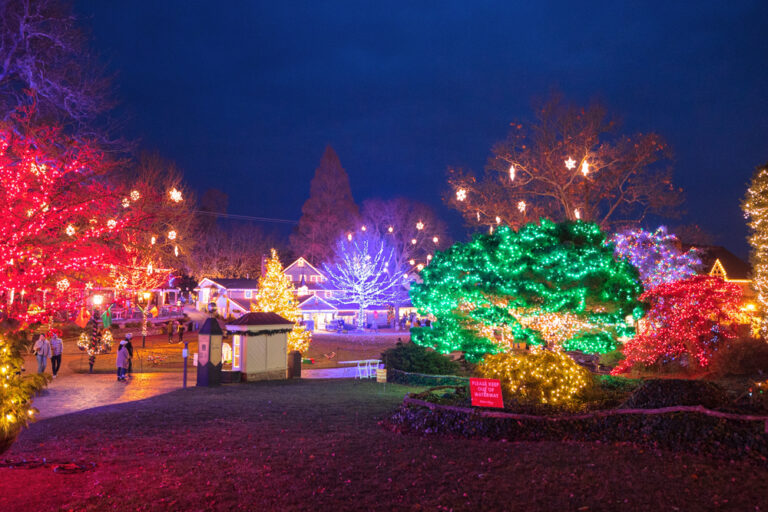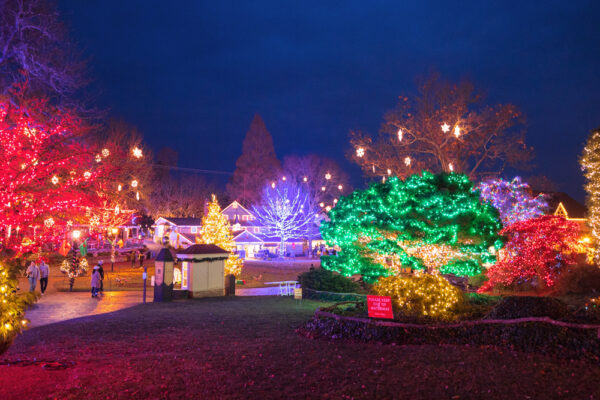 Peddler's Village is located in Bucks County between New Hope and Doylestown and is one of the most visited attractions in the Philadelphia region.
During the holiday season, this shopping center, which is filled with dozens of unique local shops and restaurants, puts out a million twinkling lights to celebrate this festive time of year.
Visitors can walk around this free display and enjoy its incredible beauty all while doing some shopping and dining.
Tinseltown Holiday Spectacular
Tinseltown Holiday Spectacular is located at the Greater Philadelphia Expo Center in Oaks, PA, and is the newest attraction on this list, having opened for the first time in 2021. It's also the only spot listed here that I haven't personally visited, but since I've heard good things about it, I thought I'd include it.
Tinseltown is a walk-through holiday light display that features hundreds of thousands of sparkling lights and some very unique light displays. Visitors can also enjoy an ice rink, photos with both Santa and Gritty, shopping, and more.
Franklin Square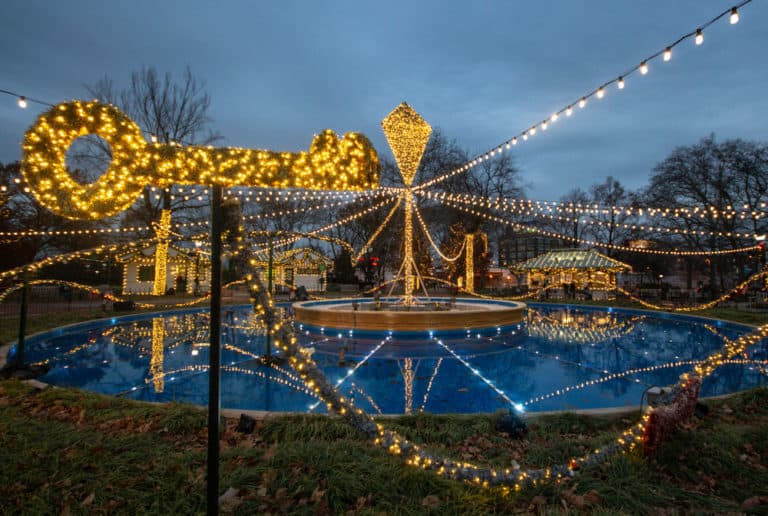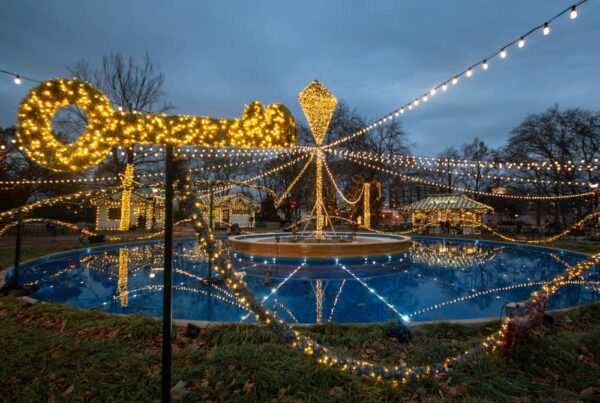 Franklin Square is located in Old City and is one of the original squares laid out by William Penn, and, while this is a great year-round destination, Franklin Square is also a perfect spot to see Christmas lights in Philly.
The highlight is the Electric Spectacle Light Show, which is shown every half hour throughout the holiday season. This show features many beautiful lights dancing through the square and synced to the festive music playing over the loudspeakers.
In addition to the light show, Franklin Square features carousel rides, mini-golf, fire pits, snacks, and more, all with a holiday twist.
Wild Lights at Elmwood Park Zoo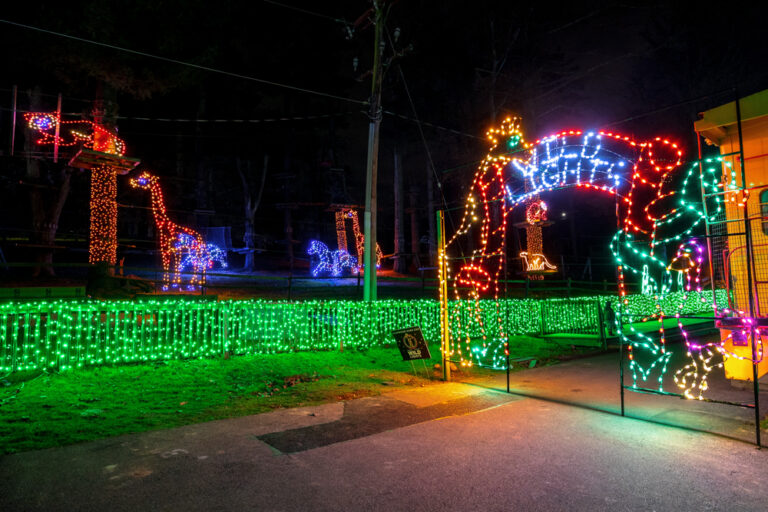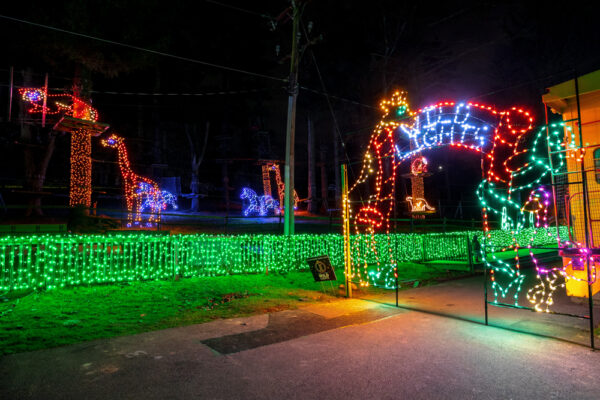 Animal lovers looking for Christmas lights won't want to miss Wild Lights at Elmwood Park Zoo in Norristown.
During the holiday season, the zoo is beautifully decorated with lights throughout the space, including on trees, enclosures, and more. There are also several animal-themed displays throughout the space.
In addition to the lights, some of the zoo's animals are on display during the evening event.
Herr's Christmas Lights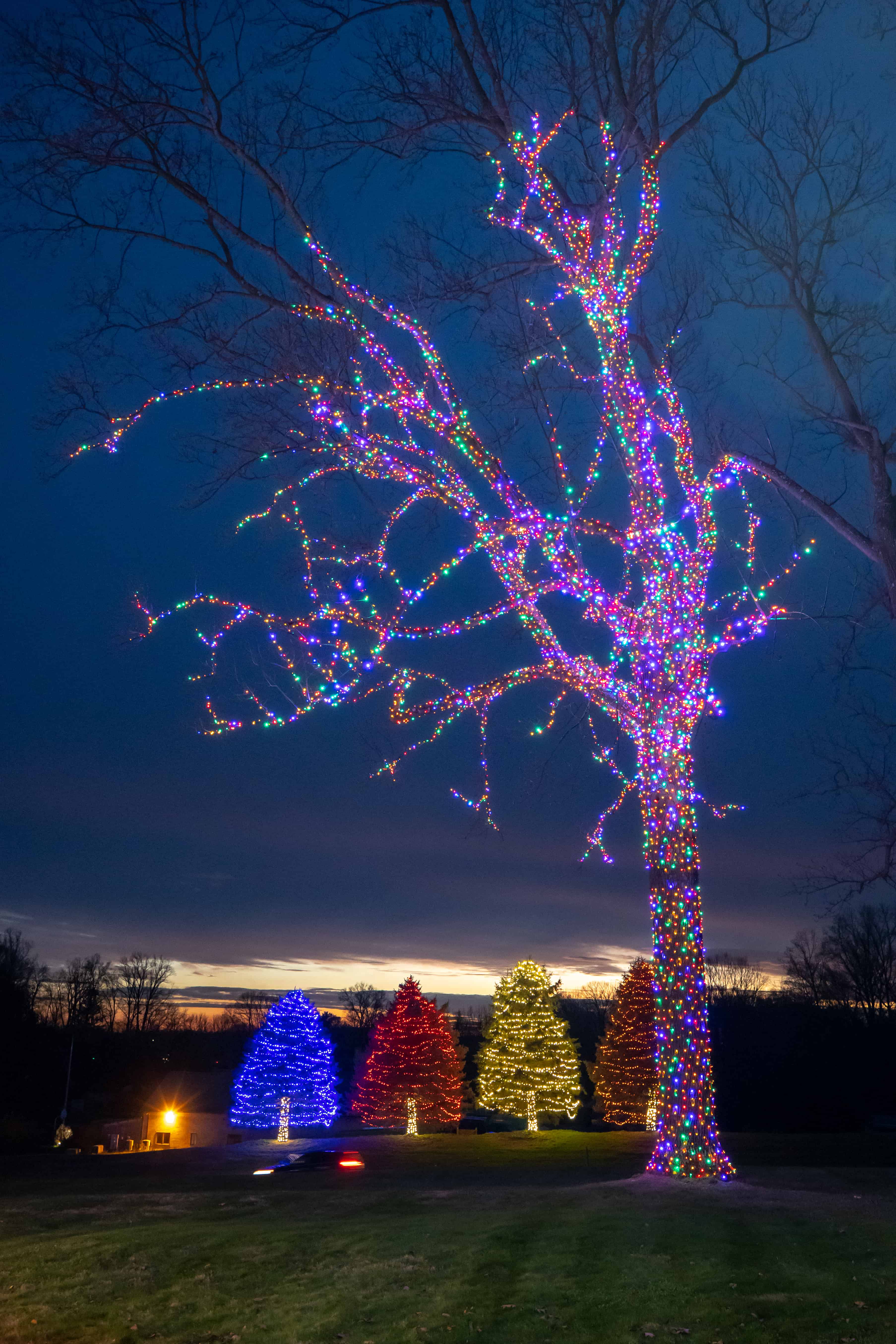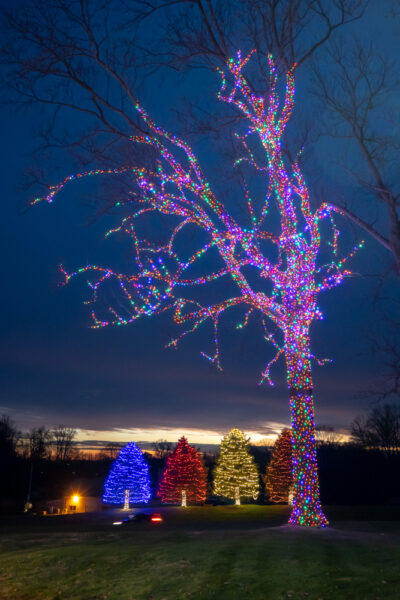 Located around the Herr's Snack Food Factory in Chester County a little over an hour from the city, you'll find one of the best drive-through Christmas light displays in PA.
This free display is open every evening from dusk until dawn throughout the holiday season and offers the chance to see gorgeous lights without breaking the bank. One of my favorite things about this display is that, since it's free, you can drive through it as many times as you want, making a trip from the city worthwhile.
Koziar's Christmas Village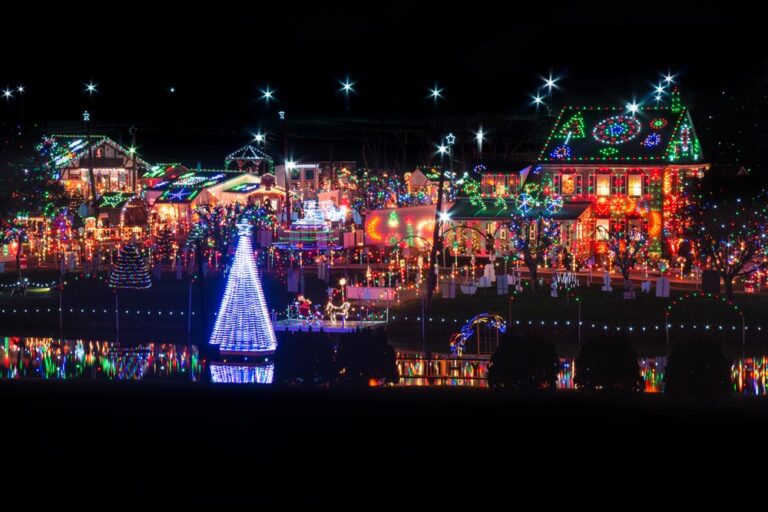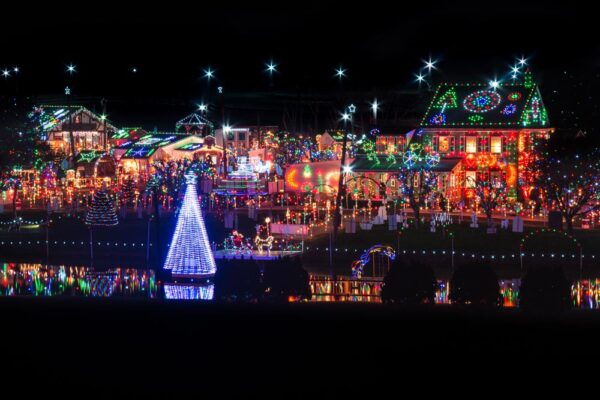 Located about 90 minutes from Philly, Koziar's Christmas Village in Berks County is the most distant spot on this list. However, if you love holiday lights, this spot is worth the drive.
Koziar's is a walk-through display that features well over a million twinkling lights on a working farm. Visitors can walk through a variety of holiday scenes, past several model trains, and even visit with Santa.
Do you have a favorite place to see Christmas lights in Philadelphia and the surrounding area that I didn't include? Let me know in the comments below.
Looking for more festive holiday attractions? Check out our favorite places to see Christmas lights in Pittsburgh, the best holiday season attractions in Lancaster, and how to ring in the New Year in Philly.