Disclosure: This article may contain affiliate links. We will make a small commission from these links if you order something at no additional cost to you.
While I always enjoy a great hike, sometimes I want to see something beautiful, but don't have the time for a long hike. That's one of the reasons why I find roadside waterfalls to be so great.
I've written previously about many roadside waterfalls that are located in quiet areas, such as Dry Run Falls and Cole Run Falls. However, you can also find roadside waterfalls along fairly busy roads. Osterhout Falls is one of these.
Despite being a two-lane road in a sparsely populated area of Wyoming County, Route 307 is a regularly used route off of Route 92, south of Tunkhannock, Pennsylvania.
This windy, narrow road features almost no shoulder and buildings that come precariously close to the roadway. Because of this, finding a spot to park at this waterfall is more of a challenge than any other waterfall I've ever visited (more on this later).
Once you do park, however, the difficulty isn't over. Walking to the top of the trail and viewing Osterhout Falls from above isn't overly difficult, but getting to the bottom is another story.
The descent here, while only about 20-25 feet down, is very steep and quite slippery when wet. Don't think that because this is a roadside waterfall that it's easy to get a good look at. Visiting this waterfall, and especially going to the bottom should only be attempted by those experienced descending steep paths.
Osterhout Falls itself is located along Mill Run, about half a mile up from the stream's confluence with the Susquehanna River. Where the named "Osterhout Falls" comes from, I don't know. However, since it is the name given to the waterfall in multiple sources, that's official enough for me.
Osterhout Falls is roughly 15-20 feet tall and seems to carry at least a bit of water even when many nearby waterfalls are dry (as is evidenced by the photos in this article).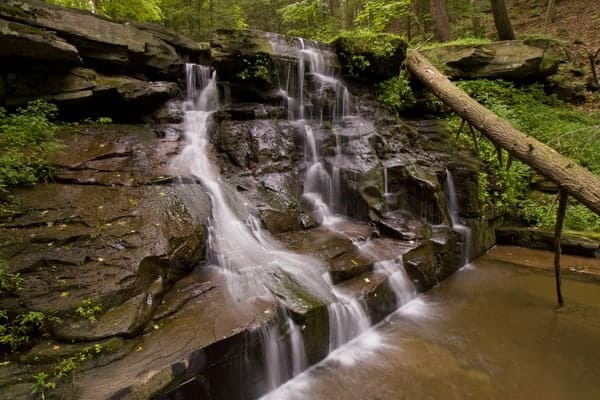 Unfortunately, the stream also collects a significant amount of debris below the base of the waterfall. While I have seen photos of the waterfall without this logjam, I find it hard to believe the debris will go away anytime soon. Because of this, it makes Osterhout Falls a difficult one to enjoy from a distance or to photograph. However, with a wide-angle lens, it's possible to shoot this waterfall without too much difficulty.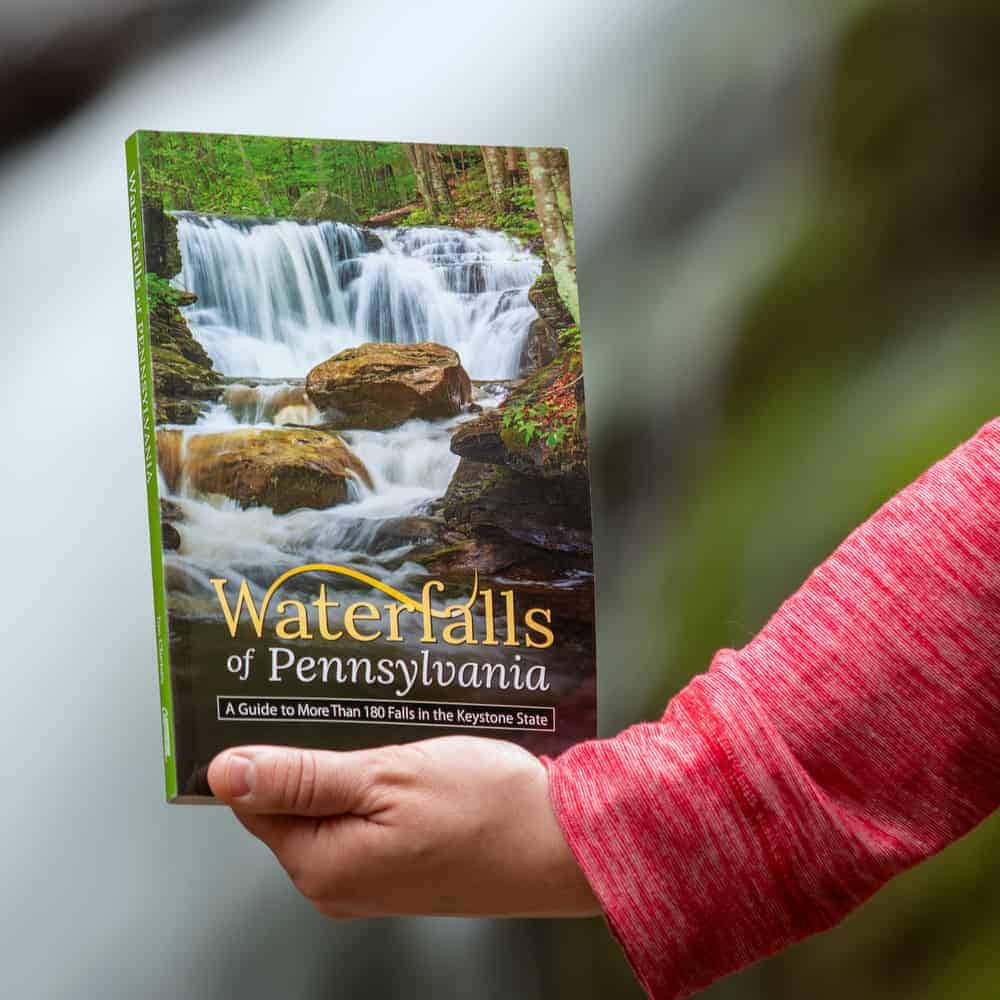 "Waterfalls of Pennsylvania" by Jim Cheney
If you love PA waterfalls, you won't want to miss this waterfall book from Jim Cheney, author of Uncovering PA, featuring more than 180 great waterfalls. Order it now on Bookshop.org or Amazon.
Osterhout Falls is quite a beautiful waterfall, and I'm really glad that I visited. However, because of the busy road, difficult parking situation, and dangerous descent, it really should only be attempted by those with a lot of experience around waterfalls.
How to Get to Osterhout Falls
Osterhout Falls is located about five miles south of Tunkhannock, in Wyoming County, Pennsylvania. It is on the southern side of Roosevelt Highway, also known as Route 307. If coming from Tunkhannock or Route 92, the waterfall will be located on your right.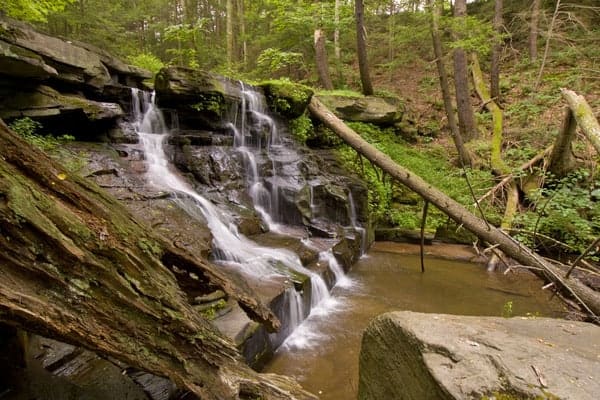 Parking at this waterfall is very difficult, and there really are no good options. After driving around the area for a bit, I found no obvious places to park, thanks to the narrow shoulder and private property signs. The best that I could do was the pull-off just after the guardrail ends going up the hill from Route 92.
This parking area is rather rocky and barely provides enough room for one car, but is probably the best choice. The waterfall and parking area are at the following coordinates: 41.512671, -75.889590.
Use extreme caution when exiting your car and walking along the shoulder, as the waterfall is located along a bend in the road and cars frequently drive by at high speed. Because of this traffic, I was unable to get a photo of either the path down or the parking area as I deemed it too unsafe to stand on the road to get the shots.
The path to the top of the waterfall is located in the middle of the guardrail and is easy to find. Again, use caution if you opt to go to the bottom, as the path is both slippery and steep.
If you'd rather visit an easier-to-access waterfall in the area, check out Little Rocky Glen Preserve.
[Click here for information on how to use coordinates to find your destination.]
See map below for other area attractions.