Disclosure: This article may contain affiliate links. We will make a small commission from these links if you order something at no additional cost to you.
Pennsylvania has a lot of
great waterfalls
, but Dry Run Falls located in Sullivan County's Loyalsock State Forest has to be one of the best. In fact, it's one of the few waterfalls in Pennsylvania that I made a point of visiting a second time. It's just that spectacular.
Don't let the name fool you. Just like Iceland isn't really icy and Greenland isn't all that green, Dry Run Falls typically has a nice flow of water going over the edge. That being said, as with most waterfalls, the best time to visit is after a bit of rain, especially in the spring or autumn months.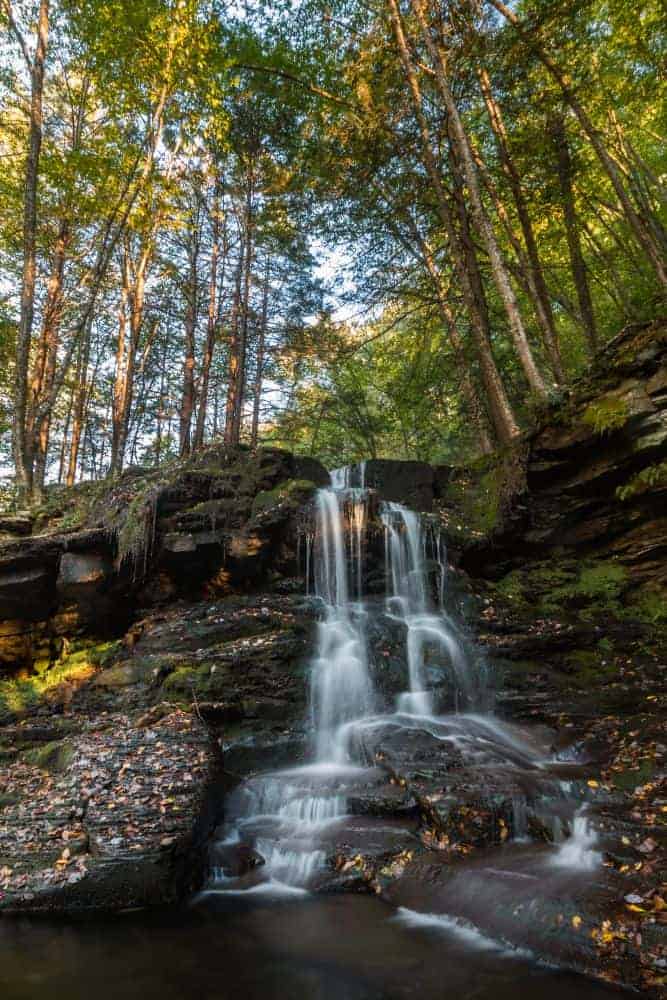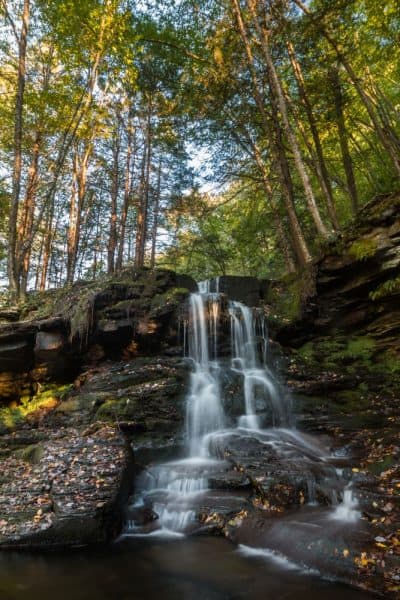 Dry Run Falls is roughly 20 feet tall and generally features two streams of falling water separated by a bit of rock that juts out from the middle. This gives the waterfall a lot of character since the two steams come down at a sharp angle to each other.
Another thing I love about visiting Dry Run Falls is how easy it is to get to. Located just steps from a parking area and a few picnic tables, Dry Run Falls is a great waterfall for those who can't hike, because the waterfall can be seen from the road and parking area.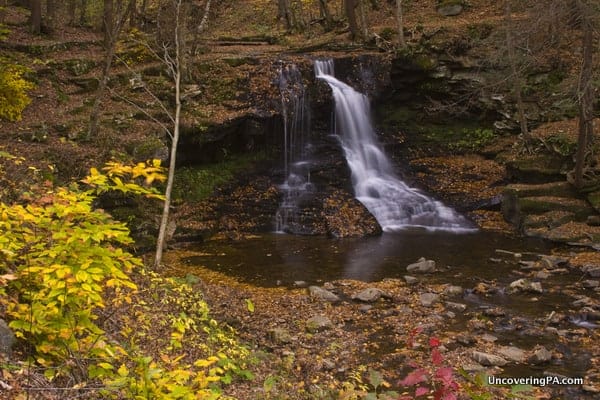 For those looking for a closer look, a small, steep path leads to the bottom of the falls. From the bottom, Dry Run Falls is even more impressive than it is from the parking area. Because of the unique rock formations, walking around the base of the waterfall gives a slightly different look to the waterfall. However, I think Dry Run Falls looks best from straight on at the bottom of the falls.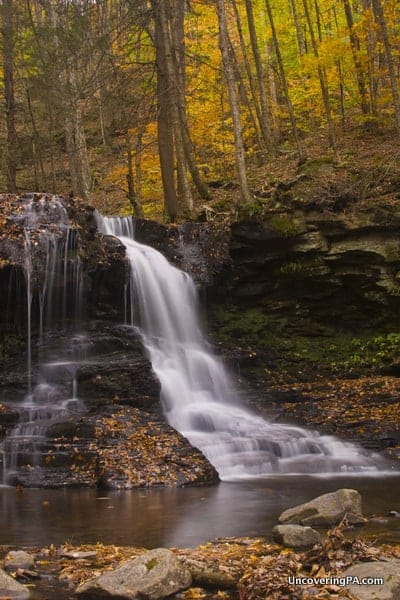 Getting to the top of the waterfall is also quite easy as it's a flat, 50-foot walk from the parking area. If you venture near the top of the waterfall, use extreme caution as the rocks near the edge are incredibly slippery, and a fall down to the rocks below would certainly be quite dangerous.
Further upstream from Dry Run Falls are two small cascades that might be of interest to photographers or those simply looking for a beautiful sight.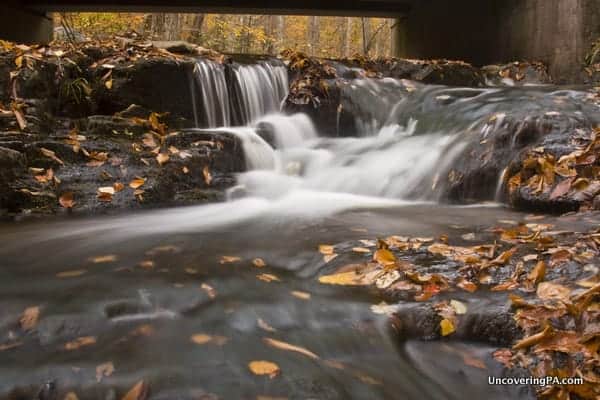 The first is about 150 feet upstream of the falls and is right under the small bridge that carries Dry Run Road over the water.
The second, which is somewhat more beautiful, though more difficult to get a close look at, is about 100 yards up Dry Run Road, under the next small bridge up the hill. While neither of these three to four-foot cascades is worth the trip by themselves, they are a nice addition to one of the best waterfalls in Pennsylvania.
How to Get to Dry Run Falls in Loyalsock State Forest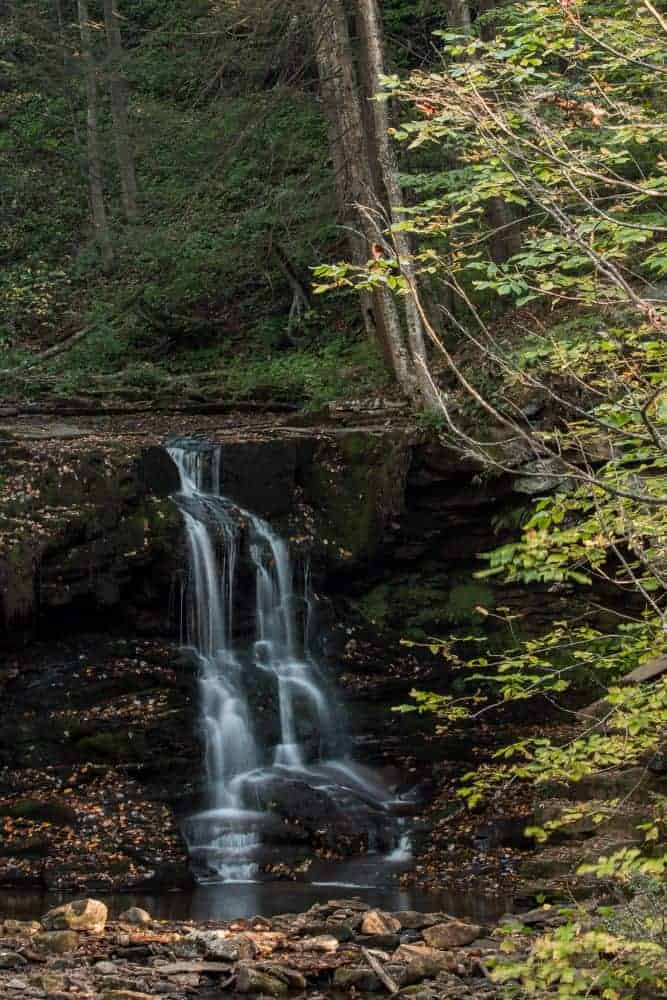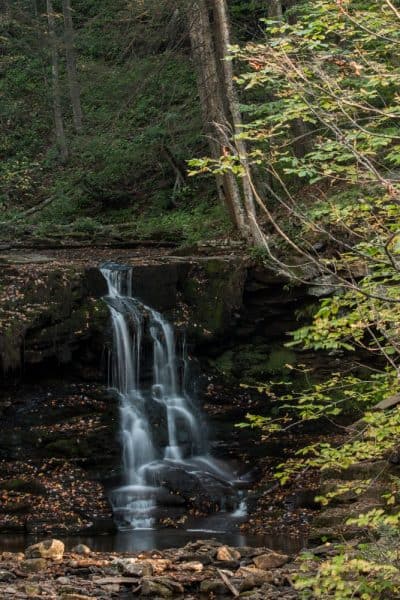 Dry Run Falls is located roughly two miles from Route 87 along Dry Run Road in Loyalsock State Forest in Sullivan County, Pennsylvania.
When you turn onto Dry Run Road from Route 87, you'll quickly pass the park office on your right. As you keep driving, the road turns from asphalt to gravel about halfway to the falls. You'll also pass a picnic area with a pavilion, but this isn't where the falls are. Keep going.
At the two-mile mark, the falls will be quite difficult to miss on your right as you can see them very well from the road. There is a parking area big enough for half dozen or so cars and a couple of picnic tables if you are looking for somewhere to have lunch.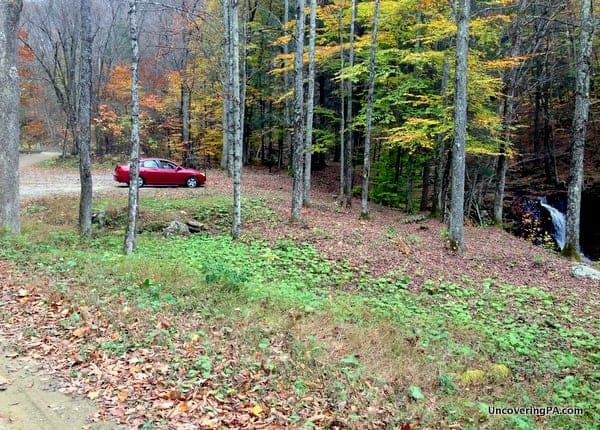 Check out the map below for the exact location of the waterfall, or put these coordinates in your favorite GPS unit to help you find your way: 41.430211, -76.670623.
Looking for more great waterfalls? Click the link to check out all of the beautiful Pennsylvania waterfalls that are pictured on the site. Or, check out other waterfalls in the area like the falls of Ketchum Run, Angel Falls, and Dutchman Falls. You can also see our top suggestions for things to do in Loyalsock State Forest.
[Click here for information on how to use coordinates to find your destination.]
See map below for other area attractions.