Disclosure: This article may contain affiliate links. We will make a small commission from these links if you order something at no additional cost to you.
Ricketts Glen State Park in Luzerne County is well-known for its amazing Falls Trail which contains 21 amazing waterfalls in a single hike. However, for many, one of the park's best waterfalls isn't located on this trail at all. In fact, I've often heard Adams Falls called the prettiest waterfall in the park. While I might not go that far, it's definitely one of my favorites in the park and one not to miss.
Even better, for those who don't have the time or desire to do the entire Falls Trail, Adams Falls is located only a few steps from the parking area, making this a great waterfall for a quick visit while driving through the park.
Adams Falls (not to be confused with Adams Falls in Linn Run State Park) sits on Kitchen Creek, the same creek system that holds the other 22 waterfalls at Ricketts Glen. And, as the most easily accessible waterfall in the park, visiting it is quite easy for even the most novice hiker.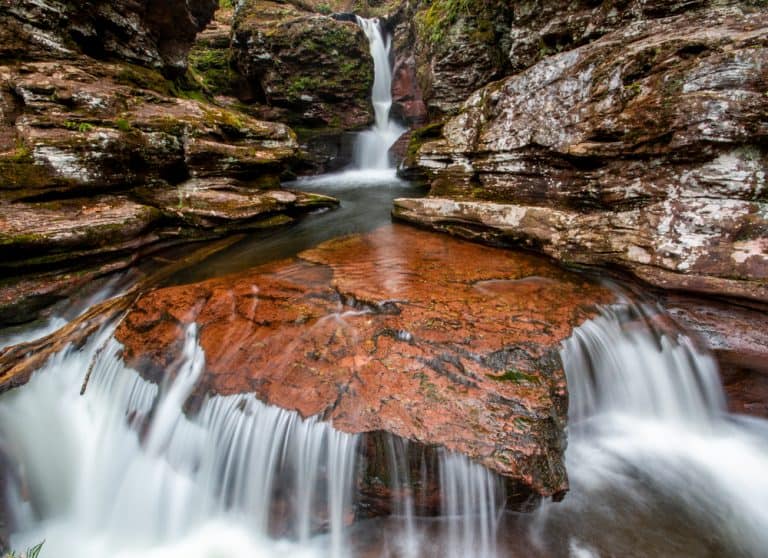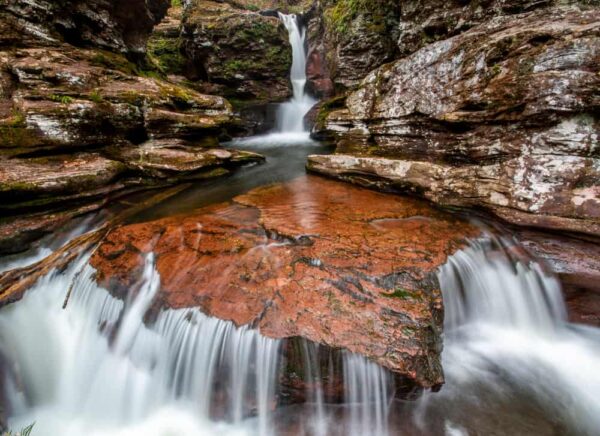 Adams Falls contains two primary drops. The first one is a 15-20 foot drop that goes through a narrow chute carved in the rock. This chute pushes the water through at an incredible speed, and has carved out a beautiful pool in the rocks.
From this pool, Adams Falls drops another 10 feet or so into a larger pool in two different chutes. Unfortunately, though, because of the angle of the rocks, this lower falls can be difficult to see. Truthfully, the only way to see it well is to get your feet wet and walk across the creek downstream of the falls. This will allow you to view the lower half of Adams Falls from the far bank of Kitchen Creek. While that might sound like a lot of work, it is well worth it for the falls' beauty, in my opinion.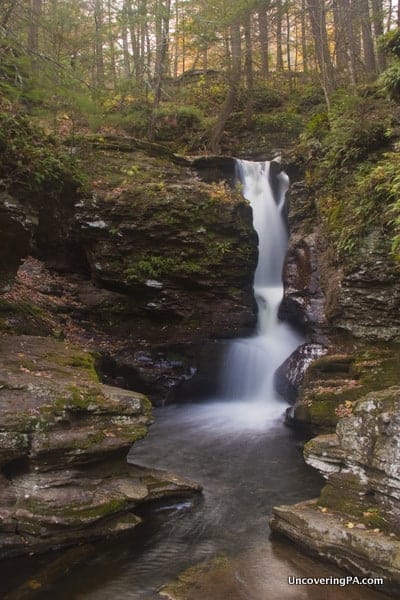 However, if you don't want to get your feet wet, you can still see the lower drop from above. To do this, carefully make your way to the edge of the large rock outcropping where you're most likely standing to view Adams Falls. Looking down from there, you can see the lower half of the waterfall cascading down the rock face below you.
If you were paying attention as you were walking to Adams Falls, you may have noticed another waterfall just upstream of Adams Falls. This waterfall is called Kitchen Creek Falls, and, at nine-feet high, the smallest named waterfall in Ricketts Glen State Park.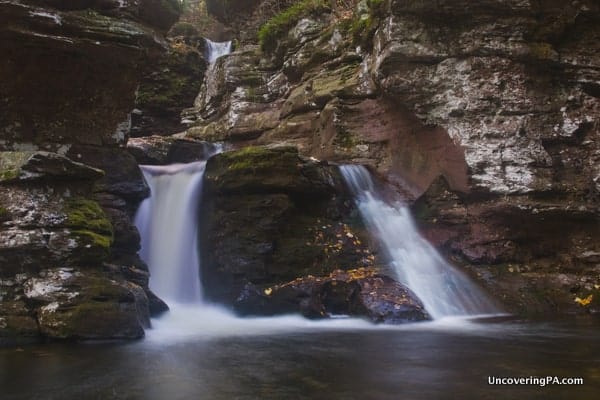 Unfortunately, this waterfall runs under the Route 118 bridge, as it looks like it would be very beautiful. The best vantage point for this waterfall is to carefully cross the busy Route 118 from the parking area for Adams Falls, and walk a bit up the road until you get to the small bridge.
If you walk towards the underside of the bridge on the far side of the stream, you'll be able to see the rather unique Kitchen Creek Falls. If the waterfall wasn't covered up by the road, it might be one of the most beautiful and unique waterfalls in Ricketts Glen State Park.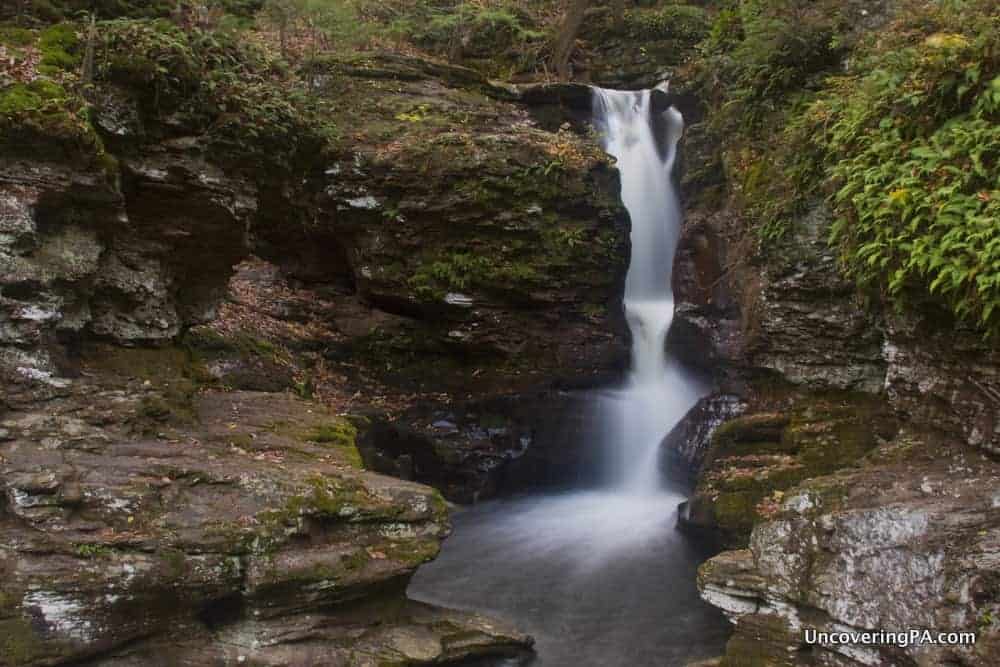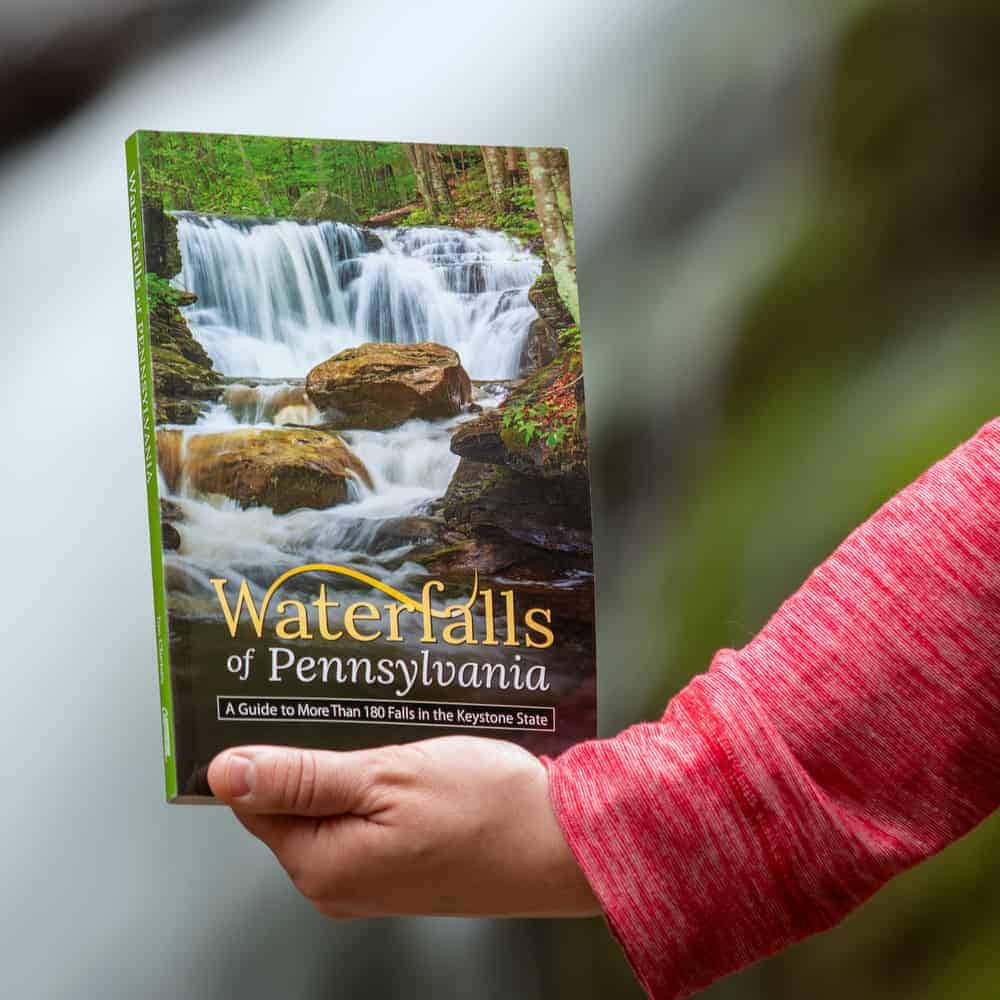 "Waterfalls of Pennsylvania" by Jim Cheney
If you love PA waterfalls, you won't want to miss this waterfall book from Jim Cheney, author of Uncovering PA, featuring more than 180 great waterfalls. Order it now on Bookshop.org or Amazon.
Without a doubt, no visitor to Ricketts Glen State Park should miss Adams Falls. Not only is it easily accessible, but it's one of the most scenic waterfalls in Pennsylvania. Even better, by visiting Adams Falls and taking a quick detour to check out Kitchen Creek Falls before or after hiking the Falls Trail, you'll be able to see all 23 named waterfalls in Ricketts Glen State Park.
How to get to Adams Falls in Ricketts Glen State Park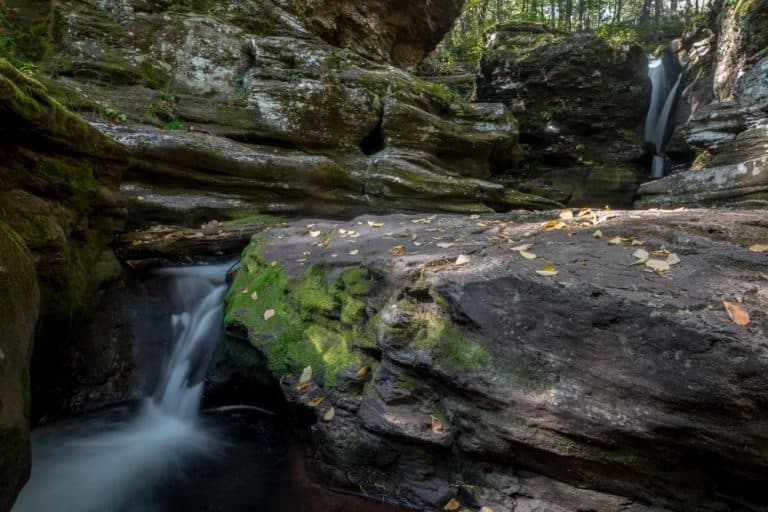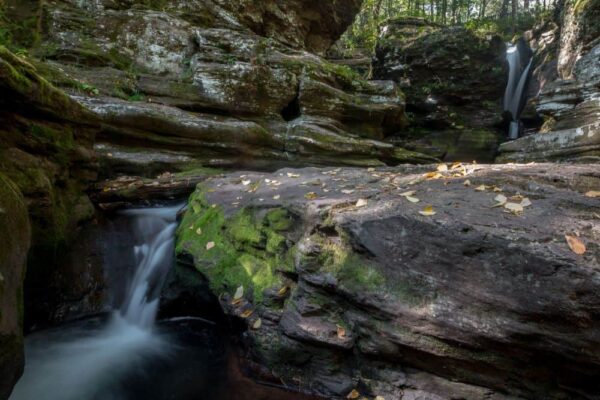 Adams Falls is located just south of Route 118, which runs through the southern portion of Ricketts Glen State Park in Luzerne County.
The best place to park is in the Evergreen Parking area. This will be the parking area on your left if you are traveling west on Route 118 (on your right if you're traveling east). The Evergreen Trail leaves from this parking area and passes by Adams Falls within the first 100 or so yards.
For those interested in doing a bit more hiking, the Evergreen Trail is a 1-mile loop that leaves from the parking area. This ecological trail leads through an area of old growth forest that's more than 500 years old. While this trail is often overlooked by visitors to the park, it's a scenic trail and worth hiking if you have the time.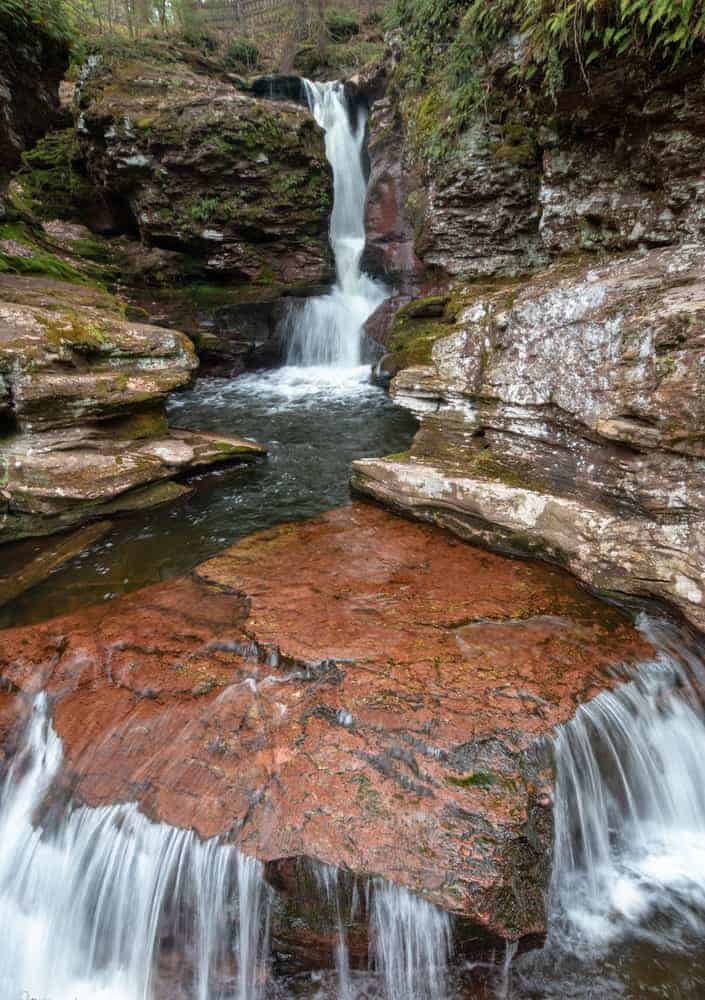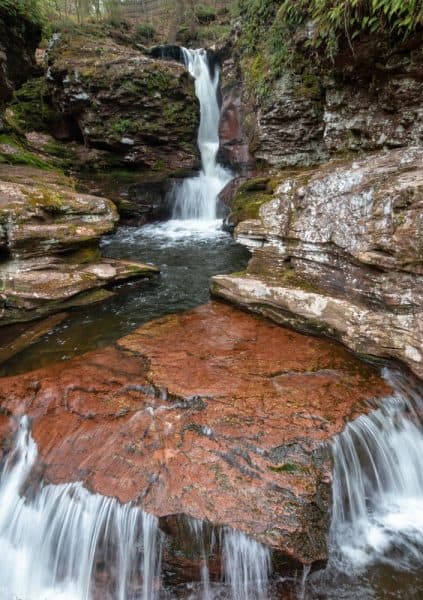 If you've hiked the Falls Trail, you've likely parked in the Route 118 Trailhead Parking area. From here, head west about 200 feet up the road to the parking area for Adams Falls. On the way, make sure to check out Kitchen Creek Falls under the Route 118 Bridge.
The marker on the map below denotes the location of the parking area, which can be found at the follow coordinates: 41.299506, -76.274315.
If you are looking for even more adventure in the area, don't miss Sullivan Falls, Little Shickshinny Falls, and the three waterfalls on Heberly Run in nearby State Game Lands 13. You can also camp at Ricketts Glen State Park if you are planning to explore the area for a few days.
[Click here for information on how to use coordinates to find your destination.]
Want to visit more waterfalls? Check out our Pennsylvania Waterfalls page!
Need a hotel near Ricketts Glen?

Here are a few great options:
See map below for other area attractions.