Disclosure: This article may contain affiliate links. We will make a small commission from these links if you order something at no additional cost to you.
I'm not a fan of winter at all. However, when I was invited by the Pocono Mountains Visitors Bureau to ski and snow tube at Jack Frost Ski Resort in Carbon County, Pennsylvania, I decided it was time I tried to embrace my inner Jack Frost and give it a go.
I was a bit nervous, having not skied since high school. However, after seeing reports that Jack Frost Ski Resort was a great slope for beginners, my wife and I opted to forgo lessons, hoping our previous experiences would be enough to get us by.
Jack Frost Ski Resort is a bit different than most in that the lodge and parking area are located at the top of the hill instead of at the bottom. While I knew this going in, it was still strange to drive up to a ski resort and not actually see any ski hills until I was nearly on top of them.
Of course, being so rusty on skis, it was nice to be able to practice a bit on the slope before having to perform the somewhat daunting task of getting off the ski lift.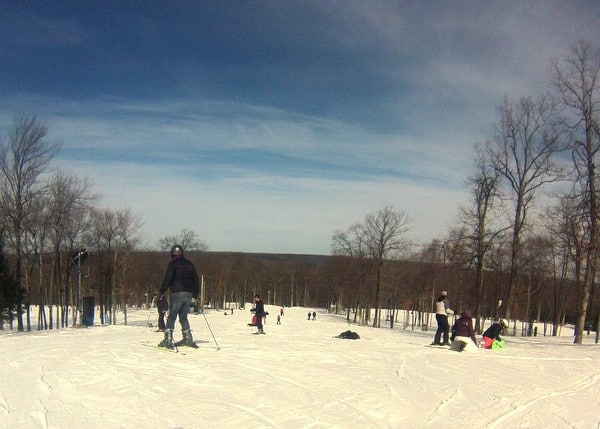 Ski and snowboard rentals are located on the left side of the mountain. This spot is furthest from the parking area, but next to the lesson area and easiest slopes.
The process of getting boots, skis, poles, and a helmet was quite painless and quick, even for a very busy Saturday morning. In no time, we were standing at the top of the slope, skis on, and praying we would wind up at the bottom in one piece.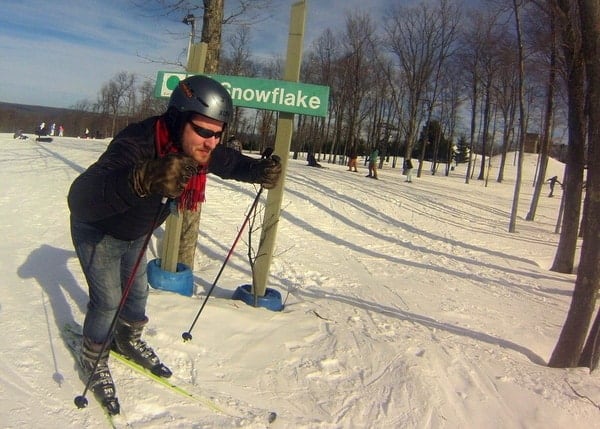 We opted to start our day on Powder Puff, which, as the name implies, seemed to be the easiest slope. This became very evident once they brought the children's lessons over (They run lessons for everyone three and older). My wife, whose only skiing experience was in Colorado, commented on how much easier this slope was than she had expected.
One nice thing about the ski slope here was that it was possible to travel the short distance down to a pair of ski lifts in the middle of the mountain. While it's possible to continue down further, these areas are rated as intermediate. So, if you are a beginner like we were, it may be best to take the first ski lifts back up to the top of the mountain.
For those looking for a bit more of a challenge. It's worth noting that Jack Frost is home to roughly a half-dozen black diamond slopes and a handful of intermediate slopes. There is also a terrain park for those looking to try their skills on obstacles.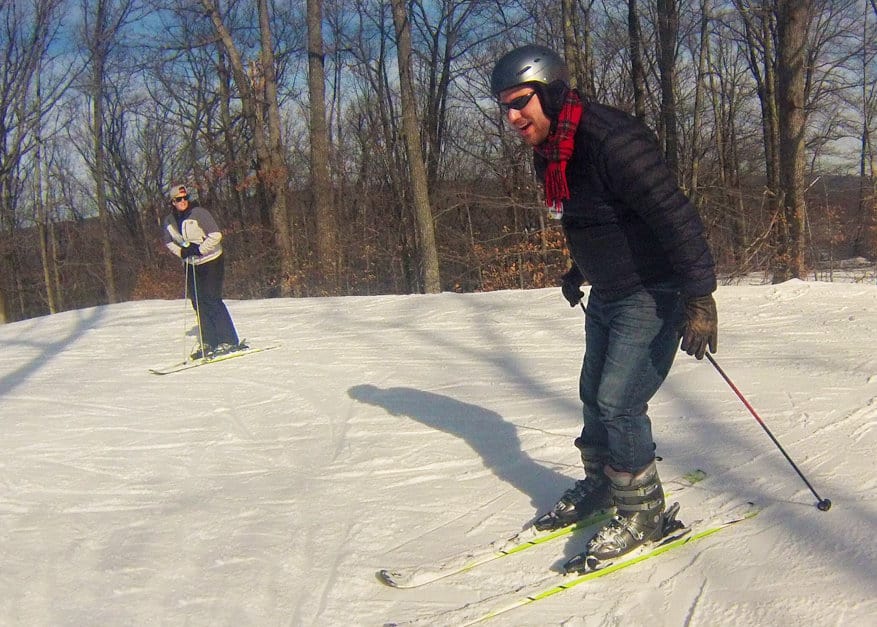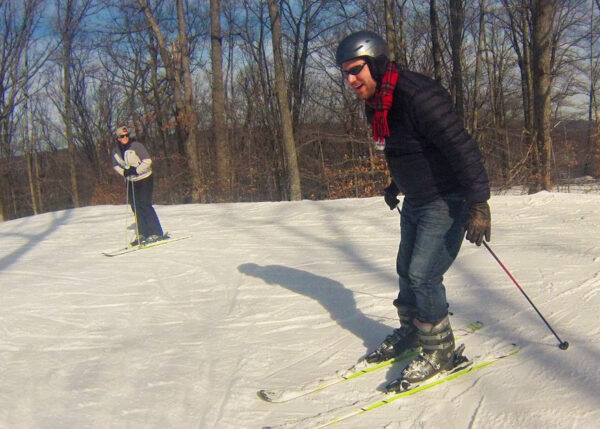 After a morning of skiing, my wife and I turned in our rentals and headed over to the snow tubing area (Note: snow tubing and skiing require separate tickets).
Located on the opposite end of the mountain from the lodge and beginner slopes, the snow tubing area featured seven identical lanes for tubing. Riders can grab a tube from the bottom of the slope and ride up the hill on a lift system that takes both riders and tubes to the top.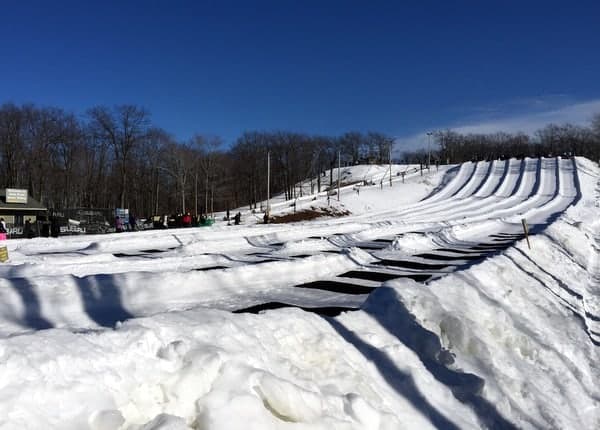 Once at the top of the hill, get in line to wait your turn to slide down the hill (Tip: The far lanes typically have the shortest lines).
Once it's your turn, get in your tube and wait for the clearance to head down the slope. The tubing area at Jack Frost allows for multiple tubes to go down together, though the number allowed depends upon slope conditions. The day I went was deemed "fast" and only three tubes could go down in a train.
The tubing was a lot of fun here, but what made it even more fun was that the rules seemed a bit more relaxed than they often are at ski resorts. The workers were allowing riders to go down headfirst and even to get a bit of a running start. While I was a bit nervous to go down headfirst at the beginning, I'm really glad that I did as it was a lot more fun.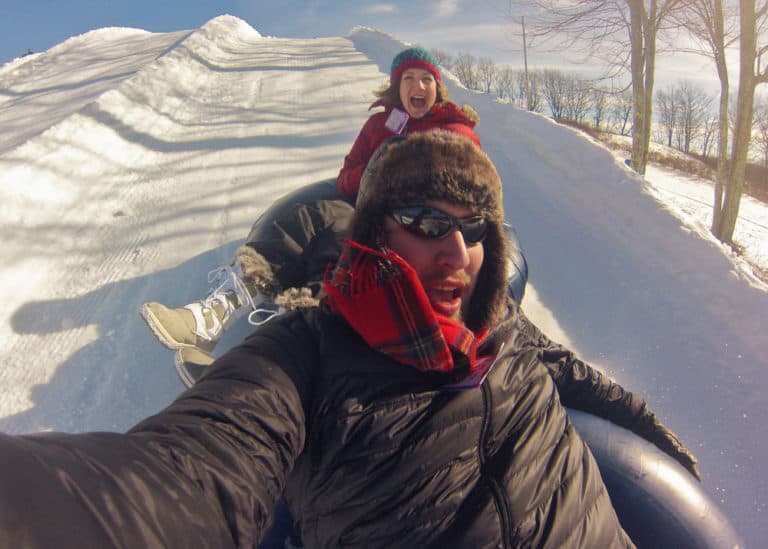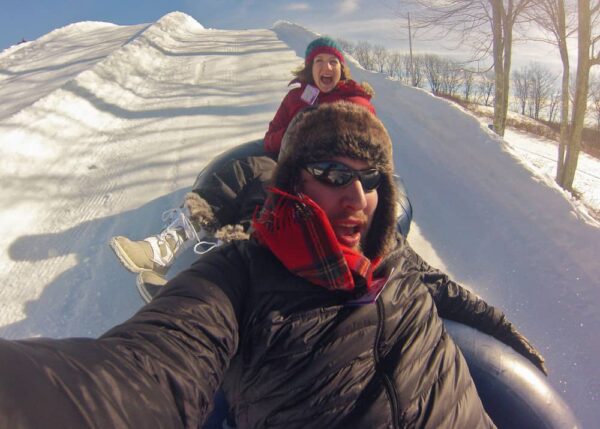 Overall, my wife and I both had a fun time skiing and snow tubing at Jack Frost Ski Resort in the Pocono Mountains.
Had we wanted to, our lift tickets were also good at the nearby Big Boulder Ski Area (where the art of artificial snow production was perfected). You can even return your rental equipment at one resort and pick up new equipment at the other.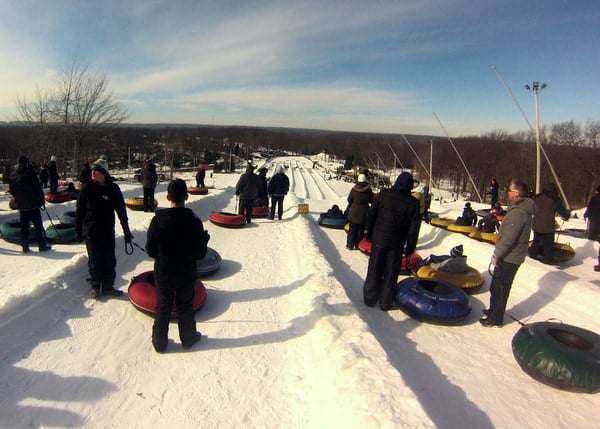 If you're looking for a great ski resort in the Poconos, especially if you are a beginner, Jack Frost Ski Resort is a great place for the whole family to go skiing or snow tubing.
Note: My visit to Jack Frost Ski Resort was hosted by the Pocono Mountains Visitors Bureau. However, the opinions expressed are my own.
Looking for other great things to do in the area? Check out Tobyhanna Falls and Hawk Falls.
---
Jack Frost Ski Resort
Website: JFBB.com

Address:
434 Jack Frost Mountain Rd
White Haven, PA 18661
See map for other area attractions.
---