Disclosure: This article may contain affiliate links. We will make a small commission from these links if you order something at no additional cost to you.
I've spent a lot of time hiking in the Pocono Mountains of Pennsylvania and have visited many amazing places: Raymondskill Falls, George Childs Park, and Glen Onoko, just to name a few. However, very few can match the sheer beauty of the Hornbecks Creek Trail.
Hornbecks Creek is a small stream hidden away in the mountains of the Delware Water Gap National Recreation Area, a few miles south of Dingmans Falls. Despite the awesomeness of this stream, there is only one sign between the two parking areas and little to give away the beauty located here.
Hornbecks Creek, also known in some sources as Indian Ladders, features three waterfalls along with numerous cascades.
A trail used to extend from Route 209 in the south up to Emery Road. However, the trail has been washed out in the middle and a portion of the trail is now closed. While it's still possible to see all of the Hornbecks Creek waterfalls, it requires taking two shorter hikes as opposed to one longer one.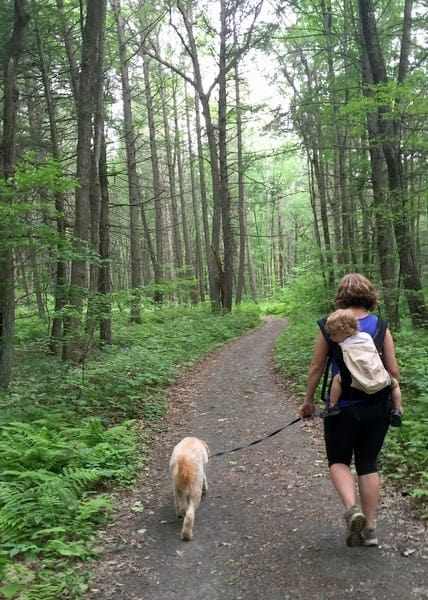 The most popular portion of the trail is the southern half, which starts in a parking lot off of Route 209. A small, unpaved parking area is denoted by a rather unassuming sign labeled "Hornbecks Trail."
From this parking area, a small kiosk sits next to a very obvious trail that follows Hornbecks Creek upstream for approximately one mile.
The trail starts off easy, flat, and wide, but does feature several blowdowns that must be climbed over and requires a bit of hiking along the stream. Depending on water levels, it might not be possible to keep your feet dry while hiking. This hike to the lower waterfall on Hornbecks Creek is difficult in spots, but not overly dangerous.
After a mile of hiking, Hornbecks Falls comes into view. Be careful here as the rocks around the creek, even the dry ones, tend to be very slippery.
Hornbecks Falls is a slide waterfall that falls in two drops that total about 20 feet in height. In front of the falls is a large, circular pool that makes getting a close look at the falls a bit challenging. Keep in mind when visiting that swimming here is prohibited by the National Park Service.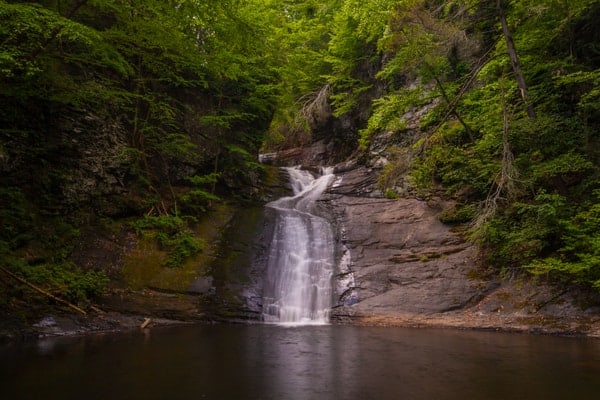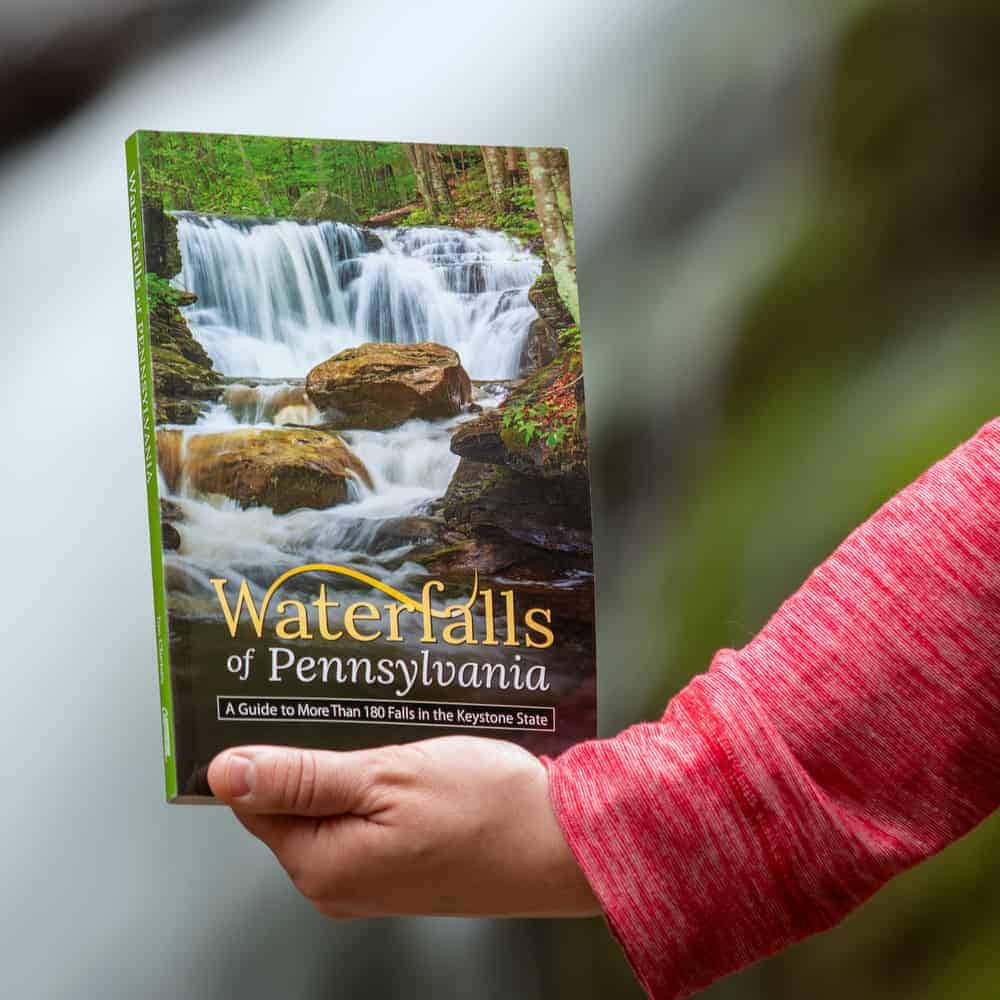 "Waterfalls of Pennsylvania" by Jim Cheney
If you love PA waterfalls, you won't want to miss this waterfall book from Jim Cheney, author of Uncovering PA, featuring more than 180 great waterfalls. Order it now on Bookshop.org or Amazon.
In the past, the Hornbecks Trail continued on above this lowest falls to the ones above. However, due to erosion issues and lack of a safe trail, this portion of the trail has been closed. So, to see the waterfalls on the upper portion of the creek, retrace your steps back to your car.
While the lower part of the trail is beautiful, if you only have time to do one portion of the Hornbecks Trail, hike the upper portion. Not only is it a bit shorter, but it includes two waterfalls (including the creek's best and tallest drop), along with an impressive gorge.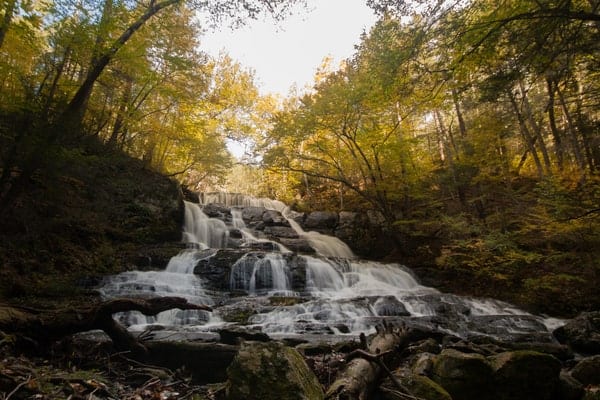 The upper waterfalls of Hornbecks Creek can be reached from a small, unmarked parking area off of Emery Road near the Pocono Environmental Education Center (which is home to Tumbling Waters, another little-visited waterfall) and Camp Hidden Falls.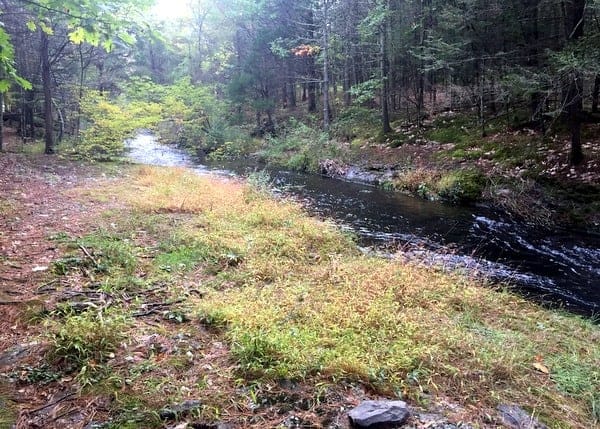 From this parking area (coordinates are listed below), cross over the bridge above Hornbecks Creek and walk downstream with the creek to your left. The trail here is unmarked, but rather obvious. The lack of underbrush in places can make following the trail a bit tricky, but if you simply continue downstream along the creek, you won't get lost.
A few minutes into the hike, you'll come to the creek's uppermost waterfall. This approximately 15-20 foot drop is a beautiful slide that often splits around a large rock near the bottom.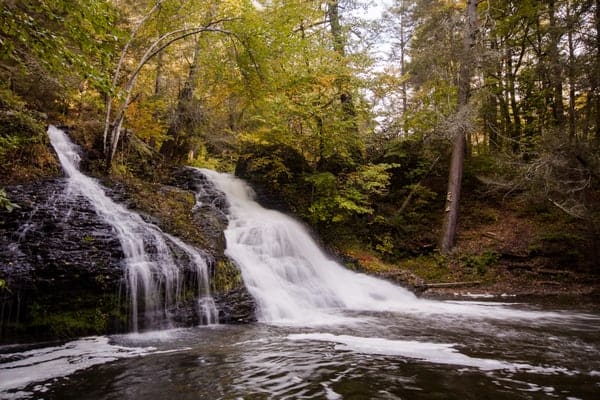 Between this uppermost falls and the large falls, a short distance downstream, Hornbeck's Creek drops into a deep gorge. In this gorge are several smaller falls, slides, and cascades. Getting a look at most of them is somewhere between difficult and impossible, but there are a few spots where it opens up a bit allowing views of the creek below.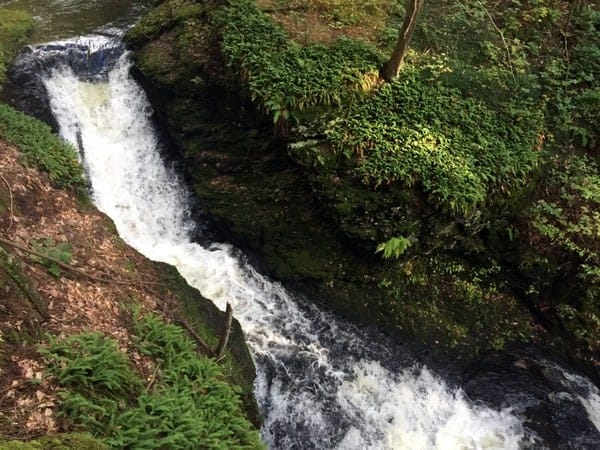 Finally, about a half-mile south of Emery Road, the trail comes to a set of wooden stairs that takes the trail to the bottom of the largest waterfall on Hornbecks Creek. Often called Indian Ladders Falls (though I've also seen it called Goliath Falls), this 35-40 foot waterfall is one of my favorite waterfalls in Pennsylvania.
It's hard to explain exactly why I love this waterfall so much, and I feel like photos don't quite do it justice. However, standing at the base of this waterfall is a purely magical experience. And, given this waterfall's obscurity, one you are likely to have to yourself.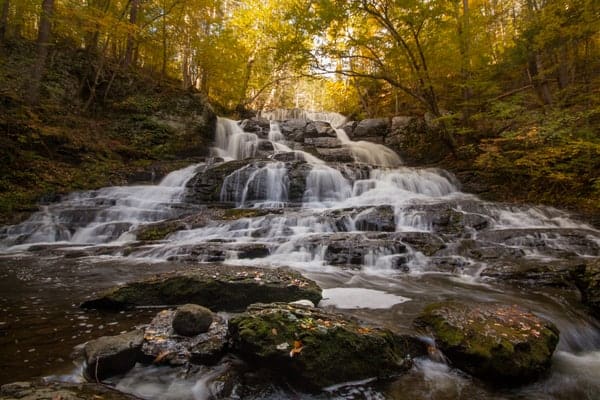 While it might not have the height nearby falls like Raymondskill Falls or Dingmans Falls, this waterfall is one that shouldn't be missed when hiking in the Delaware Water Gap National Recreation Area.
There are a lot of great hiking trails and waterfalls in Poconos, but there's no question in my mind that the waterfalls on Hornbecks Creek in Pike County rank among the most beautiful out there. You won't want to miss this hidden gem on your next visit to the Pocono Mountains.
How to Get to the Waterfalls of Hornbecks Creek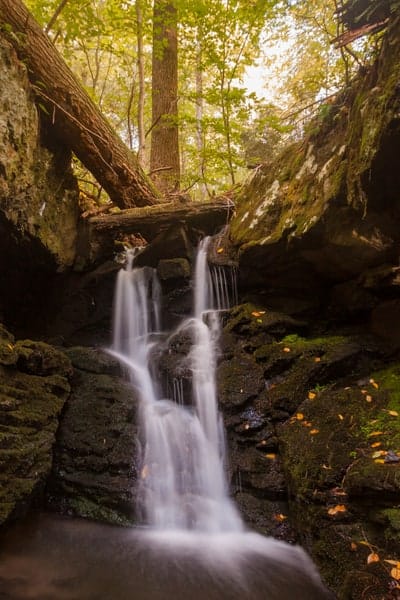 As stated above, there are two access points for the hike to the Hornbecks Creek waterfalls in the Delaware Water Gap.
The lowermost waterfall can be reached from an unpaved parking area off of Route 209 near Chestnut Hill Road. This parking area can be found at the following coordinates: 41.187000, -74.885415. From here, an obvious trail heads into the woods and follows the creek upstream to the waterfall.
The parking area for Hornbecks Creek's uppermost waterfalls can be found off of Emery Road at the following coordinates: 41.196111, -74.908831. From this parking area, walk back over the bridge that crosses the creek and head downstream to find the falls.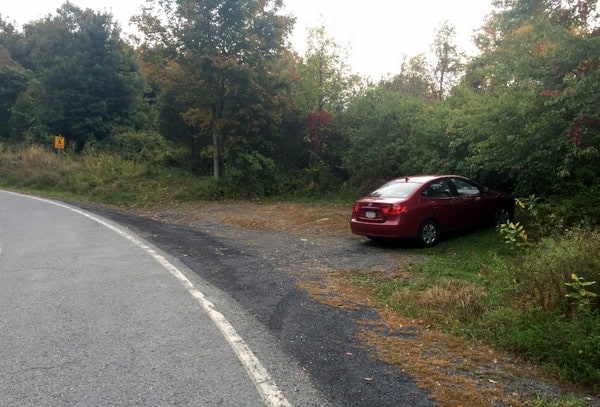 As a reminder, while the Hornbecks Trail used to run the entire length of the creek between Route 209 and Emery Road, it has been closed between the two large waterfalls due to erosion and dangerous conditions. It is best to see the waterfalls on two separate hikes.
Want to see more of Pennsylvania's best waterfalls? Check out our Pennsylvania Waterfalls page!
[Click here for information on how to use the coordinates in this article to find your destination.]
See map below for other area attractions.