Disclosure: This article may contain affiliate links. We will make a small commission from these links if you order something at no additional cost to you.
Even though I'm not a big car guy, I always love visiting antique automobile museums. So, when I found out that Allentown, Pennsylvania, was home to the Mack Trucks Historical Museum, I knew I had to check it out!
The Mack Trucks Museum is tucked away behind the Queen City Airport. At one point in the company's history, the building that houses the museum was home to many of Mack's corporate workers. Today, however, only a small contingent of workers are left in Allentown, meaning much of the building is now used to house the large museum.
Tours of the Mack Trucks Museum are guided, despite there being reasonable signage throughout the museum. The tours at Mack Trucks, Inc. in Allentown, PA are more history based than a Mack Truck factory tour, which you might find at Mack Trucks headquarters in Greensboro, NC.
The first area you'll visit on your tour is a large room with panels and small items that explain the history of Mack Trucks.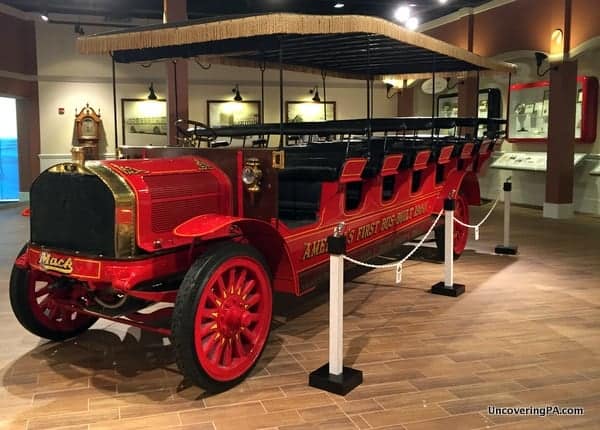 The Mack Brothers Motor Car Company was incorporated in 1900, and would, at one point, be owned by all four of the Mack brothers. In 1904, the company began its move to Allentown, PA, where its headquarters would stay from 1905 to 2009. Mack developed its first truck in 1907 and formally became Mack Trucks, Inc. in 1922.
In this first room, you can't miss the two very old and historic Mack trucks. In fact, these are the two oldest Mack automobiles that the museum possesses. However, you'll notice that they are buses, not trucks, as that was what they made for the first few years of production. The oldest was produced in 1901 and drove over a million miles touring visitors through the streets of Chicago and New Orleans.
Throughout the rest of the museum, dozens of beautifully restored Mack trucks are on display. These range from current models to trucks over 100 years old.
The second room of the tour houses many of the current models of Mack Trucks. The tour guide even let me climb into one and sit in the driver's seat. Having never been in anything larger than a rental truck, it was very cool to sit in the cab on a semi-truck.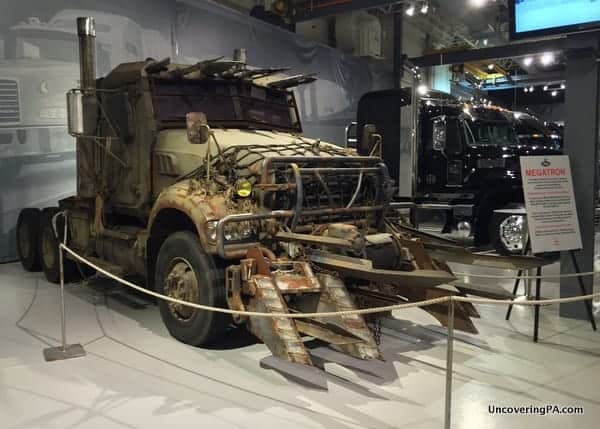 This room is also home to one of the cooler vehicles in the museum: the Megatron truck from the movie "Transformers." The truck on display is the actual one used in the movie, but I was disappointed to hear that the transforming was done on computer graphics and wasn't built into the truck.
In addition to all of the cool trucks, the museum also has a nice collection of Mack trucks memorabilia. These include toy trucks, advertising signs, and even a coin-operated Bulldog kiddie ride. There are also several full-size truck motors on display, which gives you a great chance to see not only how big they are, but also to learn how they work.
Another very cool part of the Mack Trucks Historical Museum is the building itself. At one point in time, this used to be the testing center for Mack Trucks. In one room, sound-proof paneling was used to dampen all echoes during testing. These panels are still there, and you'll notice a very significant and very strange change to your voice when you enter. You don't realize how accustomed you are to echoes until they are gone.
Another room of the museum was where they used to test the aerodynamics of the trucks and their resistance to temperatures. This room still has a very large fan at the front of the room and a control room next door with awesome equipment straight out of the 70s. Today, this is where volunteers refurbish the Macks that are later put on display in the museum.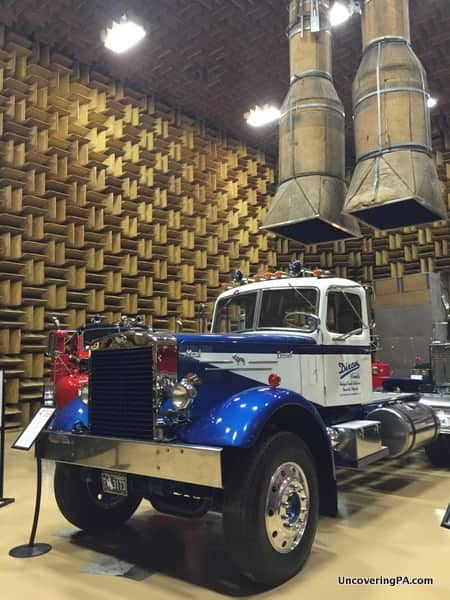 Overall, as someone who is fascinated by history and how things work, I really enjoyed my tour of the Mack Trucks Historical Museum. My visit lasted about 1.5 hours, but it could have definitely been longer if I had more time.
For those still trying to decide if a visit is for you, take a few minutes to watch this fun video about the Mack Trucks Historical Museum from Discover Lehigh Valley.
Visiting the Mack Trucks Historical Museum
The Mack Trucks Historical Museum is tucked away behind the Queen City Municipal Airport in Allentown. As best I could tell, there are no signs pointing the way, so make sure you plug the address into your GPS.
It's worth noting, that while my GPS got me to the right road, it placed the address about half a mile before the entrance to the building. Fortunately, there is nothing else along the road, and the road dead ends at the facility, so just keep driving until you find it.
Tours of the Mack Trucks Museum leave every half hour from 10am-3pm on Mondays, Wednesdays, and Fridays. There is no set tour length, so be aware that your tour could last from 1-2 hours.
There is an onsite gift shop for those looking for Mack Trucks memorabilia. This is also where you check in for the tour when you arrive.
---
Mack Trucks Historical Museum
Hours: Monday, Wednesday, Friday: 10am-4pm
Last tour starts at 3pm

**Temporarily closed- Reopening in June 2023

Cost: Free

Website: MackTrucksHistoricalMuseum.org

Address: 11 Grammes Road
Allentown PA 18103
See map below for other area attractions.
---