Disclosure: This article may contain affiliate links. We will make a small commission from these links if you order something at no additional cost to you.
Visitors to Philadelphia often make it a point to stop by Independence Hall to see the building where, on July 4, 1776, the United States declared its independence from Great Britain. However, few realize when planning their trip that it was also in this building that the United States Constitution was debated and adopted 12 years later.
For those that want to learn more about this important document, the US Congress set up the National Constitution Center as a way to "disseminate information about the United States Constitution on a non-partisan basis in order to increase the awareness and understanding of the Constitution among the American people."
Sitting directly across Independence Square from Independence Hall (and directly across the street from the US Mint), the National Constitution Center is unlike any other museum I've visited.
Visits to the center start with a live-action program about the Constitution. While it was very well done, I found this to be less about learning about the Constitution and more of a pep rally for how awesome it is. While it is done is a non-partisan way, I typically visit museums to learn, not to feel good. Because of that, I found the program to be a bit underwhelming, though I can certainly see why others would enjoy it.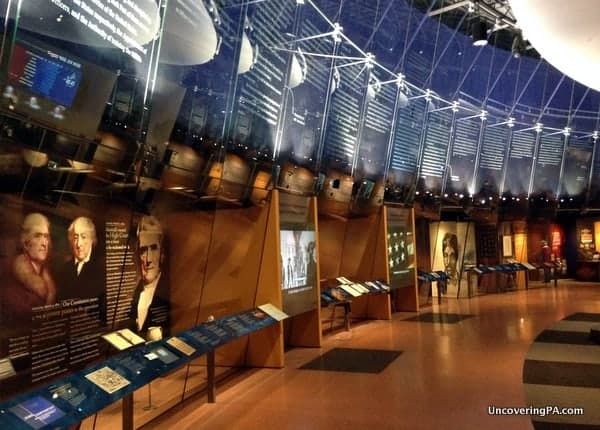 Moving on to the museum, I felt that the National Constitution Center did a much better job fulfilling their purpose of increasing "awareness and understanding of the Constitution".
The museum features information about the history of America's government through a series of present-tense accounts of how the government has changed over the years. The panels take you from the foundations of American independence through the Articles of Confederation and to the Constitution and how it has been changed over the years.
For me, the most interesting part of this section was the information about the events that have changed and challenged the Constitution over the last 225+ years. And, while the museum focuses more on words than artifacts to tell its story, there are several interesting items on display including a letter written by Susan B. Anthony, President Truman's vacation shirt, and Supreme Court Justice Sandra Day O'Connor's judicial robes.
In addition to teaching about the Constitution, the National Constitution Center also presents great information about civics. Mock poll booths allow visitors to answer questions to figure out which president you most agree with. There is even a Presidential podium where you can recite the Presidential oath and a citizenship test to see if you know enough to become a citizen of the United States.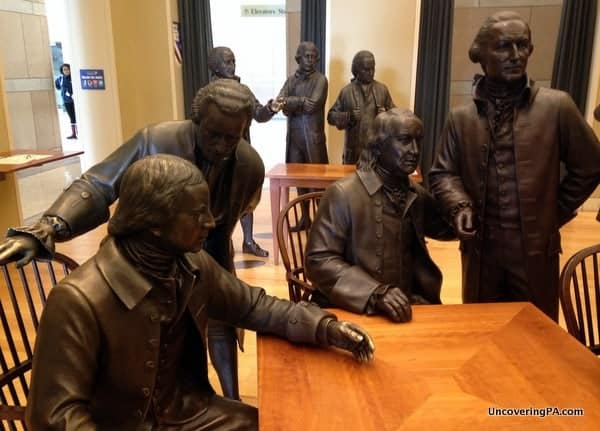 The most interesting part of the museum however is the Signers' Hall. Featuring 42-life size statues of the members of the Constitutional Convention, visitors can walk among the statues and get their photos taken with their favorite Founding Father. Walking among the statues of people who've always seemed larger than life, I found it interesting that I towered over most. But I suppose their short height belies their importance to the foundations of America.
Overall, I didn't particularly enjoy my visit to the National Constitution Center. It struck me as more of a pep rally for the Constitution than a museum. While I did feel they did a good job being unbiased (I had it written in my notes before I knew it was in their mission statement), I just feel like the center didn't really offer any new information that I hadn't learned in elementary school.
However, if you're looking for a crash course in the history of the US government or if you have a child that is especially interested in the subject, I can see how this could be a worthwhile stop. Ultimately though, with so many other amazing things to do in Philadelphia, the National Constitution Center just seems quite skippable.
Note: My visit to the National Constitution Center was hosted by Visit Philly. As always, the opinions expressed in this article are my own.
---
National Constitution Center
Hours: Wednesday-Saturday: 10am-3pm

Cost: Adults: $14.50, Children: $11

*Admission is free through September 5, 2020

Website: ConstitutionCenter.org

Address: 525 Arch Street
Philadelphia, PA 19106
See map below for other area attractions.
---