Disclosure: This article may contain affiliate links. We will make a small commission from these links if you order something at no additional cost to you.
During my travels around Pennsylvania, I've been to many quaint small towns, but few have been as charming as St. Peters Village in southeastern Pennsylvania.
St. Peters Village is located in western Chester County, not far from French Creek State Park and Hopewell Furnace National Historic Site.
If you love charming villages filled with artisans and nice places to eat, you'll definitely want to make a visit to this quaint village. There is also some great hiking in town, meaning there are plenty of things to do in St. Peters Village to make the trip worthwhile.
The community was founded in the mid-1800s as a company town in a narrow ravine along the banks of French Creek. The town was the home to workers at the iron ore mines and quarry that were located in the woods near the settlement.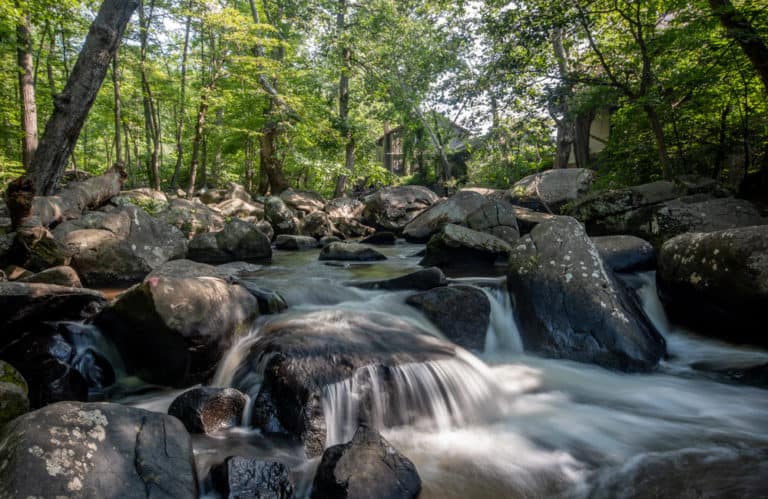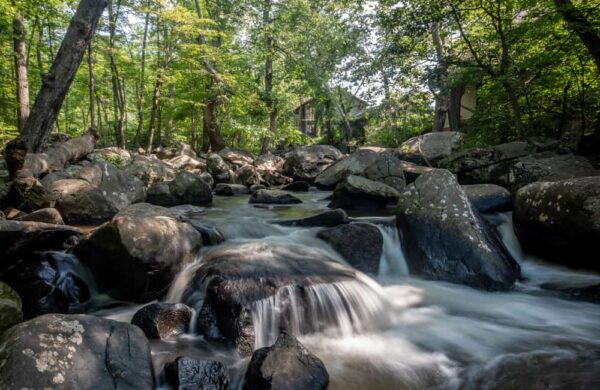 Almost immediately the recreation potential of this stretch of French Creek was realized, and a hotel was built in the community.
Today, St. Peters Village has been amazingly well preserved and offers a great look at what a mid-19th-century industrial village would have looked like. Along the quarter-mile main street, a series of buildings are filled with artisan shops, places to eat, and even a hotel.
Behind the buildings, a series of interconnecting hiking trails allow for exploration of Hopewell Big Woods and the boulder-strewn French Creek.
Hiking at St. Peters Village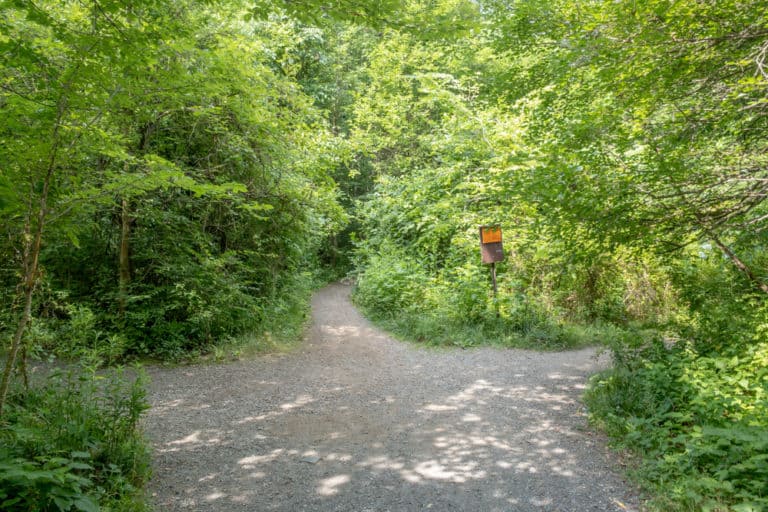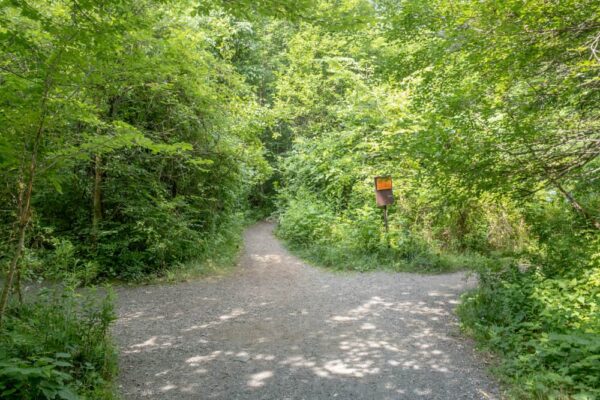 During my recent visit, I arrived in the village early on a Saturday and opted to go hiking first to beat the crowds that would surely be coming later in the day.
The parking area for the hiking trails is located just steps from the village's shops and is large enough to fit a good number of cars. This parking area can be found at the following coordinates: 40.179807, -75.732020.
Even fairly early on a Saturday morning, there were a handful of cars already in the parking lot.
During my time hiking at St. Peters Village, I encountered a few other people on the trails including a guy who was doing some pretty sketchy jumping between the rocks. There also was a father and son who told me they were meeting a group there to go snorkeling. To be honest, I'm not sure if they were the victims of a prank or not as I'm not sure where or why you would go snorkeling there.
The main problem with hiking at St. Peters Village is that there is no trail map or markers. While there is a series of interconnected trails throughout this expansive forest, it's next to impossible to figure out exactly where you are going once you leave the area around the creek. If you opt to head deep into the woods, I'd recommend carrying a GPS so you don't get turned around and lost.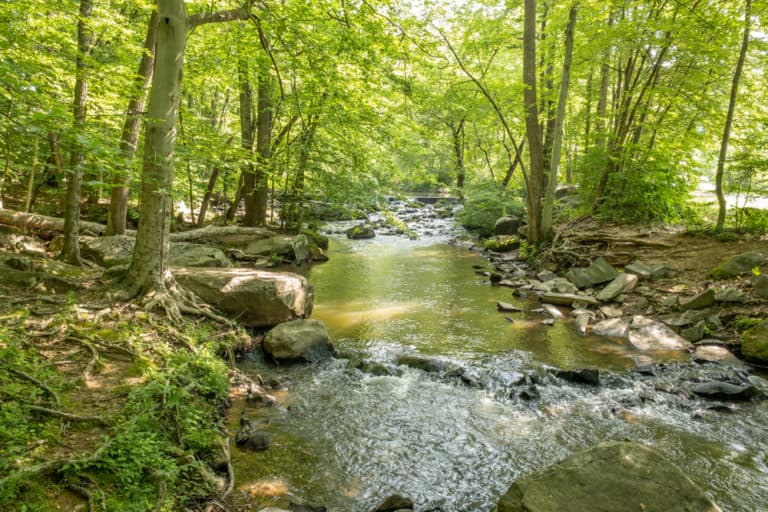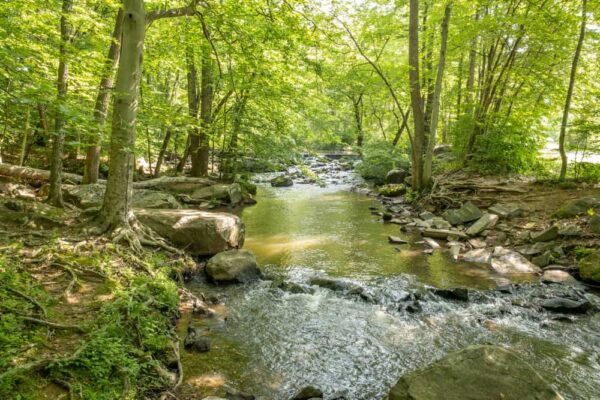 Because of this, I opted to stick close to French Creek and explore this incredible boulder-filled waterway.
Even without venturing deep into the forest, the hiking trails around St. Peters Village were pretty remarkable and featured beautiful scenery and even a few remnants of the area's industrial past.
This portion of French Creek is strewn with boulders both big and small that create a series of small waterfalls along the waterway. In some places, especially upstream of the bridge, the boulders are so thick that you can't see the creek's water at all.
Walking up and down the stream is a ton of fun, and there are a lot of great nooks and crannies to explore here. It would definitely be easy to waste an entire day just enjoying this beautiful waterway (and possibly snorkeling). However, there's a lot more to explore in the nearby village.
Exploring St. Peters Village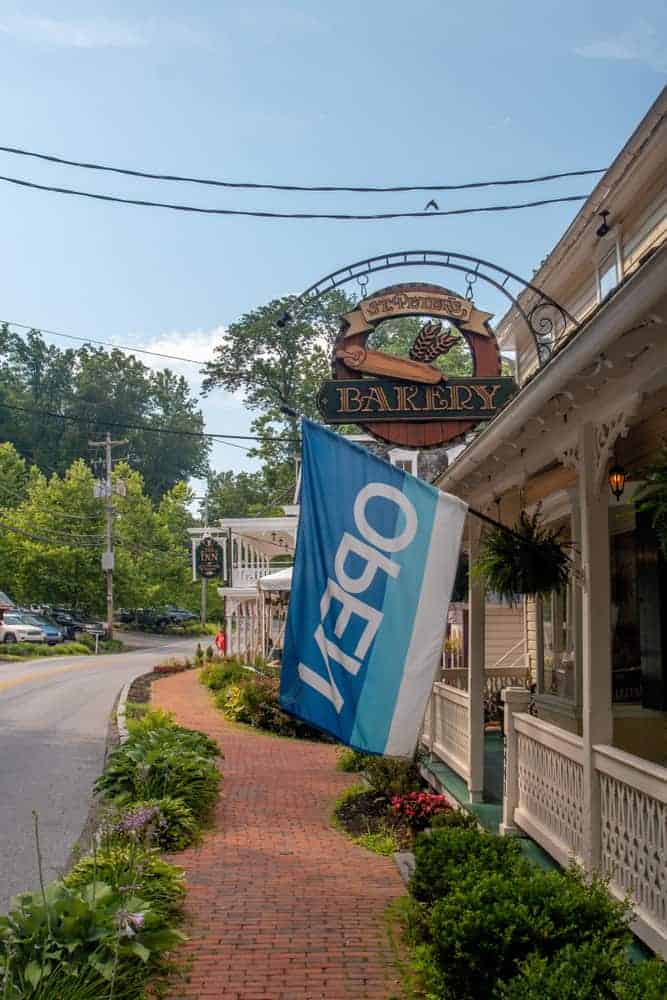 For many, the main attraction at St. Peters Village is simply the village itself. The entire community is a quarter-mile long, which means you could walk from one end to the other in five minutes or drive through even more quickly. However, giving such a cursory glance to this quaint area would be a mistake.
St. Peters Village is not only an incredible example of a mid-19th-century industrial village, but the buildings are filled with the types of shops that will make you want to keep coming back to visit again.
My first stop after hiking was the Saint Peters Bakery. This small restaurant features a variety of baked goods and utilizes unbleached flour and zero preservatives in their delicious food. They even bake their bread fresh daily using a starter that dates back over 100 years!
Whether you are looking for a quick snack or a meal, this is a fantastic place to stop, especially since they have a beautiful deck that overlooks French Creek.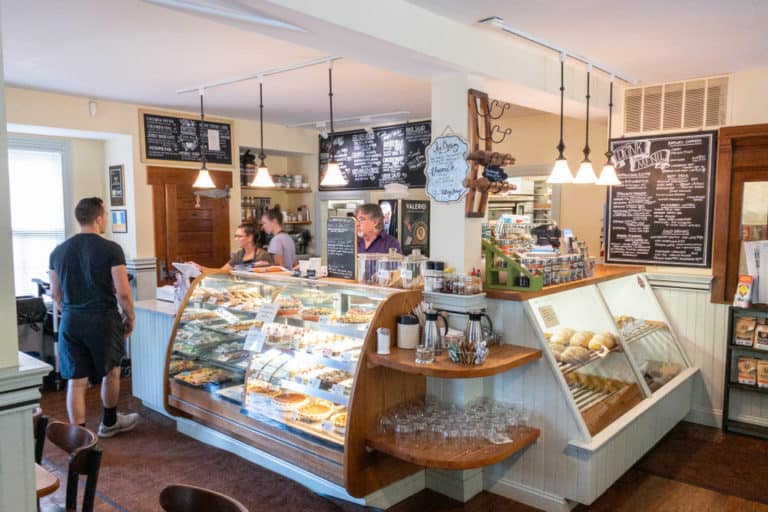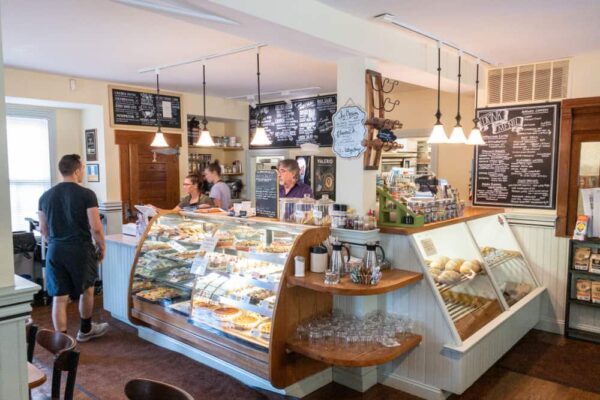 Throughout the rest of the village, there is a winery and a series of artisan shops that feature everything from blown glass to local photography. Popping into these shops is a great way to pass the time and experience a few of the great artists that live in the region.
If you are looking for a bit of nostalgic fun, head into the Village Arcade. The Arcade primarily features pinball machines from the 1950s-1970s, as well as a few arcade games and games of chance. This is a great spot to waste a few hours while in the area.
On the edge of town, the largest building in the community is the Inn at St. Peters.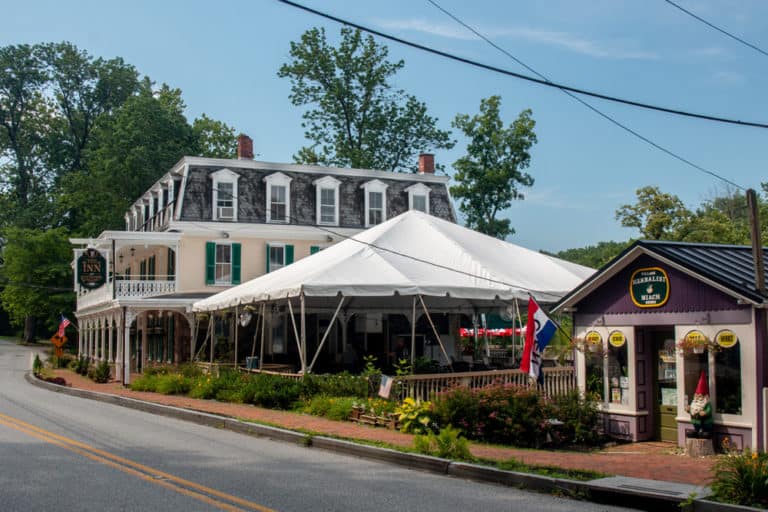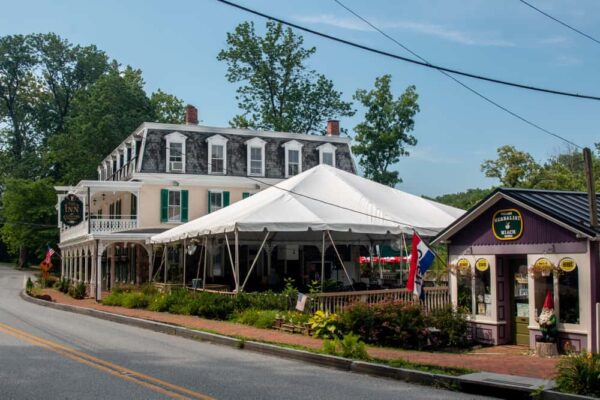 The inn has been completely restored and features seven room in its bed and breakfast. (Check reviews of the Inn at St. Peters)
The inn also features a fine dining restaurant, so if you are looking for a nicer or more substantial meal, this is the place to head.
Overall, St. Peters Village is a hidden gem of western Chester County, PA. While it's not large, there's more than enough to do in the village and on its hiking trails for a full day of adventure.
Looking for more spots to visit nearby? Check out our favorite hikes near Philadelphia, the covered bridges of Chester County, and Ringing Rocks Park.