Disclosure: This article may contain affiliate links. We will make a small commission from these links if you order something at no additional cost to you.
Of all the breweries I've visited in Pennsylvania, Straub Brewery in Saint Marys might be my favorite. Despite the fact that I'm not a huge fan of their beer (more on that later), I loved my visit to Staub because their brewing methods seem downright archaic (in a good way) compared to some of the more modern breweries I've visited in the state.
When you tour modern craft breweries around Pennsylvania, you are met with somewhere that's surgically clean and filled with shiny, brand-new equipment. On the other hand, Straub's brewery is much more basic and historic. In fact, not much has changed since they started brewing beer in 1872, which seems fitting when you consider their working class roots and target demographic.
Having been founded in Saint Marys in 1872, Straub Brewery is the second oldest brewery in the state (after Yuengling Brewery). Still operating out of the same building they were founded in, stepping into Straub Brewery feels like stepping back in time.
To learn more about the brewery and the unique way that they brew beer, I opted to take a tour of the facility.
Tours of Straub Brewery start on the top floor, up several flights of narrow steps. When grain comes in, it is taken to the top of the building, where it starts the process of becoming beer. Since the brewery is gravity fed, the beer moves from the top of the brewery down to the bottom as it's being made. This is the same process that was used when Bavarian-native Peter Straub started brewing beer.
As I walked through the brewery, I was impressed by the commitment to using simple and historic processes to make their beer. And, while many craft breweries flaunt their german-made brew kettles and whatnot, Straub Brewery was equally proud of the fact that nearly every piece of equipment in their brewery is made in America.
Another impressive part of the Straub Brewery tour was their bottling line. Straub beer is bottled by a machine, but there is still a significant amount of work that goes into bottling the beer.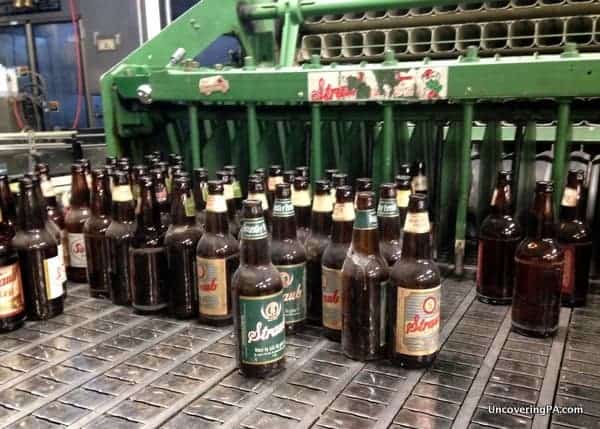 For starters, as the only brewery in America that still accepts returned long-neck bottles, Straub has to hand inspect each bottle several times to ensure that they are fit for rebottling. They also pack each case by hand to ensure that they are done correctly. As my tour guide, AJ said, "by the time beer reaches you, we've likely touched it five or six times."
Of course, the best part of any brewery tour is getting to sample the beer. At Straub Brewery, they have an Eternal Tap for visitors to sample three different types of beer from. The best part? Anyone can come in for a sample during operating hours, even if you aren't on the tour!
Truthfully, with a pallet refined on craft beer, I didn't find Straub Beer to be my favorite. However, for those that prefer American lagers like Yuengling or Budweiser, Straub is sure to be one of the best beers you've ever tried. And, while it might not have been my favorite beer, I really did appreciate Straub's commitment to brewing and bottling beer in a historic way.
Even if it wasn't my favorite Pennsylvania beer, my tour of the Straub Brewery was still fascinating and ranks as one of my favorite breweries that I've visited in Pennsylvania.
---
Straub Brewery Tour
Hours: Tours run Wed-Sun with varying times, see website for details

**Tours are open to age 12+

Cost: Free

Website: StraubBeer.com

Address: (Retail) 303 Sorg Street
St. Marys, PA 15857

(Tap Room & Tour) 444 Brusselles Street, St. Marys, PA 15857
See map below for other area attractions.
---