Disclosure: This article may contain affiliate links. We will make a small commission from these links if you order something at no additional cost to you.
When I first visited Table Falls in the Quehanna Wild Area of Elk County, PA in 2014, I had this to say about it.
"You know you've come across something elusive when you can only find three pictures of it on Google Images. After all, there are more than three photos of "Bigfoot" and "the Loch Ness Monster" on Google."
While it's still not a hugely popular destination, it has since that time become a more recognized place to visit in the Pennsylvania Wilds. In fact, when I visited a second time in April 2019, there was both a sign for the waterfall and a fairly established trail to the base of the falls.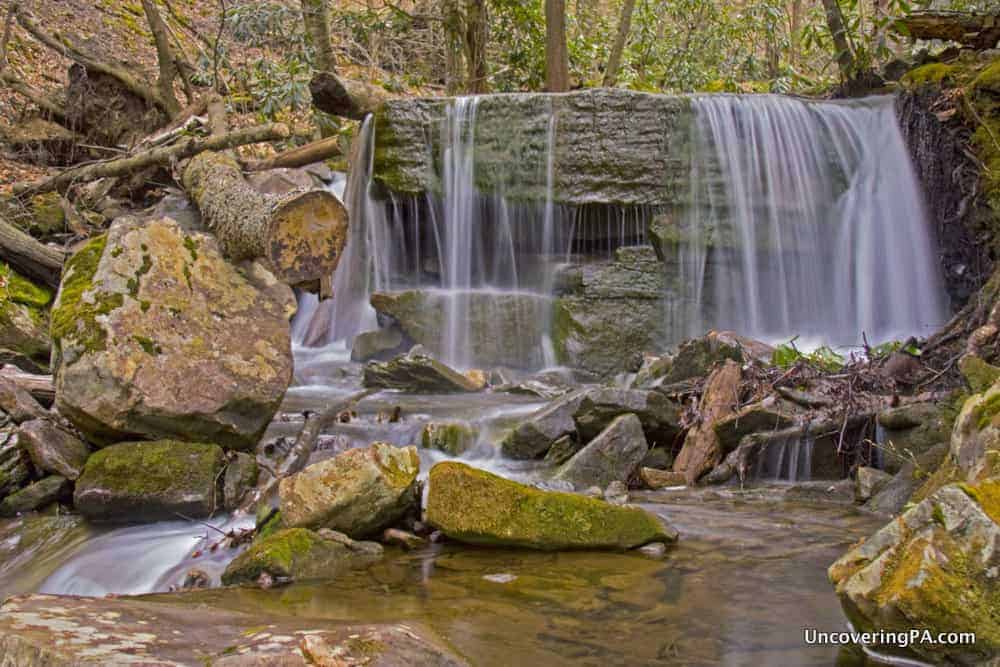 The Quehanna Wild Area is an expanse of land with many hidden secrets including abandoned jet bunkers, crumbling hunting camps, and a still-active prison. While it's one of the most isolated regions of Pennsylvania, there are many great spots to visit, of which Table Falls is one.
Table Falls is located on Paige Run. This small stream flows from the Marion Brooks Natural Area and doesn't carry much water, so it's best to visit this waterfall when water levels are high.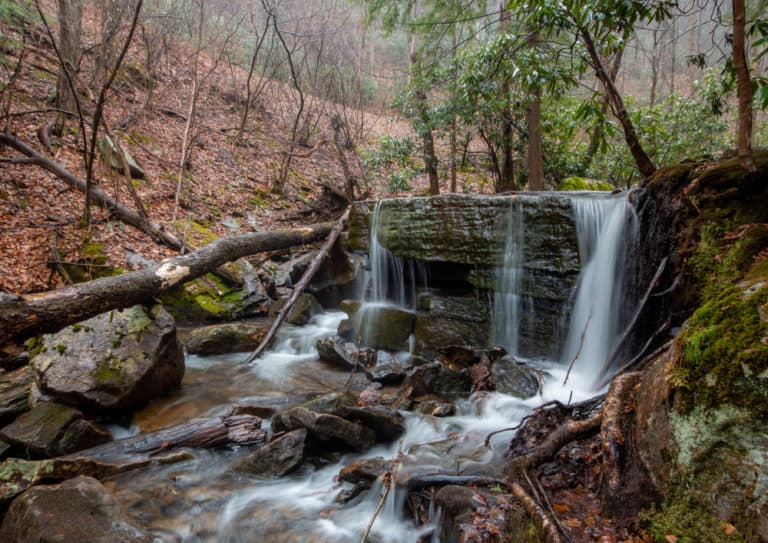 Table Falls is only about 5-6 feet in height and gets its name from the large slab of rock over which this waterfall flows. While it's just off of Red Run Road, the gorge here is so steep and narrow that it can't be well seen from above.
Fortunately, the trail to the bottom of the falls is fairly easy.
Because of the large amount of underbrush and the short hike, Table Falls is more of a photographer's waterfall than a hiker's waterfall. It's not the type of place that I would take a picnic or plan on doing any swimming. However, if you like taking photos of waterfalls, Table Falls really is something special.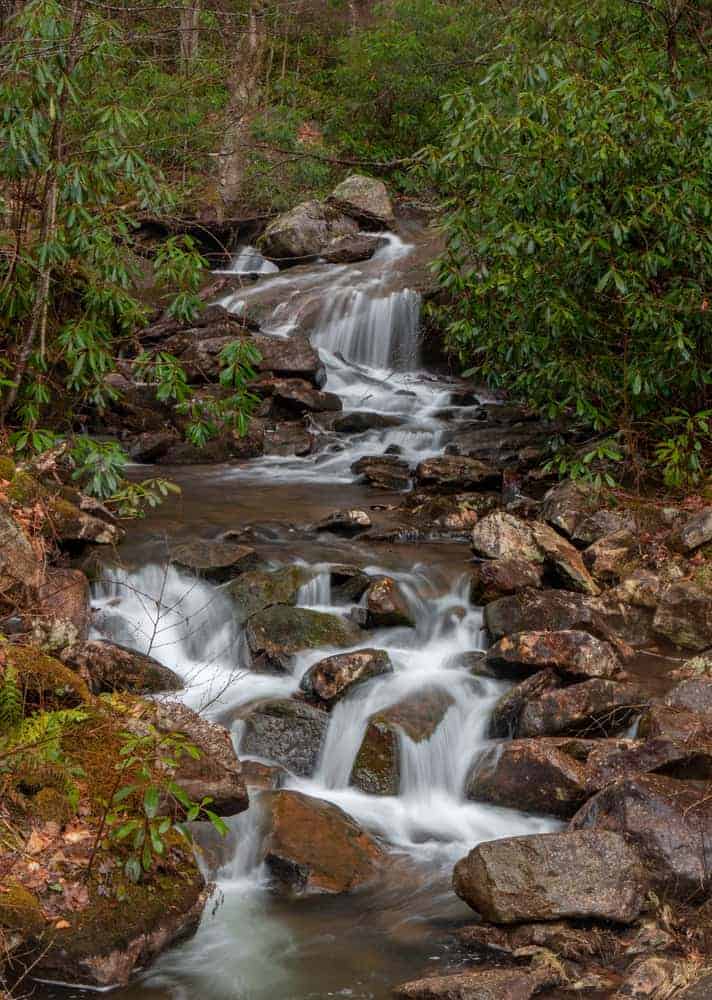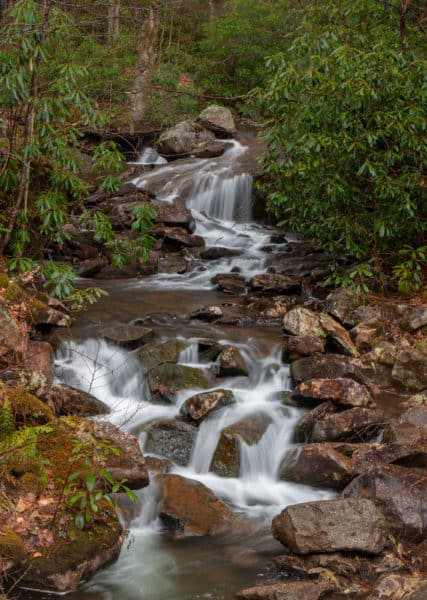 So, the next time you find yourself in the Quehanna Wild Area, don't miss this beautiful PA waterfall.
Getting to Table Falls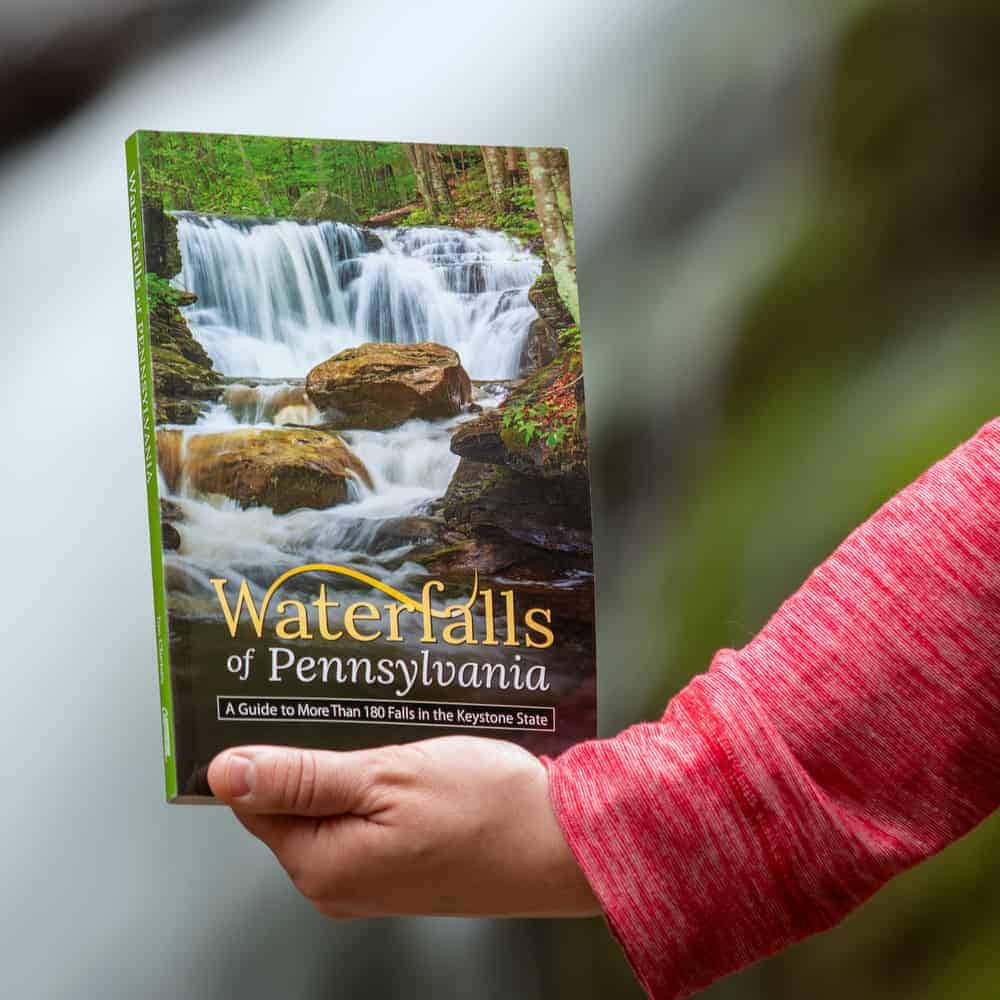 "Waterfalls of Pennsylvania" by Jim Cheney
If you love PA waterfalls, you won't want to miss this waterfall book from Jim Cheney, author of Uncovering PA, featuring more than 180 great waterfalls. Order it now on Bookshop.org or Amazon.
While Table Falls is little known, if you know where you are going, it really isn't all that elusive.
Table Falls is located about 1.5 miles off of Quehanna Highway along Red Run Road (Make sure you take Red Run Road and not Forest Road which veers off near the start of the road you want) in the Quehanna Wild Area of Elk County, PA.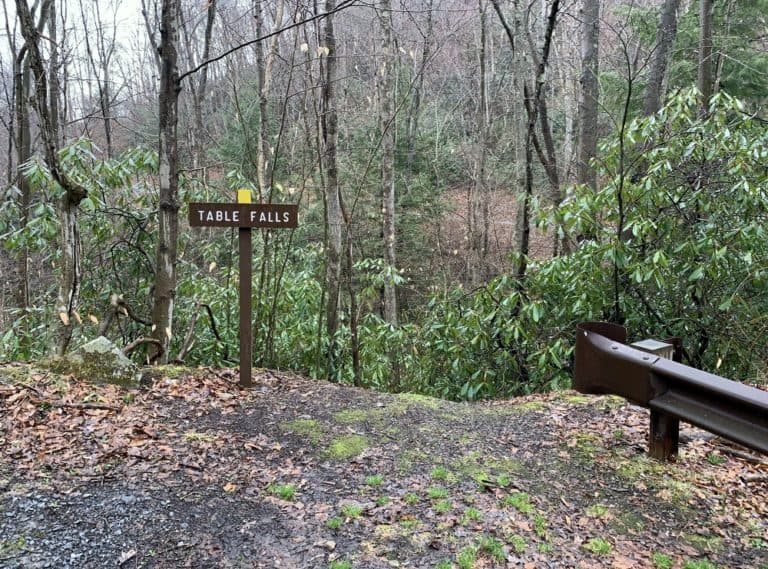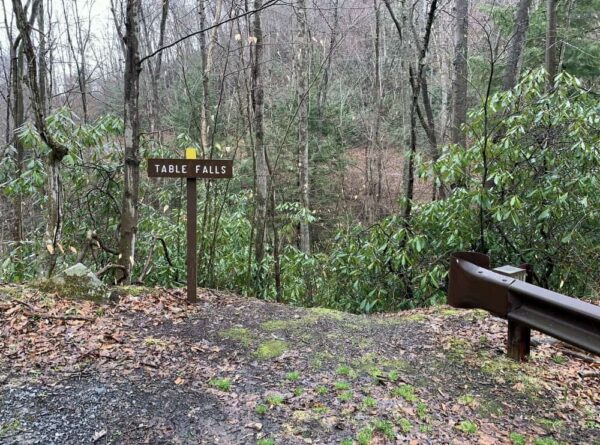 Red Run Road is a fairly narrow road with steep drop-offs in some places but is a fairly well-maintained road that I was able to take my car down without a problem.
The waterfall is located at a u-bend in the road where Paige Run crosses under Red Run Road with guardrails on both sides. There is no parking lot at the falls, but there are several areas where cars can pull off to the side of the road located at 41.270556, -78.247065.
Facing downstream from the middle of the u-bend, head to the left side of the stream going beyond a sign for the falls, and walk downhill along the now obvious trail. It's only about 100 feet down the hill to Table Falls.
Want to see more nearby places? Check out Wykoff Fun Falls, Round Island Run Falls, Yost Run Falls, Wapiti Woods, and the Elk County Visitor Center.
[Click here for information on how to use the coordinates in this article to find your destination.]
See map below for other area attractions.