Disclosure: This article may contain affiliate links. We will make a small commission from these links if you order something at no additional cost to you.
You know you've come across something elusive when you can only find three pictures of it on Google Images. After all, there are more than three photos of "Bigfoot" and "the Loch Ness Monster" on Google. However, finding Table Falls doesn't require any cryptozoology or risk of ridicule.
I started my trip to Table Falls in the Quehanna Wild Area of Elk County, Pennsylvania, with a bit of trepidation. I had found coordinates for the waterfall online that indicated it was located quite close to a windy dirt road. However, while mentioning my plans to a local, he commented, "Yeah, I know that waterfall. I went there once. I had to hike up over a mountain and then back down, following the stream and bushwhacking my way downhill until I came to the waterfall."
"What have I gotten myself into," I thought nervously.
Despite his troubles finding the waterfall, I was eager for an adventure. Confident in my information, I plugged the coordinates into my GPS and headed out.
Eventually, my GPS told me to turn off the Quehanna Highway and onto a narrow dirt road that snaked its way through the forest. Cut into the hillside, Red Run Road is one of the most fear-inducing dirt roads I've come across in Pennsylvania.
Not only is there a steep drop-off on one side of the road, but I doubt there is room for two cars to easily pass in many places. This is definitely a road that I would under no circumstances take when it was covered with snow and ice.
After driving for a few minutes, I finally came to a bend in the road and stopped my car. According to my GPS, I had arrived. Looking around, I noticed a small stream that tumbled down the mountain, went under the road, and then continued down the mountain below me.
The next challenge was to find the waterfall. I had no idea whether to head upstream or downstream. Both were shrouded by the thick second-growth forest that surrounded the area, but I was fortunately able to just make out the waterfall sitting about 50 feet below the road.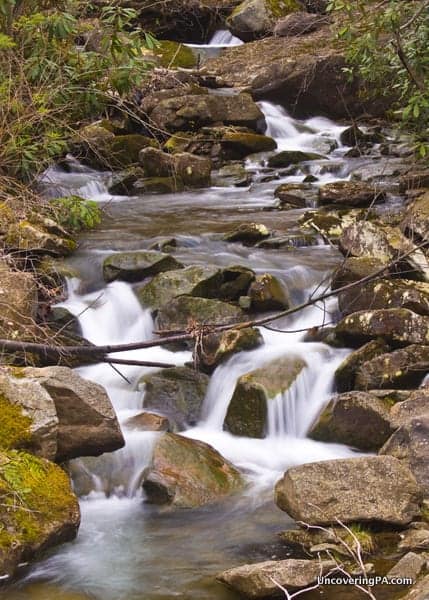 Once I knew where the waterfall was, getting down to it was pretty easy. Given the lack of people visiting Table Falls, there was no clear trail down to the waterfall. However, there is a small game trail that heads downhill towards the stream.
Because of the large amount of underbrush and the short hike, Table Falls is more of a photographer's waterfall than a hiker's waterfall. It's not the type of place that I would take a picnic or plan on doing any swimming. However, if you like taking photos of waterfalls, Table Falls really is something special.
As Paige Run tumbles down the mountainside, it passes over a large, flat rock before falling roughly five feet down to the rocks below. Like most waterfalls in PA, Table Falls is best photographed during the spring or after a heavy rainfall.
Without a doubt, Table Falls is one of the most photographic waterfalls I've had the pleasure of visiting in Pennsylvania.
Getting to Table Run Falls
While Table Falls is little known, if you know where you are going, it really isn't all that elusive, as long as you are willing to walk for a few minutes down a forested hill.
Located in the Quehanna Wild Area of Elk County, near the Marion Brooks Natural Area and the abandoned nuclear jet bunkers, Table Falls is located about 1.5 miles off of Quehanna Highway along Red Run Road (Make sure you take Red Run Road and not Forest Road which veers off near the start of the road you want).
The waterfall is located at a u-bend in the road where Paige Run crosses under Red Run Road with guardrails on both sides. There is no parking lot at the falls, but there are several areas where cars can pull off to the side of the road, located at 41.270556, -78.247065.
Facing downstream from the middle of the u-bend, head to the left side of the stream and walk downhill through the brush for about 2 minutes until you get to the waterfall.
Given its remote location, there is no address that you can use. However, if you put the following coordinates into your favorite GPS, you should have no problem finding it (I used both Apple Maps and Google Maps with no issues).
The coordinates are 41.270786, -78.247052.
Want to see more of Pennsylvania's best waterfalls? Check out our Pennsylvania Waterfalls page! Yost Run Falls is a nearby option.
[Click here for information on how to use the coordinates in this article to find your destination.]
See map below for other area attractions.
[wonderplugin_cond deviceexclude="Mobile"]
[webdirectory-map height=500 ajax_loading=1 start_latitude=41.271485 start_longitude=-78.244629 start_zoom=12 show_readmore_button=0]
[/wonderplugin_cond]
[wonderplugin_cond deviceinclude="Mobile"]
[webdirectory-map height=350 ajax_loading=1 start_latitude=41.271485 start_longitude=-78.244629 start_zoom=11 show_readmore_button=0]
[/wonderplugin_cond]