Disclosure: This article may contain affiliate links. We will make a small commission from these links if you order something at no additional cost to you.
This is a guest post brought to you by Lance from TravelAddicts.net.
Among beer aficionados, Yuengling Brewery occupies a special place: it is America's Oldest Brewery. They have been brewing continuously since 1829 – even through the American Prohibition (they produced medicinal porters).
Yuengling also serves a growing regional area – only 21 states. That kind of selective distribution brings with it an air of exclusivity and a tremendous desire to see what the fuss is about. And Yuengling is most definitely worth the fuss.
Coming up Mahantongo Street from downtown Pottsville, you happen on the two idyllic brick buildings housing Yuengling Brewery.
If you have toured large breweries, you begin to wonder, is this it? It's cute, but it's also really small. There's no visitor center. There's no security office. There isn't even a parking lot (it's all street parking; $0.25 per hour). What there is: the most authentic brewery we've ever seen.
As you walk into the brewery, you enter through one of the production rooms and follow the signs to the gift shop. The free tours leave from here either twice a day (weekdays) or three times per day (weekends). Specific tour times are noted on the brewery website and include a special summer schedule.
The tour length is approximately 75 minutes, which includes a tasting of two beverages (a non-alcoholic option is available for those who don't want to imbibe).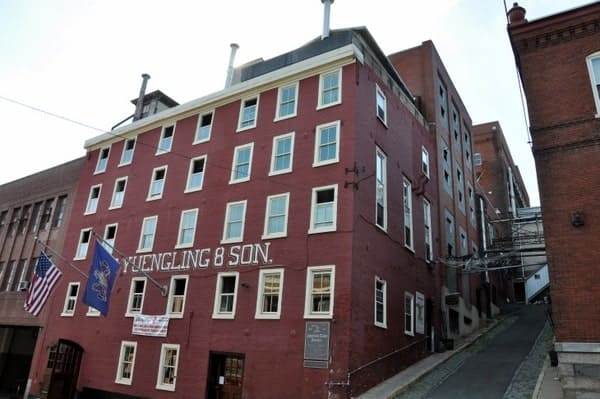 The tour takes you into the brewhouse where they explain the Yuengling beer-making process. You will also see the bottling process in a second building.
That's all interesting, but the highlight of the tour is the underground cave where Yuengling used to store their beer. It is carved several hundred feet back into the mountain. It is wet and cold and perfect for aging beer. During Prohibition, the Feds were concerned about bootlegging and walled off the cave with bricks – a small portion of the original wall still remains.
After our tour, our fantastic tour guide, Vickie, offered us samples of the brews. The brewery maintains a modest gift shop selling T-shirts and barware, but you can also purchase reproductions of their classic advertising through the years.
The walls of the gift shop also display artifacts from the company history. And if you are quiet and there at the right time of day, turn your head up to the ceiling and listen to the grain flowing the black pipes on its way to becoming beer.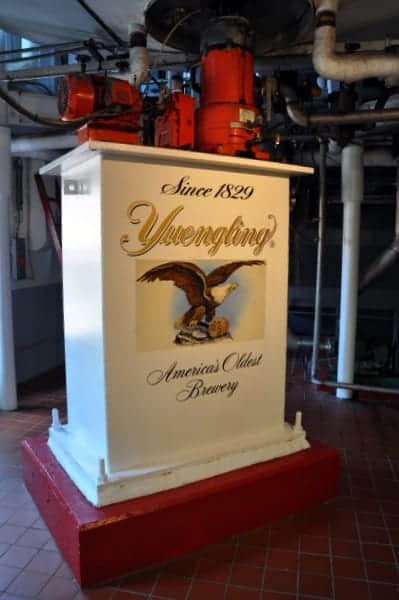 If you've visited other breweries, we can assure you you've never visited one quite like the Yuengling Brewery in Pottsville, Pennsylvania.
Getting to Yuengling Brewery
Yuengling Brewery is located in downtown Pottsville near Jerry's Classic Cars and Collectables Museum in Schuylkill County within Pennsylvania's Susquehanna Region. For information on the Yuengling Brewery tour schedule, visit their website. For detailed Yuengling Brewery directions, see the map below.
Continue your brewery crawl at the Susquehanna Brewing Company and at these breweries in Harrisburg. Or, visit Straub, the second oldest brewery in PA.
You can also head north of the border to the oldest brewery in New York: Genesee Brewing.
See map below for other area attractions.