Disclosure: This article may contain affiliate links. We will make a small commission from these links if you order something at no additional cost to you.
Without a doubt, one of my favorite outdoor areas in Pennsylvania is Worlds End State Park. In fact, this park, as well as the Loyalsock State Forest that surrounds it, were a major part of the reason why I picked Sullivan County as one of
my favorite counties for outdoor adventure in PA
.
At less than 800 acres, Worlds End State Park isn't a large park. However, since it's surrounded by Loyalsock State Forest, it creates a wide swath of land that's perfect for exploring. Because these areas of public land are so closely intertwined, I've included many things to do in the forest as well as Worlds End State Park.
While Loyalsock State Park is very large, I've limited inclusions on this list to the area that surrounds the park and spots that are on the parcel of land that contains the 59-mile Loyalsock Trail. That corresponds roughly to the forest and park land on the southern shores of Loyalsock Creek in Sullivan County.
So, if you are trying to figure out what to do in Worlds End State Park near Forksville, PA, here are my favorite things to do in this great corner of the state.
The Loyalsock Trail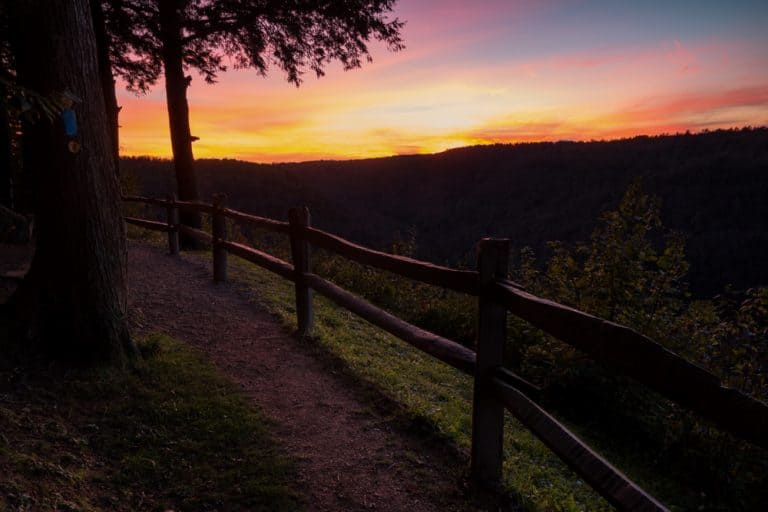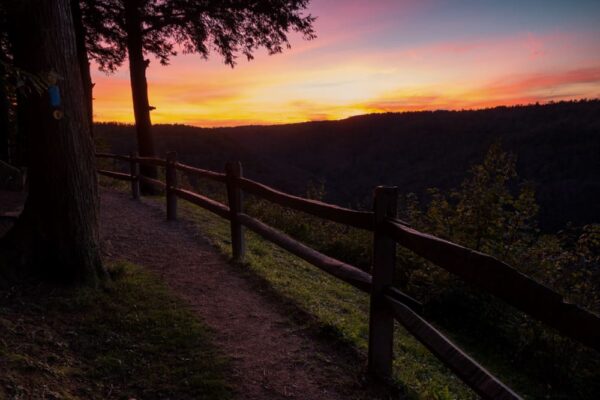 The Loyalsock Trail is a 59.2-mile hiking trail through Worlds End State Park and Loyalsock State Forest that ties all of this land together. In fact, about half of the items on this list are located directly along this popular backpacking trail.
There are many access points for the Loyalsock Trail, making it perfect for a day hike for those wanting to experience the area's beauty.
If you do only hike one of Worlds End State Park's trails, make it a portion of this one.
Cottonwood Falls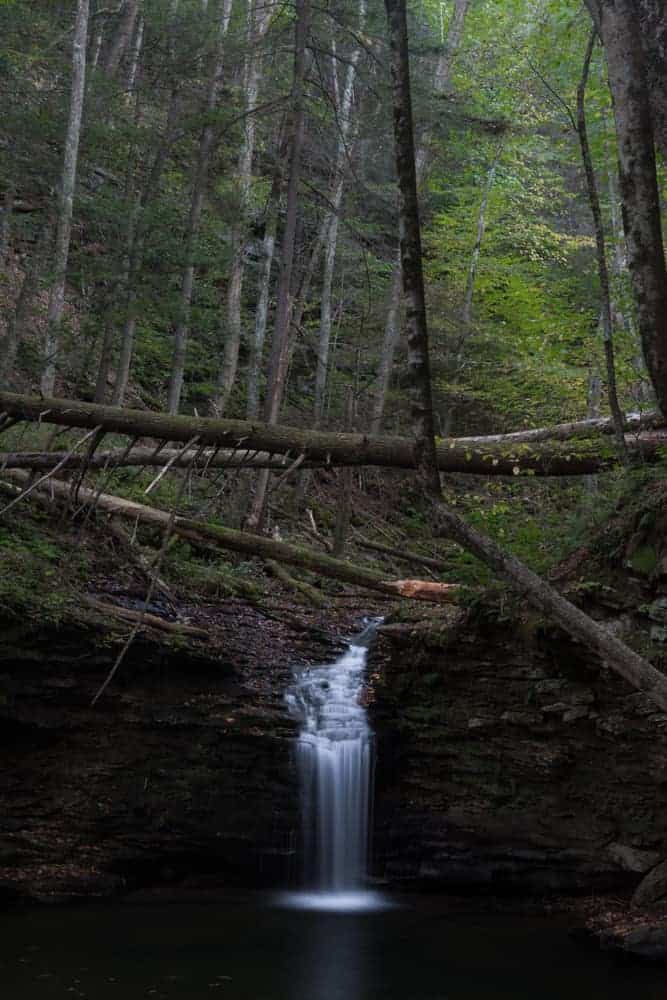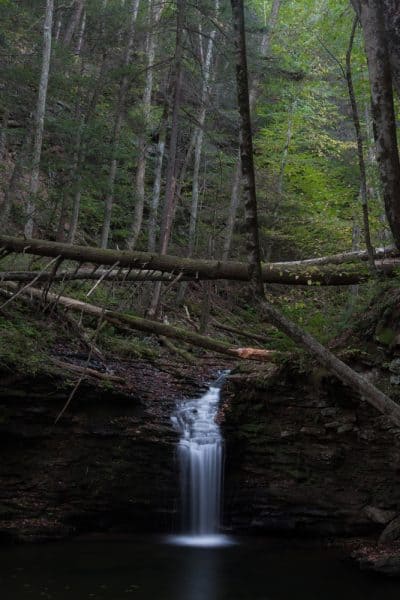 While there are many waterfalls on this list, Cottonwood Falls is the only waterfall that's on the Worlds End State Park Map.
Cottonwood Falls is located along the Double Run Nature Trail, a two-mile loop trail near the park office. This waterfall isn't large, maybe 12 feet in height, but its incredibly beautiful and one of my favorite waterfalls to photograph in the area thanks to the large rock walls and the narrow slit through which the water flows.
If you are looking for Worlds End State Park waterfalls, Cottonwood Falls is the best one inside the park's boundaries.
Loyalsock Canyon Vista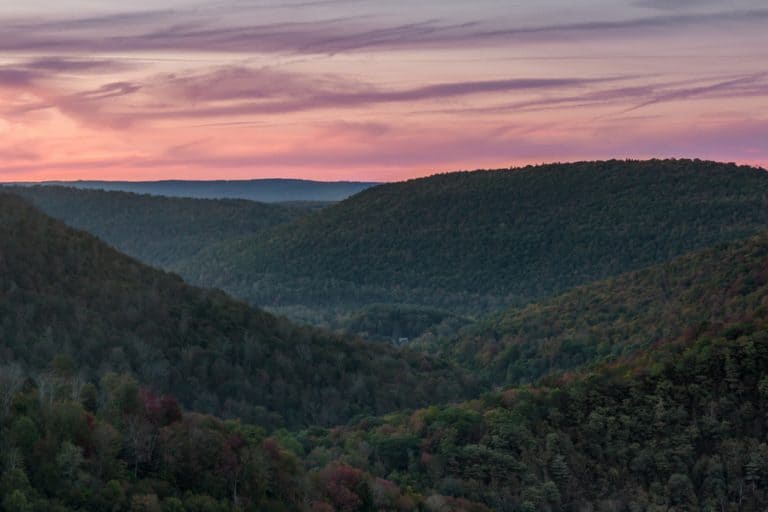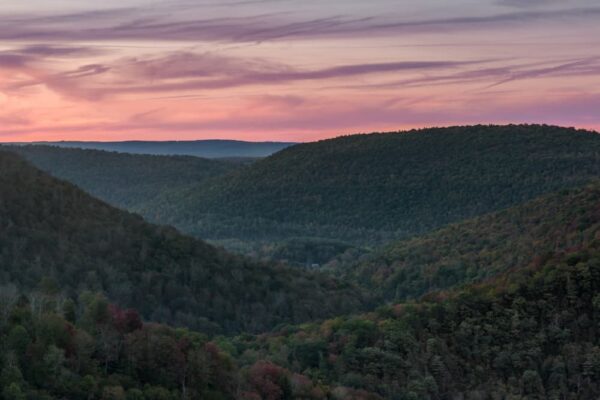 Loyalsock Canyon Vista is an incredible overlook that offers fantastic views of the Loyalsock Valley far below. Visitors can drive up to this overlook or take the four-mile Canyon Vista Trail to this incredible spot.
The parking area here is also the jumping off point for the Rock Garden. This is an incredible collection of large boulders and well worth taking a few minutes to explore.
Cold Run Trail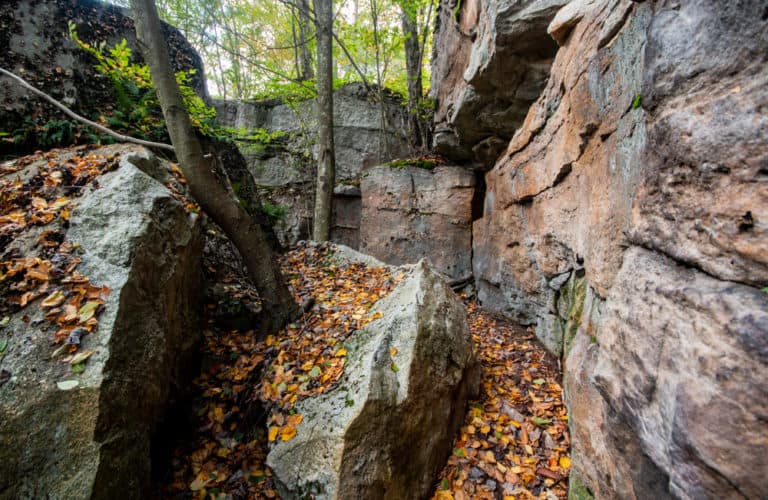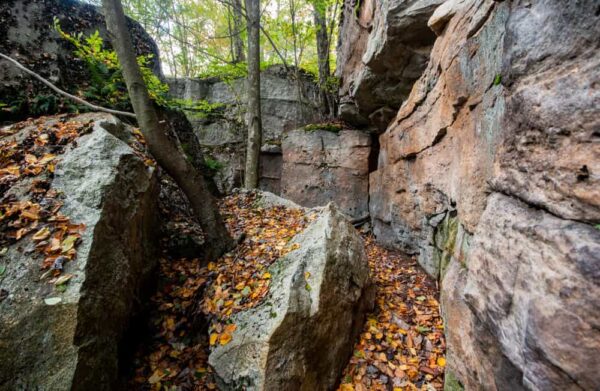 The Cold Run Trail is a 1.5-mile horseshoe-shaped trail that connects to the Canyon Vista Trail. While this trail isn't overly long, it features many great spots to explore including two waterfalls, a great vista, a rock maze, and a natural tunnel through the boulders.
The Cold Run Trail is a newer trail and is not on the park map. However, the trailheads are well marked and it's both well-blazed and easy to follow.
If you are looking for a fantastic hiking trail in Worlds End State Park, this is definitely one to hunt down.
Dry Run Falls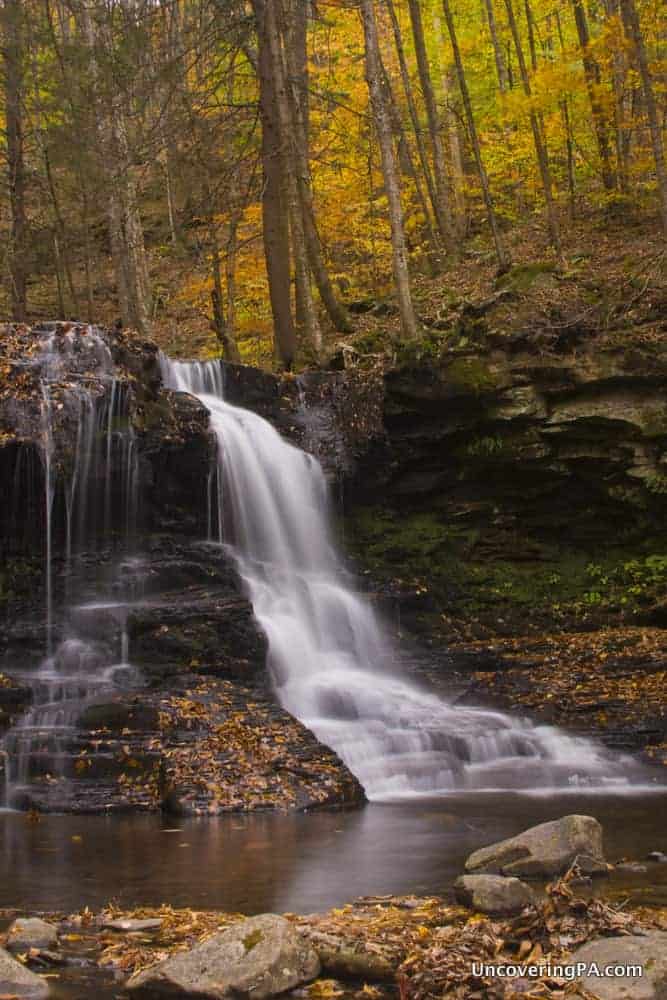 Dry Run Falls is one of my favorite waterfalls in all of Pennsylvania. Despite the name, Dry Run Falls is one of the last waterfalls in the area to run dry, and it usually has at least a bit of water throughout the summer.
Dry Run Falls is located directly adjacent to a dirt road in Loyalsock State Forest which means you can see this waterfall without leaving your car. There's also a great picnic table next to the falls. Many think that this is one of the Worlds End State Park's waterfalls, but it's actually located in Loyalsock State Forest.
If water levels are high, look for Andrea Falls, which is visible from the road between Route 87 and Dry Run Falls.
Forksville Covered Bridge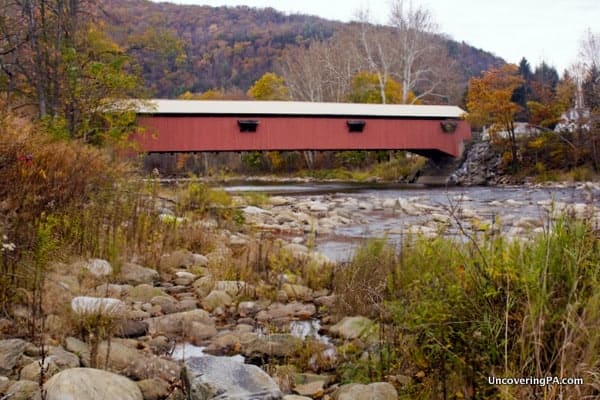 There are three historic covered bridges in Sullivan County, PA, and one of them sits just outside of the park.
Forksville Covered Bridge crosses the Loyalsock Creek in Forksville and is one of the most scenic covered bridges in Pennsylvania. Built in 1850, this bridge is over 150 feet in length.
Whether you've seen dozens of covered bridges or you've never seen one, Forksville Covered Bridge shouldn't be missed.
Forksville General Store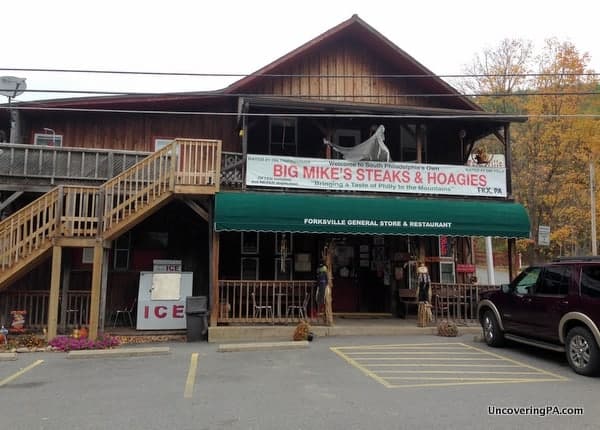 The Forksville General Store is directly adjacent to Forksville Covered Bridge and is the best place to eat when visiting Worlds End State Park.
The general store features a restaurant that offers snacks, supplies, and serves incredibly delicious food. They are best known for their authentic Philly cheesesteaks which rival the best cheesesteaks in Philadelphia.
If you're visiting Worlds End State Park, Forksville, PA, shouldn't be missed because of the delicious food at the Forksville General Store.
Waterfalls of Ketchum Run Gorge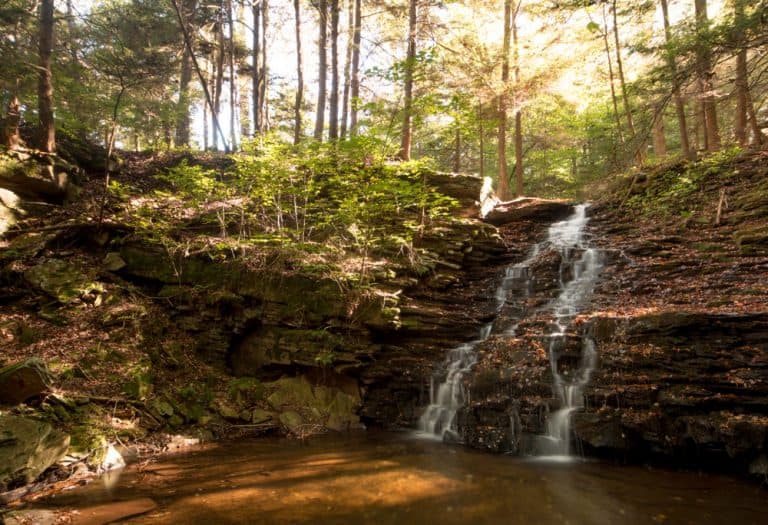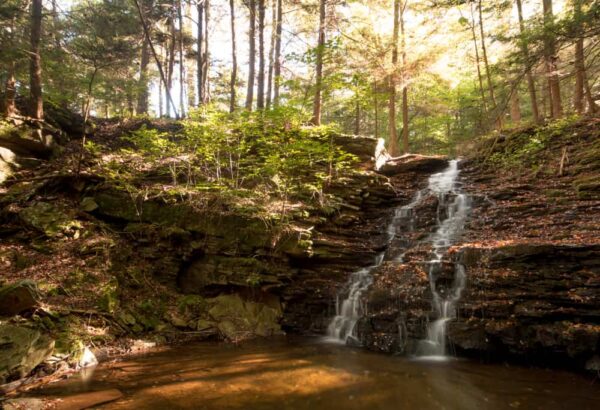 Ketchum Run is a beautiful stream that cuts a gorge through western Sullivan County in Loyalsock State Forest. The gorge is home to four beautiful waterfalls, two of which are off-trail, but relatively easy to see.
The other two, Lee Falls and Rode Falls, are located on the Loyalsock Trail. Rode Falls is a well-known spot thanks to the ladder necessary to traverse from the top to the bottom of the falls.
Visiting these four waterfalls can be done on a variety of interesting hiking loops.
High Knob Overlook


Of the many overlooks in Loyalsock State Forest, I think that High Knob Overlook is my favorite. From this vista, there is a commanding view of the mountains and the valley far below, as well as the small community of Hillsgrove.
Thanks to its direction, it's a perfect spot from which to watch the sunset but is also great at sunrise. I've also been told that this is a fantastic place from which to view and photograph stars.
While it's possible to hike to this overlook, most opt to drive and park in the parking lot adjacent to it.
Angel Falls and Gibson Falls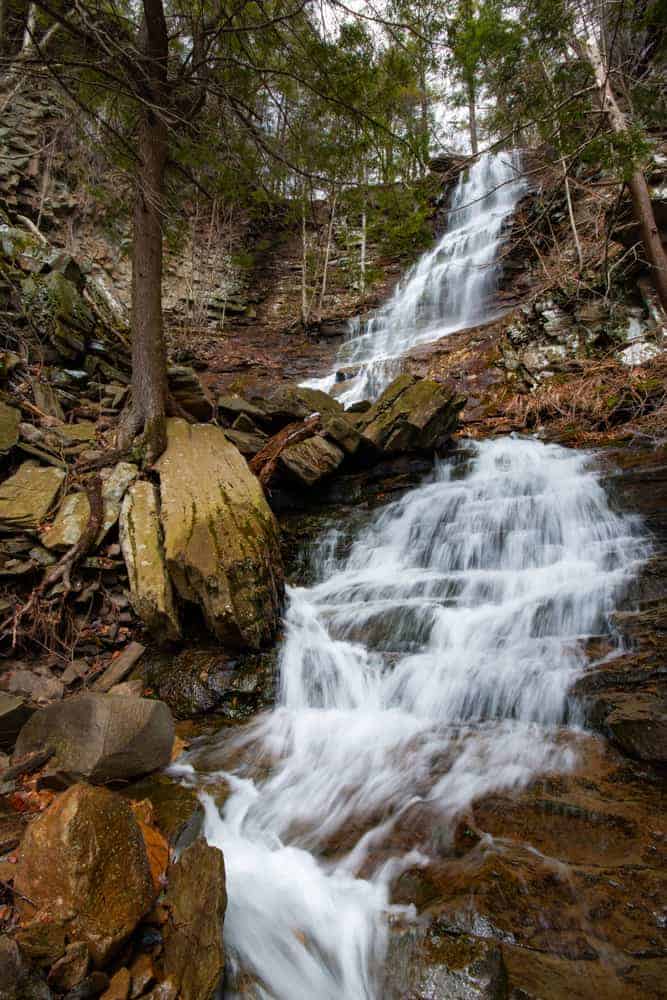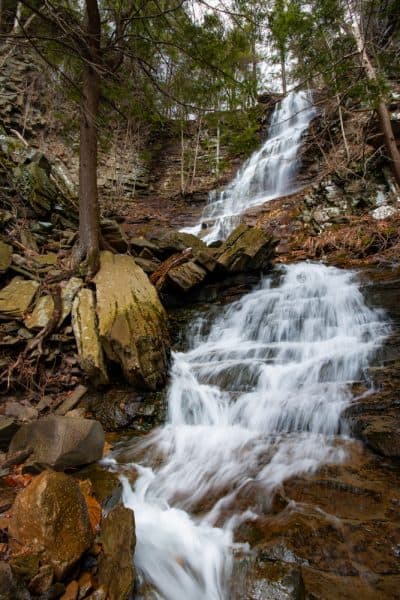 Located along a short path off of the Loyalsock Trail is the tallest waterfall in the area: Angel Falls. The trail runs to the top of the falls, offering an impressive view looking down at this waterfall, as well as the surrounding valley.
An obvious trail leads steeply down to the bottom of Angels Falls, which offers an even more impressive look. This trail used to be part of the Loyalsock Trail, but blazes are now only faintly visible.
Just below Angel Falls is another impressive waterfall, Gibson Falls. While it can't be seen well from above, simply pick your way further down the hillside to view this great waterfall.
It's worth noting that both Angel Falls and Gibson Falls only flow well during times of high water.
Sones Pond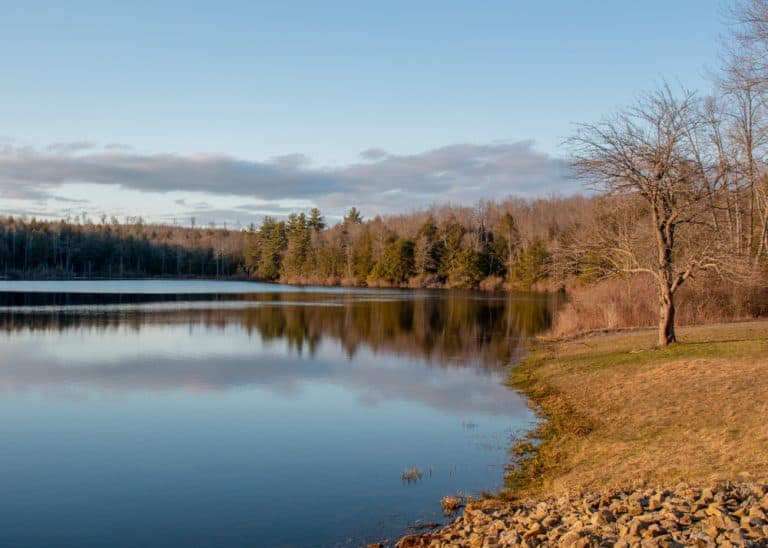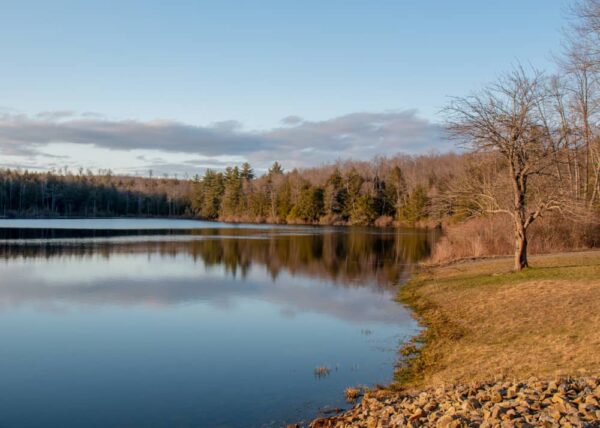 Sones Pond is hidden away on the northern side of the Loyalsock Creek. While it looks like a natural pond, it was actually created by the Civilian Conservation Corps in the 1930s while they were building the state forest roads.
It's possible to hike to the pond via the Loyalsock Trail, but you can also drive to it along these old forest roads.
In addition to being a beautiful spot, Sones Pond is known for its great fishing.
Mineral Springs Falls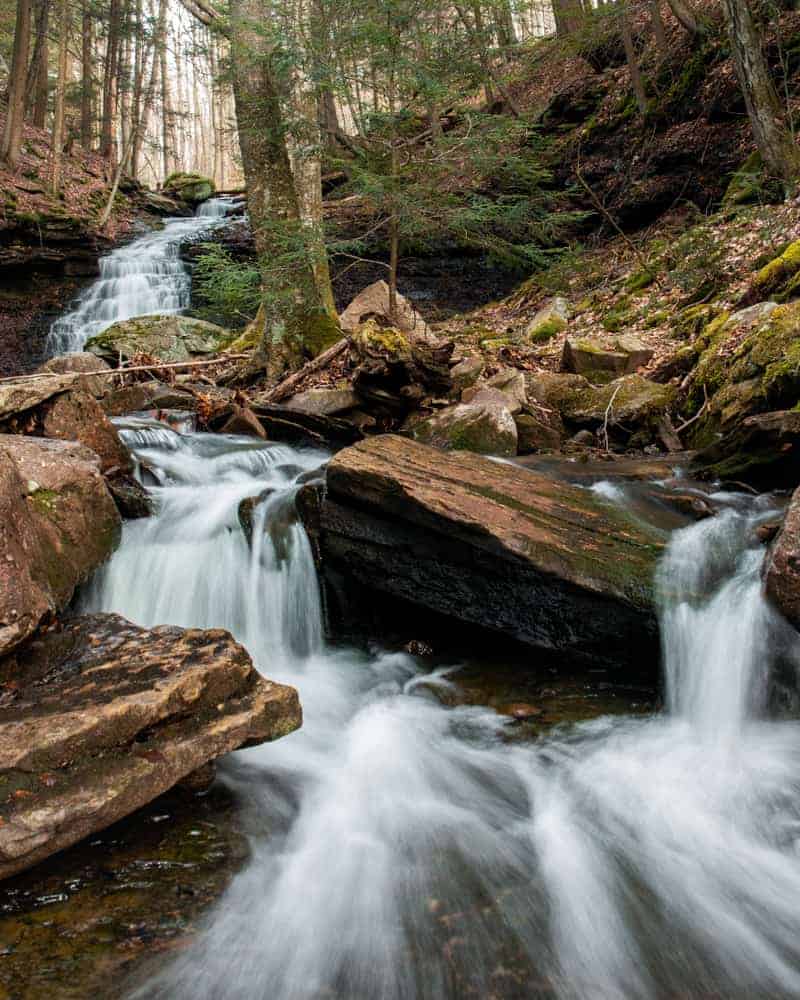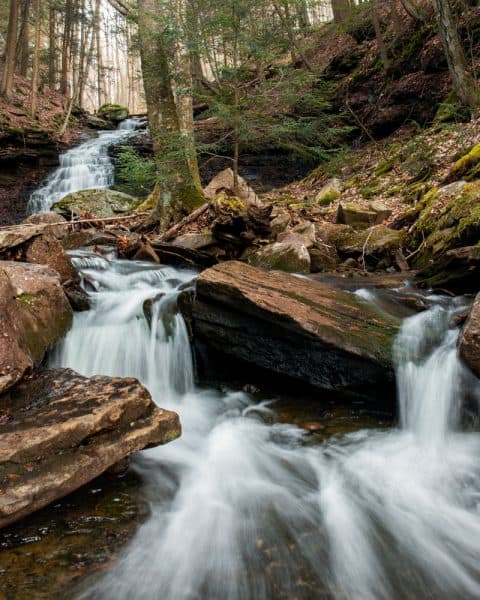 Mineral Springs Falls is located along the Loyalsock Trail near Worlds End Vista. While just over the border from Worlds End State Park, this waterfall is a great stop when water levels are higher. Even if they are lower, there's no reason not to take a quick peek here since Mineral Springs Falls is located less than 100 feet off of the road.
While in the area, hike down just a bit on the other side of the road to see the namesake Mineral Springs.
Worlds End Vista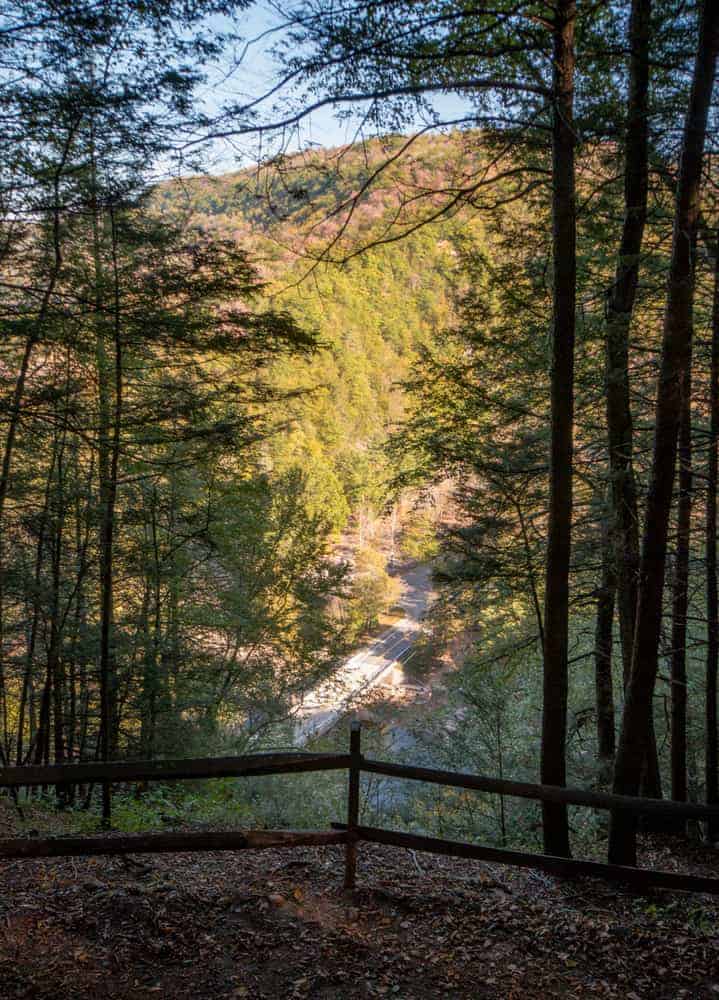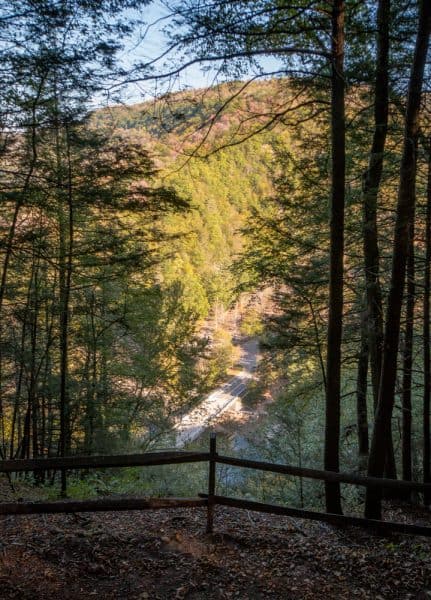 Worlds End Vista is a small overlook that's accessed via a short, but steep hike from the park office.
While the view isn't as impressive as the views from High Knob Overlook or Loyalsock Canyon Vista, it's worth taking the time to experience if you are looking for a great hike on Worlds End State Park's trails.
Those wishing for a longer excursion can do loop hikes with the trails that intersect near this overlook.
Alpine Falls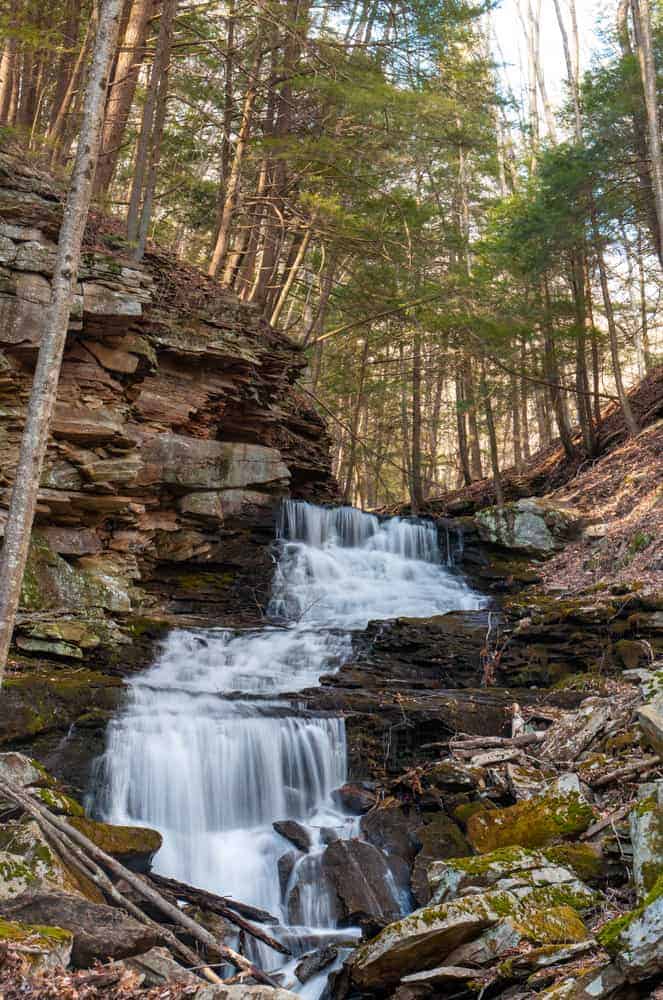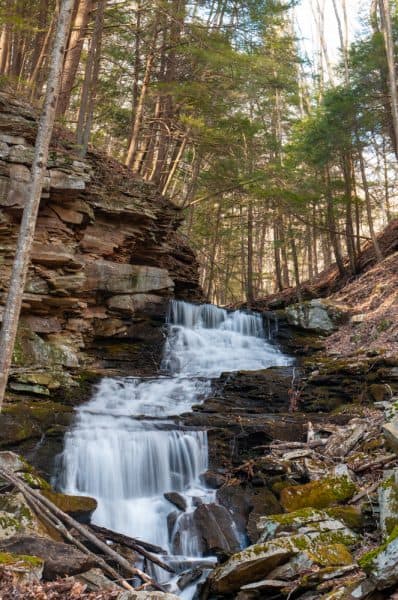 Alpine Falls is located north of the Loyalsock Creek and hidden deep in the forest. It's possible to hike to this waterfall via the Loyalsock Trail, but you can also drive to within a mile of it as well.
If you opt to drive, it's a long 25-minute drive along the old forest roads, but the hike is fairly short and easy.
From the parking area, a relatively flat trail along an abandoned roadway takes you to the top of Alpine Falls. Getting to the bottom requires either a bit of walking in the water or a steep descent.
While not in Worlds in State Park, this waterfall can be accessed via the Loyalsock Trail from the park office area if you are wanting to hike to see it.
Swim in the Loyalsock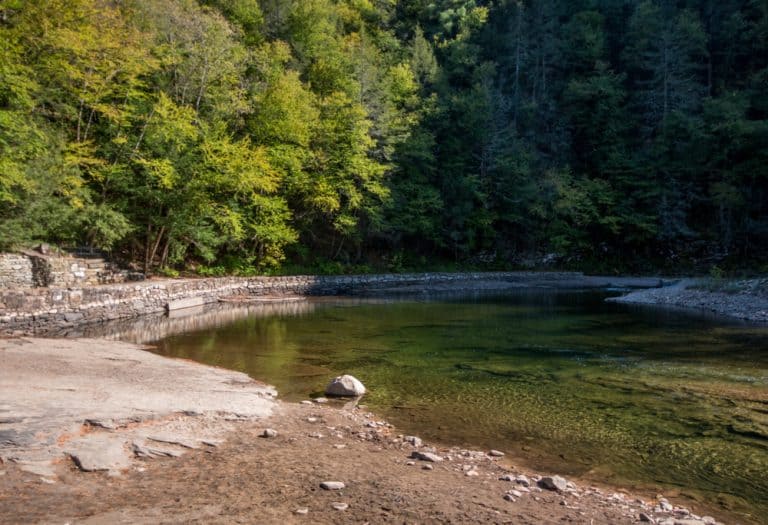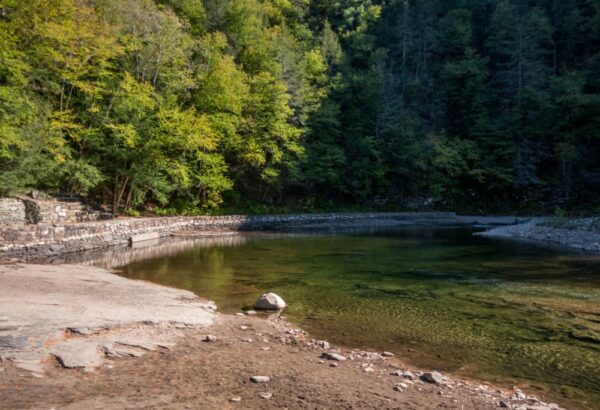 From Memorial Day Weekend through Labor Day, the small beach at Worlds End State Park is open for those wanting to swim in the Loyalsock Creek. The beach is located adjacent to a small dam built by the Civilian Conservation Corps.
The Loyalsock's water is always chilly, but can feel quite refreshing after hiking in Worlds End State Park on a hot day.
Note that swimming in Worlds End State Park is not allowed outside of the designated beach area and there are no life guards on duty.
Dutchman Falls
Dutchman Falls is located steps from the eastern trailhead for the Loyalsock Trail.
Dutchman Falls features two drops that combine to form a beautiful waterfall about 20 feet in height. The falls are located at the end of a small stream, and the waterfall almost falls directly into the Loyalsock Creek.
Dutchman Falls is located along the trail to the Haystacks, another popular place to visit in Loyalsock State Forest.
Rusty Falls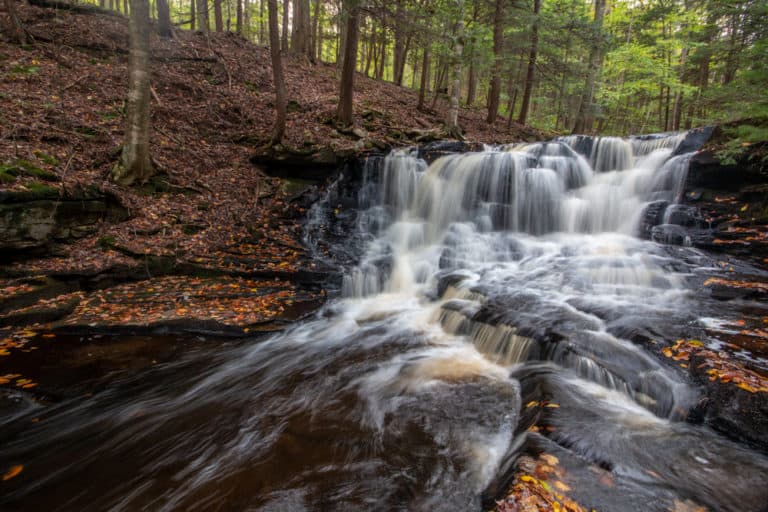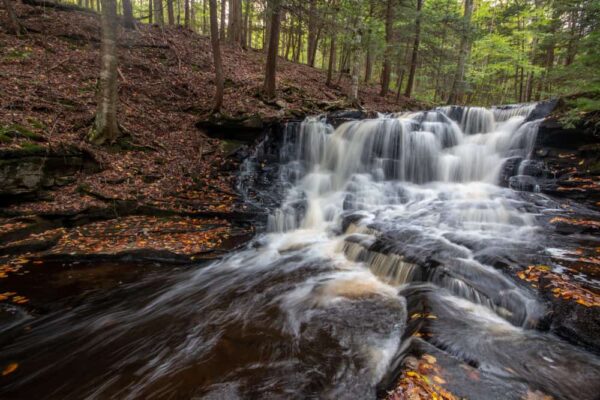 Rusty Falls is a small waterfall located Shanerburg Run in Loyalsock State Forest. There are actually two small waterfalls here with the largest being about eight feet in height. However, despite being relatively small, this is a very pleasant spot to spend a bit of time.
The trail to Rusy Falls is about a mile long and follows an old forest road before turning off into the woods for the last few hundred yards.
Looking to explore more of the area? Check out the nearby Mill Creek Falls, Jacoby Falls, the Eagles Mere Air Museum, and the Falls Trail at Ricketts Glen State Park.
See map below for other area attractions.