Disclosure: This article may contain affiliate links. We will make a small commission from these links if you order something at no additional cost to you.
Despite only spending a few days of his life in Gettysburg, I doubt that there is any president more synonymous with the town than Abraham Lincoln (even though President Dwight Eisenhower lived in the town for many years). Because of the historical importance of his visit, there are several places in town dedicated to the legacy of Lincoln's Gettysburg Address.
Then there is the Lincoln Train Museum.
Since I'm not one to sugarcoat things for you, I'm just going to come out and say it: the Lincoln Train Museum makes no sense whatsoever.
First off, the primary focus of the museum seems (read on to see why I say "seems") to be on Lincoln's funeral train that took the deceased president's body from Washington, DC, to his home in Springfield, Illinois. However, while the train did pass close to Gettysburg on its trip from Baltimore to Harrisburg, the train never even passed through Gettysburg. So, Gettysburg seems like a questionable choice at best for a museum dedicated to the train.
However, the questionable location of the museum is far from its biggest problem.
When I visited in October 2013, I walked in not really knowing what to expect. Upon entering the museum (which from the outside vaguely resembles a train station), I was greeted by a video of Abraham Lincoln. In the video, Lincoln talked not only about events that happened before and during his life, but also about events, such as 9/11, that happened well after his death. This seemed a bit odd, but I pushed on, wanting to see more of what the museum had in store.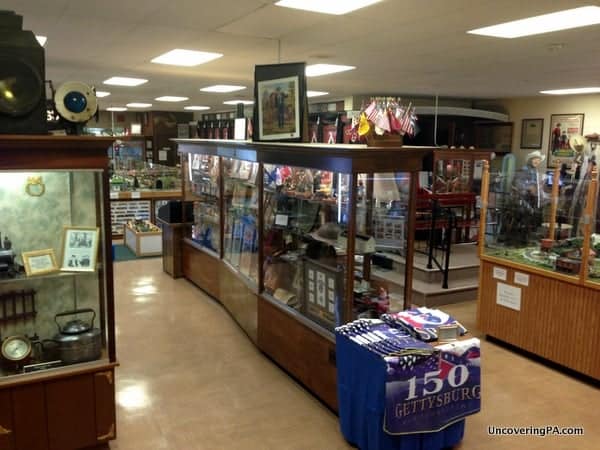 Once I entered into the main part of the museum, I watched an audio presentation that was accompanied by a model train that moved from station to station as they explained the route of Lincoln's funeral train.
From there, I was directed into a replica of the train car that carried Lincoln's casket for a simulated train ride across America, hosted by the "spirit of Abraham Lincoln". While somewhat interesting, the simulation perplexingly combined information about the train with Lincoln encouraging me to keep the spirit of America alive.
At this point I was a bit confused, and a bit underwhelmed, but I had gotten some interesting facts about Lincoln's funeral train. However, once I started checking out the other exhibits in the room (yes, the museum is effectively a hallway and one large room), I started to get really, really confused.
The first exhibit that I came to focused on model trains. Lining the walls were several hundred model train cars, and in the middle of the floor was a nice working model train. I enjoyed checking it out for a few minutes and pressing the buttons that caused the trains and some of the elements to move. I could certainly see a child enjoying this aspect of the museum (if they weren't already cranky from the rather dry history presentation at the beginning).
At this point, I was thinking, "I'm not entirely sure why there's a set-up of modern model trains in a museum about Lincoln's funeral train, but I guess they're somewhat related." Little did I know that the model trains were the most related thing in the rest of the museum.
Other items in the museum included autographed pictures of famous actors and actresses, Civil War artifacts (which relate to the town, but not the museum), signed baseballs, and even some regular baseball cards (some of which weren't even of famous players). There was even a western movie playing on a small TV screen in one corner.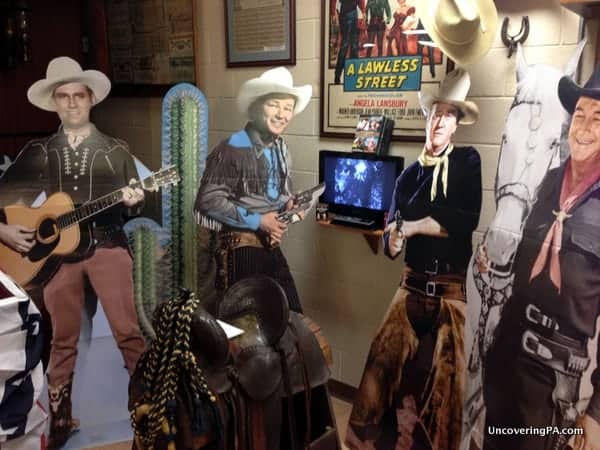 When I asked one of the workers why some of these items were there, she responded that the owner wanted to "show the spirit of America". And, sure enough, when I looked at the museum's outdoor sign after exiting the museum, it read,
"Lincoln Train Museum Featuring the Spirit of Lincoln and America".
However, just because you put it on your sign doesn't make the museum any less unfocused. If I'm being honest, which I guess I've said too much not to be, I feel that this is what must have been going through the owner's mind as he made his museum:
"I want to make a museum about Lincoln's funeral train. Wait, I don't have enough stuff to make a whole museum about it because Gettysburg has nothing to do with the train, and I have no authentic memorabilia. Hum, ok, well, I have a bunch of random stuff sitting around my house that my friends like to look at when they come over. I'll just fill the museum with my favorite signed baseballs and model train engines."
I've been struggling with writing this post for a few months because I was really trying to come up with something positive to say, some way to not come across as bashing the Lincoln Train Museum. However, it's really hard.
I suppose if you or your child is really interested in model trains, it could be kind of fun to visit for a bit. However, the displays aren't even in the same category as the ones you can see in Strasburg at the Choo Choo Barn or the National Toy Train Museum in Lancaster County. So, if you have the chance, Strasburg is a much better place to visit for model train enthusiasts.
Ultimately, while Gettysburg has many great places to visit and is one of my favorite destinations in Pennsylvania, I can't recommend the Lincoln Train Museum at all. Do yourself a favor and pass it by.
Have you visited the Lincoln Train Museum in Gettysburg? What did you think of it? Let me know in the comments section below.
---
Lincoln Train Museum
Hours: Monday-Friday: 10am-2pm, Saturday: 10am-5pm

Sunday: 10am-2pm

Cost: Adults: $9, Children: $7

Website: LincolnTrain.com

Address: 425 Steinwehr Ave
Gettysburg PA 17325
See map for other area attractions.
---