Disclosure: This article may contain affiliate links. We will make a small commission from these links if you order something at no additional cost to you.
Note: This is the first post in a new series about Pennsylvania's disappearing history. Expect regular updates from around the state highlighting forgotten Pennsylvania history.
Historical markers. We drive past them every day, but how often do we stop and read them. After all, each of the 2,000+ historical markers around the state were placed there in commemoration of some historical event, site, or person that shaped Pennsylvania into the state it is today. Shouldn't we take the time to learn more about them?
My goal with "Disappearing History" is to highlight many of the forgotten historical markers throughout the state of Pennsylvania.
Many of these markers denote a site that no longer exists or barely resembles its former glory. Hopefully by reading a bit more about each marker, the history will come alive again.
Abraham Lincoln in Harrisburg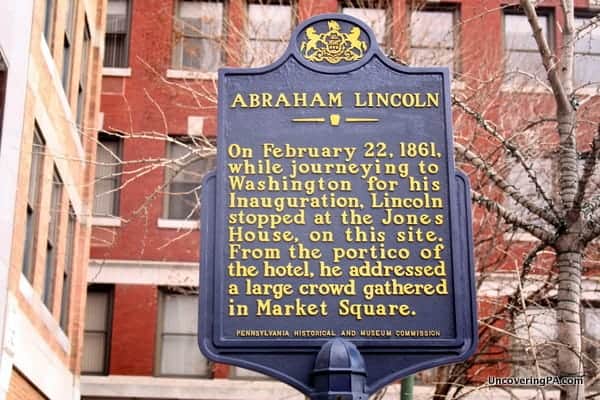 Located near the corner of Market Street and 2nd Street in downtown Harrisburg's Market Square, this marker denotes where Abraham Lincoln gave a speech on his way to Washington for his inauguration in February 1861.
It is estimated that Lincoln's speech was heard by nearly 30,000 people who had come to see him. After the speech, Lincoln gave another speech to the Pennsylvania legislature, ate dinner, and then boarded an 11pm train to Washington.
In 1861, Jones House was a 4-story brick hotel. Today, it has been replaced by several standard office buildings.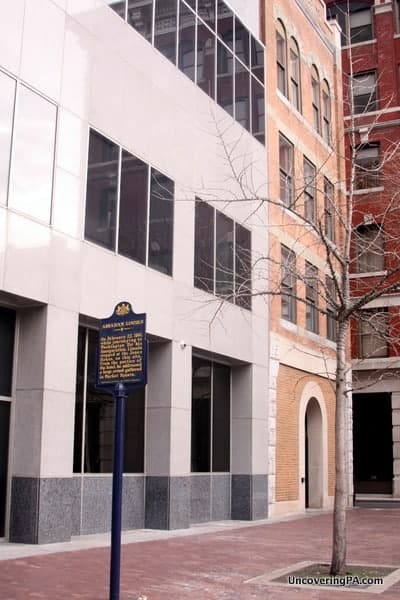 Camp Curtin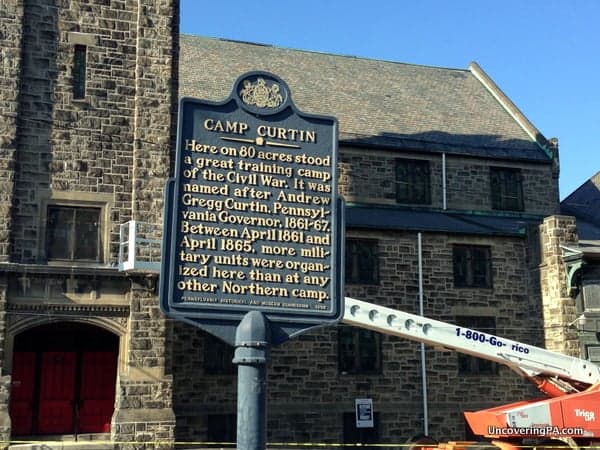 In April 1861, shortly after Abraham Lincoln asked for troops to gather to defend America, thousands converged on Harrisburg. With nowhere to train, the Dauphin County Agricultural Society offered the use of their land on the outskirts of Harrisburg. All told, approximately 300,000 troops from Pennsylvania and seven other states passed through Camp Curtin on their way to the front lines.
It was likely that Harrisburg's importance on the Union's rail lines and Camp Curtin were the reason Robert E. Lee was headed towards the Pennsylvania capital when he was stopped in Gettysburg.
Today, little evidence of Camp Curtin remains. Sitting in a high crime area of the city, it's not highly visited. Only the historical marker and a statue of Governor Curtin mark the spot. Nevertheless, a nearby church and school have both taken up the moniker "Camp Curtin".
If you are interested in seeing the site, the Camp Curtin Memorial-Mitchell United Methodist Church next door is quite beautiful and worth seeing. There is also a bit of information about Camp Curtin at the nearby National Civil War Museum.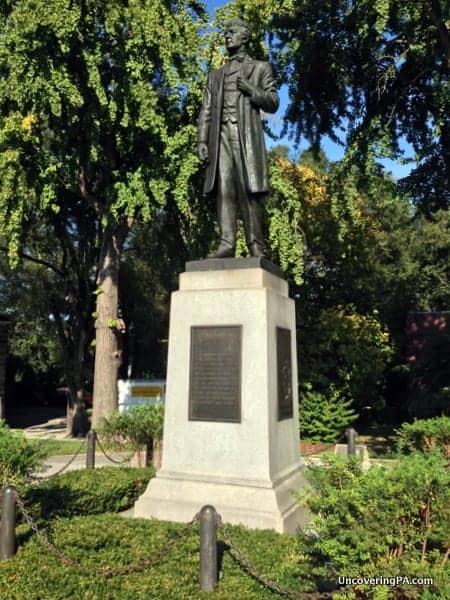 Pennsylvania's First Executive Mansion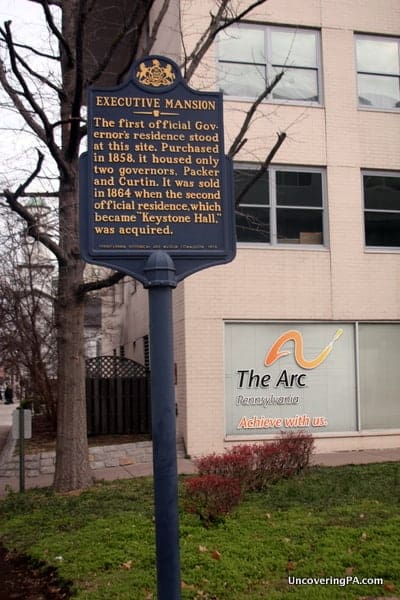 In 1812, the Pennsylvania state capital was moved from Lancaster to Harrisburg; however, the first executive mansion wasn't purchased until 1858. Where did the governors live before that? I'm guessing in private houses, but I couldn't find the answer, so I guess it remains a mystery (If you know, please comment and let me know).
Regardless, the first Executive Mansion stood on the corner of 2nd Street and Chestnut Street in downtown Harrisburg. While only used by two governors and for eight years, it's interesting to me that the building hasn't been preserved. Instead, a large apartment building now occupies the space.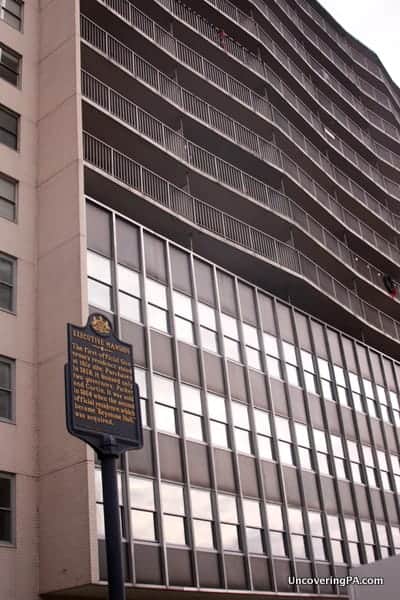 Explore more great places to visit in Harrisburg including the Harris-Cameron Mansion, touring the PA Capitol, and eating at Mexico Lindo Taco Truck.
See map below for other area attractions.