Disclosure: This article may contain affiliate links. We will make a small commission from these links if you order something at no additional cost to you.
Tucked away on a quiet, tree-lined street near Philadelphia's Rittenhouse Square is one of the city's best kept secrets: the Rosenbach Museum and Library.
From the outside, the museum looks like any number of immaculately kept historic homes in the area. However, what's inside rivals many of the great literary museums and libraries in the world.
The museum also has one absolutely amazing feature that makes me giddy just thinking about it. But I'll get to that in a minute.
The Rosenbach Museum and Library is located in the former home of Dr. Abraham Rosenbach and his older brother Philip. About one-third of the museum is open for self-guided tours and is home to the museum's rotating exhibits.
Guided tours of the Rosenbach Museum and Library start with a brief introduction about the Rosenbach family and how they came to be in the antique book business. The first floor is decorated with many of the pieces that Philip Rosenbach acquired during his days as an antique furniture dealer. The pieces are pretty, but mostly unexciting. However, there are several interesting pieces in the home, including a very unique clock in the dining room.
Without a doubt though, the highlight of any visit to the Rosenbach Museum and Library lies on the third floor: Abraham Rosenbach's library.
As the world's foremost seller of rare books, Rosenbach helped build the collections of some of America's wealthiest people and most of the country's best rare book libraries. However, Rosenbach also kept many of his best acquisitions for himself.
The rows and rows of books feature some of the most amazing pieces of literary history, and your guide will no doubt tell you stories about many of them.
In the center of the library is a display case that features a rotating display of some of the museum's best pieces. When I visited, the case housed a handwritten piece by Charles Dickens, a handwritten manuscript of James Joyce's "Ulysses", and other priceless pieces.
Those pieces, however, are far from the only remarkable objects at this insanely amazing museum. In fact, here is a very, very limited list of some of the most amazing things housed at the Rosenbach Museum and Library:
The only surviving first edition of Benjamin Franklin's "Poor Richard's Almanac"
The very first printed copy of Louis Carroll's "Alice in Wonderland" (which belonged to the author)
Hundreds of handwritten letters from Abraham Lincoln, George Washington, Robert E. Lee, Ulysses S. Grant, and many of the world's most famous explorers
A Chinese book printed over 400 years before the printing press was invented in Europe
The three oldest books still in existence that were printed in what would become the United States
Bram Stoker's notes and outlines for "Dracula"
The first Bible printed in America (which is in the Natick Indian language)
First editions of Pilgrim's Progress, the Book of Mormon, Don Quixote, Robinson Crusoe, and many more
I could keep on going, but you get the idea. This collection is pretty amazing!
However, here's the most amazing part about a visit to the Rosenbach Museum and Library: you can personally view any of these works. That's right. If you call and give them a few week's notice, you can, depending on the piece, review, hold, and flip through any of the works in the entire collection. That's right, any work.
The museum requests at least a week's notice of your visit, but you are welcome to select a particular work that you would like to see, or you can simply give the museum a subject you're interested in. Even more shocking, there is only an additional $5 charge for this service.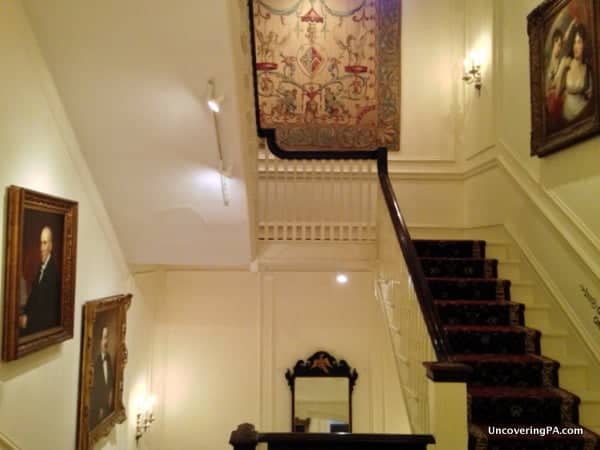 For example, if you're a big fan of Benjamin Franklin. You can call the Rosenbach, tell them that you're coming, and they will pull out a few items from their collection to inspect such as books owned or printed by Franklin and letters written in his hand.
This is truly a once in a lifetime chance to check out some of the most amazing works of literary history. Check out the Rosenbach's website for more information on this program.
Should you want a less personalized experience, the Rosenbach Museum also runs weekly programs based around a certain topic from literary history. Topics range from the works of 19th-century authors to the letters and writings of America's Founding Fathers.
These small group programs do cost a nominal fee of $5, in addition to regular museum admission, but are a great chance for anyone who wants to get a basic taste of the amazing collections at the museum. Click here for more information about the hands-on programs at the Rosenbach and Rosenbach Museum & Library events.
In addition to their fantastic library and hands-on programs, the Rosenbach also has a series of rotating exhibits. One of these always features the works of Maurice Sendak, author and illustrator of "Where the Wild Things Are". With over 10,000 items related to Sendak, the Rosenbach Museum and Library has one of the best collections of his work in the world. This collection is a must-see for any fan of Sendak's work. (Note: As for late 2014, the vast majority of the Sendak College at the Rosenbach Museum and Library has been returned to the foundation that manage's Sendak's works.)
Without a doubt, visiting the Rosenbach Museum and Library is one of the most amazing places I've had a chance to visit in Philadelphia. If you love history or literature, this is a must-see destination.
Note: My visit to the Rosenbach Museum and Library was hosted by Visit Philly. However, the opinions expressed in this article are my own and were not subject to review.
Looking for more off-the-beaten-path destinations in Philly? Check out the Ryerss Museum, Mount Moriah Cemetery, and Thomas Mill Covered Bridge.
---
Rosenbach Museum and Library
Hours: Thursday-Saturday: 10:30am-6:00pm

Sunday: 10:30am-4:30pm

Closed Monday-Wednesday

Cost: Adults: $12.50, Children: $7.50, Children 5-11: Free; Children under 5 not currently admitted

Website: Rosenbach.org

Address: 2008-2010 Delancey Place
Philadelphia, PA 19103
See map for other area attractions.
---