Disclosure: This article may contain affiliate links. We will make a small commission from these links if you order something at no additional cost to you.
I'm always on the lookout for festive things to do during Christmas in Philly, so I was excited when I was invited to check out LumiNature at the Philadelphia Zoo, first in 2019 during its inaugural season and again in 2023. (Most of the photos in this article are from my visit in 2023.)
The Philadelphia Zoo is, of course, a fantastic spot to visit in Pennsylvania if you love animals. While the zoo is normally only open during the day, LumiNature, allows visitors to explore the grounds of the zoo in a unique way after dark from mid-November through early January.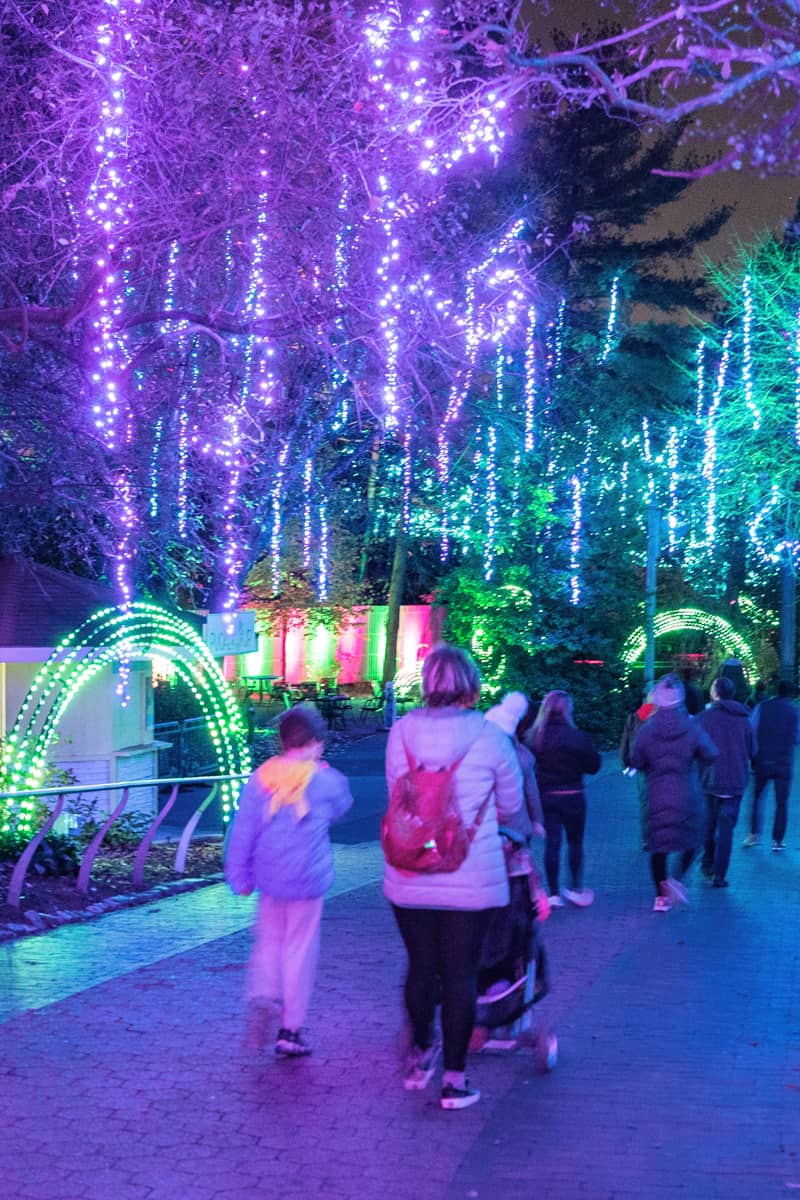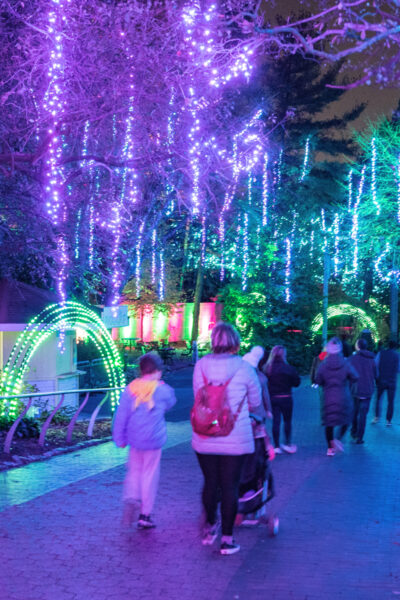 This light display leads visitors on a magical walk through the grounds of the zoo. There are over a million lights divided into over a dozen different experience zones.
It's worth noting that even though this is a holiday-season attraction, many of the displays have no connection to the holiday season. Instead, they celebrate the zoo, as well as wildlife and nature in general.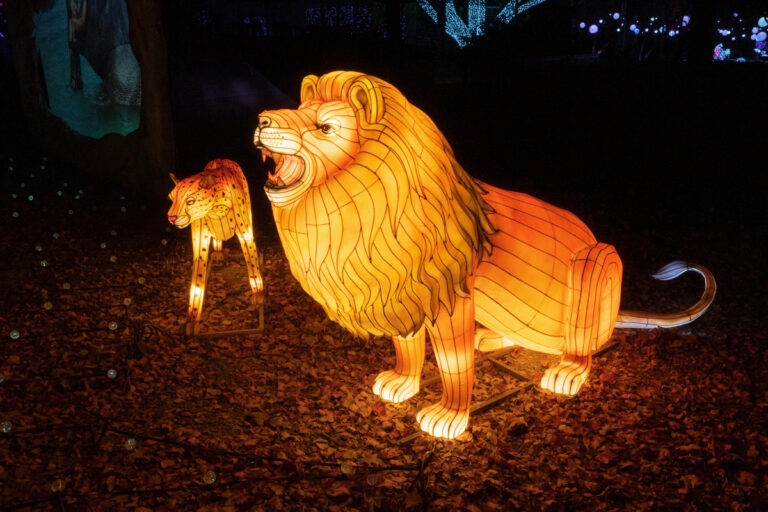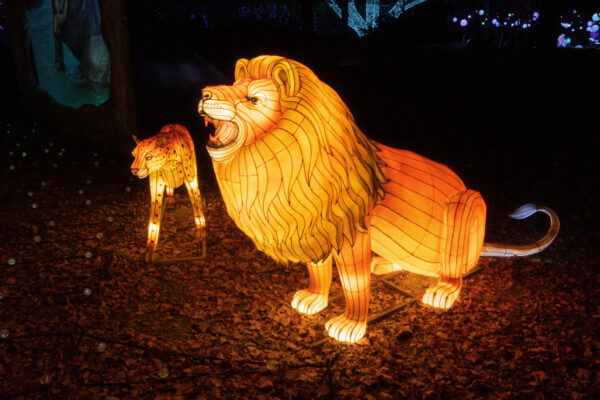 However, there is still some holiday cheer to be found in the displays, most notably, in my opinion, a 25-foot Christmas tree made out of 1,500 pink plastic flamingos.
It's also worth noting that the animals aren't roaming around their enclosures during the event. While we did see two alpacas during my first visit, I didn't see any during my most recent visit. Don't come expecting to enjoy the zoo's animals during your time at LumiNature.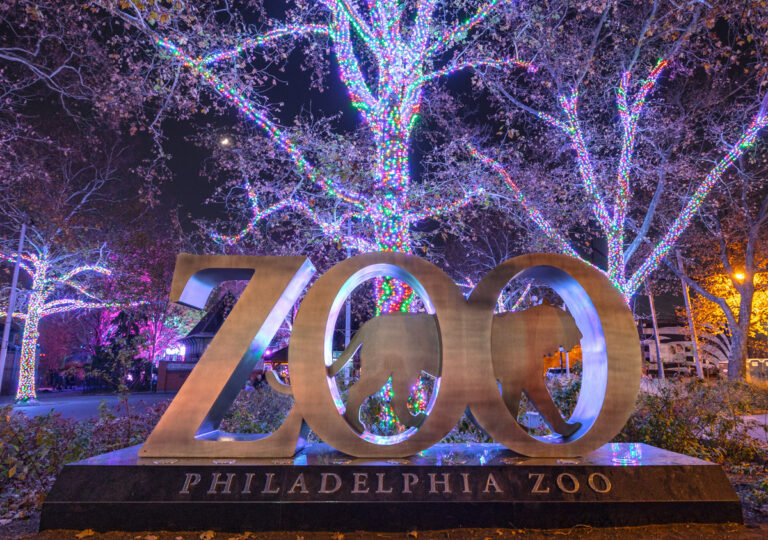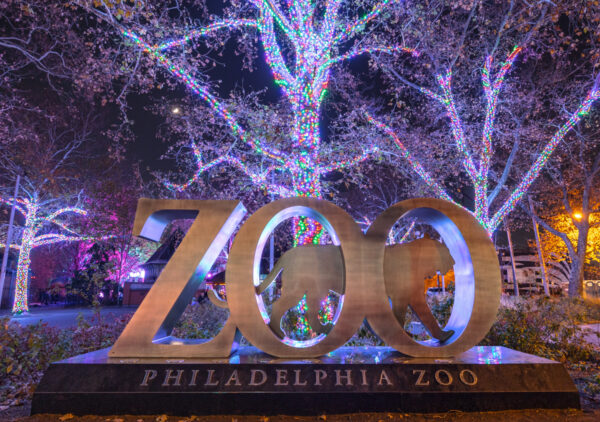 That being said, despite the lack of holiday cheer throughout most of the displays and the inability to see the zoo's animals, this really is a neat spot to visit as the displays are quite unique.
The lights for LumiNature start even before you go through the entrance into the Philly Zoo. In the plaza in front of the gates and in the area around the ticket window, there are lighted trees and other neat displays that give you a taste of what you'll see once you enter the zoo.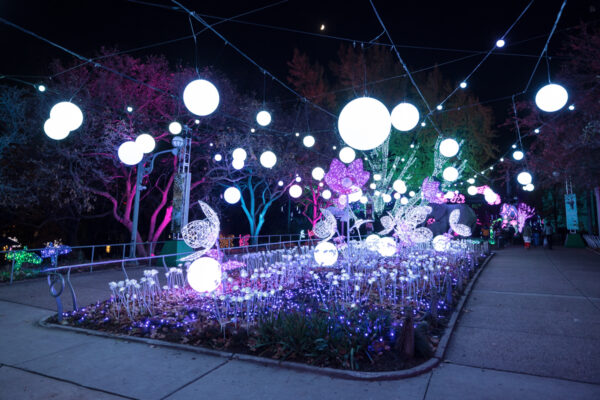 Once inside the gates, there are 16 different display areas scattered along a roughly 0.75-mile walking path through the zoo.
Dubbed "experience zones," these areas are themed around different animals and are incredibly imaginative and fun to explore.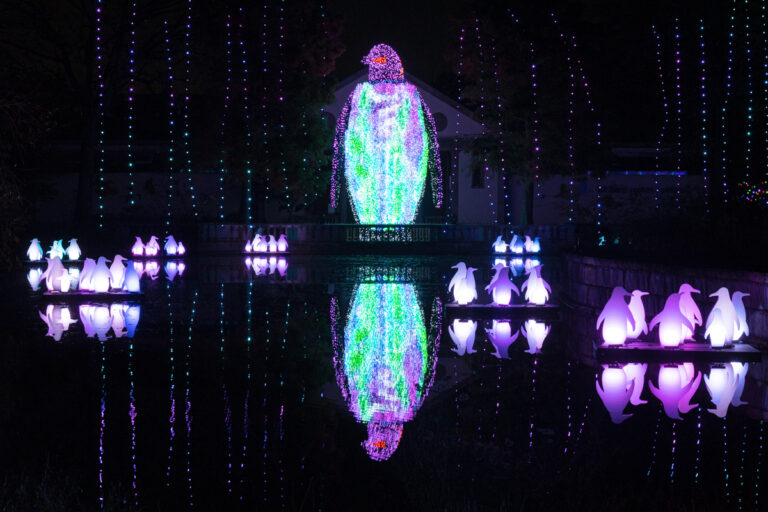 One of my favorite areas was the 40-foot-tall giant penguin at Bird Lake. Known as the Penguin Prismatic, this display features 40,000 lights and creates a really fun light show every few minutes as the lights dance across the display to holiday music.
This is definitely one of the highlights of the display, and it's worth taking a few minutes to stop and enjoy the show.
Another area that I really enjoyed was Seasonbration Here, a large sphere showcases a series of images that showcase nature and the weather throughout all four seasons. The lights in the canopy above really add to the uniqueness of this spot.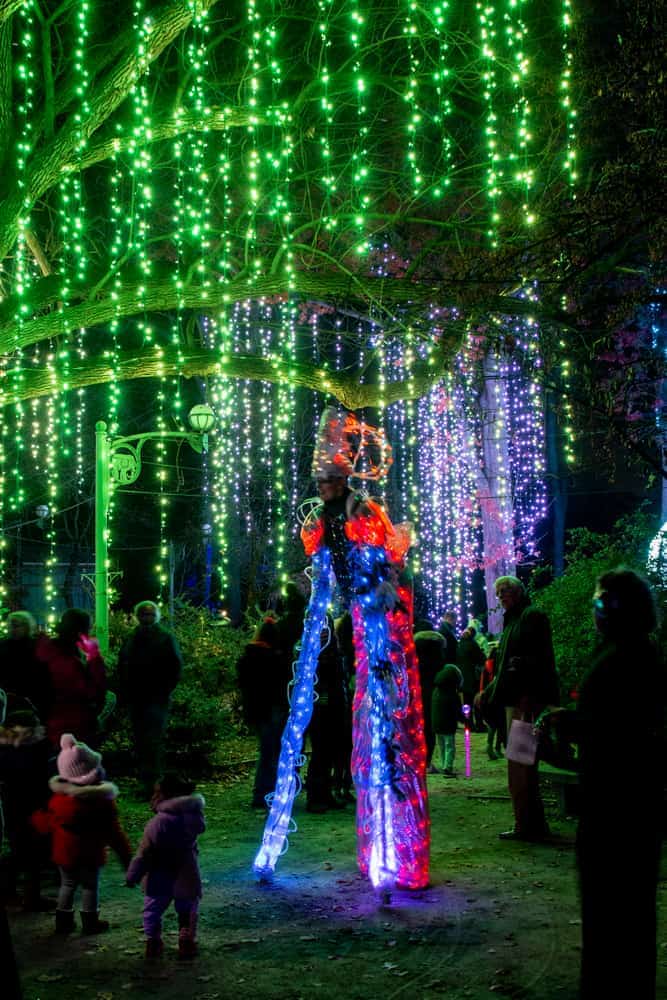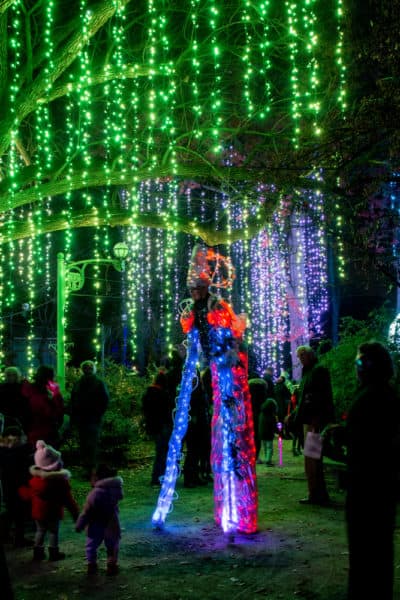 In addition to the displays, one thing I loved about LumiNature was the roving animal characters. Over my two visits, I saw people dressed up as a lion, a giraffe (using stilts), and more. These characters interacted with visitors and were a huge hit with my kids (especially the lion).
Those looking for a quick bite to eat or a drink will appreciate the food stands set up throughout the park. A limited range of food options are available for prices that you'd expect at the zoo.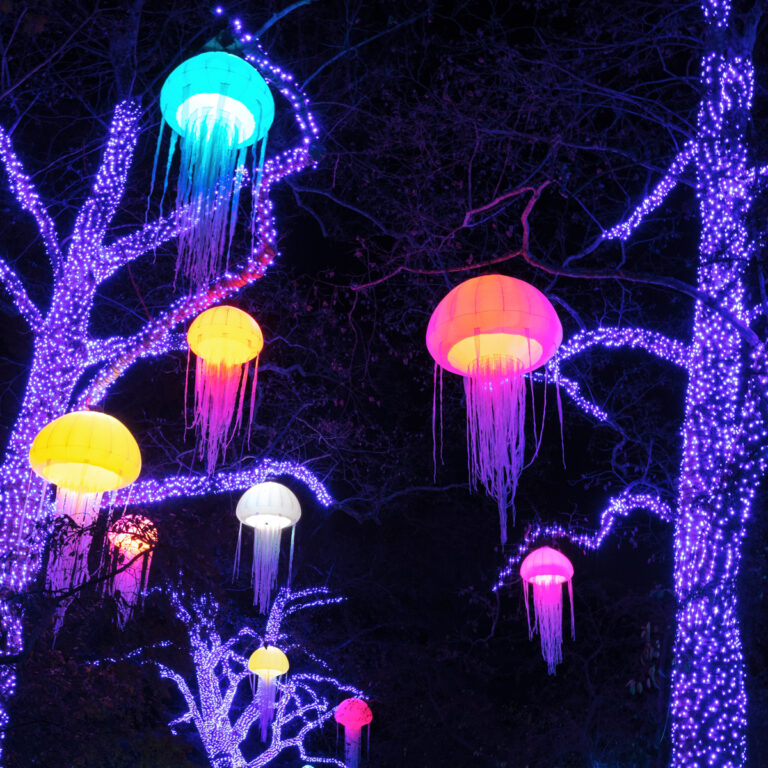 You can also find hot chocolate and hot apple cider available throughout the park (which can be spiked with a variety of liquors if you'd like). I really enjoyed the spiked hot chocolate that I got, and it definitely helped keep me warm on the cold evening I visited.
There are also a few tower heaters and small fire pits available as you walk through the display, and you can buy a s'mores kit if you want to roast marshmallows (though I personally thought the price was rather high for the kit).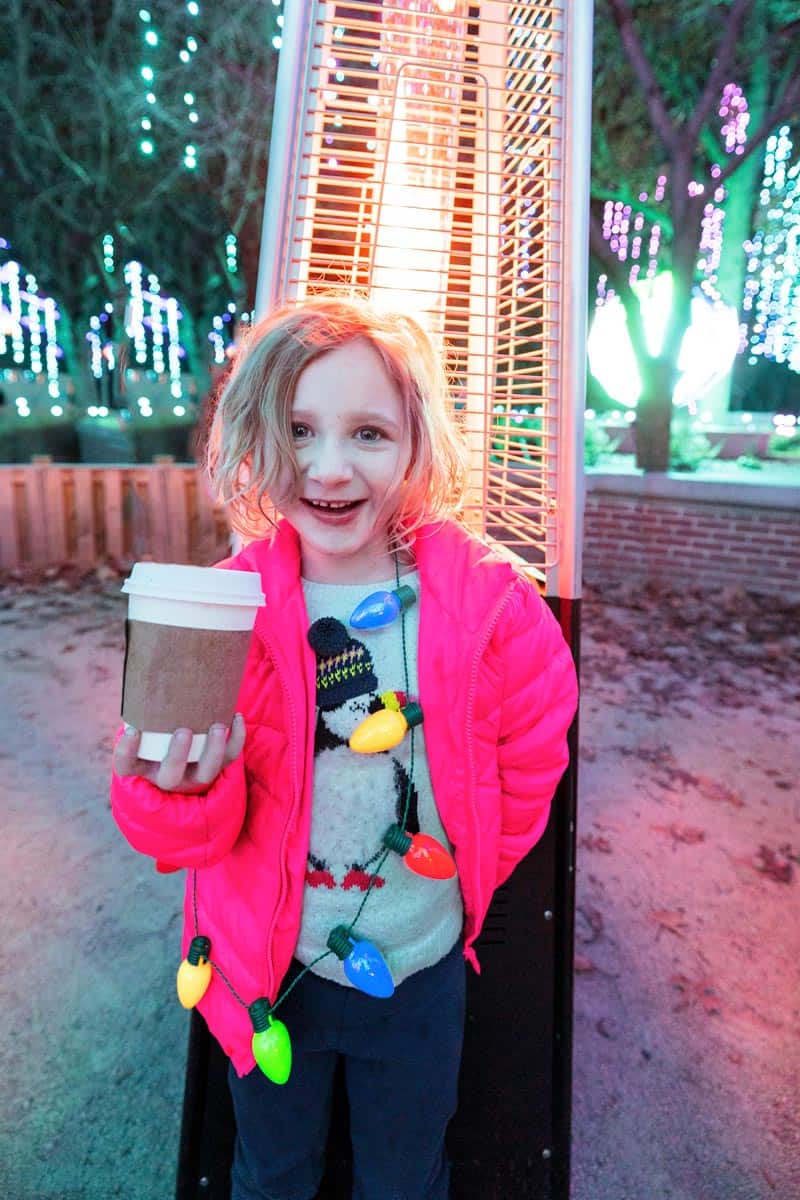 It's worth noting that these aren't big fire pits and there aren't a ton of them. I could see them getting quite crowded on busy nights, so I wouldn't necessarily count on being able to use them to warm up.
As I said at the beginning of the article, LumiNature is quite different from many other holiday-season light displays in Pennsylvania. If you are looking for light shows that are more focused on the holiday season, you might be better off heading to spots like The Miracle on South 13th Street, Longwood Gardens, or Wild Lights at the Elmwood Park Zoo.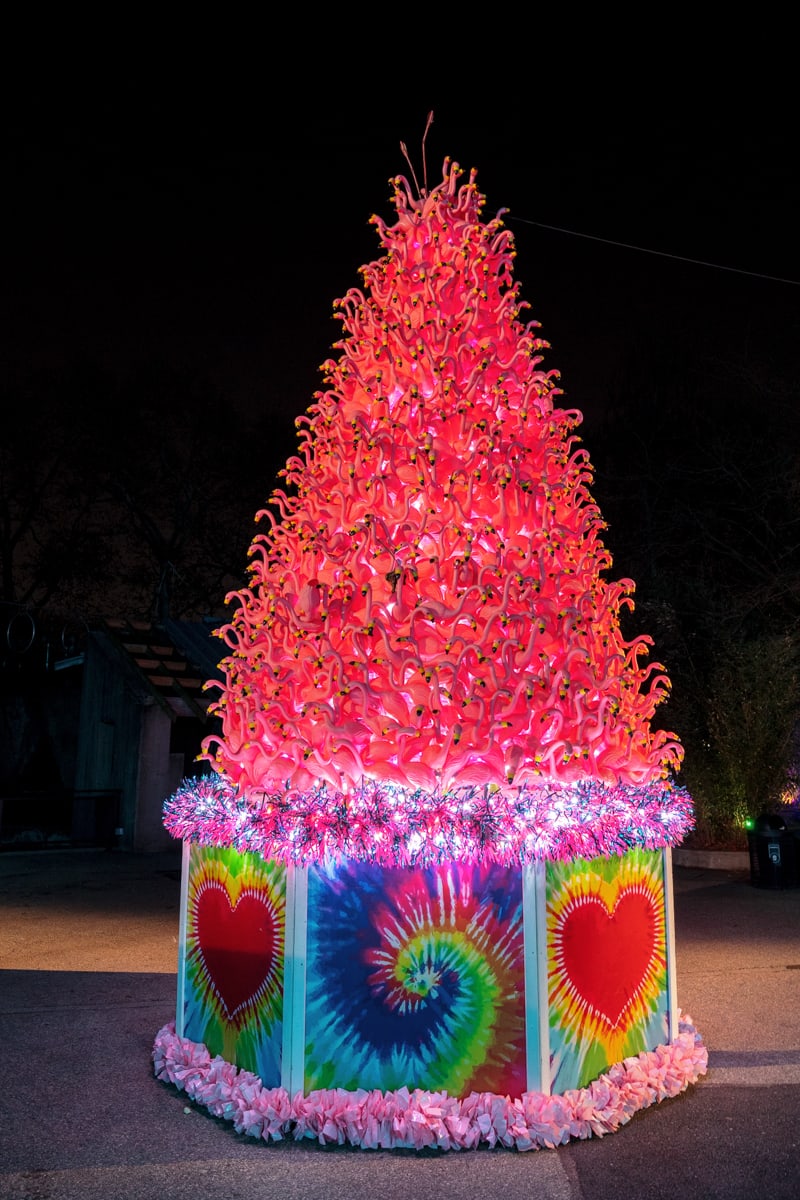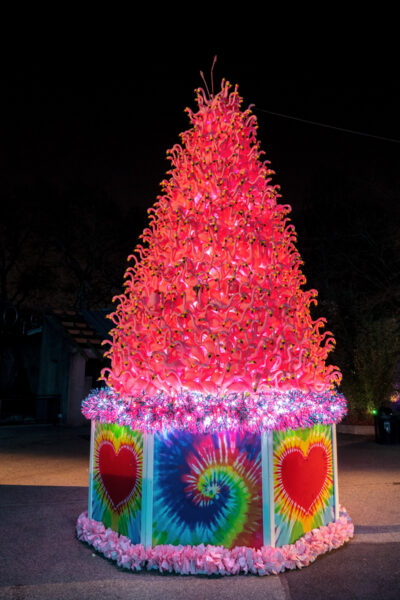 However, that's not to say that LumiNature at the Philadelphia Zoo isn't worth seeing. The combination of beautiful lights and creative displays make this a really special event that's worth taking the time to see and explore. Plus, there are holiday lights scattered throughout the display, so it is possible to get some holiday cheer when visiting.
Just keep in mind that this display is more focused on animals and nature lights than it is the holiday season, and you are sure to have a great time.
Note: My visit to LumiNature was hosted by the Philadelphia Zoo. However, the opinions expressed are my own.
Looking for more places to visit during the holiday season in PA? Check out our favorite things to do in Bethlehem at Christmas, holiday attractions in Lancaster, and Christmas things to do in Pittsburgh.
---
LumiNature
Hours: Open November 17, 2023 – January 6, 2024.
See website for hours.

Cost: Adults: $25, Children: $20

Peak- Adults: $28, Children: $23

Website: PhilladelphiaZoo.org

Address: 3400 W Girard Ave
Philadelphia, PA 19104
See map below for other area attractions.
---