Disclosure: This article may contain affiliate links. We will make a small commission from these links if you order something at no additional cost to you.
When it was first suggested that I visit an old machine shop and foundry along the banks of the Monongahela River in Greene County, I figured there really wouldn't be much worth seeing. However, I'm happy to admit that I was wrong.
The W.A. Young and Sons Machine Shop and Foundry was built in 1900 to repair boats, but soon shifted its focus to railroads and anything else that needed fixing along the bustling river in Rices Landing, Pennsylvania. Over the course of the shop's nearly 70 years of operation, it performed vital work for not just local residents, but also for two war efforts.
When the machine shop and foundry closed for good in the 1960s, the workers simply locked the door and left, leaving all their tools and records behind. There, the shop set for 20 years until it was purchased by the Greene County Historical Society in 1985.
Today, the W.A. Young and Sons Machine Shop and Foundry is one of the best preserved industrial sites in Pennsylvania. The tools, most of which still function and date from 1870-1920, give a fascinating glimpse into what life was like for turn-of-the-century workers in the region. The site has even been recognized for its historical value as both a National Historic Site and as a part of the Rivers of Steel National Heritage Area with its sister site, Carrie Furnace.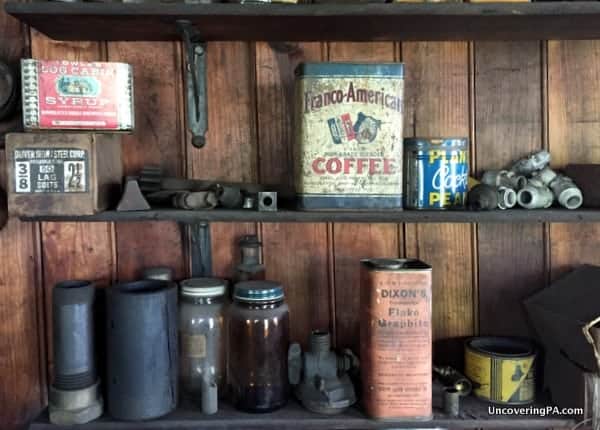 Stepping into the shop is like stepping back in time. If the Young family came back to the site today, I doubt that they would think that much had changed. After all, many of the tools and records that were left when the shop closed in the 60s are still located in exactly the same place.
Because of this level of precise preservation, the machine shop and foundry is a living museum. Instead of having items behind glass with signage telling you how they work, items are on display in the exact place where they were used for years and years. This preservation even extends to the small office and hardware store on the second floor of the shop. Here buckets of nails, bolts, and screws made right in the shop still sit waiting for customers to purchase them.
Many of the machines in the shop run off of one engine, attached to an ingenious system of belts that stretches throughout much of the building. The shop started with a steam engine, but was eventually upgraded to a gas engine. This engine turns a series of belts that can independently run up to 25 pieces of equipment. What's great, is that this set up allows the shop to start and stop instruments at will.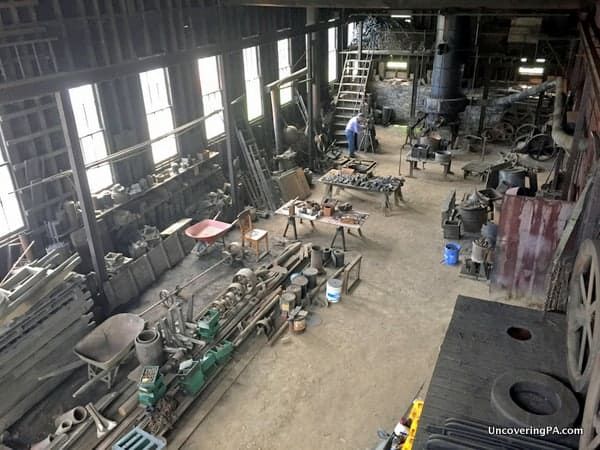 Despite their age, many of these machines still work today. If the engine isn't running during your visit, be sure to ask for a demonstration, as it really is quite fascinating to see how the equipment works.
While visiting Rices Landing and the machine shop, take some time to explore this riverside borough. At one point in time, this was a bustling port along the Monongahela River where people and goods would come to make the trip between southwestern Pennsylvania and Pittsburgh.
There was a lock in the river near the center of town, and the former lock keeper's home is now the borough offices. On the second floor of this building, there is a small museum that tells the story of the lock and also provides some historical information about the town.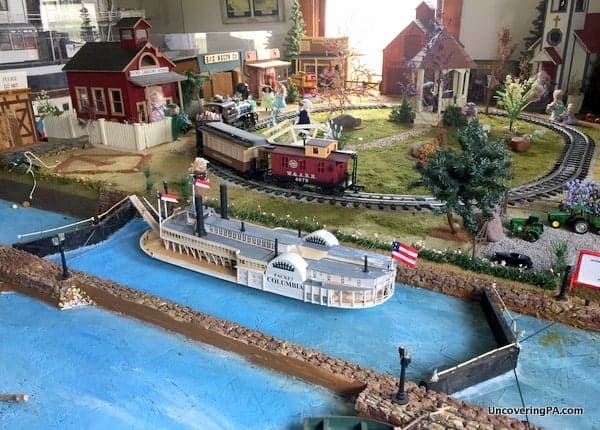 Unfortunately, the Lock 6 Museum is typically only open on Wednesdays and Fridays, while the Machine Shop and Foundry is only open on Sundays. Hopefully, they can find a way to jive schedules in the future as it would be great to be able to easily visit both on the same trip.
Going into W.A. Young and Sons Machine Shop and Foundry, I wasn't sure what to expect. However, as someone who enjoys machinery and photography, I really had a great time visiting. The photography possibilities are endless here, and it is a popular destination for area photography clubs.
Overall, I really enjoyed my time in Rices Landing at the machine shop and foundry. While it is a bit out of the way, anyone who is interested in old machines or photography won't regret making the trip out to this riverside borough.
Note: My visit to the W.A. Young and Sons Machine Shop and Foundry was hosted by the site. However, the opinions expressed are my own.
---
W.A. Young and Sons Machine Shop
Hours: Sundays: Tours run from 12pm-3pm
Open May-November

Cost: $10 per person

Website: RiversofSteel.com

Address: 116 Water Street
Rices Landing, PA 15357
See map below for other area attractions.
---