Disclosure: This article may contain affiliate links. We will make a small commission from these links if you order something at no additional cost to you.
There are many hidden gems of Loyalsock State Forest in Northeastern Pennsylvania, and Alpine Falls is undoubtedly one of them.
Alpine Falls is located along the popular Loyalsock Trail, a 59.2-mile hiking trail that passes by many of the region's highlights. However, the section on which Alpine Falls is located gets few visitors, so you are more likely to have this waterfall to yourself than other nearby falls like Dry Run Falls or Cottonwood Falls.
While it's possible to hike to Alpine Falls by following the Loyalsock Trail from near the Worlds End State Park visitor center, there is an easier route you can take that requires a fair bit of dirt road driving, but a much shorter and easier hike.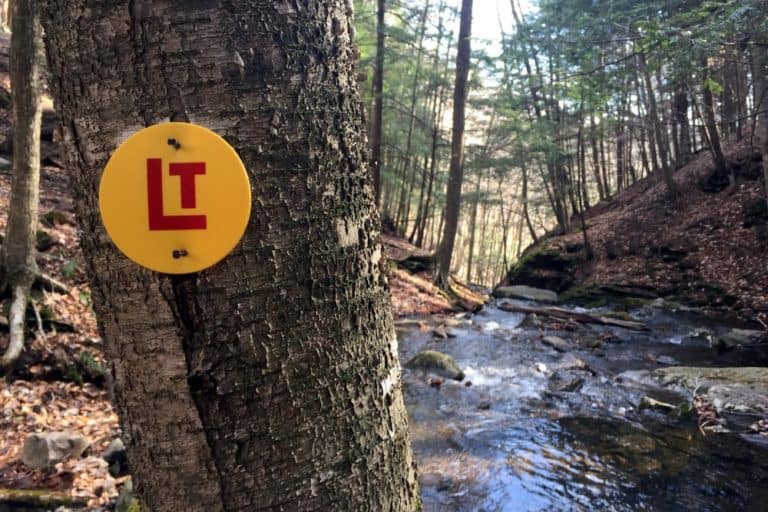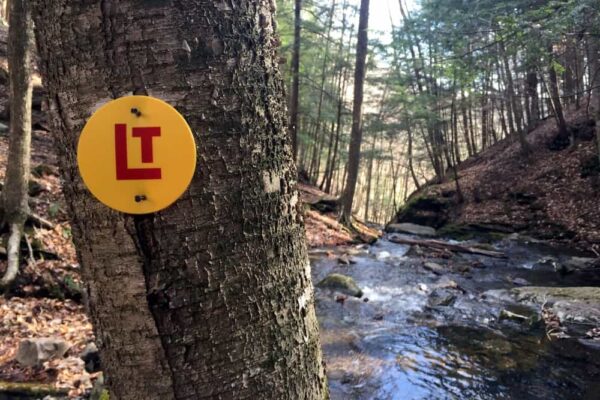 In total, reaching the parking area for Alpine Falls requires 6-7.5 miles and 20-25 total minutes of dirt road driving through some of the most isolated parts of the Endless Mountains. However, the roads are relatively well maintained, and I had no issues reaching the parking area in a standard car when I visited. (Full information on how to reach the parking area can be found below.)
From the parking area, follow the old dirt road that branches off of the main road for approximately half a mile. This road is overgrown in places but is easy to follow.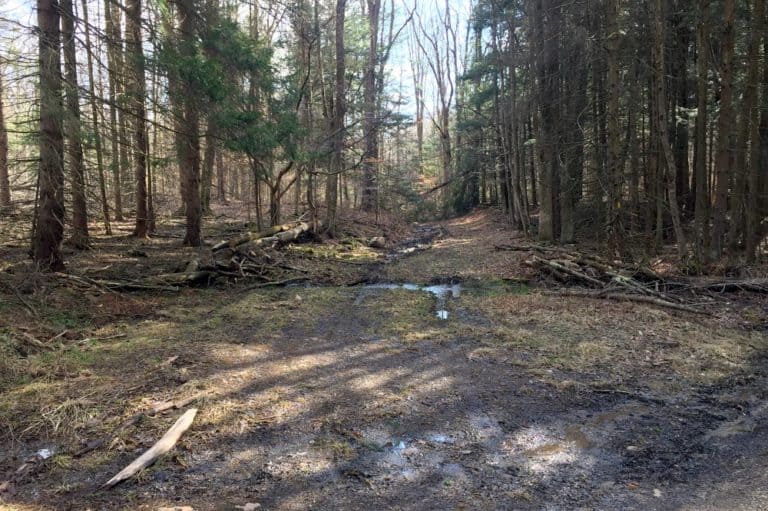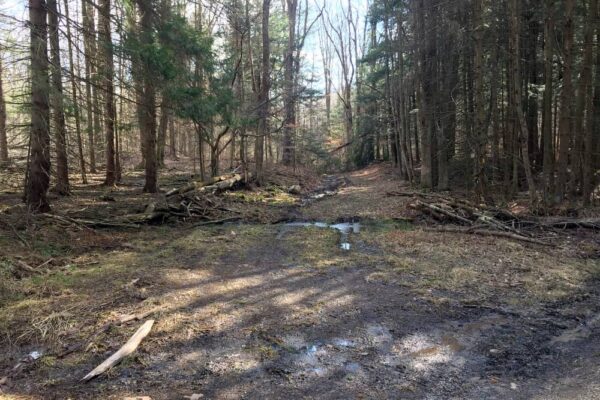 If conditions are wet, there may be a few muddy spots where it will be hard to impossible to keep your feet wet. However, you'll almost certainly be getting your feet wet to see this waterfall, so don't worry about it too much.
Eventually, you will come to the Loyalsock Trail. Turn right on this trail and hike for less than a quarter-mile. You will then come to a wet stream crossing above Upper Alpine Falls.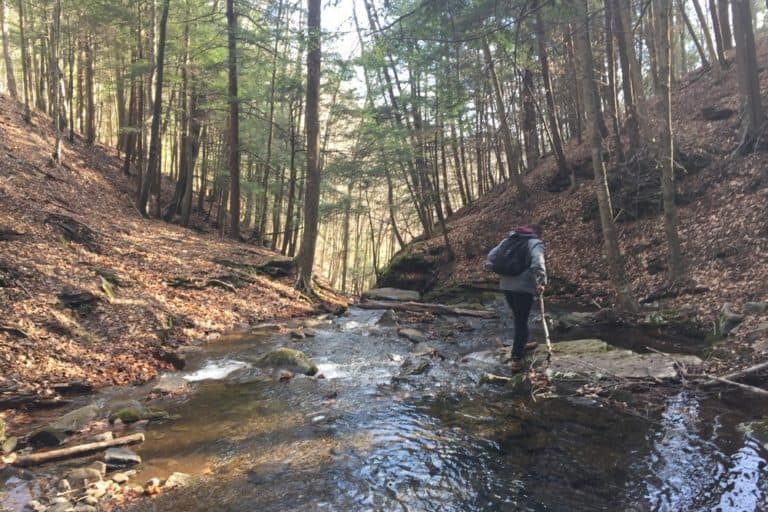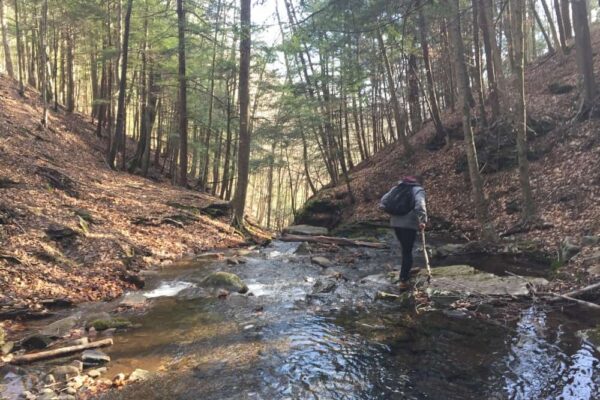 Continue following the Loyalsock Trail for a short distance further until you descend the hill and reach stream level.
To See Alpine Falls, bushwhack your way 100 yards upstream. Depending on water levels, this may be difficult or even impossible to do safely, so use your judgment when you visit.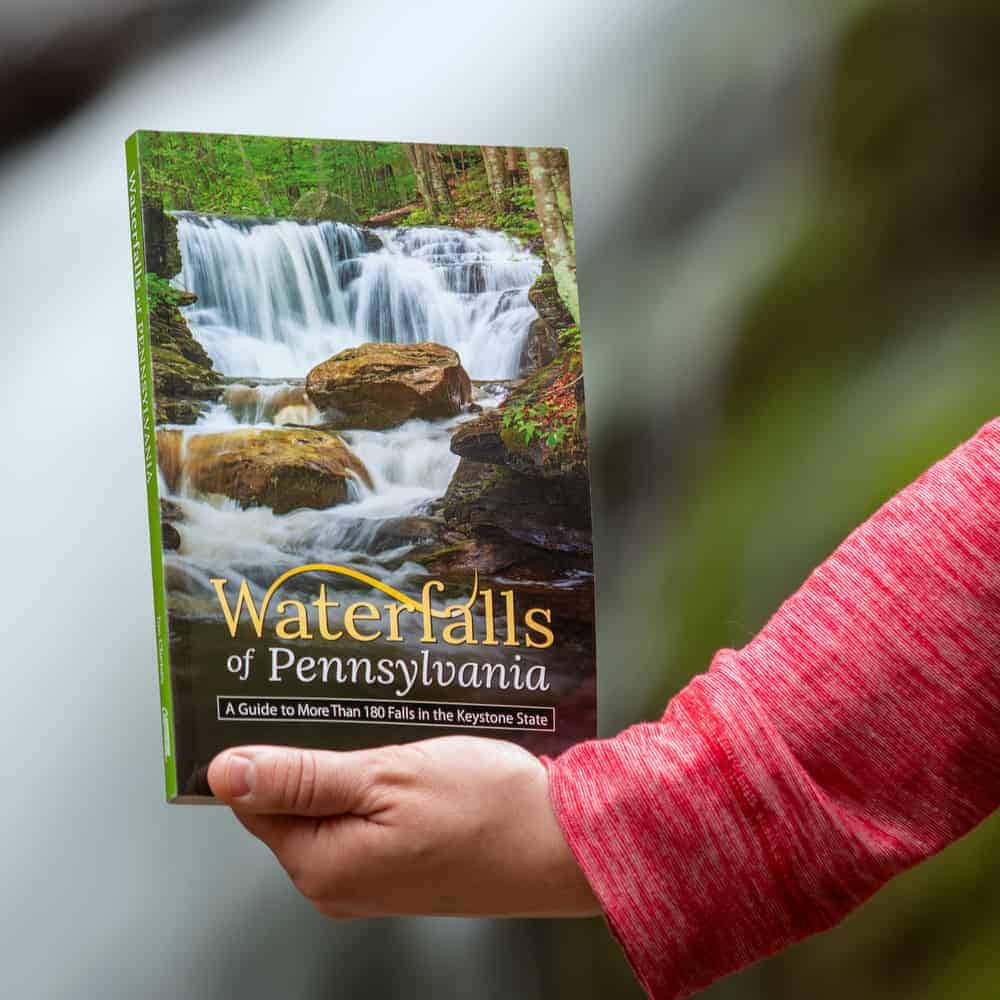 "Waterfalls of Pennsylvania" by Jim Cheney
If you love PA waterfalls, you won't want to miss this waterfall book from Jim Cheney, author of Uncovering PA, featuring more than 180 great waterfalls. Order it now on Bookshop.org or Amazon.
From this vantage point, it is possible to see the entirety of Alpine Falls.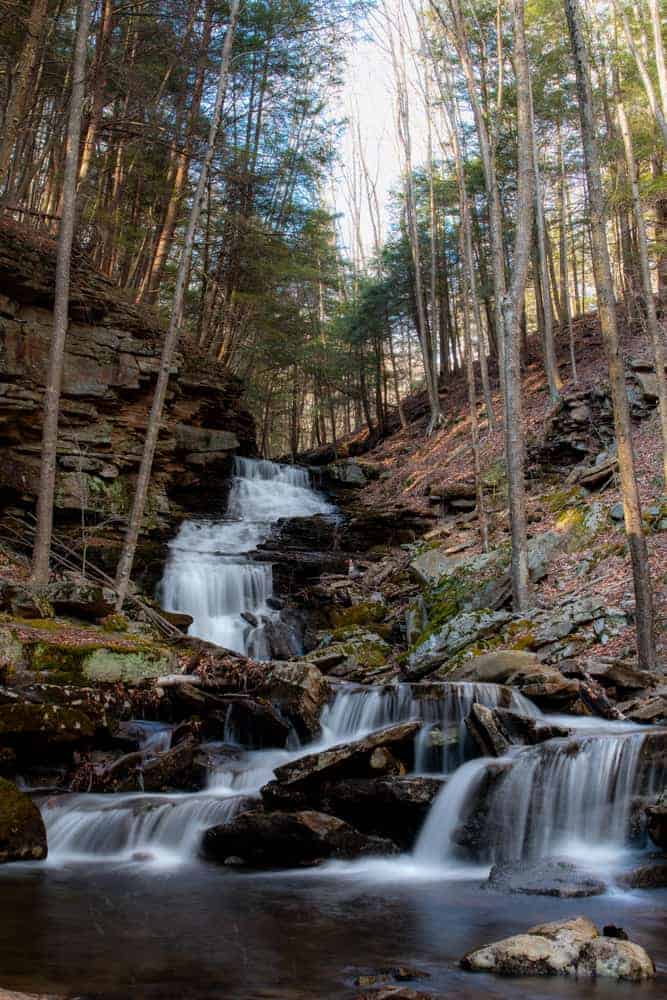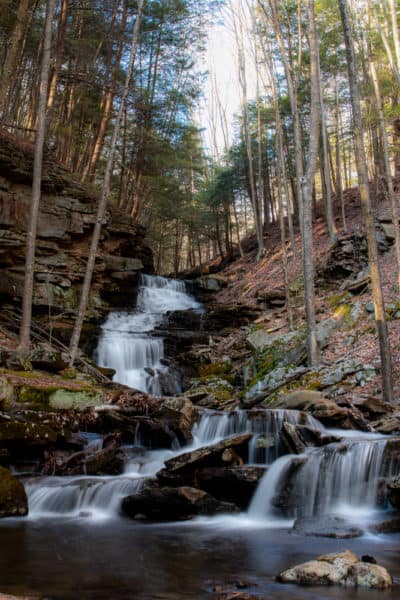 Alpine Falls is an impressive waterfall that is probably about 20-25 feet in height between its tiers. Towering cliffs on the left side of the falls add to the imposing feeling.
There is also a small 5-6 foot waterfall above the main falls that can't be seen from below. To see it, you'll have to walk up the hillside on the right side of Alpine Falls and skirt around its edge to get above it. However, this isn't really recommended, especially if water levels are high.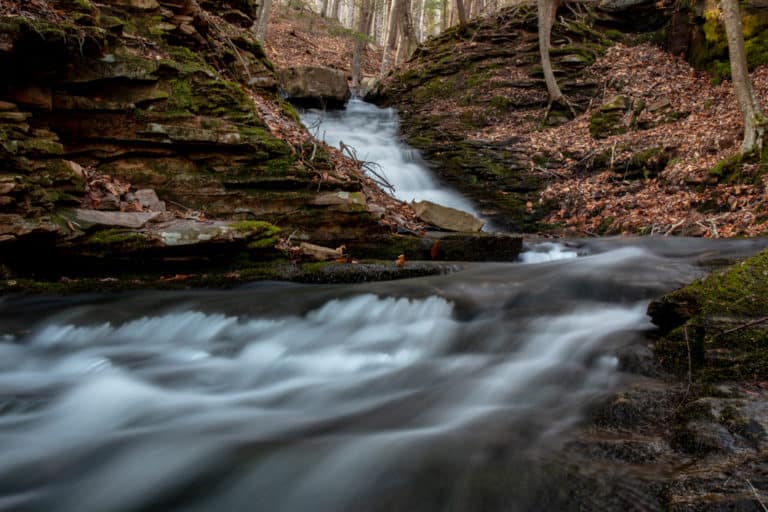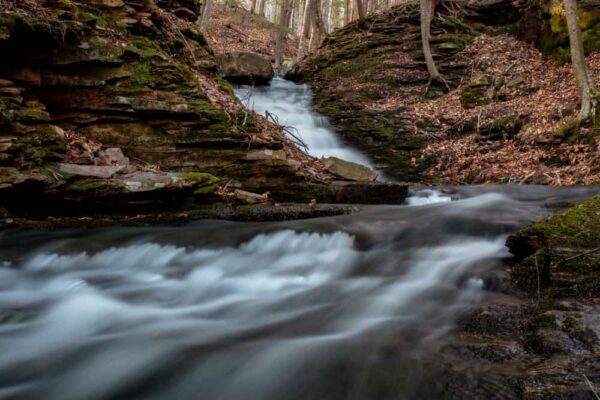 If you do attempt to see the upper falls, use extreme caution as the rocks above the main falls can be quite slippery.
The upper waterfall at Alpine Falls is only about 5-6 feet high but has a large rock right in the middle of its crest that adds a unique look to the falls. Just after the waterfall, the stream makes a 90-degree turn and falls over the main part of the waterfall.
Once you are done, retrace your steps to return to your vehicle. All told, the hike should be about 1.5 miles roundtrip to see this impressive hidden gem of Loyalsock State Forest.
How to Get to Alpine Falls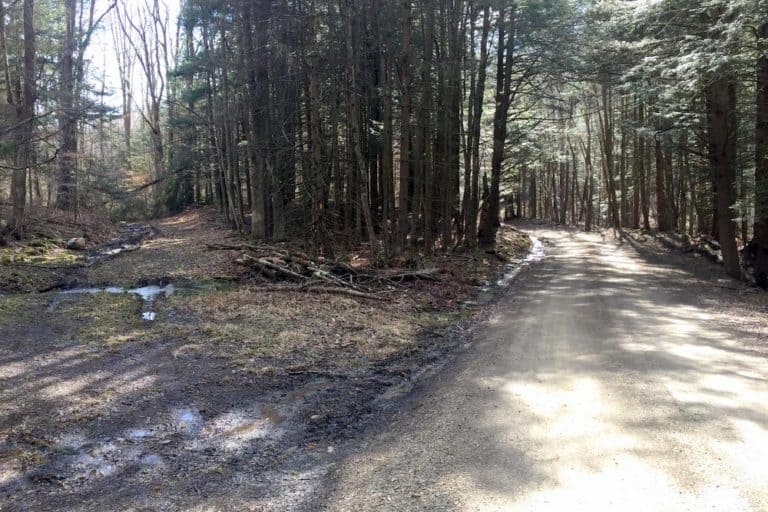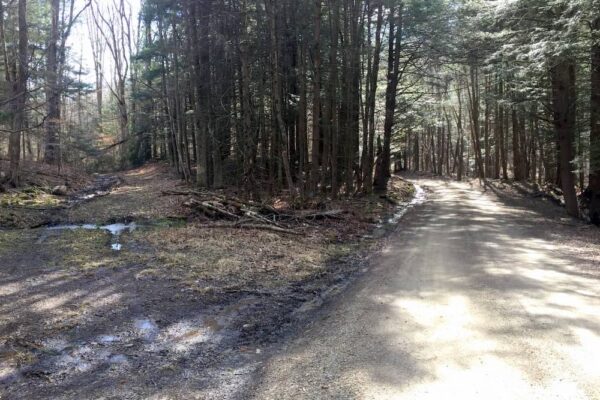 The parking area for Alpine Falls is deep in Loyalsock State Forest and can be reached by either a 6-mile and 20-minute drive from Route 154 or a 7.5-mile and 25-minute drive from Route 87.
Whichever way you choose, you'll pass by the beautiful Sones Pond, which is definitely worth a quick stop to check out on its own.
From the pond, you'll be driving along Loyalsock Road for 3.8 miles to the parking area.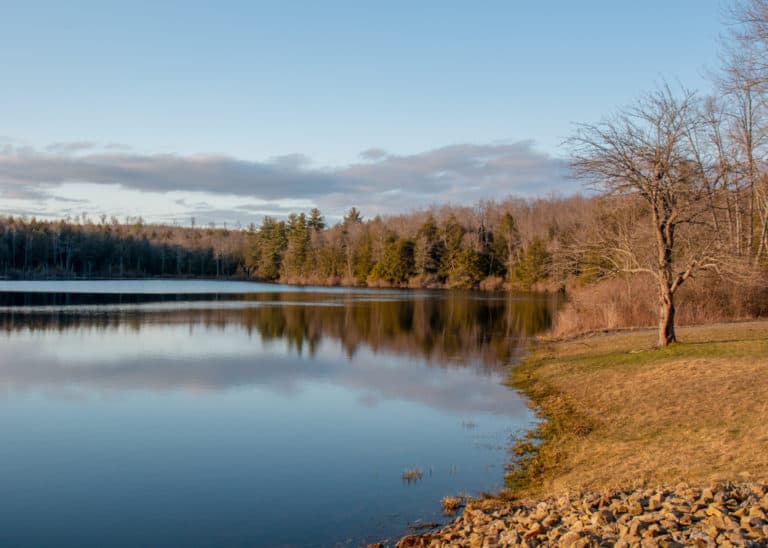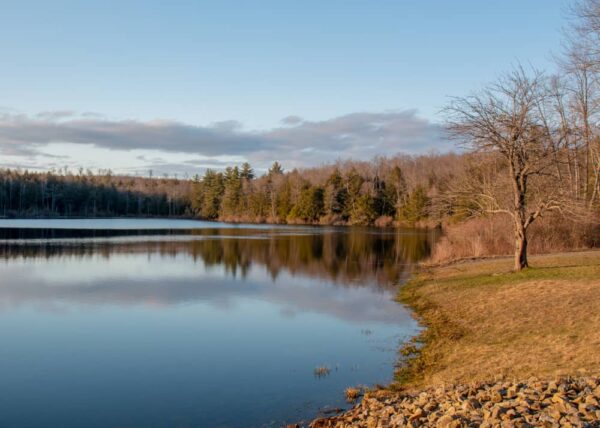 Loyalsock Road is a narrow dirt road that is very isolated but is good shape overall (at least to the parking area for the falls). The road ends shortly after this parking area,
The parking area for Alpine Falls can be found adjacent to an old dirt road at the following coordinates: 41.484869, -76.545338.
From here, follow the directions above to reach the falls.
For those that use a GPS, the coordinates for Alpine Falls are 41.478278, -76.553583.
Looking for more places to visit nearby? Check out the covered bridges of Sullivan County, the Sullivan County Historical Society Museum, and Dutchman Falls.
[Click here for information on how to use coordinates to find your destination.]