Disclosure: This article may contain affiliate links. We will make a small commission from these links if you order something at no additional cost to you.
On past trips to art galleries in Philadelphia or Washington, D.C. I've been amazed by the talents of some of the world's greats, but also overwhelmed by the sheer number of renowned pieces squeezed in those massive gallery buildings. Thus, for small-scale art appreciators like myself, the art galleries in Lancaster, PA are perfect.
While I cannot profess to be an art expert, I believe the work produced by locals and featured in these galleries could pass for that in any big city gallery. Many of these local artists have received extensive training in their craft, but chose to bring their work back to their hometown. And the Lancaster art scene is thriving because of it.
The small but numerous art galleries in Lancaster allow visitors to linger among as much art as they desire. With free admission, you can break up gallery visits with a quick meal downtown or a coffee break at one of the wonderful coffee shops in Lancaster.
The owners, directors, and curators of these art galleries are passionate and welcoming, clearly experts in their craft but willing and excited to share their knowledge with any local or tourist who stops by. I encourage you to spend a day or an afternoon in these uniquely beautiful art galleries to get a taste of the amazing work coming out of this small town.
Gallery Row
The one-stop shop for a variety of art exhibits in downtown Lancaster is Gallery Row, or the 100 block of North Prince Street. I will start by providing details about those galleries, but I will also include a couple other unique art destinations within walking distance.
Christiane David Gallery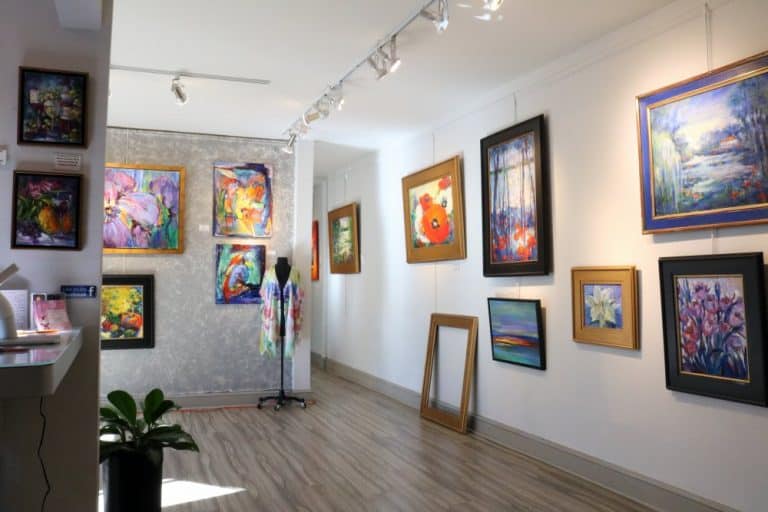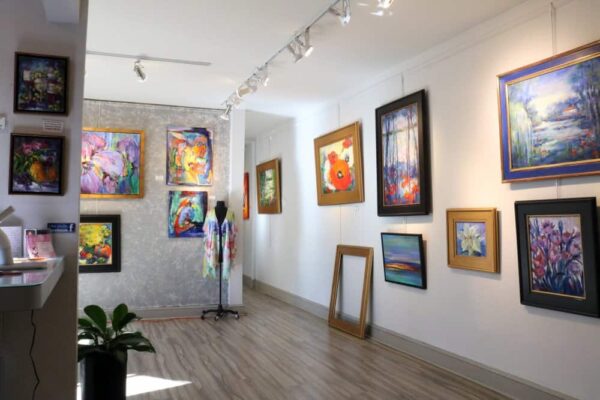 Walk in the door at Christiane David Gallery and you're likely to be greeted by a plate of cookies, a big black dog, or the artist herself. After moving from Belgium over 30 years ago, Christiane David brought her bright, colorful, natural art to the streets of downtown Lancaster.
The upstairs portion of the gallery features all original paintings, which are large, vibrant, and elegantly displayed. Also on this floor, be sure to peek in a side room that contains a multistory spiral staircase illuminated with twinkle lights.
Downstairs, visitors may catch a glimpse of Christiane David's studio and browse a variety of products made from her paintings. Canvas reproductions look strikingly similar to the originals, with curtains, napkins, prints, and clothing also available for purchase.
For more information on this gallery, go to the website for Christiane David Gallery.
Christiane David Gallery address: 112 N. Prince Street, Lancaster, PA 17603
Artisans Gallery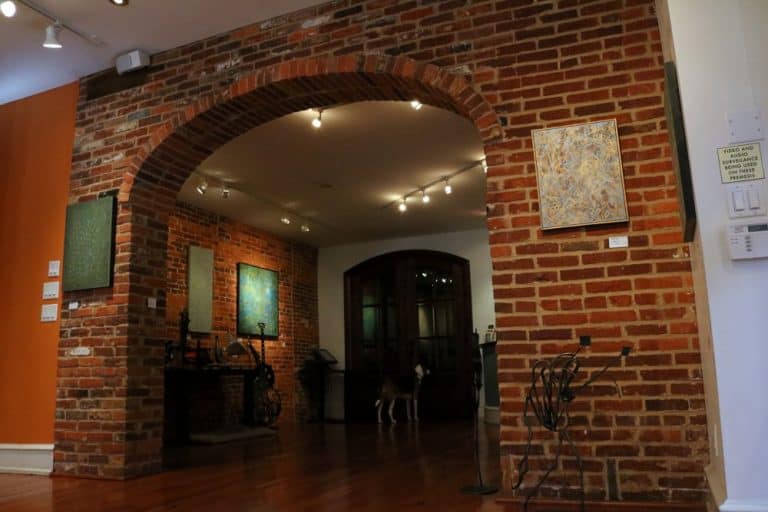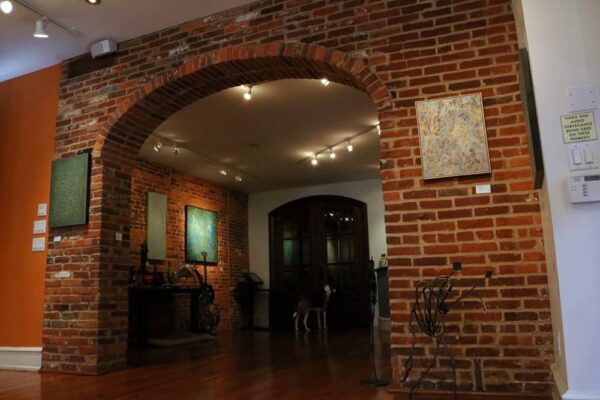 The entrance for Artisans Gallery is tucked away in a little alcove off Prince Street's sidewalk. As you crack open the door and adjust to the indoor lighting, the first thing to catch your eye will probably be the immaculate brick archway pictured above.
But that beautiful brick is just the start. Inside Artisans Gallery's two floors of gallery space, local artwork spills across the walls and on to the floors. Art takes the shape of paintings, alongside large mixed metal sculptures. A nearly full-sized horse and guitar surprised and delighted me in one of the two upstairs rooms on the day of my visit.
The unique pieces within the gallery capture the unique styles and talents of Lancaster artists. While all the works contained within this space are from local artists, the bottom floor contains just the works of current featured artists.
The woman running the gallery that day warned me that her friendly dog does not always join her during gallery hours, but the building, art, and background jazz music make for an overall lovely atmosphere at Artisans Gallery either way.
For more information on this gallery, go to the website for Artisans Gallery.
*At last update, we were unable to confirm the current status of Artisans Gallery
Artisans Gallery address: 114 N. Prince Street, Lancaster, PA 17603
Red Raven Art Company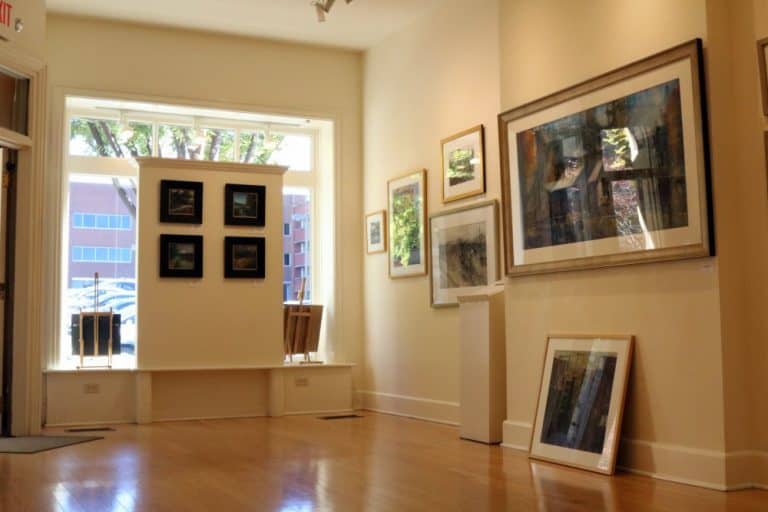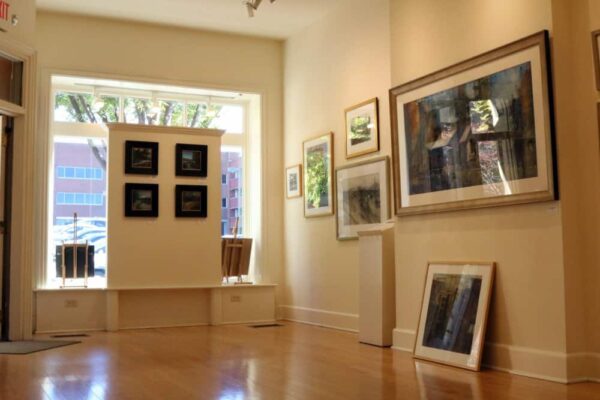 The long, narrow space that makes up Red Raven Art Company instantly situated me back in Lancaster City. But almost as instantly, I also realized and was amazed by the number of artists celebrated even in this size-restrictied downtown gallery.
Red Raven Art Company showcases the work of about 15 artists a month, two of which are the featured artists. Among those showcased each month is an emerging local artist, who receives a wall in the gallery free of charge so they can receive 100 percent of any sales on their artwork.
Throughout my many stops at art galleries around Lancaster, multiple gallery owners, directors, and enthusiasts mentioned Red Raven as a must-see location which encourages the local art scene. I can't help but agree.
For more information on this gallery, go to the website for Red Raven Art Company.
Red Raven Art Company address: 138 N. Prince Street, Lancaster, PA 17603
Liz Hess Gallery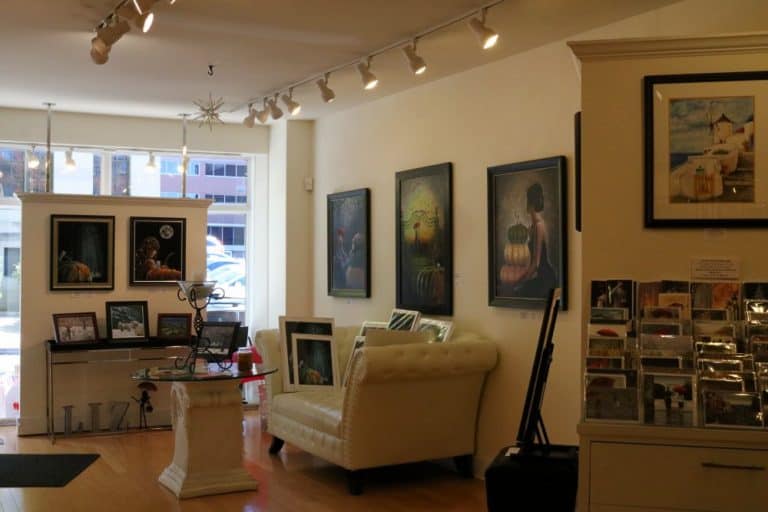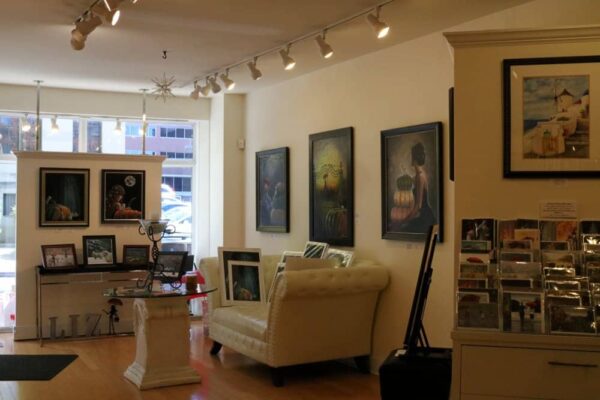 Liz Hess is known for her signature red umbrella, which appears in many of her pieces and represents the subtly hopeful nature of her art. Most of Hess's paintings contain darker gray and brown tones, but each has a pop of color which more often than not is red.
The Liz Hess Gallery is calm and fairly quiet, with the radio playing softly in the background during my morning visit. Also at the time of my visit, the gallery manager informed me that two of the pieces were brand new, symbolizing the constantly evolving nature of the exhibits.
Hess' paintings feature both local sights, such as Fulton Theatre and Lancaster Central Market, and international destinations such as Italy and Greece. Alongside original paintings and canvas reproductions sits a section of smaller and more affordably priced prints. Whether you're interested in the immaculate originals or the intricate reproductions, I recommend a visit to Liz Hess Gallery.
For more information on this gallery, go to the website for Liz Hess Gallery.
Liz Hess Gallery address: 140 N. Prince Street, Lancaster, PA 17603
Freiman Stoltzfus Gallery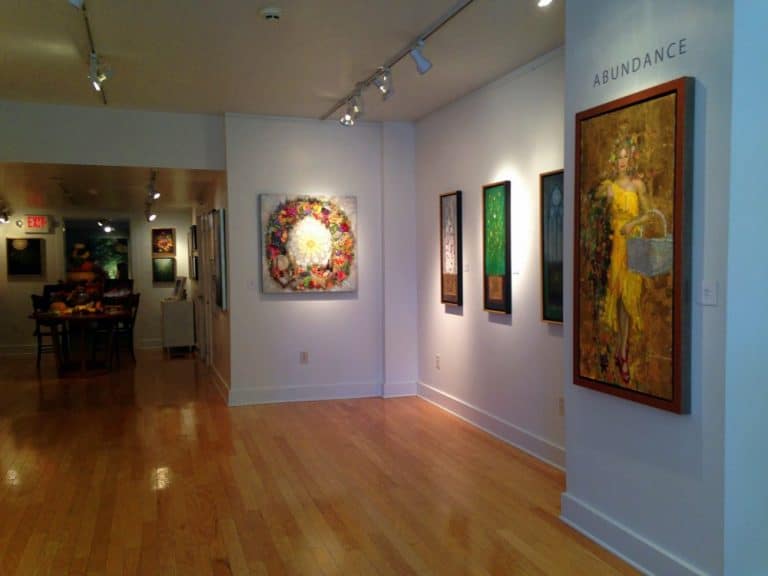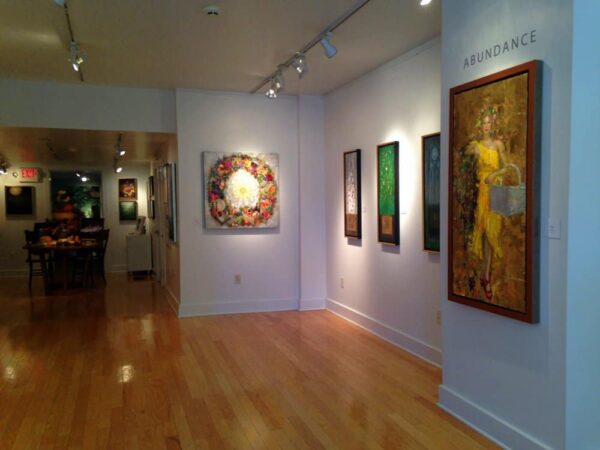 Freiman Stoltzfus Gallery demonstrates the high caliber of talent that Lancaster County has to offer. Before perfecting his art in France, Italy, and New York, Freiman Stoltzfus grew up in Lancaster. He has since returned to his hometown to participate in the growing art scene.
Stoltzfus' gallery showcases the artist's rotating collections, with "Abundance" being the theme on the day of my visit. His pieces are muted but colorful, large, and impressive. The gallery space also contains a grand piano, which complements the peaceful orchestral music in the background.
For more information on this gallery, go to the website for Freiman Stoltzfus Gallery.
Freiman Stoltzfus Gallery address: 142 N. Prince Street, Lancaster, PA 17603
CityFolk Gallery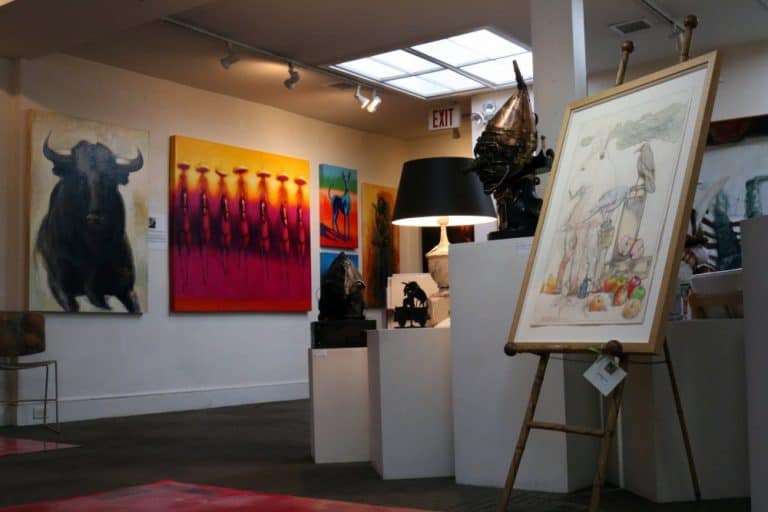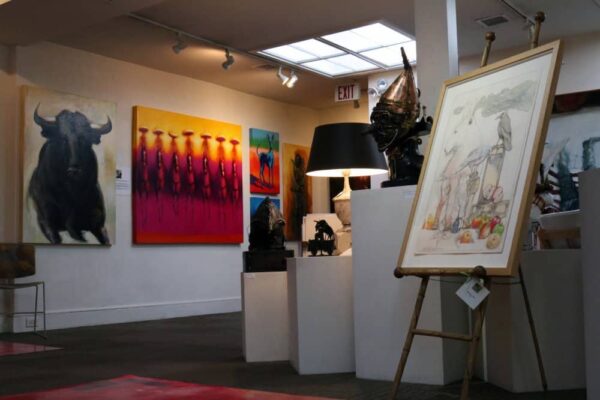 While some of downtown Lancaster's art galleries focus on the talents of a single artist, CityFolk Gallery features an eclectic but somehow complementary group of creatives. With paintings, jewelry, drawings, photography, mixed metals, and oil cloth floor mats, this space celebrates the diversity of Lancaster's artists.
Gallery owner Karen Anderer's desire to create a warm and welcoming downtown space is evident from your first step in the door. Sitting chairs, potted plants, and lamps soften the space and complement the art.
The main gallery is located in the back portion of the fairly large downtown space, and that room is where featured artists typically choose to display their pieces. On a stroll down Gallery Row, I recommend that you at least peer in the front window of CityFolk Gallery, as the featured artist's lead piece is typically displayed in that streetside window.
*At last update, the name of this gallery has changed though has maintained the same ownership.
For more information on this gallery, go to the website for Karen Anderer Fine Art.
CityFolk Gallery/Karen Anderer Fine Art address: 146 N. Prince Street, Lancaster, PA 17603
Mio Studio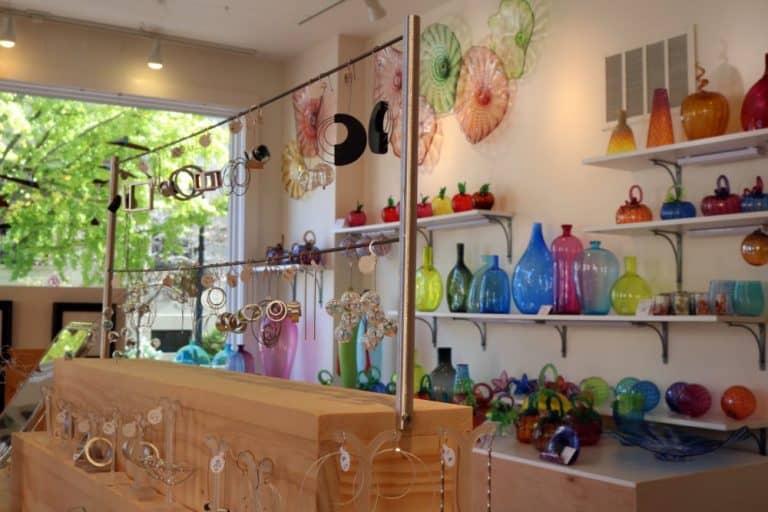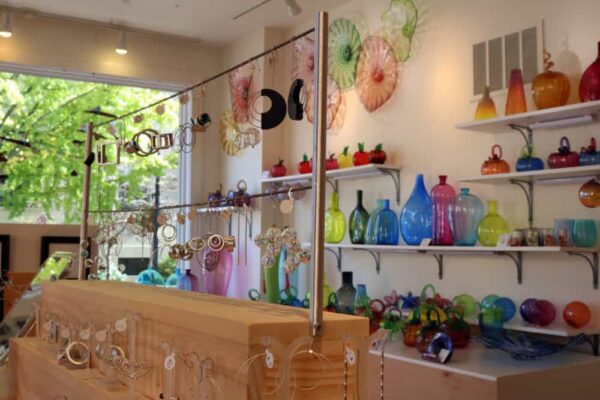 Mio Gallery is perhaps the most colorful of downtown Lancaster's galleries. From the uniquely shaped mixed metal jewelry to the brilliantly colored glasswork, this gallery puts a modern spin on local art.
Mayra Orama Muñiz and Erica Millner handcraft each piece, some of which are odd and conversational and others that are simple and beautiful. I very much recommend a stop at this gallery for its unique form of artistry.
For more information on this gallery, go to the website for Mio Studio.
Mio Studio address: 154 N. Prince Street, Lancaster, PA 17603
Other Art Galleries in Lancaster City
While a stroll down Gallery Row is a nice way to soak in Lancaster's art scene, your art tour does not need to stop there. The following galleries are a few of the most unique in downtown Lancaster that are also within walking distance of Gallery Row.
Lancaster Galleries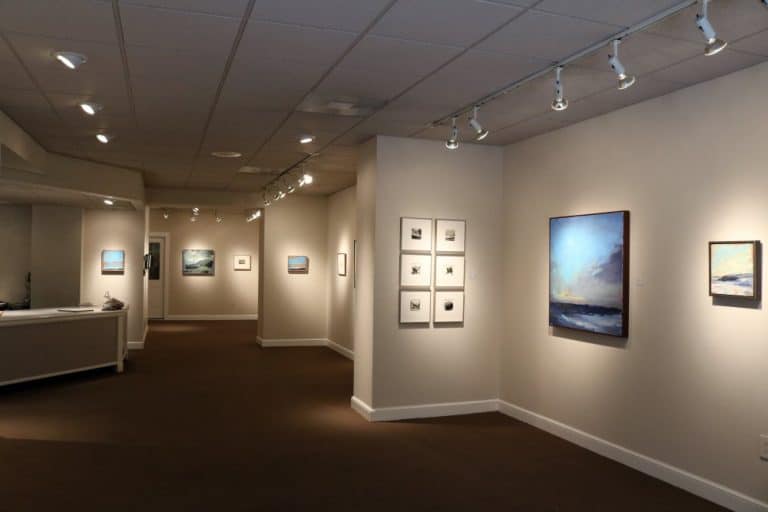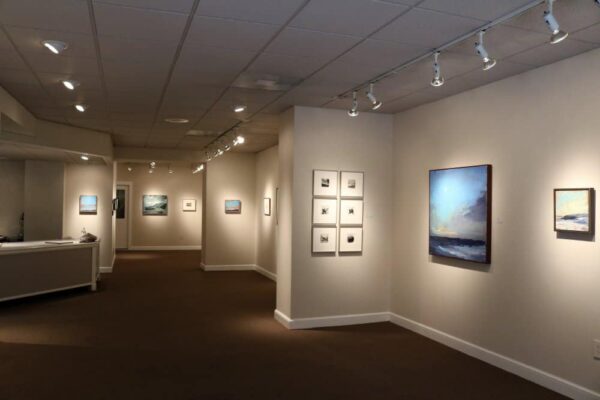 While the art scene in downtown Lancaster has started to boom over the past couple of years, one gallery has been a staple in the town for decades. Lancaster Galleries has offered fine art services and exhibits since 1984.
This history only plays to the gallery's advantage as the open concept and contemporary pieces within mimic that of any other modern gallery in Lancaster. While I visited on a quiet weekday morning, I can imagine this large space caters well to big groups of visitors and busy First Friday festivities.
In addition to featuring a regionally or nationally recognized artist each month, Lancaster Galleries also offers fine art services such as restoration and framing. This second service has led to a beautiful array of frames on the left side of the gallery, which create an artistic display of their own.
For more information on this gallery, go to the website for Lancaster Galleries.
Lancaster Galleries address: 34 N. Water Street, Lancaster, PA 17603
Friendship Heart Gallery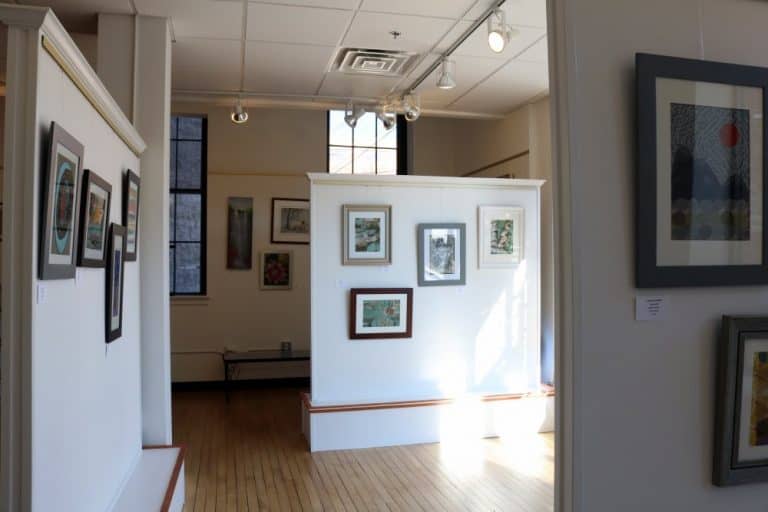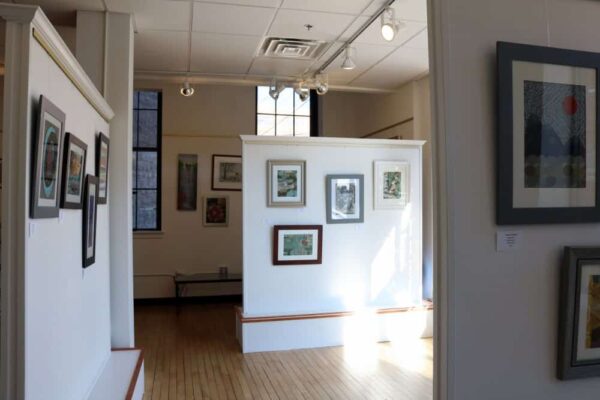 Just one street away from Gallery Row sits the Friendship Heart Gallery, a beautiful destination that features the works of artists with intellectual disabilities. This small space, similar to that of other downtown Lancaster galleries, manages to fit a variety of artistic pieces from a pool of over 75 local artists.
The exhibits at Friendship Heart Gallery rotate each month and open in time for Lancaster's festive First Fridays. Framed mixed media and watercolor pieces cover the walls alongside jewelry, cards, and felt bowls on shelves and counters. Artists featured at this gallery not only have the opportunity to contribute to Lancaster's artistic community, but also to earn an income through the sale of their pieces.
When I visited on a weekday morning, the ringing door bell announced my arrival and momentarily interrupted a class taking place in the back. The friendly staff soon made me feel welcome, and I thoroughly enjoyed browsing the many imaginative pieces. I was also struck by the reasonable price tags associated with these original works and hope to return to purchase a piece in support of this inspiring community and its artists.
For more information on this gallery, go to the website for Friendship Heart Gallery.
Friendship Heart Gallery address: 118 N. Water Street, Lancaster, PA 17603
Square Halo Gallery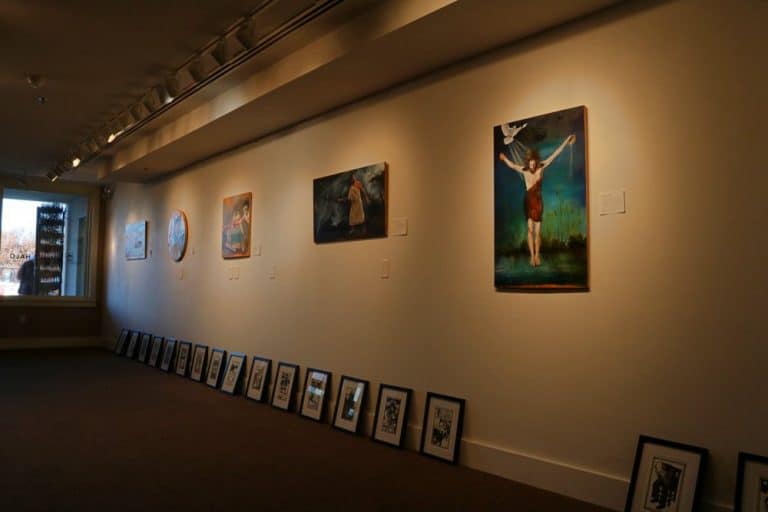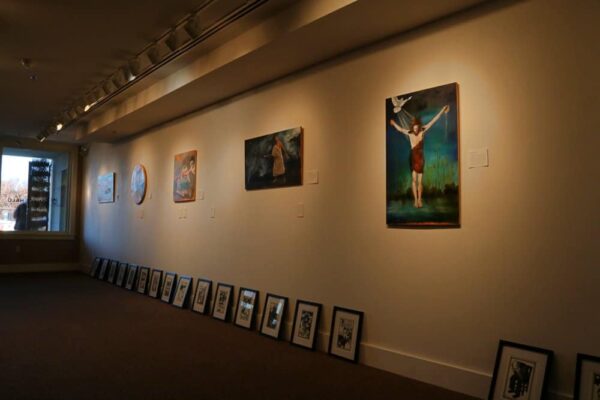 Also tucked into downtown Lancaster's art scene is Square Halo Gallery, which strives to bring faith into the conversation of quality contemporary art. The gallery space creates an aesthetic of its own, with a seemingly authentic brick wall to the right of the entrance which mirrors the featured artwork hanging on the opposing wall.
On the day of my visit, the Square Halo Gallery featured the work of a now-local but Israeli-born artist in celebration of the 500-year anniversary of the Reformation. The vibrantly colored and thematically spiritual oil paintings were alluring, while also creating a contrast to the upcoming black-and-white exhibit which sat in anticipation on the floor below. Gallery director Ned Bustard informed me that a collection even further in the future will include clothing sculpted out of book pages and other untraditional materials.
As Square Halo is open on market days and located mere steps away from Lancaster Central Market, I definitely recommend a visit to this thought-provoking gallery. With high-quality exhibits rotating about every other month, this gallery successfully brings faith-inspired contemporary art into the mosaic of other downtown galleries.
For more information on this gallery, go to the Facebook page for Square Halo Gallery.
Gallery on Market address: 37 N. Market Street, Lancaster, PA 17603
If you're interested in continuing your tour of art galleries in Lancaster, PA, the downtown area contains many other galleries including The Demuth Museum, Annex 24 Gallery, Gallery on Market, The Gallery of Modern Masters, Pennsylvania College of Art & Design, and Lancaster Museum of Art.
Spend more time in the area with our guide to Lancaster, PA, and our two-day itinerary for Lancaster.
See map below for other area attractions.