Please do your best to limit your travels around PA during this time. If you decide to travel, please check the status of the places you are going. Some places around the state are temporarily closed or have changed their hours. We will not be updating individual articles to note these changes. Stay safe and wear a mask!


Ever since Benjamin Franklin organized the world's first fire company in Philadelphia in 1736, fire stations have played an important role in every community. Over the years, the equipment and techniques may have changed, but the basic idea has always remained the same.
Since Pennsylvania is home to the world's first fire company, it makes sense that the state capital of Harrisburg would be home to a fire museum. Tucked away in a mostly residential area of Harrisburg, the Pennsylvania Fire Museum is located in a restored firehouse that dates from 1899.
From the outside, the red bricks and yellow-painted bell tower look more like a church than a modern fire station. However, the dead giveaway is the two giant doors on the front, which are big enough to drive a truck through.
Disclosure: This article may contain affiliate links. We will make a small commission from these links if you order something at no additional cost to you.
Moving inside, the Pennsylvania Fire Museum features a great collection of antique firefighting equipment, some of which dates back to the late 18th century. Utilizing several mannequins, a diorama welcomes you to the museum and shows you how fire trucks used to be pulled by human power or even horse power, instead of with an engine.
Throughout the first floor of the museum, over a dozen antique firetrucks show how a firefighter's equipment has changed over the years. These beautifully restored pieces of machinery are sure to impress firefighting enthusiast, antique car lovers, or really, anyone who can appreciate the beauty in a piece of machinery.
Also on the first floor is an area about fire safety. Several of the areas are designed with kids in mind, including a collection of toys that were destroyed with just one match. After all, while most kids are fascinated with fire equipment, you'd rather it not show up at your home.
Throughout the museum are many pieces that tell you about the history of firefighting, particularly as it relates to Harrisburg. Old fire station flags and photos line the walls and provide a great glimpse into the firefighters that once called the old firehouse their home.
Moving up to the second floor of the museum, there is a room filled with old alarm systems. As you walk in the room, you can't miss the entire wall that's filled with a still-working 911 call center from Johnstown. If you're lucky, a staff member might explain to you how the system worked to keep Johnstown safe from fire for many decades.
The rest of the upstairs contains a large collection of firefighting equipment, firefighting clothes, and even parade hats. I found it very interesting to see how the equipment used by firefighters had changed over the years.
One area of particular interest told the story of how firefighting worked during the Civil War. With many of the able-bodied men off fighting in the war, there were few firefighters and even less equipment and money with which to fight any fires that came about. Because of this, the citizens that were left had to come up with many ingenious ways with which to put out any fires that might erupt.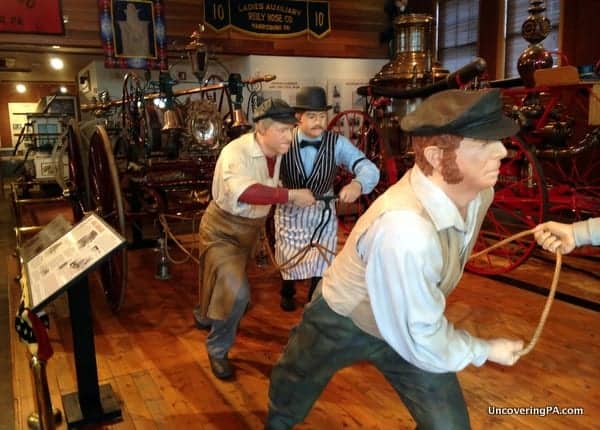 Overall, I really enjoyed visiting the Pennsylvania Fire Museum in Harrisburg. Their great collection of both large and small pieces should be enough to hold the attention of those who have little interest in the history of firefighting, but also should captivate anyone who is enamored with the subject.
Insiders Tip: After the museum, check out the fantastic Little Amps Coffee Roasters which is just a few blocks away. And, if you love firefighting history, take a drive to Philly and visit the Fireman's Hall Museum or to York for the Fire Museum of York County.
Note: My visit to the Pennsylvania Fire Museum was hosted by the Hershey Harrisburg Visitors Bureau. However, as always, the opinions expressed in the article are my own.
---
Pennsylvania Fire Museum
Hours: Tuesday-Saturday: 10am-4pm
Sunday: 1pm-4pm

Cost: Adults: $7, Children: $6

Website: PNFM.org

Address: 1820 N 4th St
Harrisburg, PA 17102
See map below for other area attractions.
---