Disclosure: This article may contain affiliate links. We will make a small commission from these links if you order something at no additional cost to you.
Billed as the world's oldest automobile museum, the William E. Swigart, Jr. Automobile Museum (or Swigart Museum) is a bit different from many of the other automobile museums I've visited in Pennsylvania. Unlike many other museums, like the AACA Museum in Hershey, the Swigart Museum doesn't have flashy graphics and high-end lighting. Instead, they let the very high quality of their car collection speak for itself.
And, let me tell you. While I'm not a huge car guy, the collection at the Swigart Museum is so impressive that even a non-aficionado can appreciate the grandeur of their collection.
The Swigart Museum was started in 1920, just 25 years after the first patent was issued for a gasoline-powered automobile. At first, the cars were the private collection of William Swigart, a Huntington, Pennsylvania, businessman. Soon, however, Swigart began displaying the cars both inside and outside his insurance offices in downtown Huntingdon.
Even from the beginning, the collection focused heavily on disappearing car companies. Because of this focus, the Swigart Museum contains many extremely rare cars, and, in some cases, one-of-a-kind automobiles.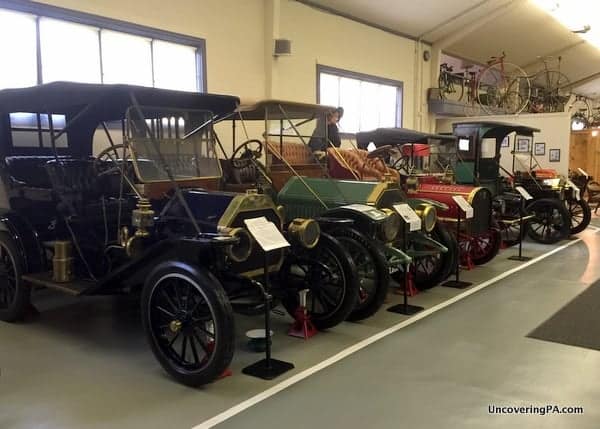 The current building, which is located on Route 22, just a few miles outside of downtown Huntingdon, was built in 1957. While it may look a bit drab from the outside, don't let that deter you from visiting the great collection housed within.
Stepping inside the museum's showroom is an amazing experience. Each car on display is beautifully restored and of high quality. Truthfully, it's not that large, and features only about 35 antique automobiles at a time. However, each vehicle on display here is really quite special, with no filler just to make the museum larger.
Because of this, each car in the museum is a highlight. Some of the cars on display in 2015 include the last remaining 1907 Mora Roadster Runabout, a 1963 Harley Davidson scooter, a 1913 Stanley Steamer (It ran on water!), and even an electric vehicle that once ferried Congressmen through the U.S. Capitol's underground passages.
Other one-of-a-kind automobiles include a 1929 Duesenberg 12 cylinder Speedster, a 1920 Carroll, and a 1916 Scripps-Booth Town Car. The Carroll is especially unique, as it's the only one of the company's 50 cars to survive a train accident.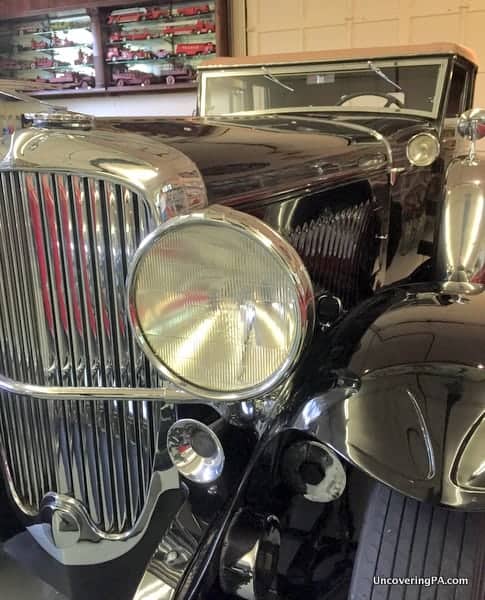 Two other major highlights are the extremely rare 1947 and 1948 Tuckers. Despite being very prized today, there were only 51 Tuckers ever produced, and the Swigart Museum is the only place in the world where you can see two of them side by side. Even cooler, their 1947 Tucker was the very first car ever made by the company.
However, as awesome as the Tuckers are, I was even more excited by a fairly common Volkswagen Beetle. However, this was no ordinary Bug. It was Herbie, the Love Bug! That's right, the Swigart Museum is in possession of a 1960 Volkswagen Beetle that was actually used prominently during the filming of the first and second movies in 1969 and 1974.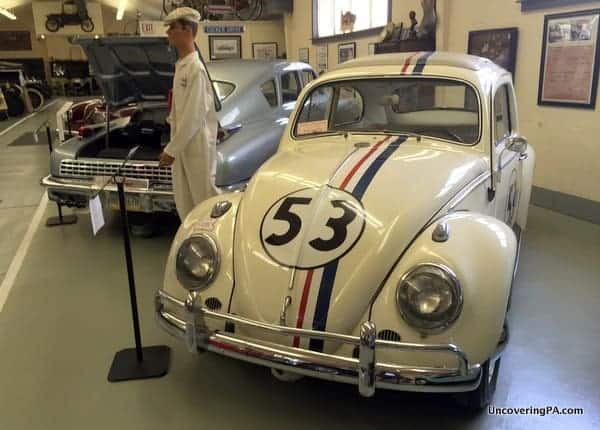 While some might not be interested in this, I was a huge fan of the movies when I was a kid and really enjoyed seeing the "real" Herbie.
The 160 antique cars and trucks in the Swigart Museum's collection range from an 1899 Winton Roadster to a 1988 Pontiac Firebird, though most of their cars are pre-1965. And, while some cars stay on more or less constant display, many are rotated out each year, ensuring a new experience for each visit.
In addition to their fantastic car collection, the Swigart Museum is also home to the largest collection of car emblems and license plates in the world. Browsing these collections is very interesting, as it gives you a chance to see how they changed over the years, and how the license plates varied between states and even countries.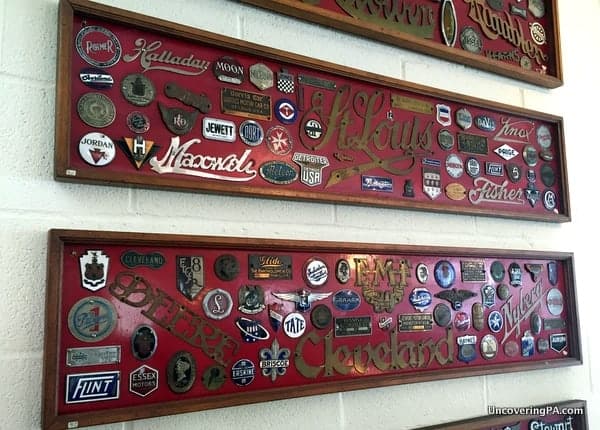 I really was glad that I took the time to visit the Swigart Museum during my visit to Raystown Lake. Whether you love cars or just appreciate the beautiful and rare machines, there are few better places to visit in Pennsylvania than the exceptional Swigart Museum.
Note: My visit to the Swigart Museum was hosted by the museum. However, the opinions expressed are my own.
Want to see more great cars in PA? Check out the Boyertown Museum of Historic Vehicles, the AACA Museum, and America on Wheels.
---
Swigart Museum
Hours: Daily: 10am-5pm

Cost: Adults: $8, Children: $4

Website: SwigartMuseum.com

Address: 12031 William Penn Highway
Huntingdon, PA 16652
See map below for other area attractions.
---