Disclosure: This article may contain affiliate links. We will make a small commission from these links if you order something at no additional cost to you.
I'm not much of a car guy. For me, a car is simply a way to get from point A to point B. Nothing more. However, whenever I see an antique car driving down the road, I instantly turn my head. There's nothing like seeing a pristine decades-old car driving down the street. So, when I was invited to visit the antique auto museum in Hershey, I was really excited.
Officially the Antique Automobile Club of America Museum (or the AACA Museum), the museum is one of the best antique auto museums in America. Covering three floors and 70,000 square feet with beautifully restored cars, buses, and motorcycles, the museum features a collection that is simply amazing.
What I really appreciated about the AACA Museum was their attention to detail. Instead of just putting a car on display with a bit of signage, they actually have painted the museum's walls with murals depicting the car's time period. If you use your imagination a bit, seeing an antique car sitting in front of the mural really brings it to life.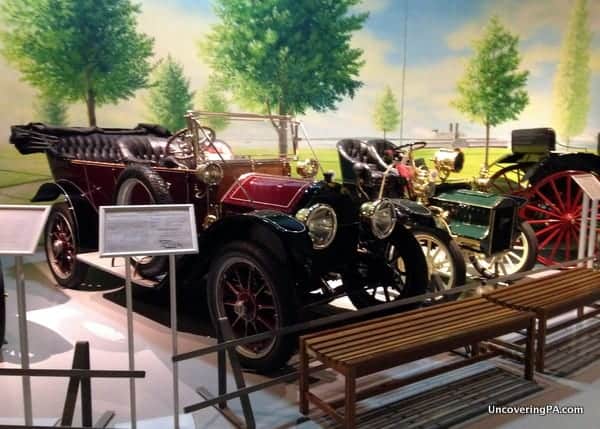 Walking through the dozens of cars on display, it's not hard to become a bit excited about the beautiful cars, even if you, like me, are not a car person. Looking at these vintage pieces of machinery, I felt more like I was in an art gallery than a car museum.
However, even if you can't appreciate the beauty of a perfectly restored antique car, you're likely to find something to interest you.
Like quirky and unique things? Hershey's AACA Museum has you covered with oddities like a coffin-shaped car and a car that dates back to 1895. There's even a chance that you might see Hershey's famous "Kissmobile" parked outside of the museum during your visit.
A big fan of celebrities? The museum has a collection of several celebrity cars including Whitney Houston's 1986 Rolls Royce limousine. They even have the old bus used in the filming of the movie Forrest Gump.
Speaking of buses, the antique automobile museum in Hershey is home to many different models of buses. As the current home of the Museum of Bus Transportation, the AACA Museum is a great place for bus enthusiasts to see a variety of different buses that were used as both intercity and local buses.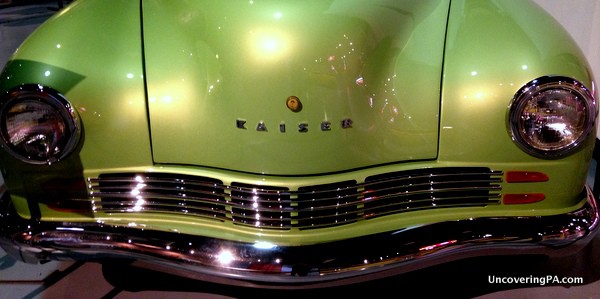 For real car enthusiasts, the museum also features a collection of more than 300 hood ornaments. Housed in several large display cases on the museum's third floor, the hood ornaments represent a large array of car era and manufacturers.
If you're like me and think that hood ornaments are just the tacky front pieces people would steal off of 1992 Dodge Caravans, you've got a great surprise in store.
The museum is also home to an area that features rotating exhibits. When I visited in April 2014, there was an exhibit on Indian Motorcycles. I'm even less of a motorcycle guy than a car guy, but I still enjoyed looking at these vintage rides.
Overall, I was surprised how much I enjoyed the AACA Museum. I have no doubt that any car enthusiast would love the museum, but there is enough unique historical information that anyone interested in history should enjoy a visit.
What to visit even more antique automobile museums in Pennsylvania? Check out the Mack Trucks Historical Museum, the Boyertown Museum of Historic Vehicles, America on Wheels, the Eagles Mere Auto Museum, and the Swigart Museum.
Note: My visit to the AACA Museum in Hershey was hosted by the Hershey Harrisburg Visitor Bureau. However, the opinions expressed in the article are my own and were not subject to review.
---
Antique Automobile Club of America Museum
Hours: Daily: 9am-5pm

Cost: Adults: $15, Children: $10

Website: AACAMuseum.org

Address: 161 Museum Drive
Hershey, PA 17033
See map for other area attractions.
---