Disclosure: This article may contain affiliate links. We will make a small commission from these links if you order something at no additional cost to you.
There are two kinds of travelers in the world: those who like guided tours and those who can't stand them. Personally, I fall very heavily in the later group. In fact, I will often go out of my way to avoid guided tours if at all possible.
So, when I was invited to join not one, but two, different guided tours at the Gettysburg Battlefield in the same week, I was a bit apprehensive. I mean, I had been to the battlefield so many times and figured I had a pretty good grasp on what happened from the excellent signage that dots the area. Would I really learn anything that I didn't know before?
My first tour was conducted by Gettysburg Segway Tours and featured one of the 120+ Licensed Battlefield Guides that conduct all tours at Gettysburg. While I knew that gliding through Gettysburg on a Segway would give me a new perspective on the battlefield, I never imagined how much I would learn from the guide.
For me, the difference between touring on your own and touring the Gettysburg Battlefield with a guide is like the difference between a fact sheet and a well-written book. Sure, you'll get the basic information about the battle from the plaques scattered throughout the battlefield, but taking a tour with the battlefield guides paints the pictures, allowing you to see the battle unfold on the ground before you.
The guides also have the knowledge to go much more in depth than the battlefield's signs can. My Segway tour guide told many fascinating stories about the battle and its participants that made me understand the battle with a much higher level of interest.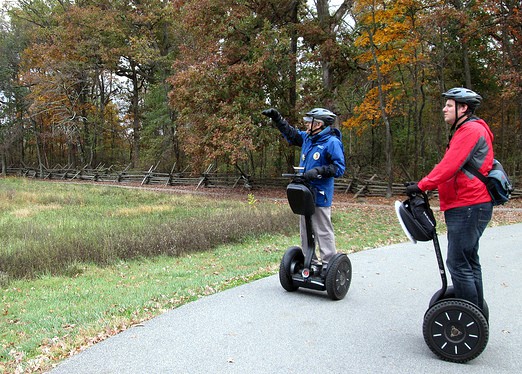 Suffice to say, I really enjoyed my first guided tour of the Gettysburg Battlefield. However, going back a week later with a few friends, I figured that I might be a little bored. I had just taken a guided tour along roughly the same course. It couldn't be that different.
Somehow, though, it was.
My second guide, who led us from the comfort of my car, told many of the same stories that I had heard the week before, but by highlighting different aspects of the story, it gave me that much more of an appreciation for the battle.
So, should you take a guided tour of the Gettysburg Battlefield?
Ultimately, it boils down to this: what kind of experience do you want to have when you visit the Gettysburg Battlefield? If you are fine with just the facts, then save your money and take a self-guided tour. However, if you want an in-depth look into what happened at Gettysburg, I can't stress enough the importance of a guided tour of the battlefield.
When taking a guided tour, you have several options. If you want to do a standard tour, you can choose to do a large group bus tour or a private tour in your own vehicle.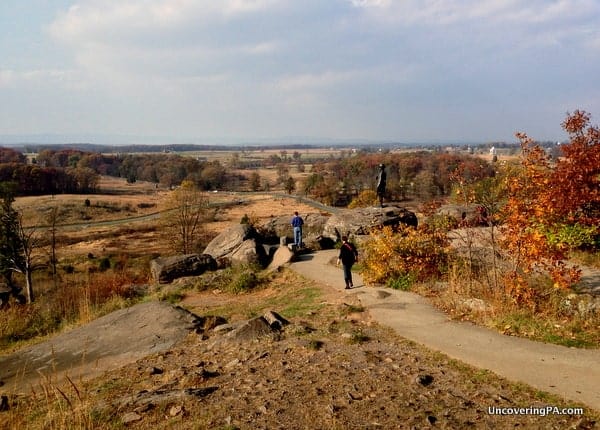 The advantage of a private tour is that the guide can customize the tour to your interests, even telling you where regiments from your hometown fought. Plus, the private tour has more scheduled stops than the group bus tour.
Amazingly, these private tours are ridiculously inexpensive. In fact, if you have between 3 and 6 people in your group, a private tour is much cheaper than a group bus tour.
Bear in mind though, that you'll want to book a private tour at least a few days ahead of time to ensure that a guide is available to take you out. You'll also need to have at least one empty seat in your car for the battlefield tour guide.
So, while you might be able to tour the Gettysburg Battlefield for free, the inexpensive cost of the private tours make that the best choice for almost everyone.
Insider's Tip: Save $12 on your private tour by booking ahead of time on the Association of Licensed Battlefield Guides' website. The charge is only $63 for a private tour (instead of the $75 at the Gettysburg Battlefield Visitor Center), making a private tour less expensive for two adults than the group bus tour.
Note: Both of my guided tours were hosted by the Gettysburg Visitor Bureau. However, the opinions expressed are my own and were not subject to review.
See map for other area attractions.