Disclosure: This article may contain affiliate links. We will make a small commission from these links if you order something at no additional cost to you.
I've been to over a hundred different Pennsylvania waterfalls in my travels, but until recently, I'd never visited the tallest waterfall in Pennsylvania. Located in the Delaware Water Gap National Recreation Area of Pike County, Raymondskill Falls stands roughly 150 feet tall, making it 20 feet taller than the nearby Dingmans Falls (though not nearly as tall as some of the Ithaca waterfalls in nearby New York State).
The parking area and trails are maintained by the National Park Service, which ensures that they are generally is very good condition.
While the Raymondskill Creek trails are well maintained, they are steep and rocky in places, so proper footwear is highly recommended. Facing the bathrooms, take the trail to your right roughly 400 yards down to the first viewing platform at the top of the waterfall.
From here, you can look down over the three tiers of Raymondskill Falls and really get a great appreciation for the height of this beautiful waterfall.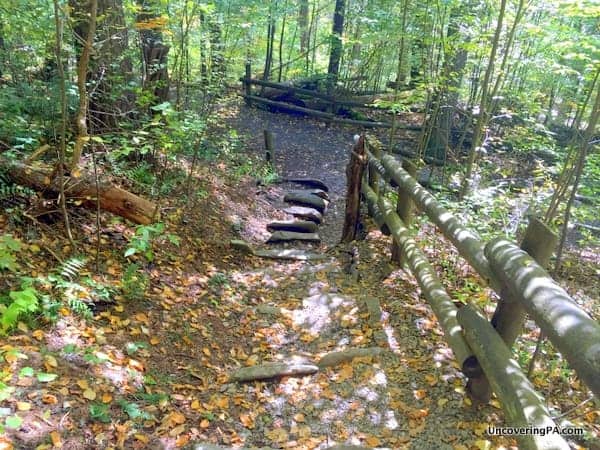 Once finished here, head back a few yards, and take the trail that follows down Raymondskill Creek. Once at another intersection, turn right to visit the second viewing area of Raymondskill Falls. This viewing area is below the top two tiers, and just above the lowest tier of the waterfall. A large pool separates the top two tiers from the lowest tier of the falls.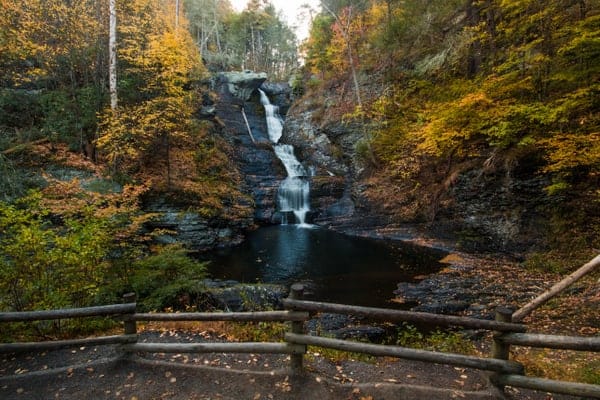 To be perfectly honest, I found it a bit confusing as to why the lowest tier is counted as a continuation of Raymondskill Falls and not a separate waterfall. While there may be a geological explanation for this, I've definitely seen waterfalls that were closer together, yet called two separate falls (like Huron Falls and Shawnee Falls in Ricketts Glen State Park). However, since the National Park Service considers them to be one waterfall, we'll go with that.
During periods of high water, such as the spring or after a heavy autumn rain, you'll also be able to see another narrow waterfall flowing just to the side of Raymondskill's lowest tier. This kind of reminded me a bit of photos I've seen of New Zealand waterfalls and made for a very unique double waterfall.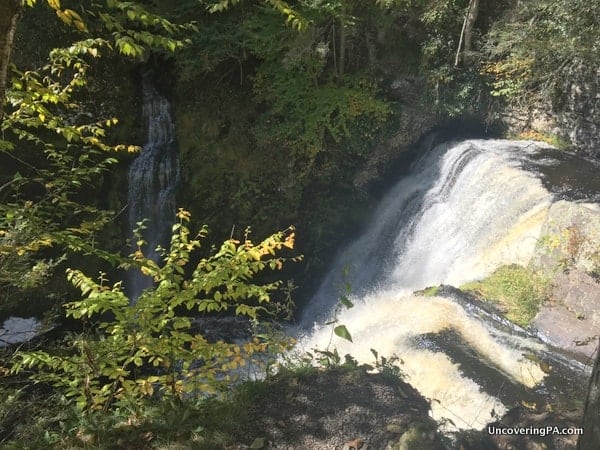 Officially, there are no trails to the bottom of Raymondskill Falls. However, there are faint trails that can be seen on the other side of the fence that head down to the bottom. Should you attempt to make it to the bottom, use extreme caution, as the trail is narrow and very slippery.
While the unofficial trail doesn't go too close to the edge of the falls, a slip here could leave you waiting for a long time for rescue. If you opt to go this route, however, it does have some great views of a hollow that feels very hidden and peaceful.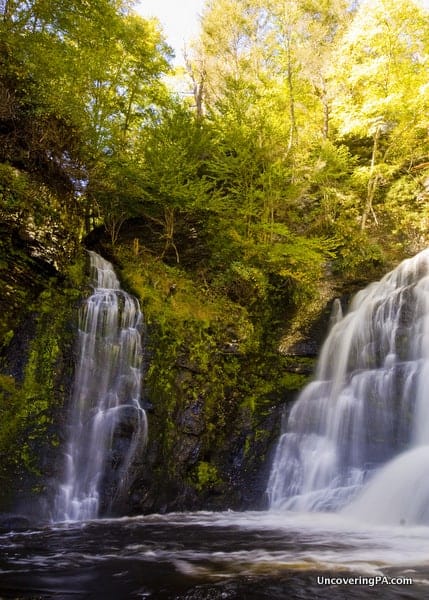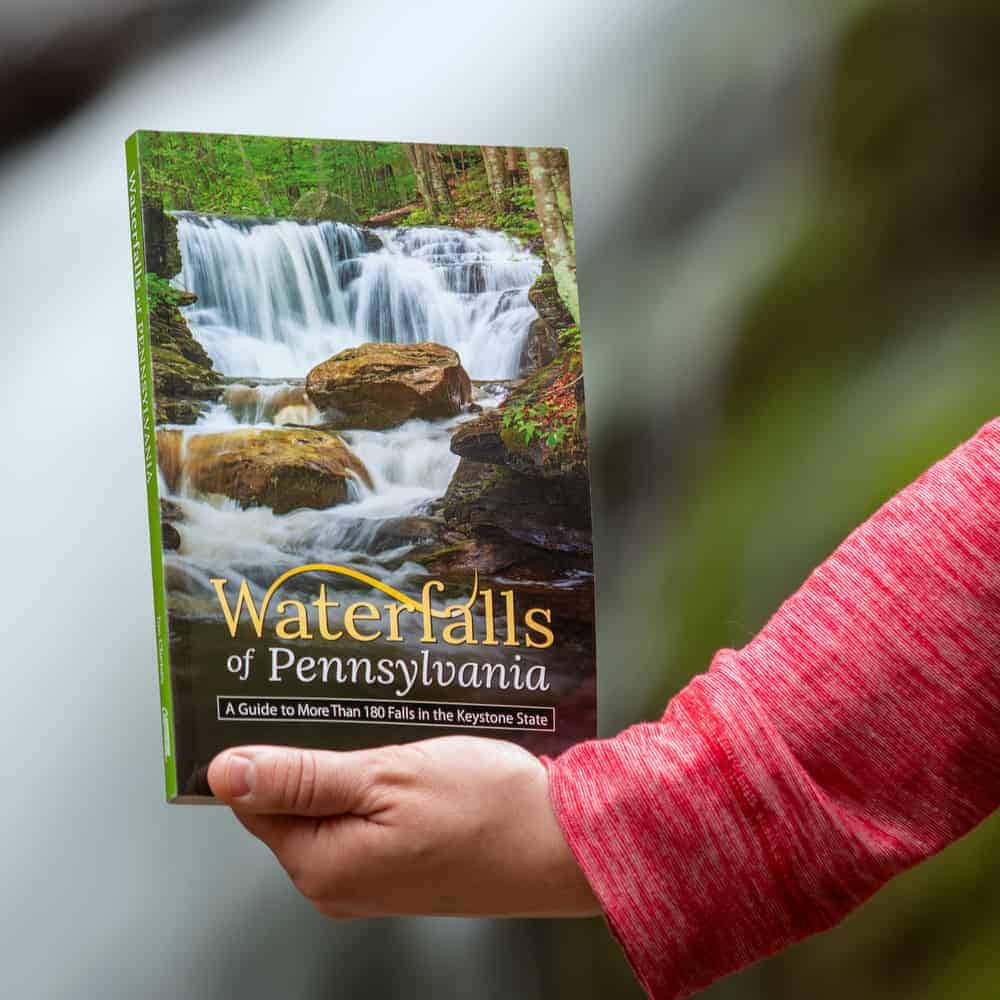 "Waterfalls of Pennsylvania" by Jim Cheney
If you love PA waterfalls, you won't want to miss this waterfall book from Jim Cheney, author of Uncovering PA, featuring more than 180 great waterfalls. Order it now on Bookshop.org or Amazon.
Many visitors to Raymondskill Falls end their visit at the second viewing platform and return to their car, not knowing that they are missing four beautiful waterfalls that are further upstream.
To see these falls, head back up to the top of the waterfall. At the spot where the trail splits, with a left turn taking you to the top of the falls and a right turn taking you back to your car, go straight over the small hill. Once at the top, you'll see a path that follows along Raymondskill Creek.
While it can be challenging to find the unofficial trail in places, the underbrush is very sparse, which makes it easy enough to make your own path along the creek.
In the half-mile between the top of Raymondskill Falls and Raymondskill Road, there are numerous cascades and small waterfalls, in addition to four larger falls. These range in height from roughly 25 feet tall to 10 feet tall, but are all quite powerful when Raymondskill Falls is flowing well.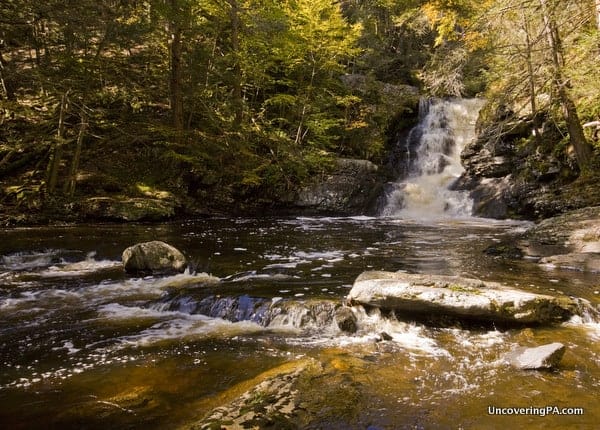 Getting good photographs of these waterfalls can be quite difficult, as the banks are steep, and the creek is swift. However, even if you just view the falls from above, they are still quite beautiful to see and very few people know that they exist, which I find rather surprising.
After walking roughly half a mile, you'll come to Raymondskill Road. Turning right and walking down Raymondskill Road will bring you back to the Raymondskill Falls Parking Area in roughly 7-10 minutes. Make sure to use extreme caution, as the road is narrow and there is nowhere to walk but on the road itself.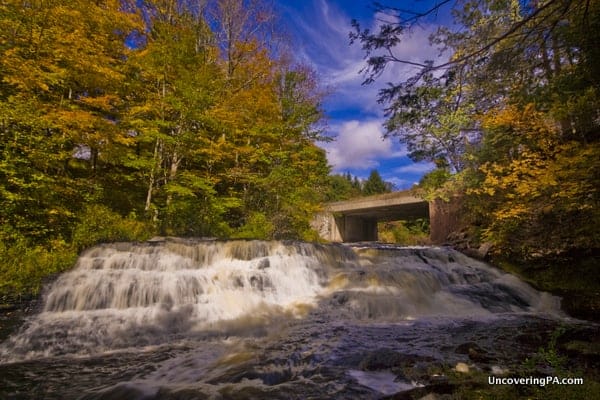 Those looking for a little less adventure can drive up Raymondskill Road (turn left out of the parking area) and drive to the first bridge, as the last and shortest of the four waterfalls is visible from the bridge. There is a small parking area just past the bridge.
Overall, I would consider Raymondskill Falls to be a must-visit waterfall when visiting the Delaware Water Gap National Recreation Area.
While I might question its designation as the tallest waterfall in Pennsylvania, given the separation between drops, it is still one of the best waterfalls in the Poconos and offers many more opportunities for exploration in the general area.
Getting to Raymondskill Falls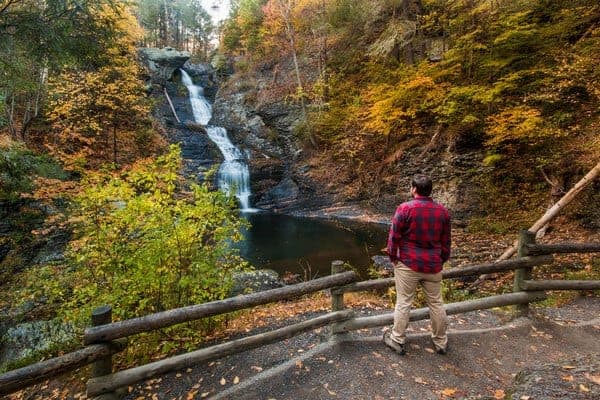 Raymondskill Falls is located in the Delaware Water Gap National Recreation Area, just a few miles south of Milford, Pennsylvania. The parking area for the falls is located at the following coordinates: 41.290139, -74.841131.
From the parking lot, it's a fairly easy walk to the top of the falls, and a short, but somewhat challenging walk to the second viewing area. Anyone attempting to go to any of the other areas in the post should use extreme caution as trails are narrow and slippery, and the risk of injury is much greater.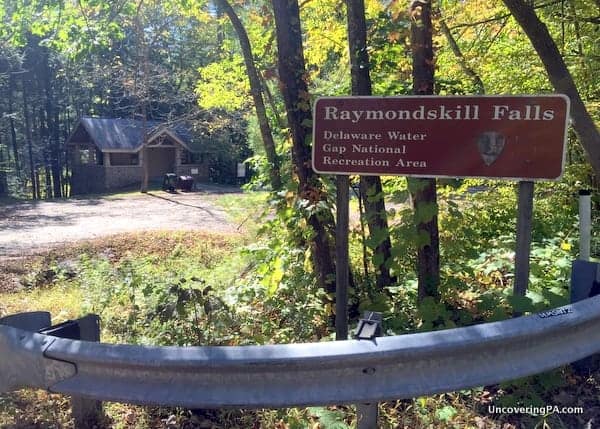 If you are looking for more hiking opportunities in the immediate vicinity of Raymondskill Falls, the National Park Service maintains several miles of trails nearby known as the Cliff Park Trail System.
[Click here for information on how to use coordinates to find your destination.]
Want to see more of Pennsylvania's best waterfalls? Check out our Pennsylvania Waterfalls page!
See map below for other area attractions.