Disclosure: This article may contain affiliate links. We will make a small commission from these links if you order something at no additional cost to you.
Every year between mid-February and mid-March, one of Pennsylvania's most amazing natural phenomena occurs: the Middle Creek snow geese migration.
During this time, hundreds of thousands of snow geese migrate through Pennsylvania and stop briefly at Middle Creek Wildlife Management Area in northern Lancaster County. Along with them, are tens of thousands of tundra swans and Canada geese.
This snow geese migration makes for an amazing event that really has to be experienced to be fully appreciated.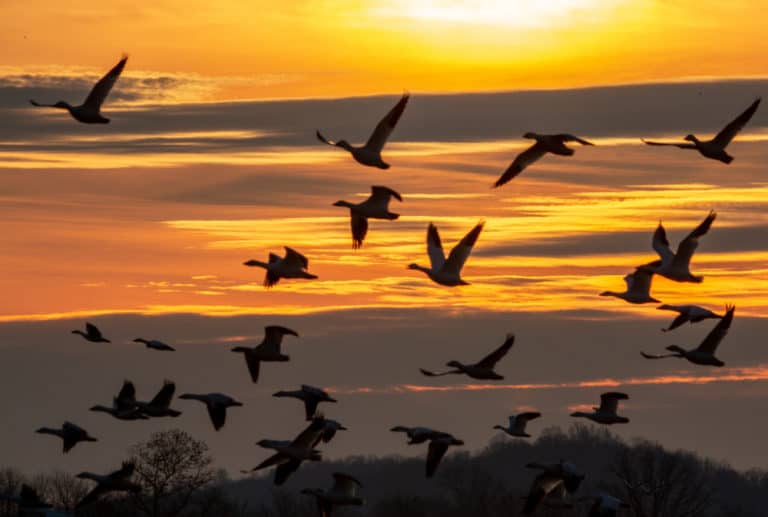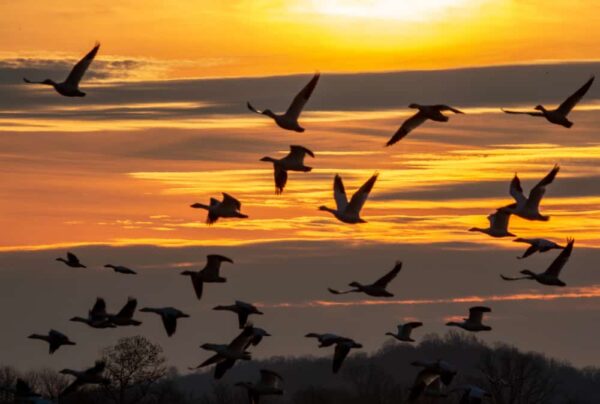 While I had heard of this event for several years, as a non-birder, it was never high on my list of things to do. However, on a relatively warm morning in March 2019, I decided to pull myself out of bed two hours before sunrise and make the trek to Middle Creek to see this much talked about event.
To be honest, I was very glad that I did (at least as glad as I can be about getting up so early). Watching tens of thousands of snow geese take off at the same time was a truly amazing site. And, if you appreciate nature, it definitely should be high on your list of things to witness as well.
Experiencing the Middle Creek Snow Geese Migration
The best time to see the Middle Creek snow geese migration is at sunrise and at sunset. During these times, the birds are most active and move together in great numbers.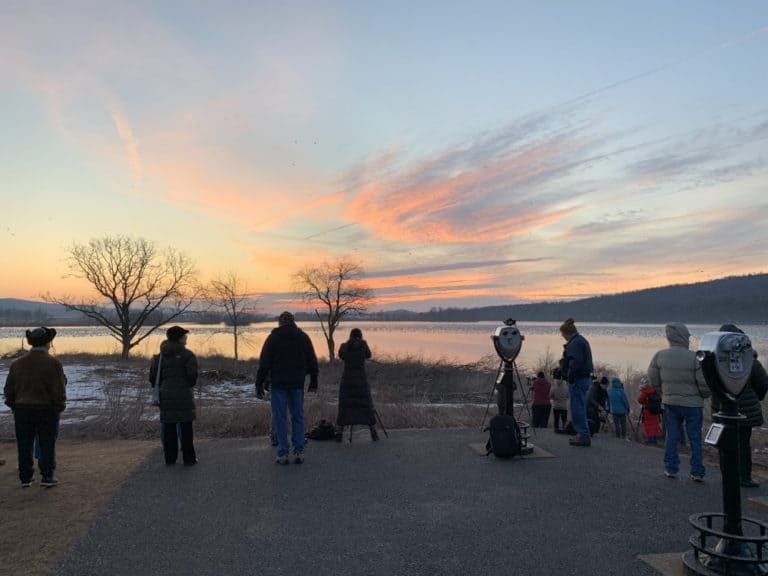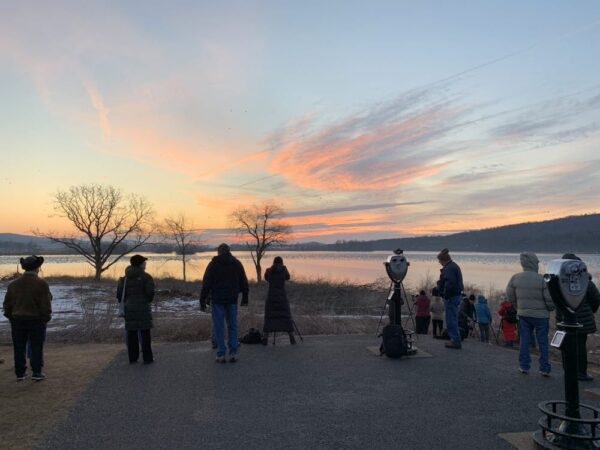 While I've only experienced it at sunrise, having talked to many people who have done both, sunrise is much better than sunset. So, if you are able to, I highly recommend taking in this event in the morning.
During my visit, I arrived at Willow Point about 15 minutes prior to sunrise and almost immediately the snow geese began their flights. (Note that Willow Point is about a 7-10 minute walk from the parking area, so try to arrive no later than 30 minutes or so before sunrise so that you don't miss the action.)
The highlight of any morning visit to see the migrating snow geese is watching them take flight. Somehow, nearly all at once, tens of thousands of snow geese take off almost in unison and fly around the lake. They are as thick as locusts and the sound of their honks is almost deafening. Not surprisingly, snow geese are considered the noisiest of all the waterfowl.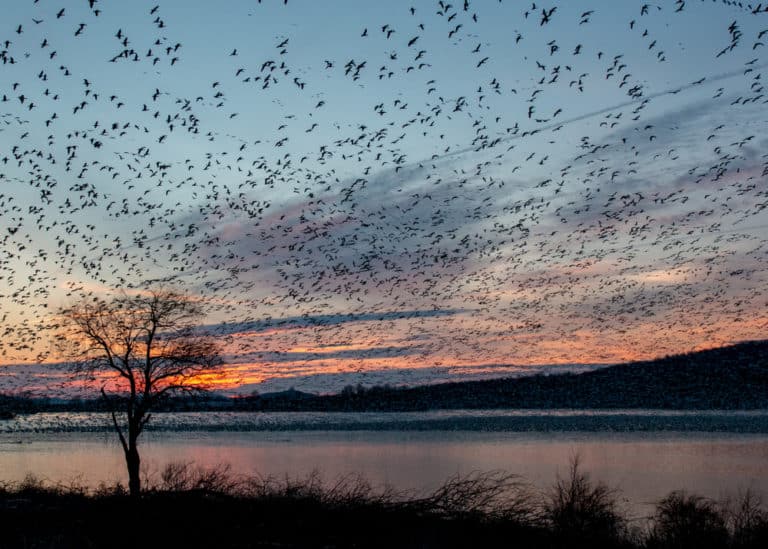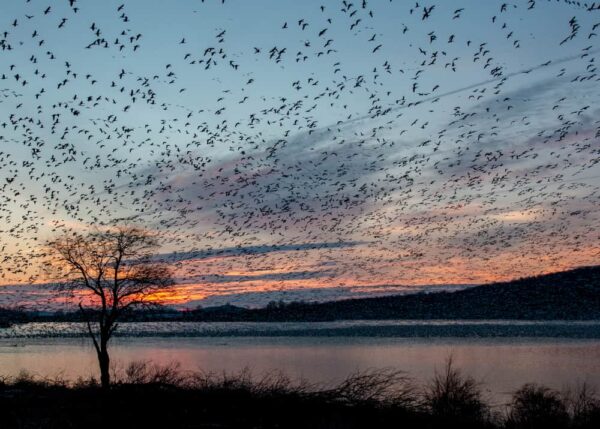 The first few flights of the morning are typically warmups, and the geese will resettle in roughly the same area of the lake. Over the course of several more flights, more and more snow geese leave, either to continue their northern migration or to search for food in the surrounding fields.
All told, it seemed like most of the action was over by about 45 minutes after sunrise, though, you'll want to show up a bit before sunrise to make sure to don't miss the show.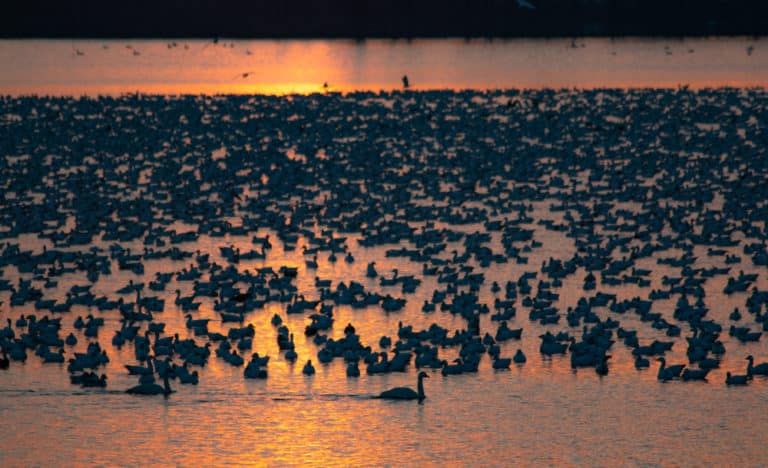 One of my biggest concerns about being around so many birds was the possibility of becoming target practice for them. While it's possible this could be a concern, none of the other people there seemed worried, and the geese seemed to prefer flying over the lake itself instead of directly overhead.
How Many Snow Geese Come to Middle Creek?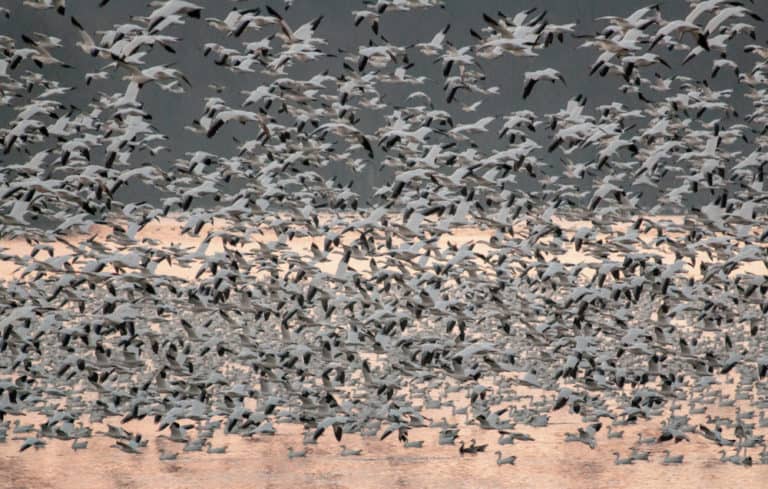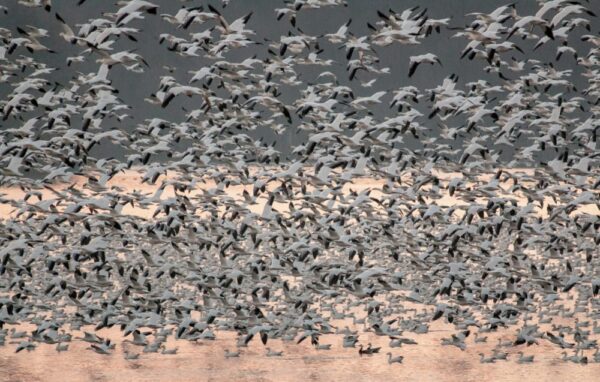 Another thing to keep in mind when planning your visit is that the number of snow geese at Middle Creek can vary greatly, even from day to day. The geese come in the largest numbers when the lake is free of ice and the surrounding fields are mostly free of snow. Weather to the north and the south can also affect their migration patterns as well.
When I visited, the number of snow geese at the lake was estimated to be 115,000! It was short of the record 200,000 that were at the lake on February 21, 2018, but it was much higher than the peak of 70,000 in 2017.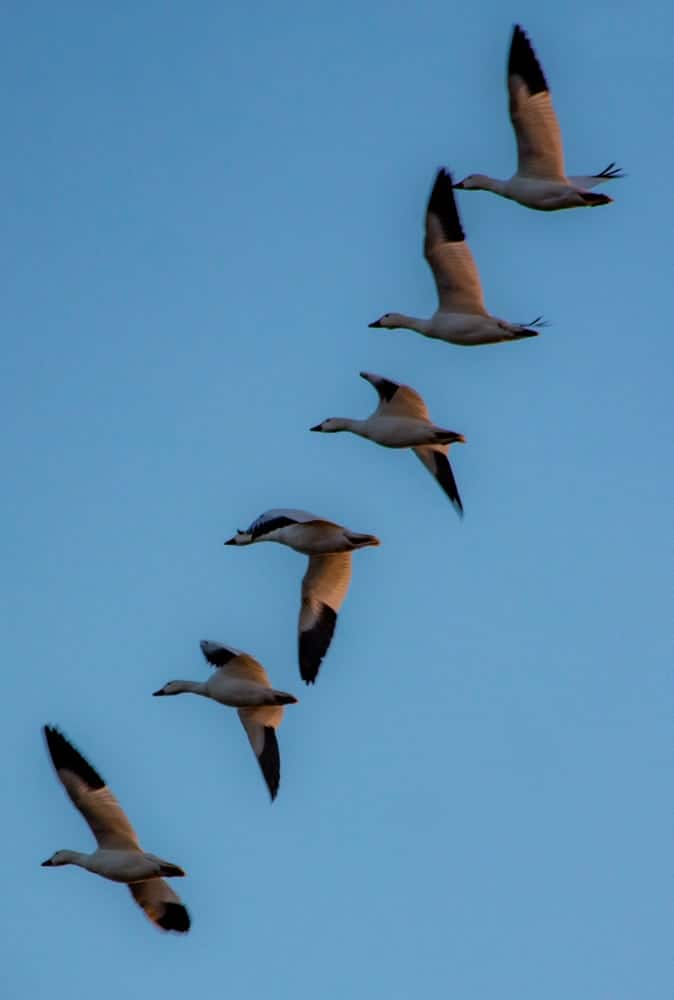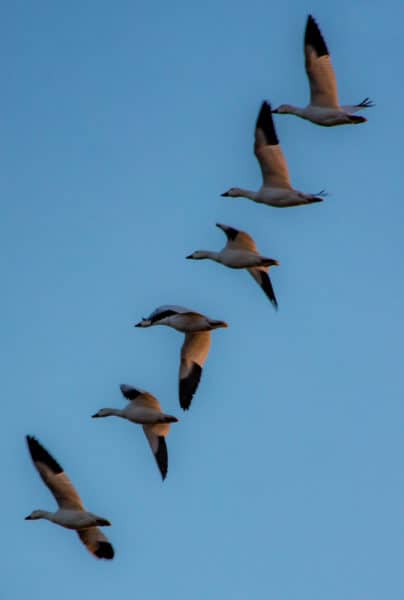 In addition to snow geese, the game commission also estimates the number of tundra swans and Canada geese at Middle Creek. These typically number in the low thousands, with there being a combined 5,000 on the day I visited.
Middle Creek Wildlife Management Area estimates the number of migrating waterfowl at the park several times a week during peak season. Unfortunately, by the time they count the number, it can already be outdated, and it's not uncommon for the number of snow geese to fluctuate by as much as 50,000 in a single day.
Where to See Snow Geese in Middle Creek Wildlife Management Area?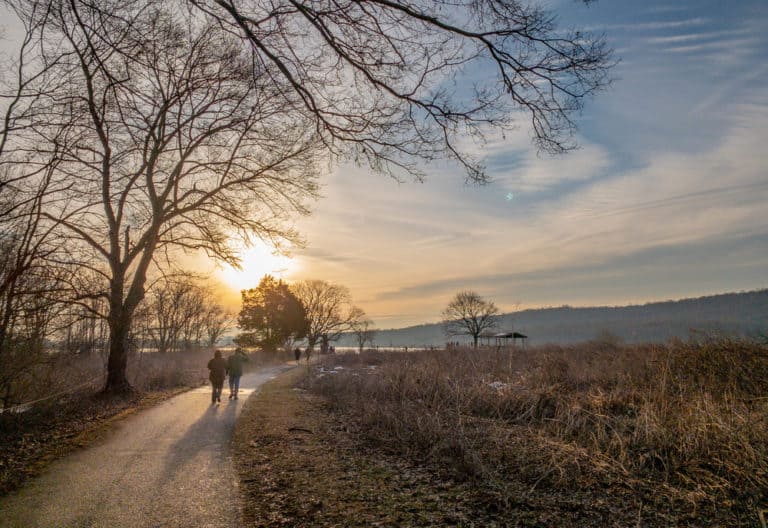 While the Middle Creek snow geese can be found throughout the 6,000-acre lake, the most popular place to see them is Willow Point.
Willow Point can be accessed via a 0.4-mile trail from a parking lot off of Kleinfeltersville Road to the north of the park office.
There is a very small sign on the side of the road for the Willow Point Trail, but it can be hard to see, so make sure to look carefully.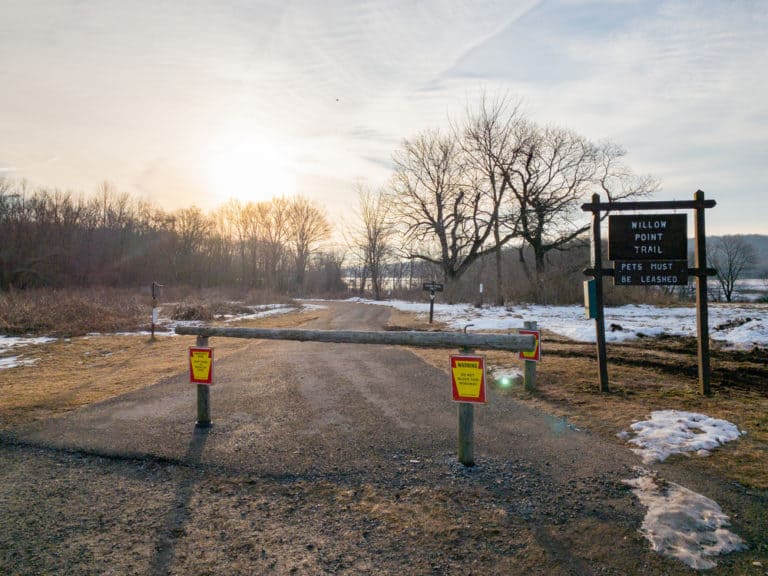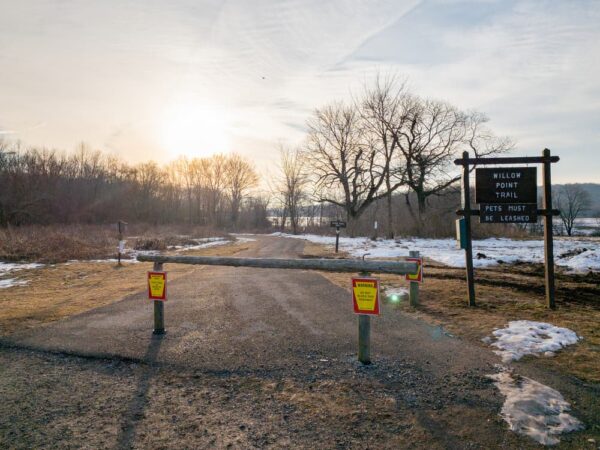 Your best bet is to put the coordinates of the parking area into your GPS. The parking area can be found here: 40.280597, -76.241502.
From the parking area, follow the paved Willow Point Trail until it ends at a viewing area near the lake. The trail is relatively flat and is likely handicapped accessible, though the parking lot is not nearly as well paved.
At the viewing area, there is a small pavilion with picnic tables, several viewers, and an information sign about the snow geese migration at Middle Creek. (Did you know that snow geese didn't start arriving in high numbers until 1995?)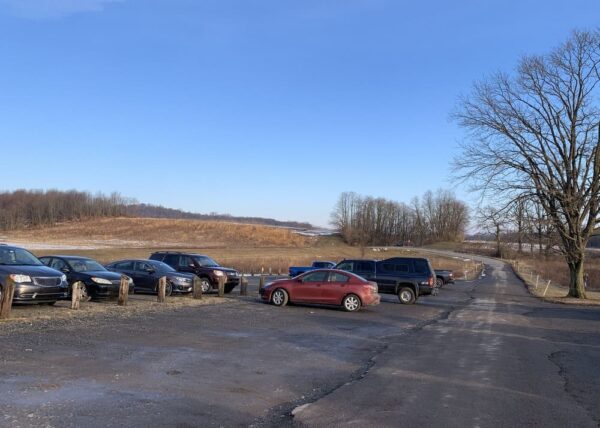 Drive times to Middle Creek Wildlife Management Area are roughly an hour from Harrisburg and forty minutes from Lancaster and Reading.
If you can't make it yourself, the PA Game Commission has set up a seasonal camera that live-streams the action online. It's one of many great wildlife cameras in Pennsylvania.
Photographing the Middle Creek Snow Geese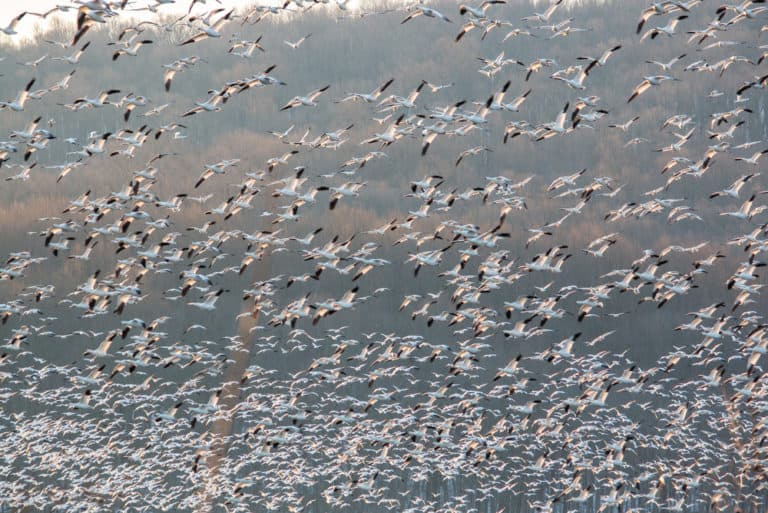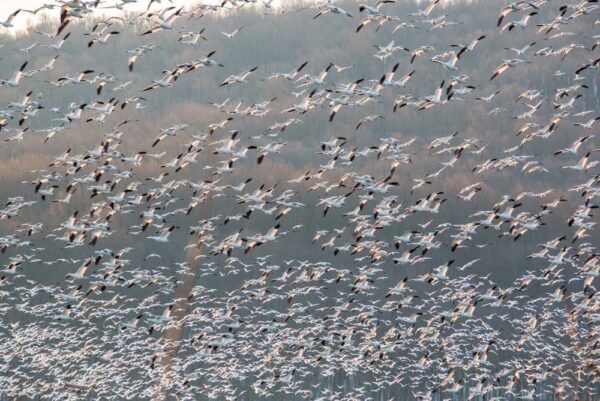 Photographing the snow geese at Middle Creek Wildlife Management Area is a lot of fun, but is also challenging. That's because the geese are about 100 yards away at the closest and are most active at dawn and dusk when light levels are low.
When you visit, you'll likely see many photographers, some of whom have very long and very expensive lenses.
While these might be necessary to capture award-winning photos of the snow geese, all the photos in this article were captured with decidedly less expensive lenses, though it does have a zoom of 300mm.
Fortunately, the flock of snow geese can be so large when they take off that capturing them in photos and video is possible from a distance, even with a cell phone camera. Just keep in mind that you won't be able to get closeups of the animals without both a long zoom lens and one that is capable of shooting very fast shutter speeds in low light.
[Click here for information on how to use coordinates to find your destination.]
Have you ever been to see the snow geese at Middle Creek Wildlife Management Area? Let us know in the comments below.
Want to see even more great spots in the area? Check out the Wolf Sanctuary of PA, Cornwall Iron Furnace, or hike to the Governor Dick Observation Tower.
See map below for more things to do in the area.