Please do your best to limit your travels around PA during this time. If you decide to travel, please check the status of the places you are going. Some places around the state are temporarily closed or have changed their hours. We will not be updating individual articles to note these changes. Stay safe and wear a mask!


If you love wildlife, you're in luck! There are many wildlife cameras in Pennsylvania that stream live on the internet and give you a look into the lives of the state's animals.
These cameras give us a glimpse into a range of animals from majestic bald eagles to bugling elk and even include some interesting zoo animals.
It should be noted that these cameras are capturing wildlife and some cameras in the past have captured some unpleasant things, so it's always best to be prepared for that. However, typically these cameras are simply a great way to enjoy seeing some of the state's most popular animals in a way that you typically can't.
Disclosure: This article may contain affiliate links. We will make a small commission from these links if you order something at no additional cost to you.
Scroll down to see the best live-streaming wildlife cameras in Pennsylvania.
Note that many of these cameras only broadcast seasonally, and I've noted that where possible. If you know of any other live-streaming wildlife cameras in PA, let us know the comments below so they can be added to this list.
Hanover, PA Eagle Camera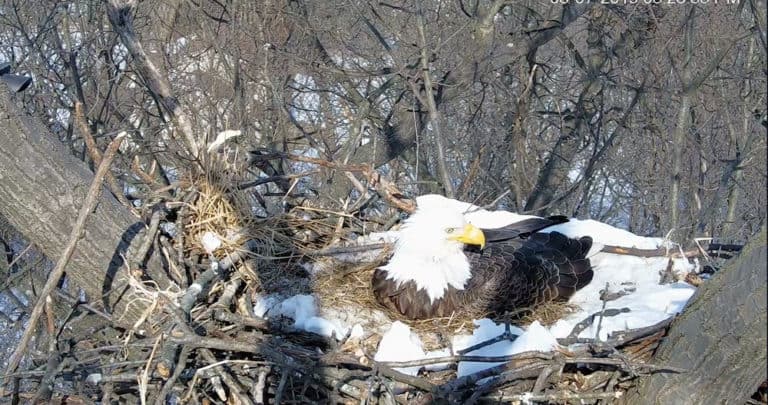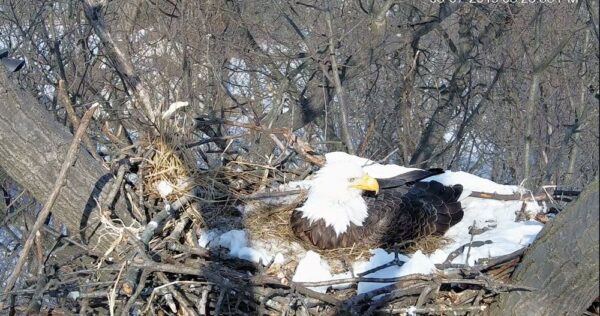 The Hanover, PA, eagle camera might be the most popular of all the live-streaming wildlife cameras in Pennsylvania. This camera is affixed directly adjacent to a bald eagle's nest on private property near Codorus State Park in York County.
There are a total of three live cameras around the nest which features a mating pair of bald eagles, eggs, and, hopefully, young eaglets.
The camera typically begins streaming sometime between early December and early January and continues until well after the eaglets have hatched.
Barn Owls Camera in Mifflin County
Shaver's Creek Environmental Education Center brings an interesting camera that highlights the lives of barn owls. Barn owls are a species of special concern in Pennsylvania, and the chance to peer into their lives is truly amazing.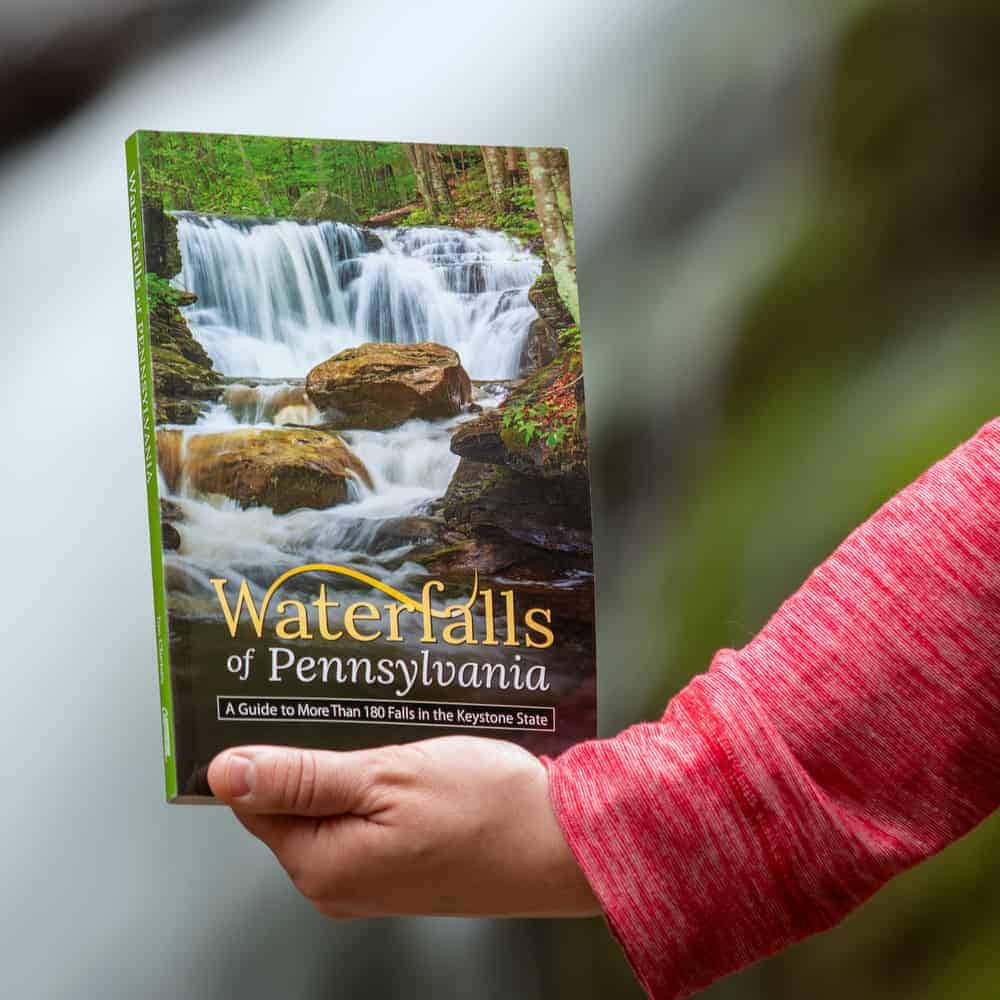 "Waterfalls of Pennsylvania" by Jim Cheney
If you love PA waterfalls, you won't want to miss this brand-new waterfall book from Jim Cheney, author of Uncovering PA, featuring more than 180 great waterfalls. Order it now on Bookshop.org or Amazon.
This camera is set up inside of a nest that's located inside a barn on a family farm in Mifflin County. It is hoped that this camera will not just capture the adult barn owls, but will also capture young chicks as well.
Make sure to watch this camera in the evening as the sound is turned on at that time, which provides even more insight into these beautiful creatures.
(Note that the live stream is located about halfway down the page linked above.)
Snow Geese Migration Camera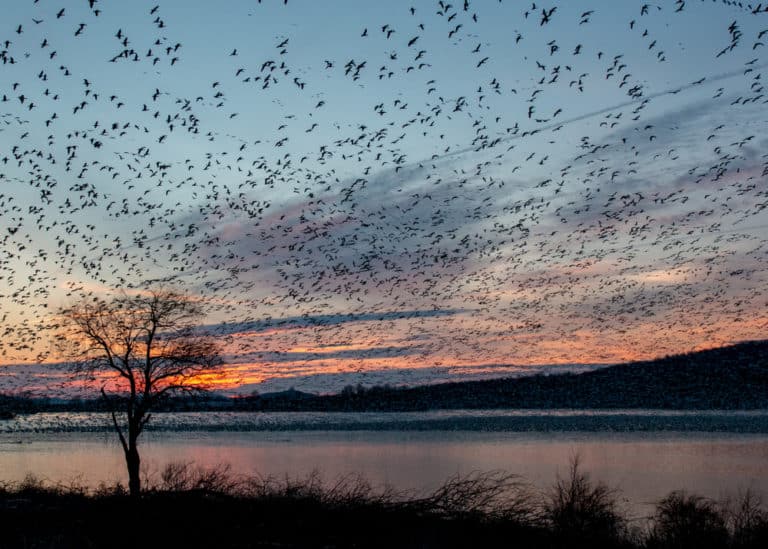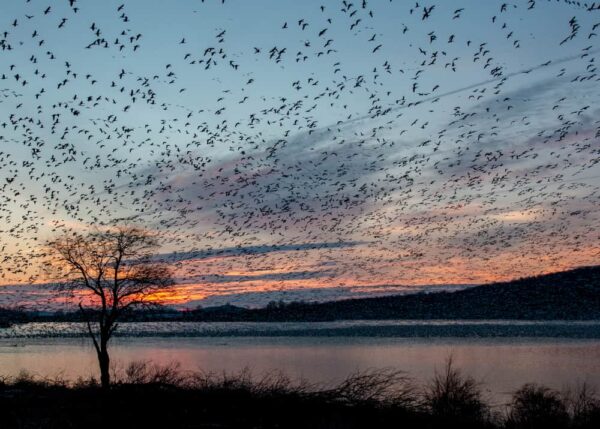 The snow geese migration through Middle Creek Wildlife Management Area in Lancaster County is one of the best bird-watching events in Pennsylvania. However, if you can't make it out to Middle Creek or simply want to see what conditions are like before you go, the Pennsylvania Game Commission has set up a snow geese migration camera.
This live stream follows this fantastic event in February and March. The birds are most active at sunrise and sunset, so these will be the best times of day to watch this camera.
Elk Rutting Season Camera
Each year in early fall, the elk of Elk County, Pennsylvania, have their annual rut (or mating season). This is the perfect time to visit the Elk Country Visitor Center, but if you can't make it here to see it in person, the PA Game Commission has set up a live stream from a nearby field each of the last few years.
This camera typically operates from early September through mid-October and captures many elks. Even if you can't see them on the camera, you may be able to hear them bugling off-camera.
As with most wildlife, dawn and dusk are the best time to catch elk activity.
PA Falcon Camera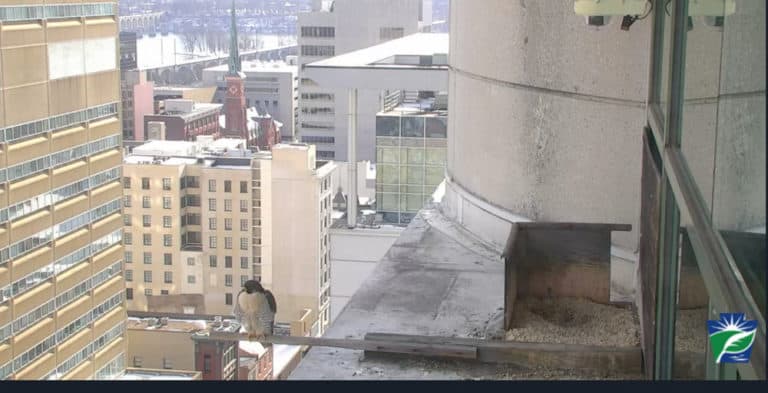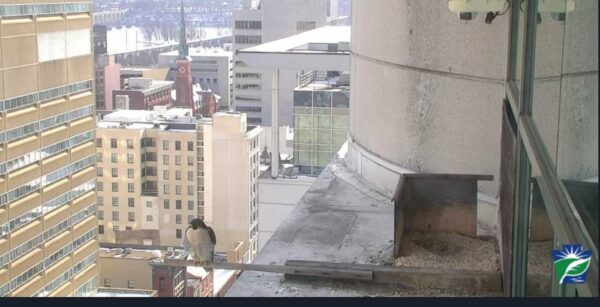 The Pennsylvania Falcon Camera is another popular wildlife camera in PA. This camera live-streams from the top of the Rachel Carson Building in downtown Harrisburg and is fixed on the nest of a peregrine falcon.
Peregrine falcons are known for reaching speeds of up to 200 miles an hour in flight, but the four cameras here capture these birds during their restful moments at the nest.
The cameras here are turned on in mid-February, and the first eggs typically are produced in mid-March. Hatching then occurs in mid-May with the young chicks taking their first flights in June.
Philadelphia Zoo's Penguin Camera
If you love penguins, you won't want to miss this great live-stream from the Philadelphia Zoo.
There are four different views that can be selected while viewing the camera, which seems to broadcast throughout the year. While the quality of this camera isn't as good as some of the others featured here, it's still fun to see these playful animals from the comfort of home.
Hays Eagle Cam
The
Hays Eagle Cam
is located near Pittsburgh and is fixed on a bald eagle nest. The nest this year is in a different tree than in previous years, but the camera has been once again set up to monitor it online.
The Hays eagles are special as they are the first nesting pair of bald eagles in Pittsburgh in 150 years.
Eggs in the nest are typically laid in mid-February and hatch in mid-March. The cameras then follow the young eaglets as they grow and learn to fly.
Giraffe Cam at the Elmwood Park Zoo
If you want to view a bit more exotic animal, tune into the Giraffe Cam from the Elmwood Park Zoo in Norristown, PA.
This camera over the giraffe enclosure is online every day from 10am until 5pm. While there is only one camera here, you can move it between one of 11 positions to see what's going on throughout the yard.
Despite being called the Giraffe Cam, the enclosure is also home to zebras, so you'll have a chance to see these animals as well.
Eagle Cam at the Elmwood Park Zoo
The Elmwood Park Zoo is also the location of an Eagle Cam. This live-streaming camera is focused on the zoo's bald eagle enclosure and features six different positions that give you a variety of views.
The camera is online daily from 6am until 8pm.
What's great about these cameras at the zoo is that you are guaranteed of being able to see the animals (as long as they are in the enclosure). The cameras that are placed in the wild feature no such guarantees.
Pennsylvania Deer Camera
The
Pennsylvania Deer Camera
is a live-streaming wildlife camera attached to a wildlife feeder 30 miles east of Pittsburgh. There are three different cameras here that provide different views around the feeder.
While the wildlife feeder here does attract animals, especially at dawn and dusk, there are no guarantees of animal sightings on the camera. On the other hand, this camera is also the one most likely to feature a wide variety of animal species native to southwestern PA.
One neat feature of this camera is that it can be rewound up to four hours, giving you a better chance of seeing animals on it.
The Pitt FalconCam
The Pitt FalconCam is a camera that showcases a peregrine falcon nest on the 39th story of the University of Pittsburgh's Cathedral of Learning.
Unlike the falcon camera in Harrisburg, there is only one view here: a close-up shot of the nest. However, once the birds lay their eggs, typically by mid-March, the view gets much more interesting.
Assuming eggs hatch, expect live chicks by mid-May.
In the past, there has been a second camera on the Gulf Tower in downtown Pittsburgh, but that is not currently running due to restoration work on the building.
Do you know of another live-streaming wildlife camera in Pennsylvania? Let us know in the comments below.
Looking to explore even more of PA from home? Check out the best virtual tours of museums in PA, watch a great TV show set in Pennsylvania, or try some free online PA puzzles.