Disclosure: This article may contain affiliate links. We will make a small commission from these links if you order something at no additional cost to you.
You can't go to Mean Cup Coffee Shop in Lancaster, PA without being thoroughly stimulated.
From the constant hum of conversation, to the occasional buzz of café equipment, and the mellow indie music audible over it all, this Lancaster coffee shop stays true to its energetic identity all day long.
When I first arrived at Mean Cup on a week day around 10 a.m., all those sources of stimuli were in full swing, in addition to shouts of coffee orders and an almost revolving door of customers.
Finding a seat for one person is not overly challenging, as the café offers various arrangements such as two-person café-style tables, a communal table with bar stools and low wooden bars against nearly floor-to-ceiling windows. However, seating for two or more people in those early hours could present a difficulty.
Based on my observations of the café over the course of the day, 10 a.m. proved to be the busiest time. The café quiets surprisingly around noon, with fewer in-and-out customers and many, like myself, working for extended periods of time on laptops or cellphones. Mean Cup's customer base consists largely of businesspeople and students, presumably from the nearby Franklin & Marshall College.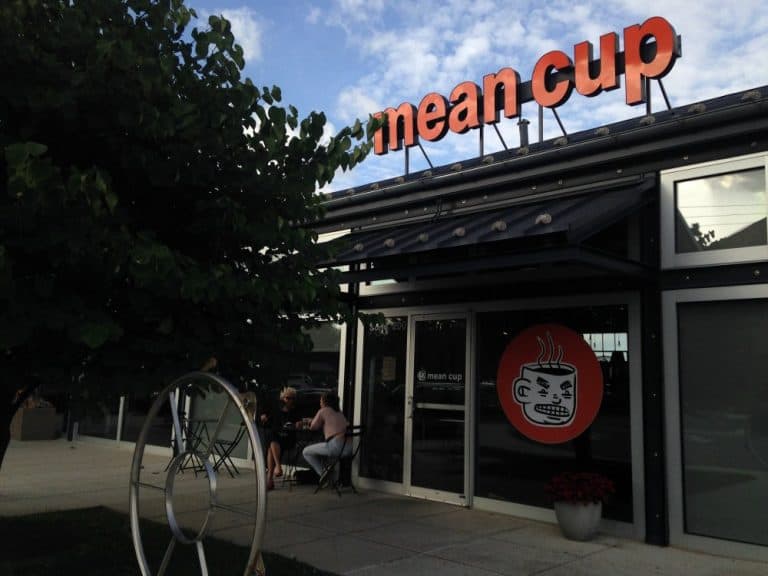 The lengthy stay of these customers is probably encouraged by the café's free parking lots. Mean Cup and its neighboring businesses share the lots behind the business strip, off North Charlotte Street, and in front of it, off Harrisburg Avenue. With entrances from both parking lots, be aware that the line for ordering in the café extends towards Charlotte Street.
Upon entering the café, the high ceilings, industrial features, and colorful artwork complement the high-energy atmosphere for a cheerful, modern aesthetic.
Despite the rush of customers, the ordering line moved quickly at Mean Cup. Before I had time to finish my interaction with the cash register, a barista handed me my dark roast coffee.
Speaking as an enthusiastic black coffee fan, Mean Cup offers one of my favorite cups of coffee in downtown Lancaster. The strength of their dark roast comes from a full-bodied richness, as opposed to the complex acidity offered by other brands and cafes in Lancaster.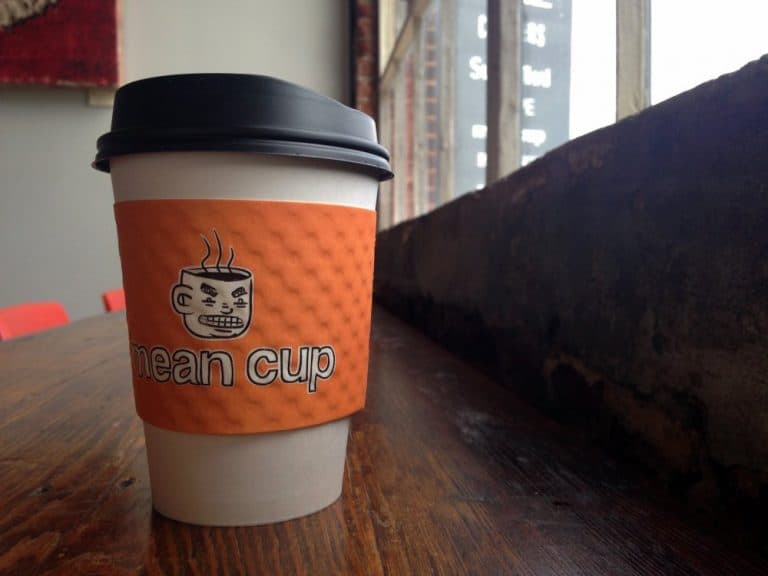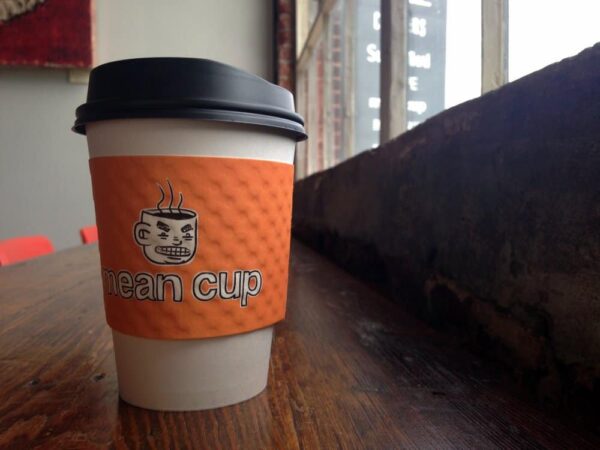 One point of note is that because of the immediacy of the service, the coffee was too hot to handle even with a cardboard sleeve. I enjoy lingering over my coffee, so I did not mind waiting for it to cool. But a to-go customer should be prepared for that possibility.
Mean Cup largely sticks to beverages, with chalkboard signs over the bar advertising their coffee, espresso, tea, and other beverage offerings.
A friend who accompanied me on my trip to Mean Cup ordered one of their iced mochas. Although black coffee fans will recognize this beverage as more of a dessert, it offered a nice balance of chocolate and coffee flavors that was not overpowering nor overly sweet.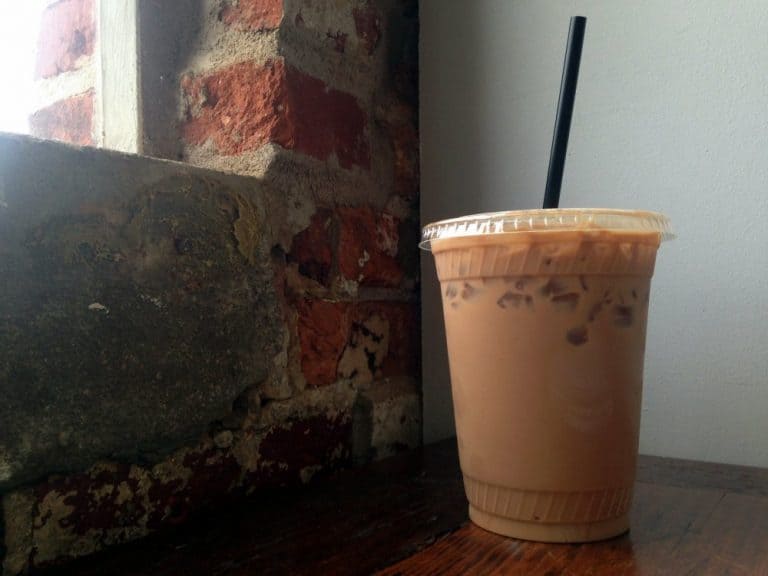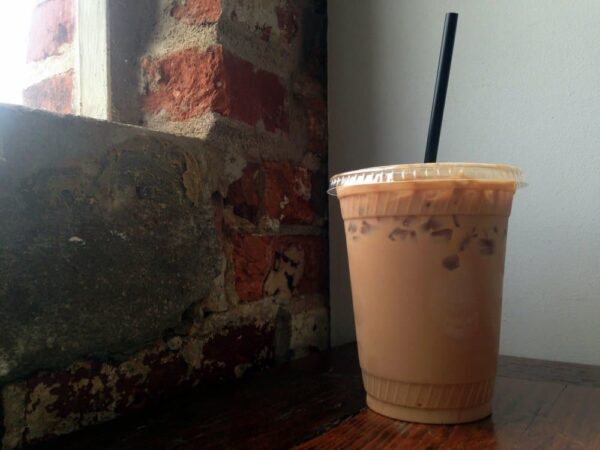 Customers with any sort of appetite will be tempted by the diverse array of baked goods that line the main bar. A chilled display case contains Mean Cup's more savory eating options, with light salads and sandwiches.
One of my friends purchased one such sandwich, a smoked turkey from Lancaster-based The Goodie Shoppe. Crispy romaine lettuce offered a nice crunch, onion-poppy seed bread produced an artisan effect, and buffalo sauce kicked the flavors up a notch.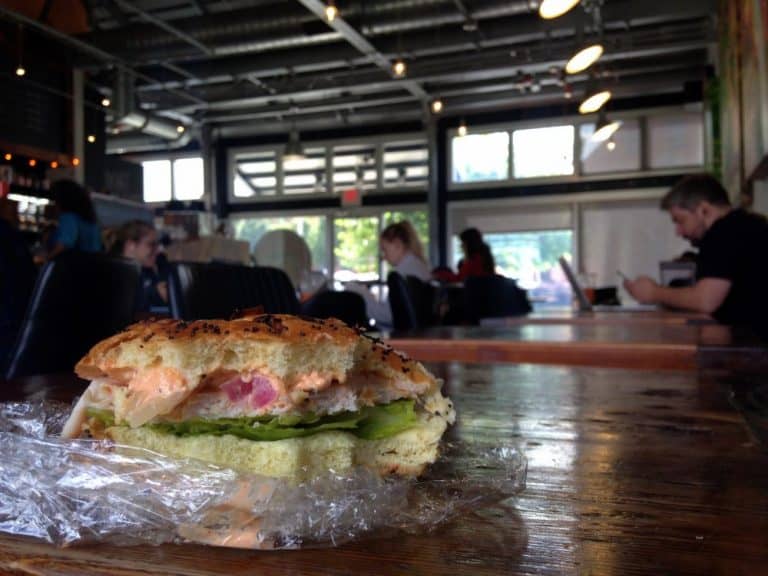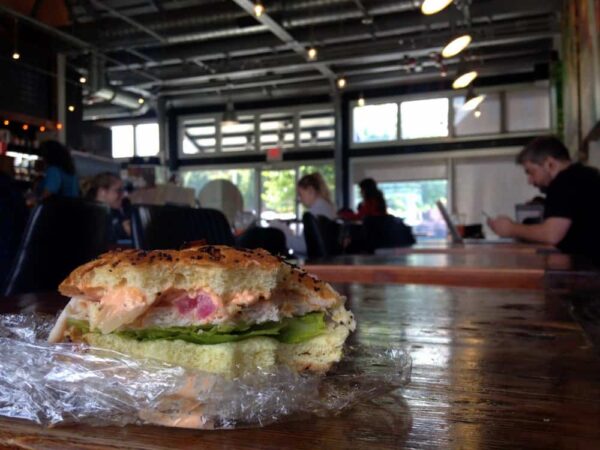 While I have only had positive experiences with the food and beverages available at Mean Cup, the menu is not what makes this Lancaster coffee shop unique. The industrial decor, the alternative music, the northern downtown location, the intellectual customer base, and more collide to pay homage to other local coffee shops in Lancaster while establishing an atmosphere that could be found in any major city in the country.
If such visual and verbal stimulus sounds distracting, grab a pair of headphones. Mean Cup's energetic atmosphere is worthy of a drop-by or of a day-long linger. It depends how much time you have to let the coffee cool.
Looking for adult beverages instead of coffee? Check out the nearby Wacker Brewing Company. Want even more coffee in Lancaster? Check out our favorite Coffee Shops in Lancaster, PA, and our review of Passenger Coffee.
Another great spot for coffee is Harrisburg's Little Amps Coffee Roasters.
---
Mean Cup Coffee Shop
Hours: Daily: 7am-4pm

Website: MeanCup.com

Address: 398 Harrisburg Ave
Lancaster, PA 17603
See map below for other area attractions.
---