Disclosure: This article may contain affiliate links. We will make a small commission from these links if you order something at no additional cost to you.
It was a rainy spring evening in 1842 when author Charles Dickens' carriage crossed the nearly mile long Old Camelback Covered Bridge and entered Harrisburg. This master wordsmith, who was never at a loss for adjectives, simply described the Susquehanna River as "beautiful" and had high praise his hotel's landlord whom he called "the most obliging, considerate, and gentlemanly person I've ever had to deal with".
On Harrisburg, however, Dickens was not so kind, commenting that the city's street lights "did not shine out upon a very cheerful city".
Over 170 years after Charles Dickens briefly set foot in Harrisburg on his journey west along the Main Line Canal, many might still seeing his description as surprisingly fitting. However, in recent years, the city has begun to show signs of life and has become somewhere that Dickens might regard as cheerful. And, at the center of this transformation, is somewhat fittingly, a bookstore.
However, to call Midtown Scholar simply "a bookstore" doesn't really do it justice. Located in an old theater and department store at the corner of 3rd Street and Verbeke Street in downtown Harrisburg, Midtown Scholar anchors an up-and-coming neighborhood filled with cozy cafes and an emerging art scene. The local arts scene is quite prevalent in the store, with local artists, authors, and speakers frequenting the Scholar's stage and the work of local artists hanging on the walls.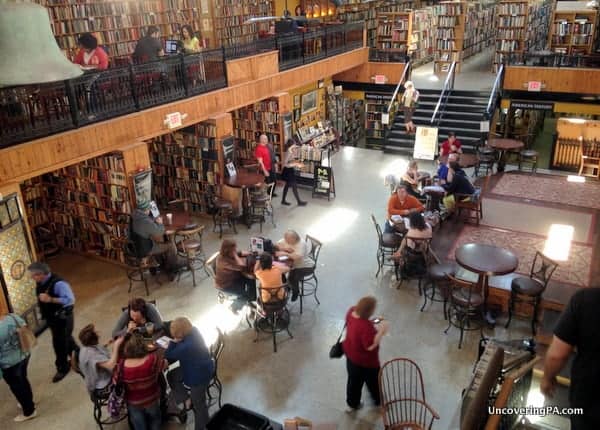 For those looking for a bit of refreshment, Midtown Scholar offers not one, but two, small cafes for you to relax at. Their main cafe is located in the large foyer and is the perfect place to get a coffee, tea, or Italian soda, along with a small pastry from a nearby restaurant.
Should you be looking for something more substantial, check out P & R Bakery N. Cafe located inside the sprawling building. While I haven't yet had the chance to sample their food, I've been told that their sweet potato pie is quite fabulous.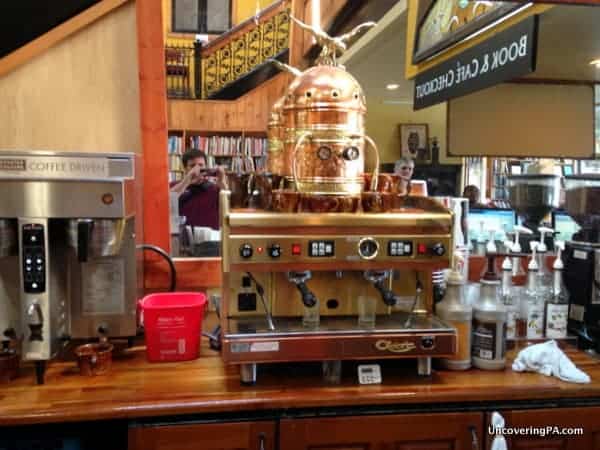 However, despite the amazing coffee and regular performances, the true highlight of Midtown Scholar is the books. Housing roughly 200,000 books in-store (and 2 million online), Midtown Scholar Bookstore is simply huge.
When you enter the bookstore, you'd be forgiven for thinking that the shop consisted of just two levels and a small mezzanine. However, you couldn't be more wrong. Entering the labyrinth of books, you might be apt to feel like you've gotten lost in an old-world library. Shelf after shelf of book line the wall, each shelf holding more and more obscure works of prose.
This huge collection has gained Midtown Scholar national attention, often being considered the largest used academic bookstore between Chicago and New York.
Don't be thrown off, however, by the term "academic bookstore". While the Scholar does contain many books of interest to real-life scholars, they also have fantastic collections of books sure to tempt on any number of topics.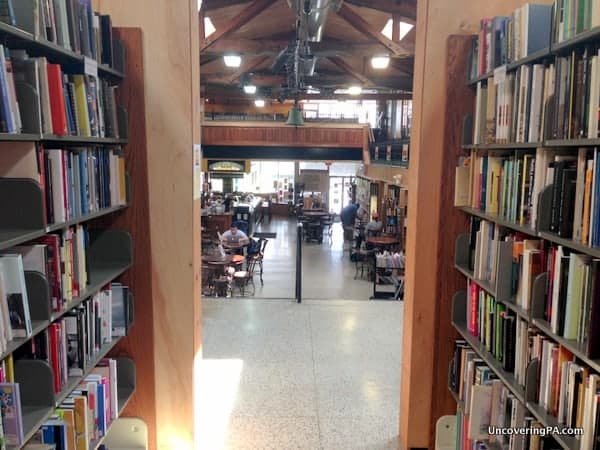 The Scholar is also a great destination for those who collect, or just like to look at, antique books. In fact, outside of the Rosenbach Museum and Library in Philadelphia, Midtown Scholar might be the state's best destination for lovers of old books.
Whether you are looking to buy a rare antique book or you are simply looking for a place to browse while drinking a delicious cup of coffee, Midtown Scholar is a fantastic destination for bibliophiles visiting the Harrisburg area.
---
Midtown Scholar
Hours: Tuesday-Friday & Sunday: 10am-6pm

Saturday: 9am-7pm

Website: MidtownScholar.com

Address: 1302 N 3rd St
Harrisburg, PA 17102
See map below for other area attractions.