Disclosure: This article may contain affiliate links. We will make a small commission from these links if you order something at no additional cost to you.
Sadly, the National Christmas Center closed on January 7, 2018. It will be reopening in Elizabethtown, PA, at Stone Gables Estate on November 26, 2021.
Without a doubt, Christmas is my favorite holiday of the year. There really is nothing about it that I don't like (except for the cold weather). So, I was super excited to get my Christmas season started at an entire museum dedicated to the holiday: the National Christmas Center in Paradise.
I'd driven past the National Christmas Center on several occasions, but I'd always assumed that it was a large Christmas store. However, there is so much more to it than just a gift shop.
Opened in 1998, the National Christmas Center is one of the largest collections of historical Christmas memorabilia in the US. Featuring the collections of several different families, the collection spans advertisements, toys, knickknacks, and much more.
For me, walking into the display rooms at the National Christmas Center was like stepping into a classic Christmas movie. Everywhere I looked were beautiful antique decorations and advertisements related to my favorite holiday.
They even had a room decked out like an old-time Woolworth's 5 and 10 Cent Store, just like you might have seen in a movie like "It's a Wonderful Life" or "Miracle on 34th Street". However, if had grown up in the 40s or 50s, I imagine there would be a lot of nostalgia walking into the room.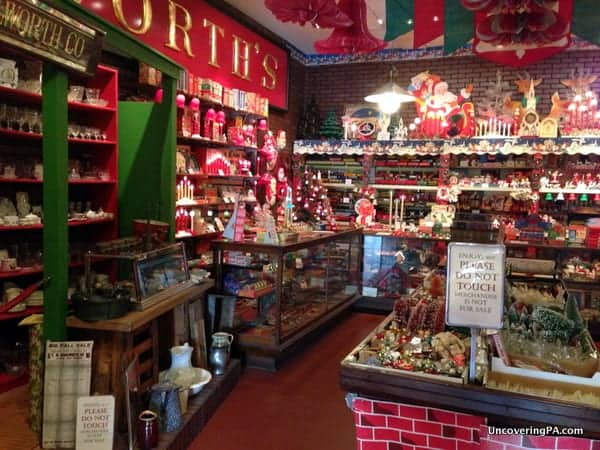 However, the National Christmas Center doesn't just focus on the history of Christmas, they also take a look at some of the international traditions around the holiday.
For example, the first room on the self-guided tour explains the traditions of Santa in various countries. There is also a section about Christmas in Pennsylvania Dutch Country and a display of nativity scenes from around the world.
For the kids, there is a North Pole-themed area that features Christmas toys from the past and a visit from Santa between Thanksgiving and Christmas Eve.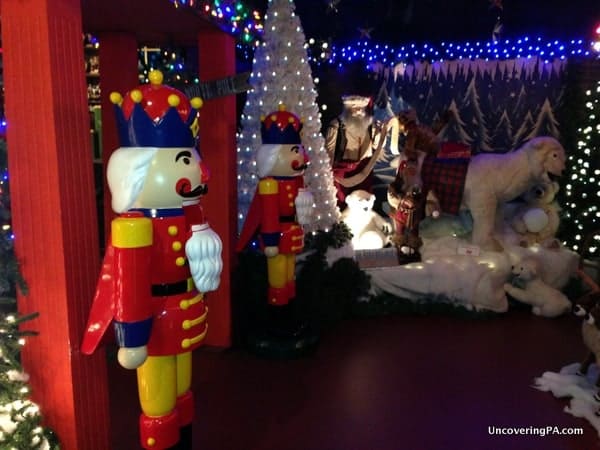 There is also a large section that tells a story titled, "Christmas Comes to TudorTowne". In the story, a town of forest animals learns about and celebrates their first Christmas. The area is cutely decorated, but the use of rather large words in the story makes me wonder how much it would interest a child.
The last section you come to on your tour is called "The First Christmas" and attempts to replicate the sights and sounds of the Holy Land at the time of Jesus' birth.
While somewhat campy, the display is well done and does a great job showcasing what life was like during that time period. Those who aren't interested in the religious aspects of Christmas might breeze through the section, but others will likely appreciate this unique look into life 2,000 years ago.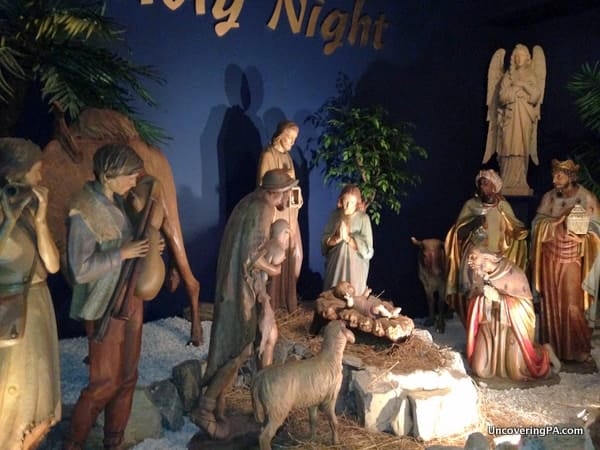 Overall, the National Christmas Center is a great place to visit for anyone looking for a walk down the memory lane of Christmas past, especially those born before the 1950s. However, even being much younger than that, I still enjoyed my visit to the center because it reminded me of the many old Christmas movies that I love so much.
If I'm being honest, I'm struggling a bit to figure out whether the National Christmas Center would interest children. While I think a child who enjoys Christmas and can appreciate history would like the museum, other children might struggle to find something to spark their interest for more than a few minutes.
If you've taken kids to the National Christmas Center, I'd love to hear your thoughts on whether it's a good destination for them or not. Leave a comment below, and let me know your experiences.
Note: My visit to the National Christmas Center was hosted by the museum. However, the opinions expressed in the article are entirely my own.