Disclosure: This article may contain affiliate links. We will make a small commission from these links if you order something at no additional cost to you.
Pittsburgh is a city defined by its industrial past, especially the steel industry. However, in the 21st century, the city is becoming a hub for robotics and, somewhat surprisingly, robotics related to space travel. So, when I heard about the Moonshot Museum, I was excited to check it out.
The Moonshot Museum is located on Pittsburgh's North Shore, only a few blocks from the Carnegie Science Center, and is tucked behind a couple of fast-food restaurants. The museum, which opened in October 2022, is located at the headquarters of Astrobotic Technology, a space robotics company that is focusing on building unmanned lunar rovers and landers for NASA.
This isn't an overly large museum. In fact, it's pretty much just one large room. However, there are close to a dozen interactive activities that are very well done and offer a great look into both the work being done at this site and the overall theme of space exploration.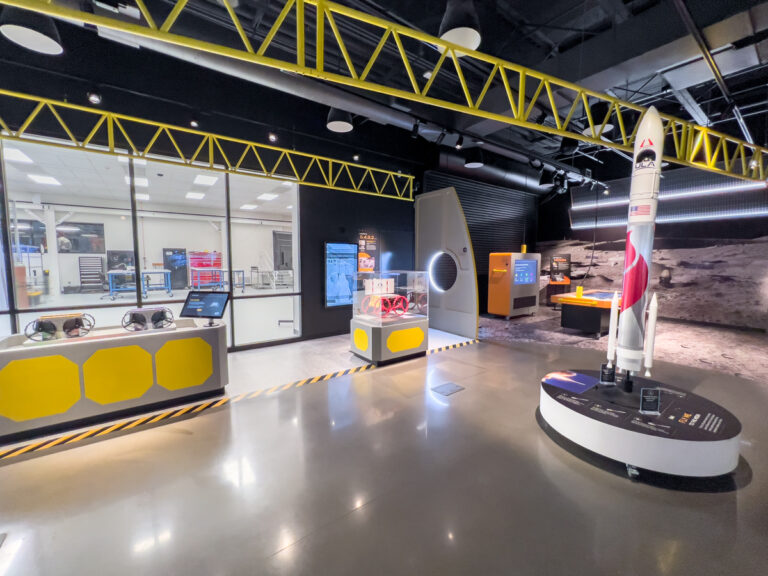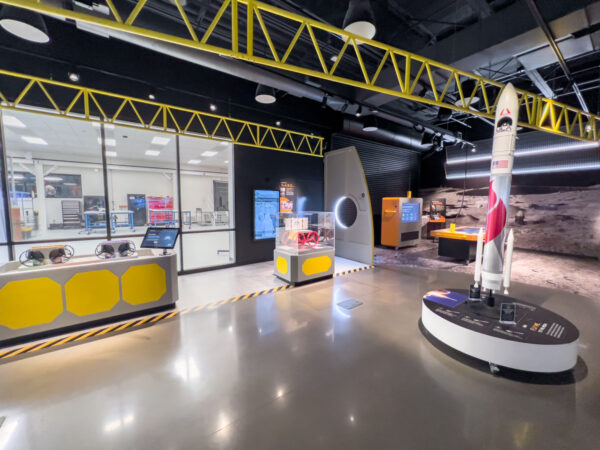 I had a chance to check this museum out a few months after it opened with my family, which gave me a chance to see what this spot is like both for kids and adults.
After paying your admission fee, visits to the Moonshot Museum start with an eight-minute film.
This film does an excellent job showcasing the current state of space exploration, plans for the near future, and what type of work is being done by Astrobotic within this building. However, if you have younger kids, this portion of the visit may be a bit over their heads.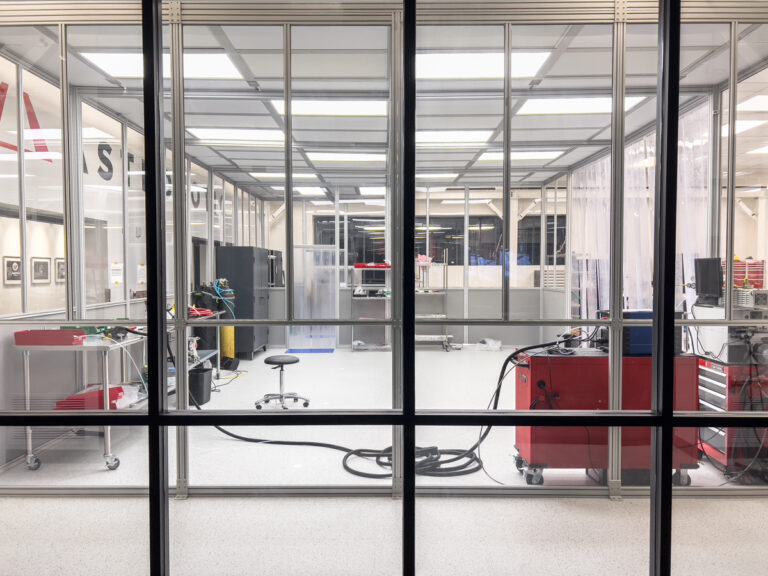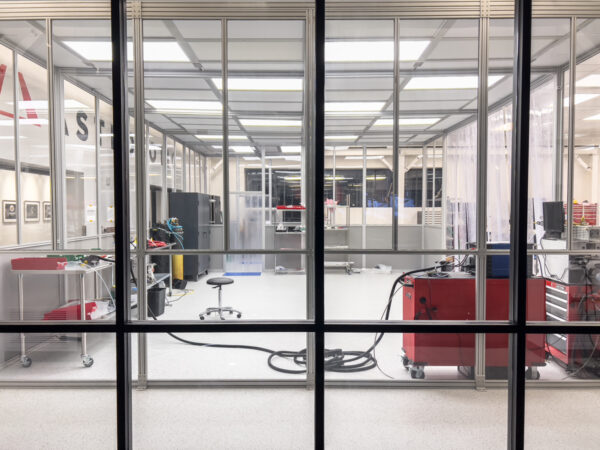 At the end of the film, a curtain is open, and you get your first view of the Clean Room Workshop, where Astrobontic builds its lunar landers and rovers.
Unfortunately, on the day that I visited, there was no work being done as the lander that was there had just been completed and removed to be sent into space. Still, it was neat to look into this room and see the tools that are used to build these important machines.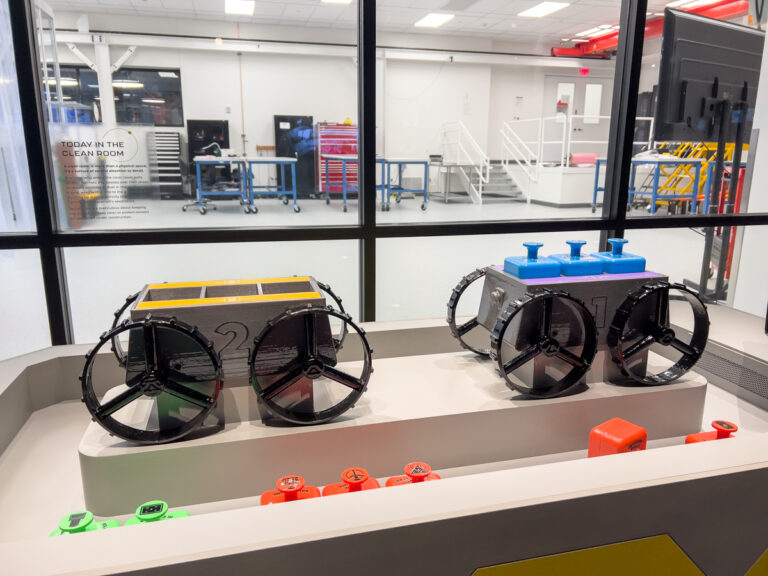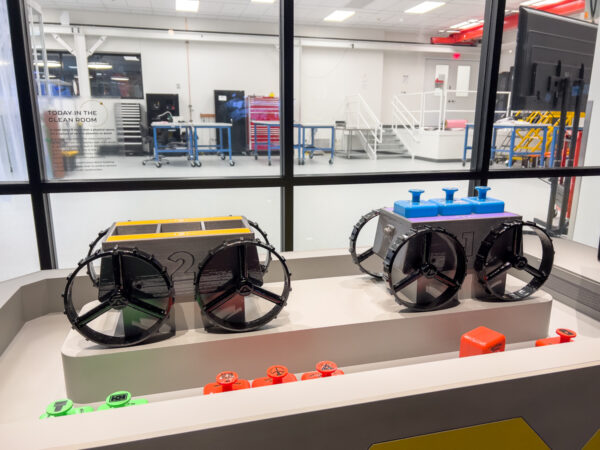 That being said, I would like to revisit though at some point to see work actually being done in this space.
Once you've watched the film, it's time to explore the exhibits. There are a lot of interactive things here in the museum, and I found that they did a good job making them accessible for kids while still being interesting for adults.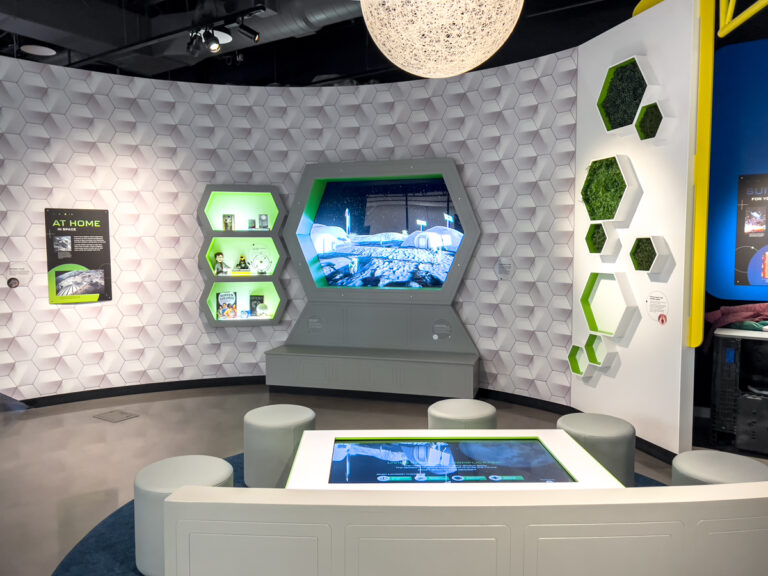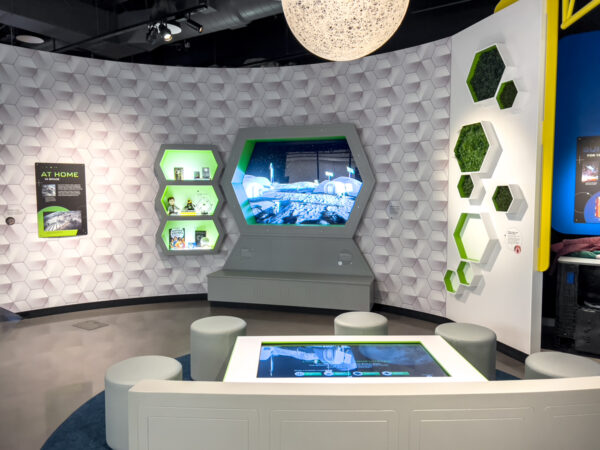 These include the chance to build payloads for lunar rovers, explore the surface of the moon, or complete a scavenger hunt for items needed for a manned mission.
My younger kids also enjoyed the drawing station where they could draw their own mission patches, and then have them shown on the wall of the museum.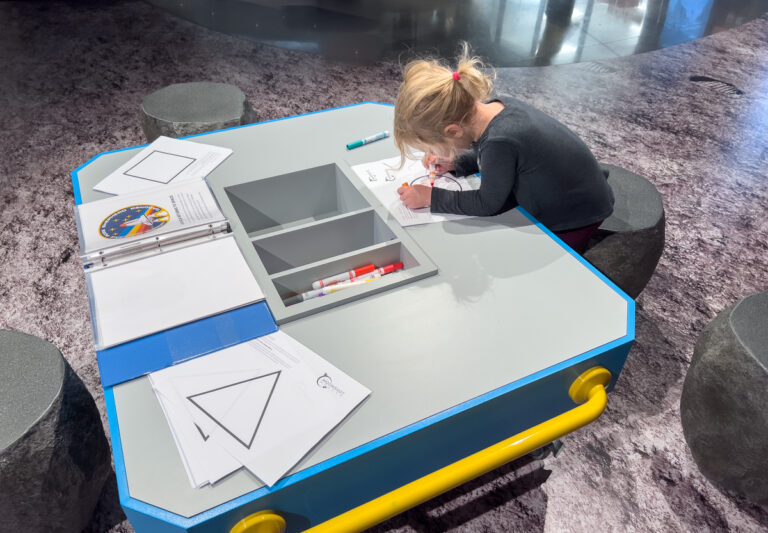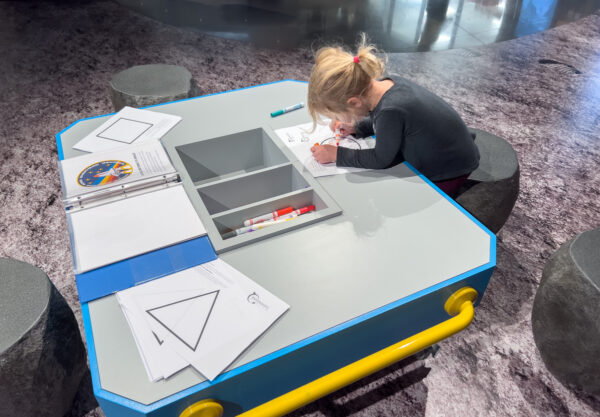 Another fun activity here was the chance to write a message or draw a picture with your hopes for space exploration and the world. These will eventually be digitized and sent into space on a future mission.
My kids loved the idea that their thoughts and drawings would someday go into space!
In addition to the interactive elements, there is interesting signage throughout the space that I enjoyed reading. This covered various aspects of space exploration and the work being done in Pittsburgh and offered some great insight into these subjects. Surprisingly, though, there wasn't any information on PIttsburgh's historic role in space exploration at the nearby Allegheny Observatory in Riverview Park.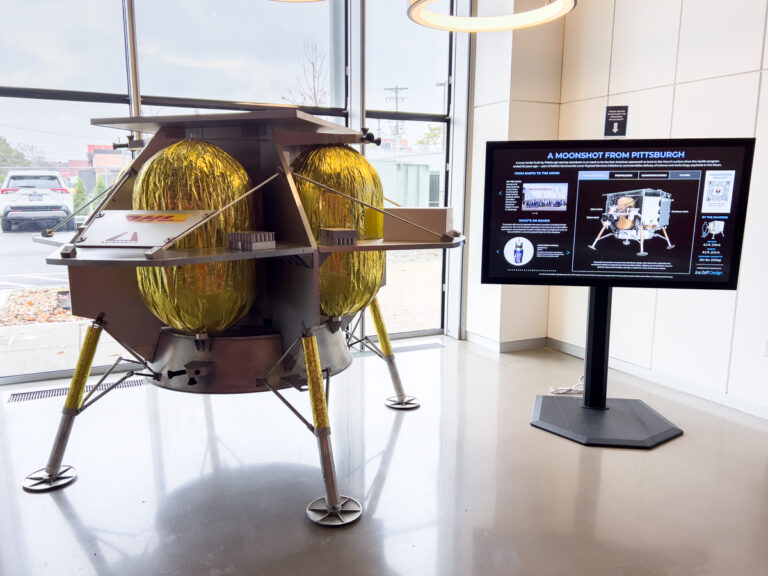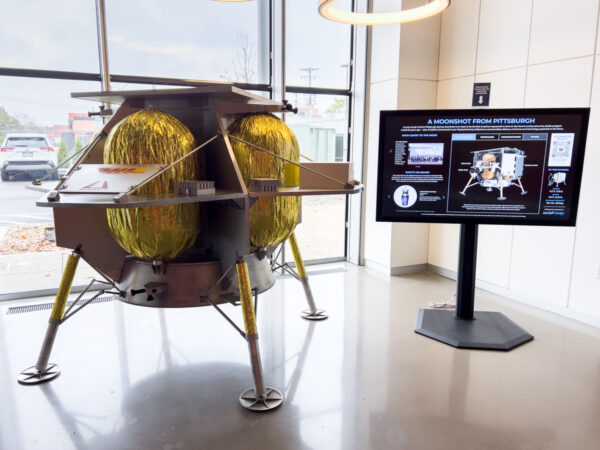 Overall, the Moonshot Museum is a really fun space, and my eight-year-old son said it was one of his favorite things that we did in the city during this particular trip. That being said, I think the museum is probably best geared toward kids a bit older than him, though younger kids can still have fun here.
The only real negative at the Moonshot Museum is that since the space is rather small, I could see it being crowded quickly as each interactive element can only handle a couple of people at a time. However, if you visit on a quieter day, like we did, it's great to have the flexibility to spend as much or as little time as you want in each area.
It's also worth noting that how much time you spend here is really going to depend a lot on how much time you spend in each area.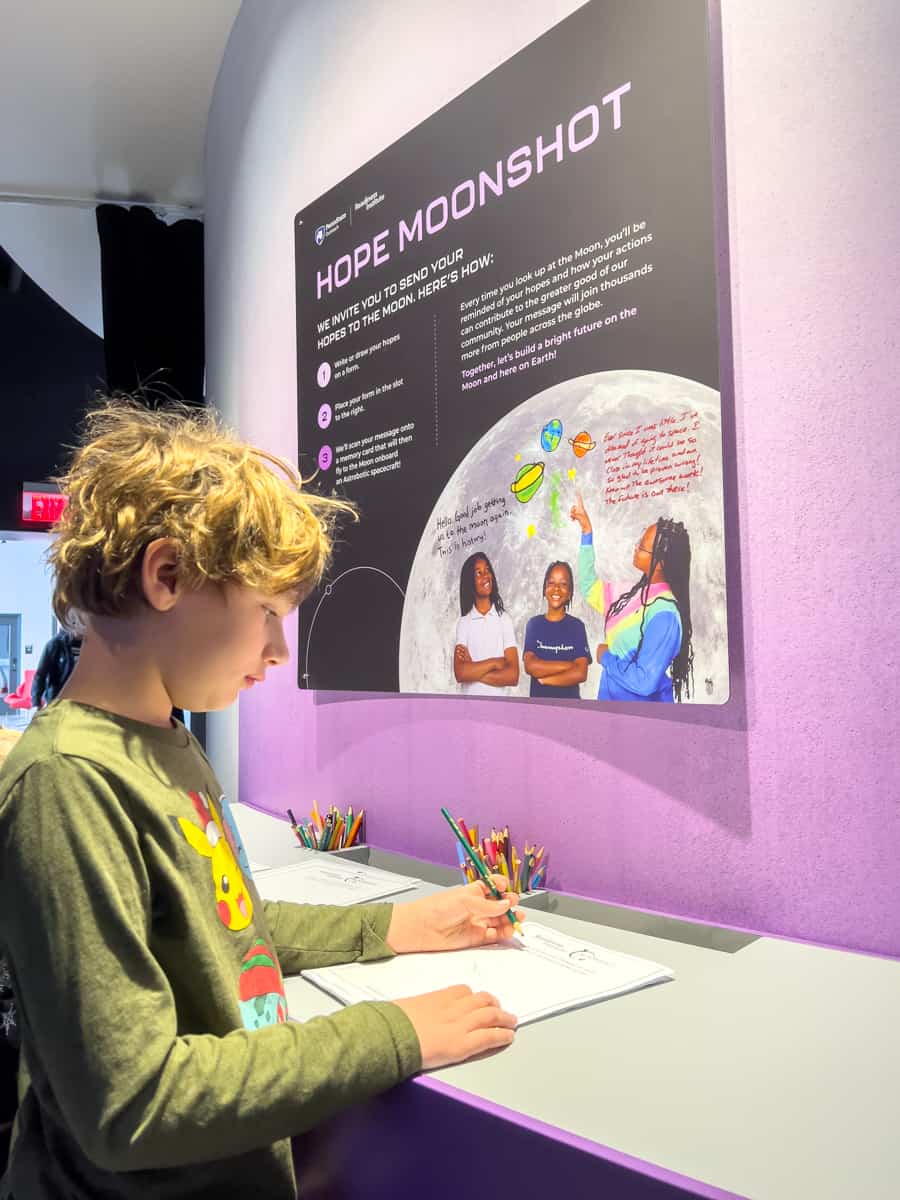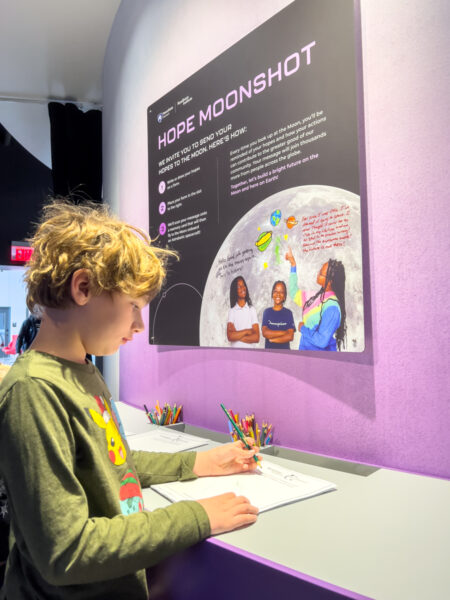 If you wanted to explore each activity, you could probably spend around an hour in the museum. On the other hand, if you don't do a lot of the interactive elements and just watch the movie and read the signs, you could be in and out in 15-20 minutes.
So, definitely plan on spending some time checking out the various activities when you visit the Moonshot Museum. And, if you do, I'm sure you'll have a fantastic time learning about the future of space exploration and Pittsburgh's role in it.
Looking for more places to visit nearby? Check out the Fort Pitt Museum, Randyland, and tours of PNC Park.
---
Moonshot Museum
Hours: Open Thursday-Sunday
May close for events at Acrisure Stadium.

Cost: Adults: $10, Kids: $5

Website: MoonshotMuseum.org

Address: 1016 N. Lincoln Ave
Pittsburgh PA 15233
See map for other area attractions.
---