Disclosure: This article may contain affiliate links. We will make a small commission from these links if you order something at no additional cost to you.
Stand outside of Randyland and you might think that it's a quirky art project and a great way to fix up a once-dilapidated house. However, when I asked owner and creator Randy Gilson what Randyland was, he responded with a very simple answer: "Randyland is a giant heart of love."
I pulled up to Randyland on a sunny September day. Even without my GPS telling me, I was able to instantly see Randyland from several blocks away.
Sitting on a street corner in a once-dilapidated area of Pittsburgh's Northshore, Randyland looks like a cross between Sesame Street and the Beatles' "Magical Mystery Tour."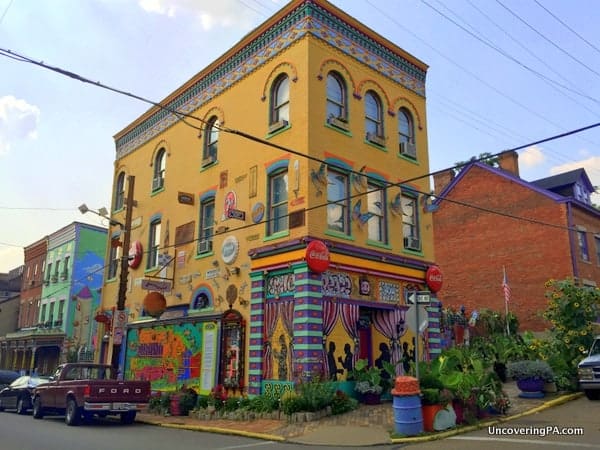 Gilson purchased the home now known as Randyland in 1995.
Dipping into his savings as a waiter, he purchased the home and began to clean it up. He had been working on cleaning up the neighborhood for almost 10 years at that point. Removing trash, setting up community gardens, and putting flowers in front of abandoned buildings got him in trouble with the police more than once, but his goal was always to make the neighborhood a better place to live.
Using his knack for recycling goods in unusual ways, Randy set to work creating the colorful Randyland.
Much of the decoration at Randyland is visible from the streets. The large three-story home at the corner of Arch and Jacksonia Streets is painted a bright yellow, with a variety of scenes painted around the home.
Behind the home, another home is painted a pastel green with several window scenes painted on the outside.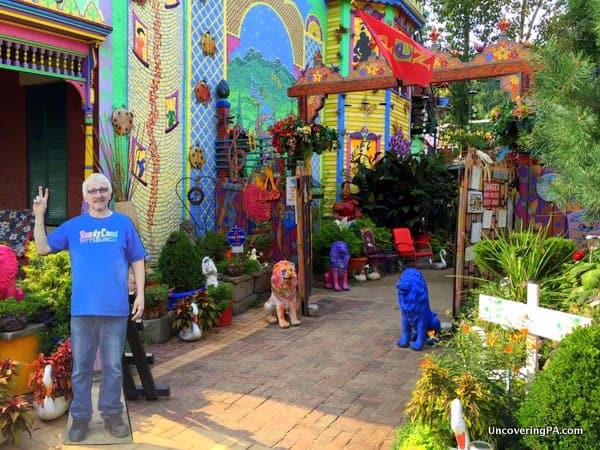 The two entrances are covered with a variety of recycled items that have been repurposed to create a beautiful art piece. When the gates are opened, a slightly-less-than-lifesize cutout of Gilson greets visitors to Randyland.
Walking into the back gardens of Randyland feels like walking into someone's home. Chairs and tables sit around the yard, and Gilson himself can often be found tending to his kingdom.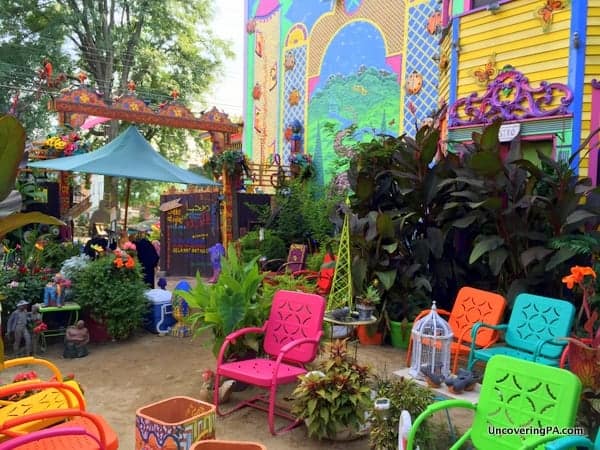 When I visited, Randy was high on a ladder painting the pergola in the center of Randyland.
Joining him was another painter who had the appearance of a serious French artist. I would only later find out that this assistant was a homeless man that Randy had hired even though he had never painted before. Despite this, Randy trained him and on several occasions called him, "The best painter I've ever had."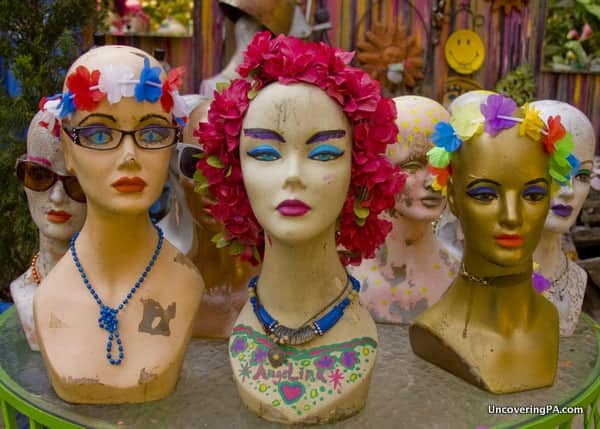 Introducing myself, I made the pleasant mistake of asking Randy a simple question, "So, when did you start Randyland?" Forty-five minutes later, Randy finished answering my question, after telling me about Randyland, his life story, and his philosophy.
It took me just a few seconds, however, to realize that Randy was the embodiment of Randyland. Gilson had a tough life growing up but has turned his life into an expression of happiness and joy, just like the recycled items that he has made colorful.
Randy told me on several occasions that he isn't a smart man, but the wisdom that he exudes makes it worth visiting.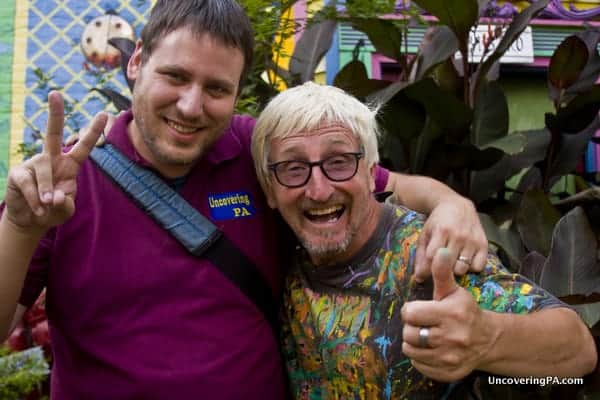 To separate Randyland from Randy really is quite impossible, and that's what makes Randyland Pennsylvania's happiest destination. There's no doubt that after spending a few minutes talking to Randy and walking through his elaborately created domain, you too will experience the beauty and happiness that is Randyland.
Looking for more fun in Pittsburgh? Head to Bicycle Heaven, experience the National Aviary, visit the Moonshot Museum, or check out the graffiti art at The Color Park.
---
Randyland
Hours: Daily: 12pm to 7pm

Cost: Free, Donations Accepted

Address: 1501 Arch Street
Pittsburgh, PA 15212
See map below for other area attractions.
---