Disclosure: This article may contain affiliate links. We will make a small commission from these links if you order something at no additional cost to you.
I'm always looking for great hikes near my home in Harrisburg. Browsing through my well-used copy of "60 Hikes Within 60 Miles of Harrisburg," I came across a hike through Fort Hunter Conservancy that promised great views of downtown Harrisburg. I knew I had to check it out.
Fort Hunter Conservancy is a 153-acre plot of land located a mile northeast of Fort Hunter Park and the Susquehanna River. While it is separated from the main park area by several miles, it was historically part of Fort Hunter.
The land was donated back to Fort Hunter in 1986 by Dr. J Wister Meigs so that it could remain a natural area for decades to come.
Today, this little-known wooded area provides a great respite from the city and offers one of the most commanding views of Harrisburg that you'll find anywhere.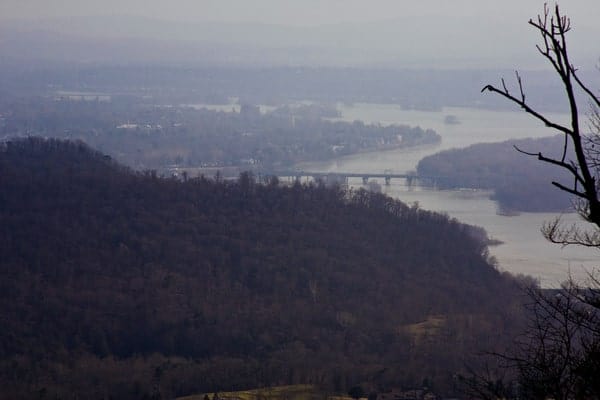 There is a one-mile-long trail at Fort Hunter Conservancy, though it isn't very well blazed. Fortunately, it follows along old, rutted logging roads, so it's fairly easy to find your way. The trail itself isn't especially difficult, though there are some slight elevation gains and the trail is very worn in places.
Overall, the standard loop here is a nice hike, but relatively uneventful. However, if you know where to go, you can turn this into one of the best and most challenging hikes in the region.
From the parking area, which is located off of Fishing Creek Valley Road (more information below), follow the trail up a dry creek bed for several hundred feet, until you come to a wooden platform in the middle of the woods. This platform not only makes a handy trail marker, but it also provides a nice vantage point for anyone attempting to see wildlife.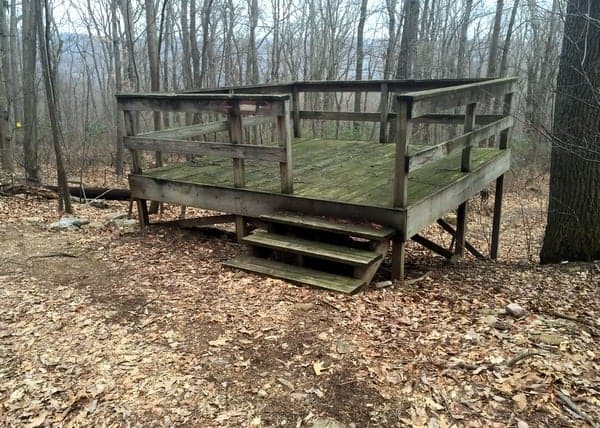 Directly behind the platform is an old logging road that extends in both directions. You can go either way, but for the purpose of this guide, with your back to the platform, head left to follow the trail clockwise. After a few hundred yards, you'll come to an intersection with another old logging road. Turn right and continue uphill along this very rutted road.
After about half a mile, the trail opens into a large clearing. Here, power lines run up to the top of Second Mountain in State Game Lands 211. Second Mountain got its very uncreative name because it is the second ridgeline outside of Harrisburg. Turn left and head uphill. Your destination is the top of this very, very steep mountain. (Should you wish to do the standard 1-mile hike, turn right to go downhill and follow directions further down the page.)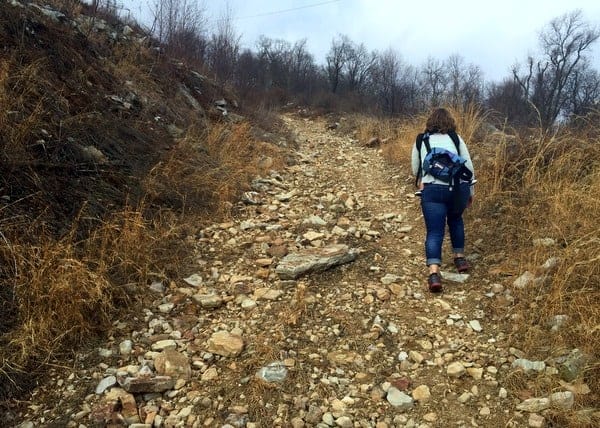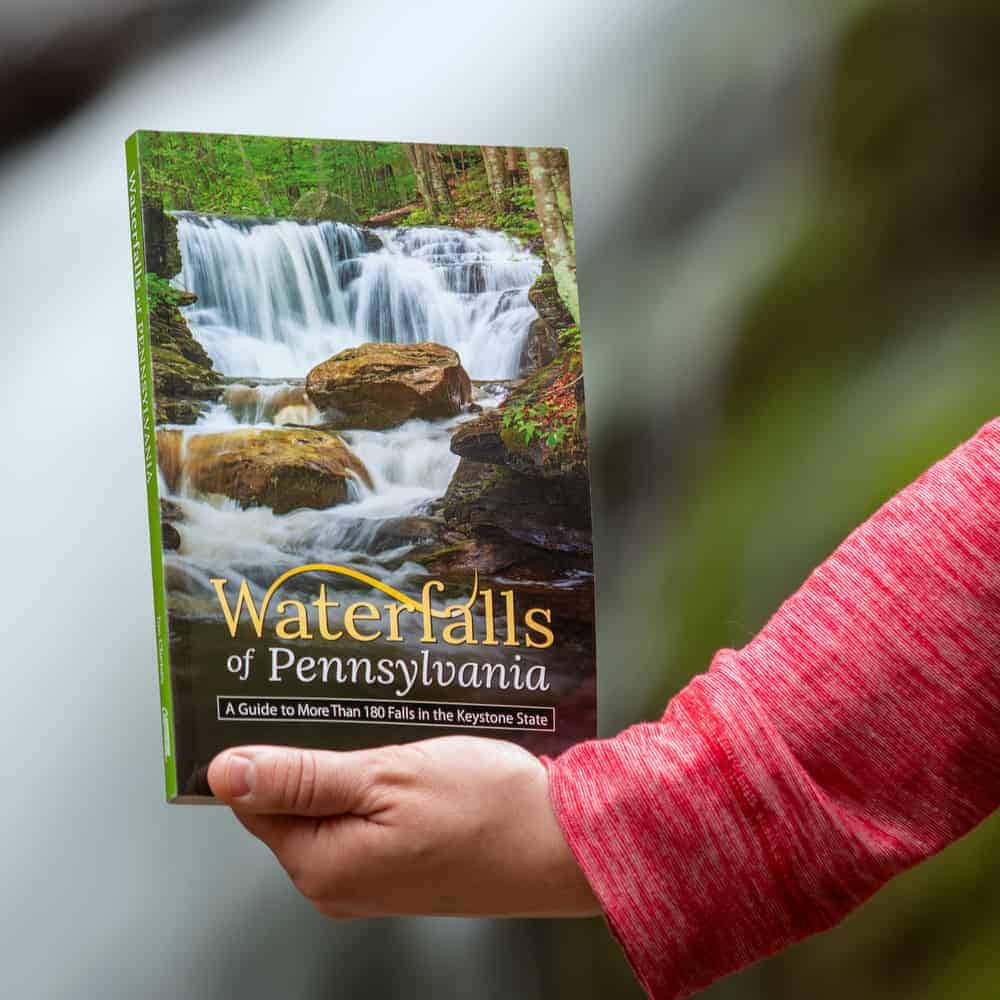 "Waterfalls of Pennsylvania" by Jim Cheney
If you love PA waterfalls, you won't want to miss this waterfall book from Jim Cheney, author of Uncovering PA, featuring more than 180 great waterfalls. Order it now on Bookshop.org or Amazon.
To be honest, the hike up Second Mountain is one of the most tiring hikes I've done in the state. While there is a series of switchbacks going up the hill, there is little break from the constant uphill. It's also worth noting that while I didn't see any during my hike, I've been told that the rocky hillside here is home to rattlesnakes, so make sure to use caution.
As you proceed to the top of Second Mountain, the view keeps getting better and better. About halfway up the mountain, you can see over Blue Mountain to your south and into downtown Harrisburg. However, keep going, as the best views are from the top of the mountain.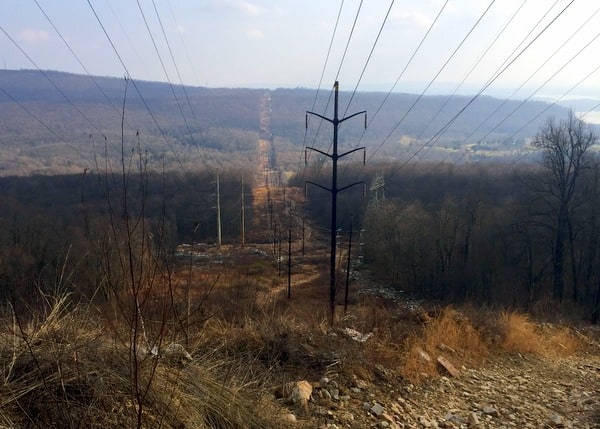 From the top of Second Mountain, you have a commanding view over the Susquehanna River Valley into downtown Harrisburg. On a clear day, you can make out the downtown area, including the Pennsylvania State Capitol. It's also possible to see the Interstate 81 bridge over the river. Turning around, the mountaintop also provides a nice view of Stony Creek Valley to the north.
To the east and west, the mountaintop is heavily forested. While I didn't see any trails, I've been told that it's possible to head west towards the Susquehanna River for a great view of the Dauphin Narrows, Statue of Liberty, and Rockville Bridge.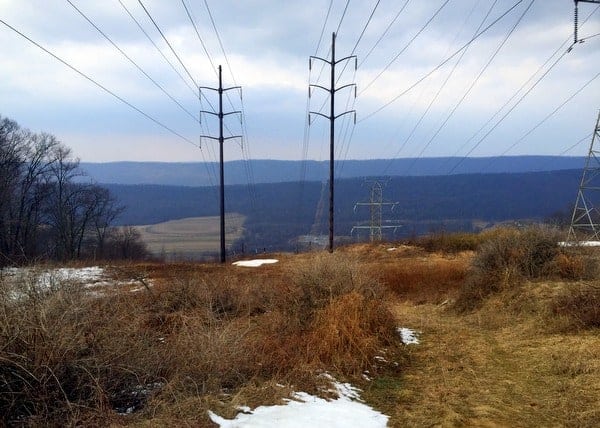 Once you're done soaking in the views, head back down the mountain the way you came.
To complete the loop, head past the trail that you took to the clearing and follow the trail below the power lines downhill a few hundred feet further. You will eventually come to an opening on your right with an obvious, but unmarked, trail.
Follow this trail for about 10-15 minutes until you reach the wooden platform. At the platform, head downhill to get back to your car.
The hike to the top of Second Mountain and through Fort Hunter Conservancy is one of the best hikes in the Harrisburg area. Not only do you get to enjoy a protected area that few know about, but you also get to see Harrisburg from one of the best vantage points anywhere.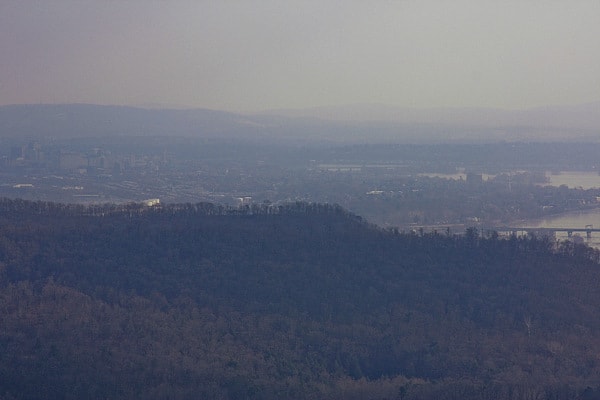 If you can manage the very strenuous climb to the top of Second Mountain, this is definitely a great way to spend a few hours on a clear day and is one of the best outdoor destinations in the region.
How to Get to Fort Hunter Conservancy
Fort Hunter Conservancy is located off of Fishing Creek Valley Road (Route 443), a mile northeast of Fort Hunter and less than two miles southwest of Boyd Big Tree Preserve Conservation Area.
To access the trailhead, make a left turn (if coming from Fort Hunter and Everhart Covered Bridge) onto Camp Reily Road, which is just after the Harrisburg Country Club.
The parking area is next to a small wooden staircase just before the road becomes private. There is enough room for several cars to park. The parking area is located at approximately the following coordinates: 40.358888, -76.903121.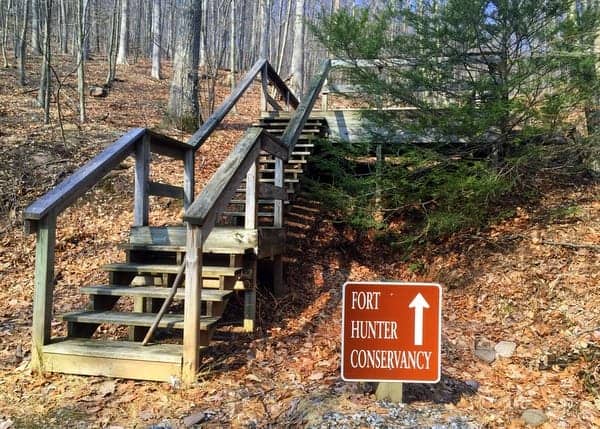 When hiking in Fort Hunter Conservancy and along Second Mountain, keep in mind that you will either be adjacent to or in State Game Lands 211 during this hike. During hunting season, make sure to take the necessary precautions as, given its proximity to Harrisburg, this is a popular hunting area.
The Fort Hunter Conservancy has put together a map that shows the basic one-mile hiking trail. Remember to head uphill at the power lines to see the view of Harrisburg.
For more information on other hikes in the Harrisburg area, check out one of my favorite resources: "60 Hikes within 60 Miles of Harrisburg."
[Click here for information on how to use the coordinates in this article to find your destination.]
See map below for other area attractions.