Disclosure: This article may contain affiliate links. We will make a small commission from these links if you order something at no additional cost to you.
When it comes time for Christmas in Pennsylvania, many cities and towns across the state go all out in their celebrations. However, with so many places to choose from, how do you know what christmas things to do in Pennsylvania?
To help you, I've put together a list of my top 10 recommendations for places in Pennsylvania to get yourself in the Christmas spirit. While I haven't visited everywhere on this list myself, the ones I haven't visited have come highly recommended to me, including by readers of this site.
So, before you finalize all your travel plans for the holiday season, check out our list of the top Christmas destinations in Pennsylvania:
(All dates updated for 2018.)
Market Square and PPG Place in Pittsburgh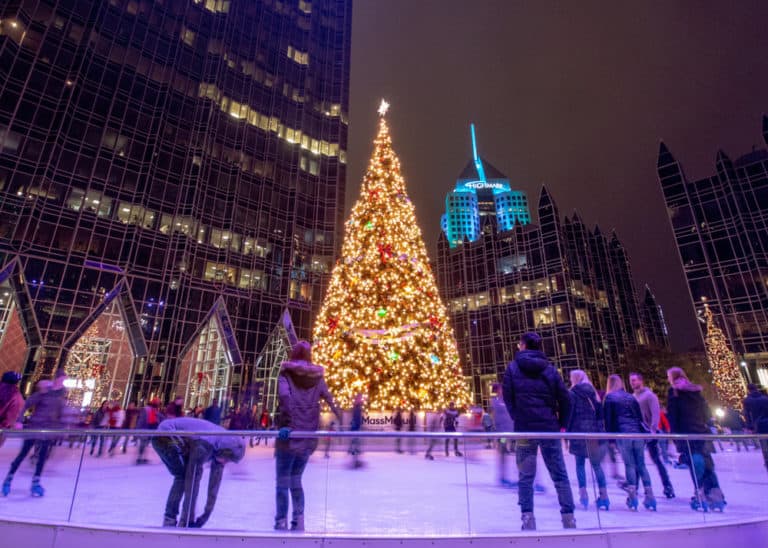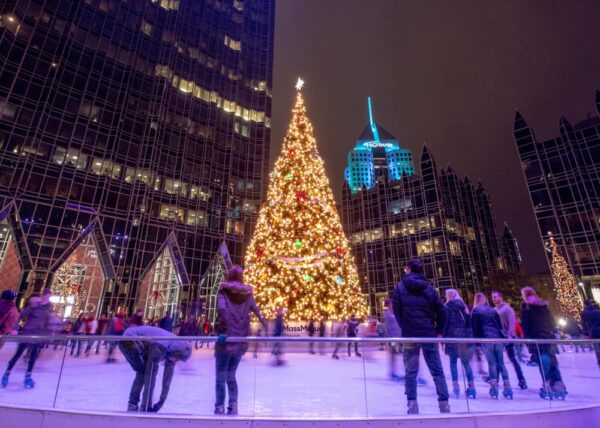 The heart of Christmas in Pittsburgh can be found at Market Square and PPG Place. The two squares, which are basically right next to each other, make for a great destination for anyone looking for Christmas things to do in Pittsburgh.
In Market Square, shop at the authentic German Christmas market from November 22 – December 23. Explore the many shops, taste some German snacks, and even visit Santa all in the confines of a quaint Christmas market.
Once you are done, walk the short distance to PPG Place to see Pittsburgh's Christmas tree and show off your skills while skating around the rink that encircles it. The ice rink is open from November 22, 2019 through late March 1 2020, but enjoy early to see the giant Christmas tree centerpiece.
Mifflinburg Christkindlmarkt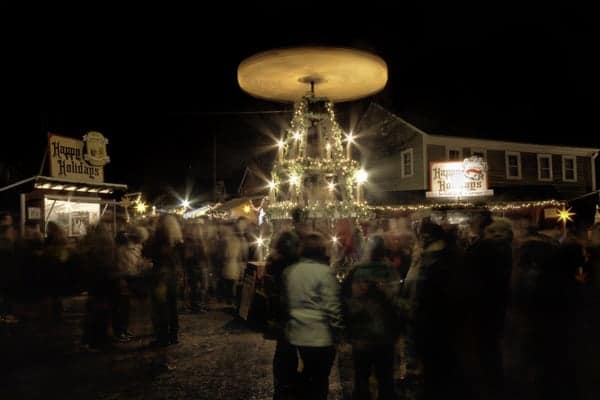 The Christmas Market in Mifflinburg is an amazing experience that any lover of the season should experience. While I've never been to Germany to see their Christmas markets, this is exactly what I've always imagined they are like.
Even better, the Christmas market in Mifflinburg claims to be the oldest, authentic German Christkindl Market in the country, and I have no reason not to believe them.
Unlike many of the Christmas markets in larger cities, the one in Mifflinburg is only open three days a year (in 2019, it's open December 12-14). Because of this, it can get a bit crowded, but it's worth braving the crowds to experience this great tradition.
Dickens of a Christmas in Wellsboro
There are few more famous Christmas books than "A Christmas Carol" by Charles Dickens. And for one weekend every December (December 6-7 in 2019), the community of Wellsboro in northern Pennsylvania turns back the clock to Christmas in the Victorian era of Dickens.
Visitors can stroll the streets as costumed actors and carolers bring this era to life. Vendors and shops line the streets in downtown Wellsboro with food and great holiday gifts. At night, the celebration ends with the lighting the community Christmas tree.
To find out more about this fantastic event during Christmas in Pennsylvania, check out its website.
Wanamaker Organ in Philadelphia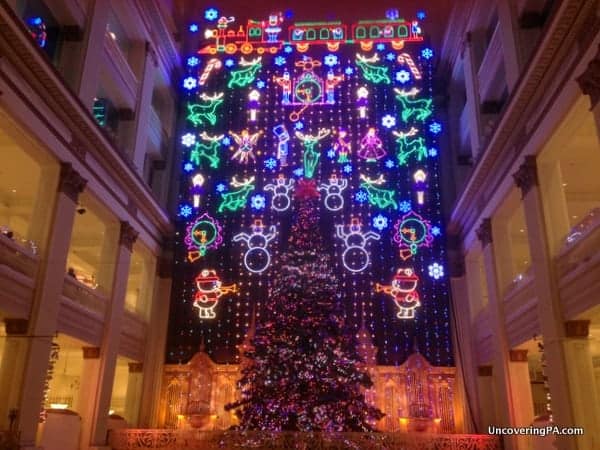 Located inside of the Macy's Department Store across the street from Philadelphia's City Hall, the Wanamaker Organ is the largest, functional pipe organ in the world. During the year, it puts on daily concerts which are simply beautiful.
However, during the Christmas season they turn it up a notch with Christmas carols and a wonderful light show, all in the atrium of the department store. Make sure you visit for the noon show Monday-Saturday, as the Wanamaker Organ puts on a live show after the completion of the light show.
When you visit, it's also worth heading upstairs to the 3rd floor Dickens Village, where you can walk through some of the most memorable seasons from "A Christmas Carol." I was really impressed with the effort put into recreating the details of this classic story. (Click here to uncover more great Christmas things to do in Philadelphia.) Events run November 29 through the end of the year.
It's a Wonderful Life Festival in Indiana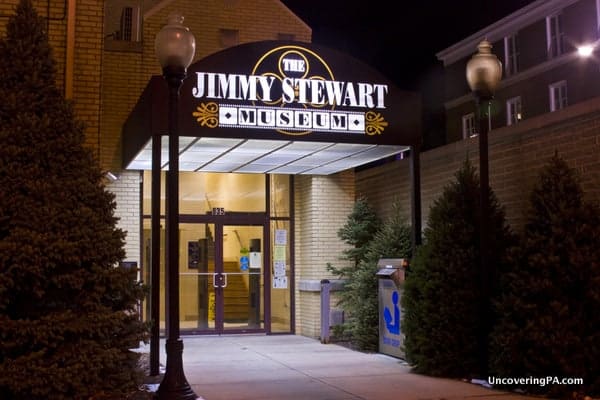 Of all the Christmas movies ever made, one of the most classic is "It's a Wonderful Life" starting Indiana, Pennsylvania-native Jimmy Stewart.
Today, Stewart's hometown is home to The Jimmy Stewart Museum. Located in the heart of downtown Indiana, the museum really ramps up at Christmas time as visitors come to learn about about not just Stewart's famous Christmas movie, but his entire life and career.
Since the museum is located in downtown Indiana, checking out the rest of the area is quite easy. Many of the shops downtown are decorated for the holidays, making Indiana a great Christmas destination, especially during their It's a Wonderful Life Parade, which is being held on November 22, 2019. If you can't make it for the parade, other festive events will be going on each weekend during the holiday season.
Hersheypark's Christmas Candylane in Hershey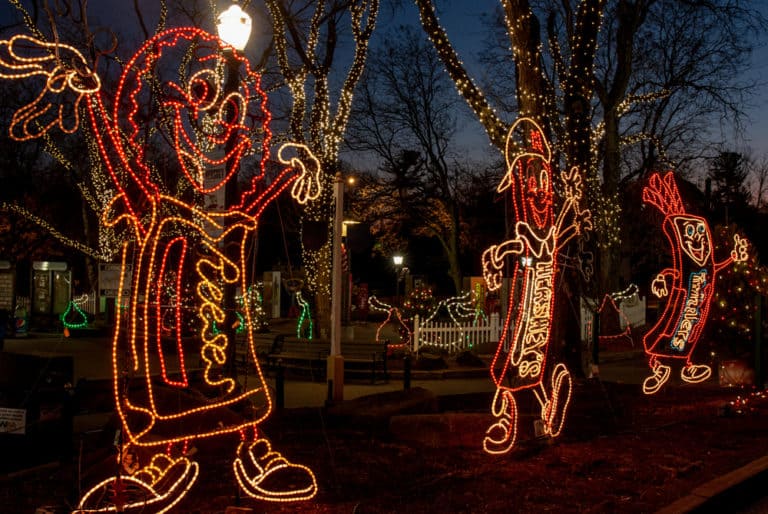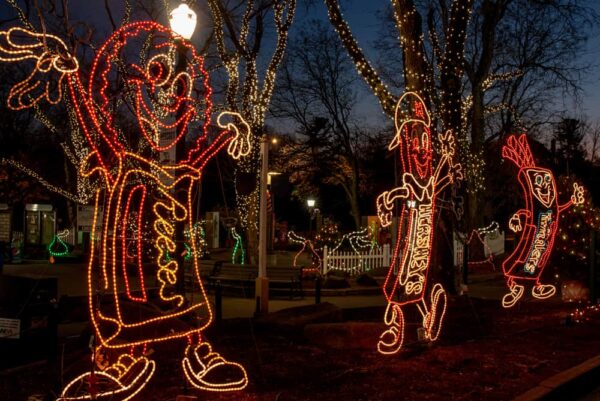 Featuring more than two million lights, Christmas Candylane at Hersheypark is a great place to get in the holiday spirit. Whether you want to ride some of the park's rides or simply gaze the beautiful lights, there's something for everyone to enjoy at the park.
I'm honestly not a huge fan of amusement parks, but I really enjoy visiting Hersheypark at Christmas time for the wonderful displays, sounds, and smells. Christmas Candylane is open November 15-January 1, the same dates as the nearby Hershey Sweet Lights. Also check out my favorite holiday attractions in Hershey and Harrisburg.
Longwood Gardens in Kennett Square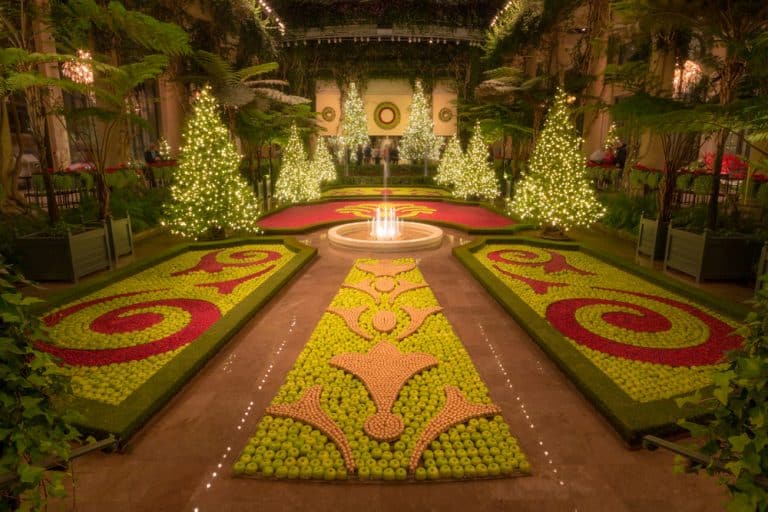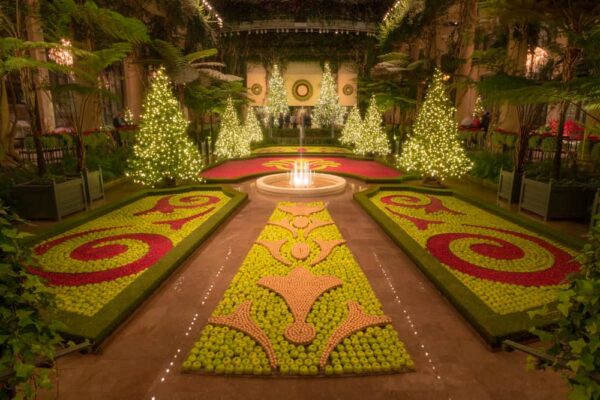 Longwood Gardens is one of the most beautiful gardens in the entire country, and during the holiday season, it gets all dolled up for Christmas. Outside, 500,000 lights brighten up the gardens, while fountains dance to the sounds of Christmas music. Inside, rooms are set up with a variety of Christmas trees and other holiday displays.
While the crowds might be a bit crazy, a stroll through Longwood Gardens is sure to put you in the Christmas spirit. "A Longwood Christmas" runs from November 22, 2019 through January 5, 2020.
For more information, check out our full article on Christmas at Longwood Gardens.
Christmas in Downtown Bethlehem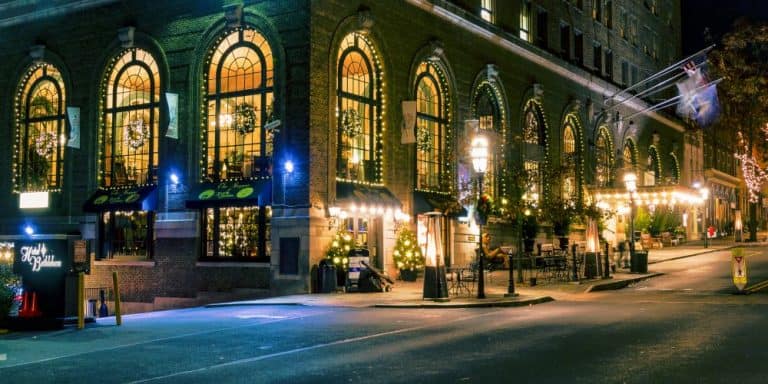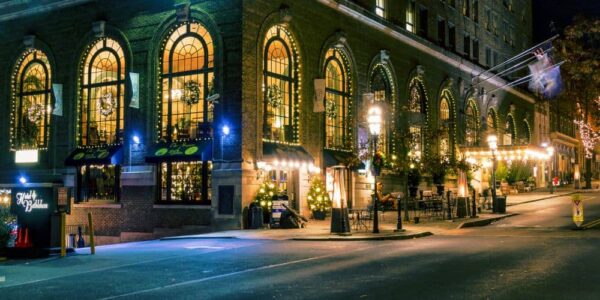 Bethlehem is one of the most heralded Christmas destinations in Pennsylvania and is known as "Christmas City USA." However, when I visited a few years ago, I was left quite underwhelmed with their well-known Christkindlmarkt. After visiting the market, though, I headed into downtown Bethlehem, and I discovered a quaint small town that screamed "Christmas City USA."
The shops in the downtown area feature a wide-variety of items, making it a great place to do your Christmas shopping. Even better, there is a small, traditional Christkindlmarkt called "Christmas City Village" in the downtown area. The village is open Fridays, Saturdays, and Sundays from November 17 – December 23.
So, while you might want to skip the expensive and inauthentic Christkindlmarkt, check out our top picks for things to do in Bethlehem during the holiday season.
Koziar's Christmas Village Near Reading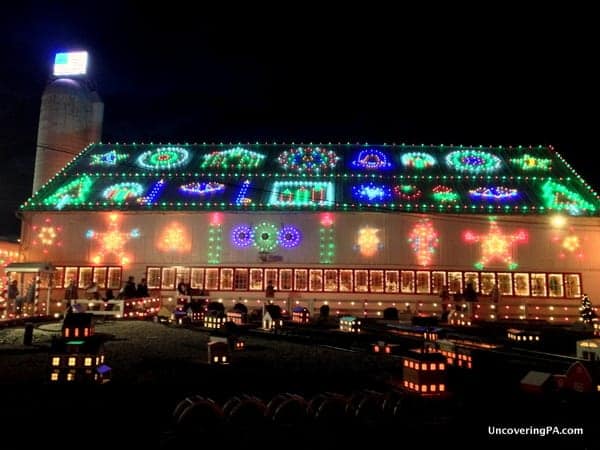 Started in 1948 for the enjoyment of the Koziar family, Koziar's Christmas Village has grown into one of Pennsylvania's best Christmas destinations.
The lights and displays at Koziar's are quite intricate and feature everything form an outdoor model trail to a scenes from various Christmas stories. Tens of thousands of lights are strung up throughout the village, creating a scene that is simply magical.
This is a great Christmas destination for kids because there is always something new and exciting around the next turn to keep them occupied. Click the link to read my full review of Koziar's Christmas Village. Koziar's Christmas Village is open November 2, 2019 through January 1, 2020.
Olde Time Christmas in Jim Thorpe
The Carbon County borough of Jim Thorpe is worth visiting any time of the year. However, at Christmas time the town turns itself into an old time Christmas village.
The official events take place during the first and second weekends in December and include a beautifully decorated downtown, roaming carolers, train rides, Christmas contests, and more. There are even extended hours at many of the shops and restaurants in the downtown area.
There are few places in the state that can compete with the quaint Christmas atmosphere of Jim Thorpe, Pennsylvania.
Do you have a favorite Christmas thing to do in Pennsylvania? Let us know in the comments section below!
Looking for more great things to do during the holiday season in PA? Check out Kraynak's Christmas display in Hermitage and the Winter Light Spectacular near Allentown.
(Article updated to reflect 2019 holiday season operating dates in October 2019)