Disclosure: This article may contain affiliate links. We will make a small commission from these links if you order something at no additional cost to you.
Northwestern PA's Oil Creek State Park is best known for its amazing history. However, for those that love nature, there are also many beautiful spots in the park. One such spot is Plum Dungeon Falls.
Plum Dungeon Falls is located on the northeastern portion of the park along the Gerard Hiking Trail. While this is a 36-mile trail that encircles Oil Creek State Park, it only requires a hike of a bit less than a mile one way to reach this scenic waterfall.
It's worth noting two things right upfront, however, about Plum Dungeon Falls.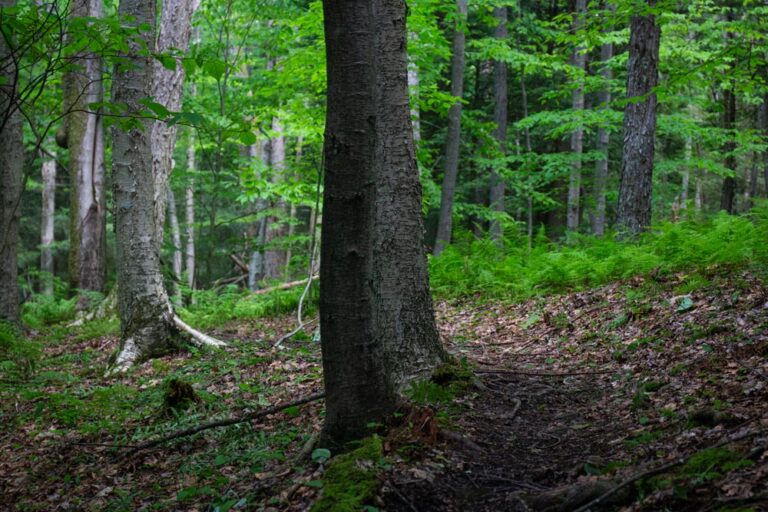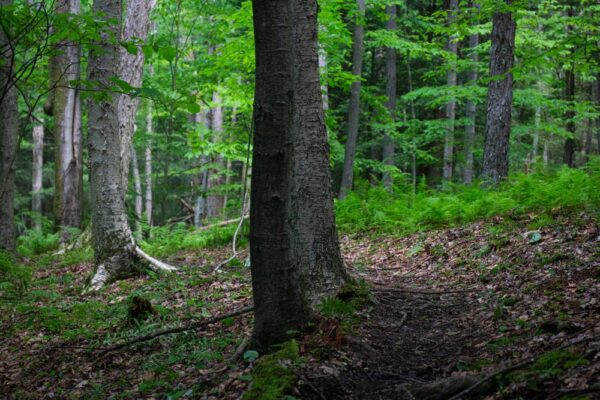 First off, like Pioneer Falls, another waterfall in the park, Plum Dungeon Falls is a seasonal waterfall. Because of this, you'll want to visit in the spring or when water levels are especially high
Second, Plum Dungeon Falls can really only be seen from a distance. While it might be possible to find a route down to creek level, there is no easy or obvious way to do this. Expect to peer about 100 or so yards to see Plum Dungeon Falls.
Both of those being said, the hike to Plum Dungeon Falls is quite beautiful, and it makes for a nice hiking destination while in the park.
How to Get to Plum Dungeon Falls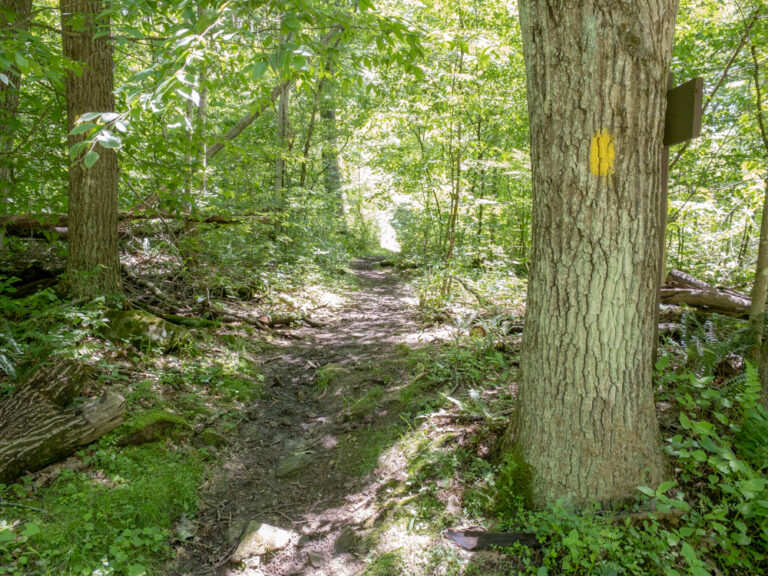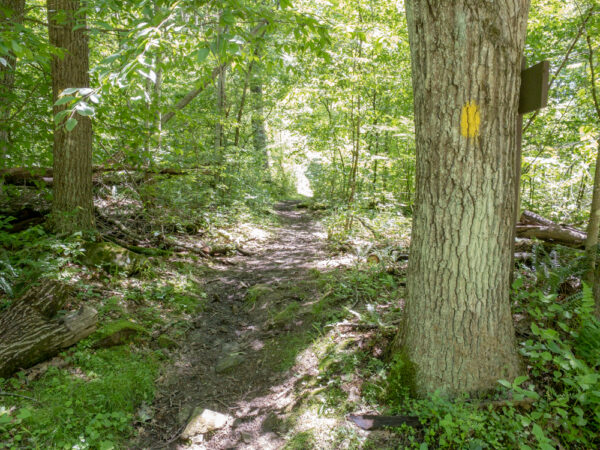 The closest trailhead to Plum Dungeon Falls is located along Miller Farm Road on the eastern banks of Oil Creek. If you are coming from the western side of the park, you'll pass right by the trailhead for Miller Falls, so make sure to check that out as well.
Miller Farm Road is a dirt road and, for the most part, is in good condition. However, there are some large ruts in the road in spots. When I've visited, I've always been able to handle the road in a standard car, but definitely use caution.
The parking area for Plum Dungeon Falls can be found at the following coordinates: 41.564617, -79.651783. (Note that, at the time of publication, Google Maps shows the parking area at the wrong spot directly adjacent to the bridge.)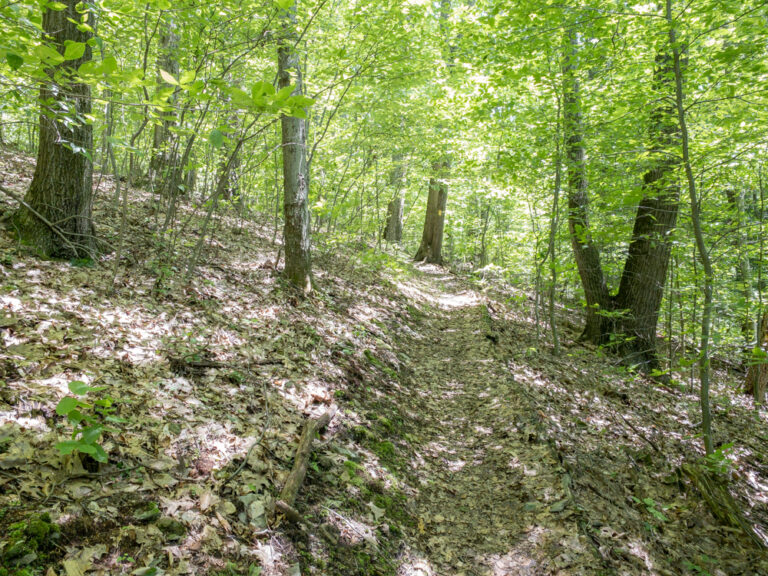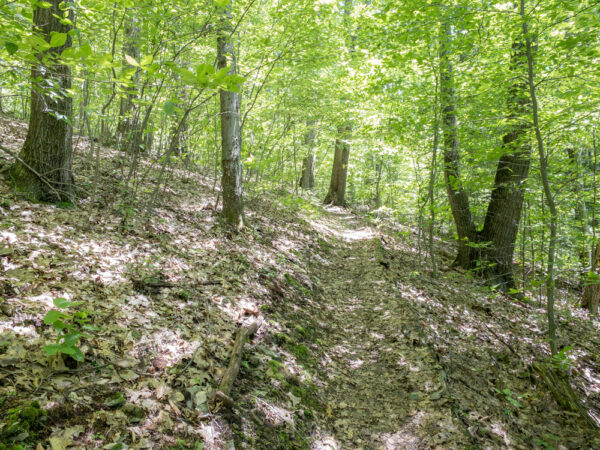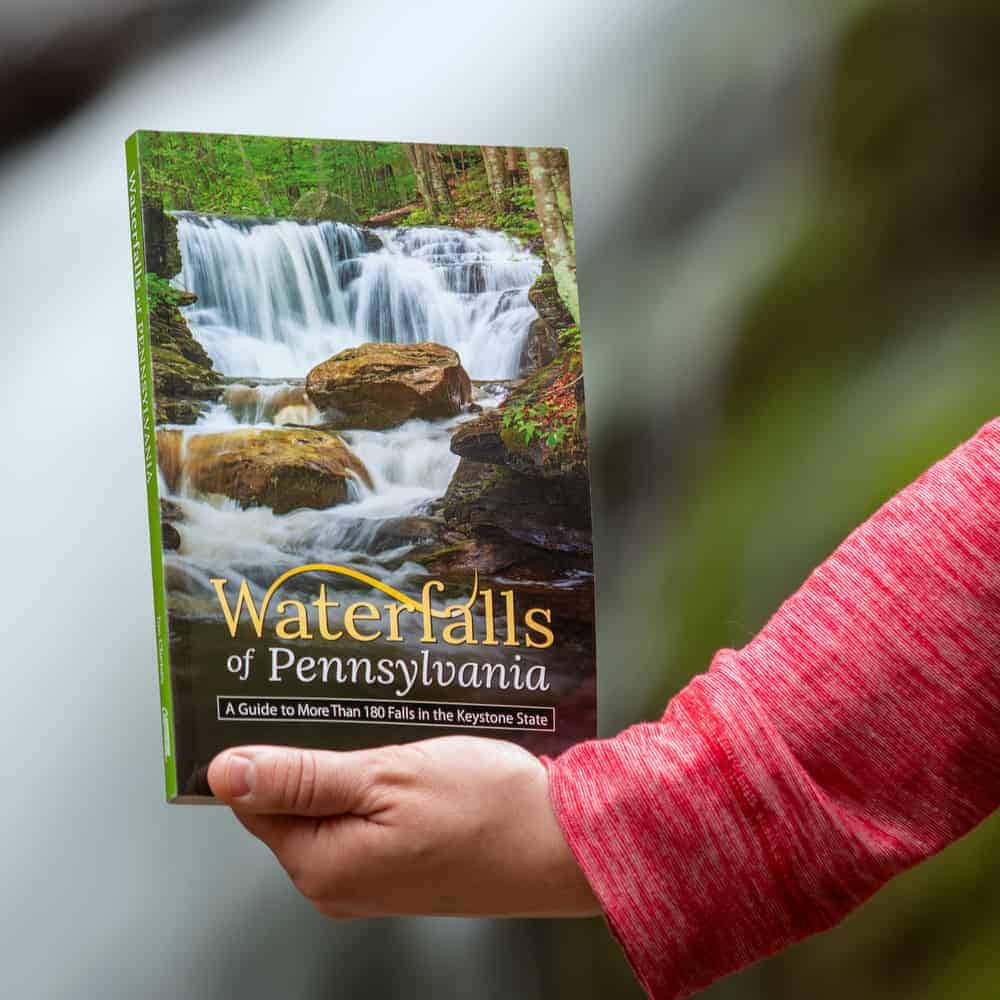 "Waterfalls of Pennsylvania" by Jim Cheney
If you love PA waterfalls, you won't want to miss this waterfall book from Jim Cheney, author of Uncovering PA, featuring more than 180 great waterfalls. Order it now on Bookshop.org or Amazon.
From the parking area, cross the road and pick up the Gerard Trail as it heads into the woods. The trail starts off flat but quickly starts gaining elevation climbing 200 feet in the first third of a mile.
If it's been raining a lot recently, this part of the trail can also be fairly muddy.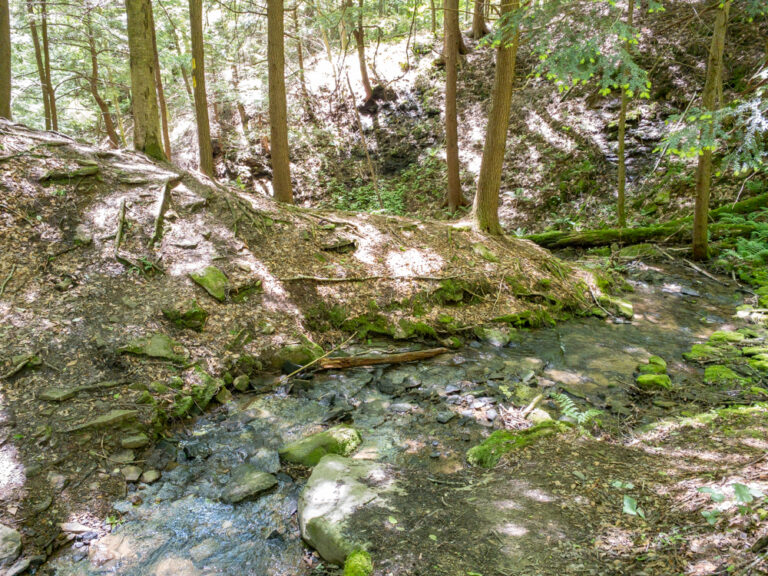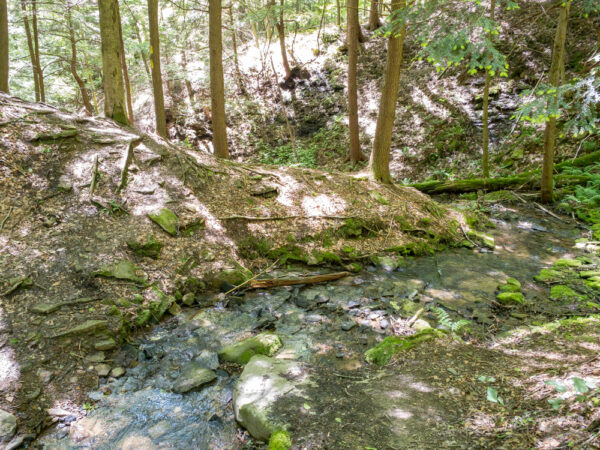 The last two-thirds of the trail is relatively flat and meanders along the edge of the park. Between 0.6 and 0.75 miles from the trailhead, you'll cross six small and usually dry stream beds, only one of which has a bridge.
Once you cross the last dry stream, it's a short climb to the top of the rise and the view of Plum Dungeon Falls. There is a wooden bench along the trail to mark the spot so you don't miss the waterfall.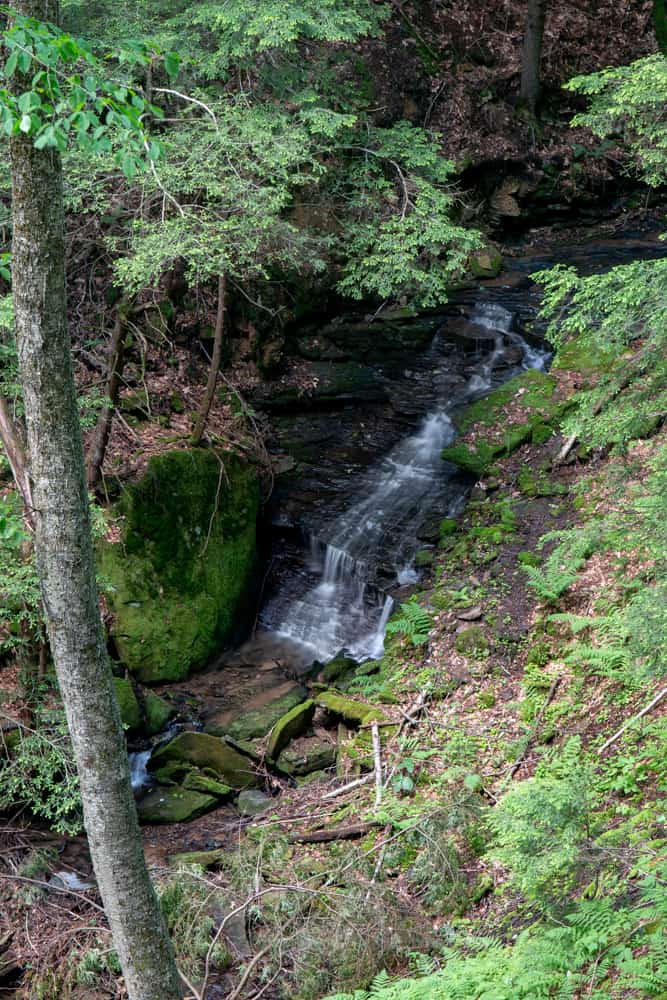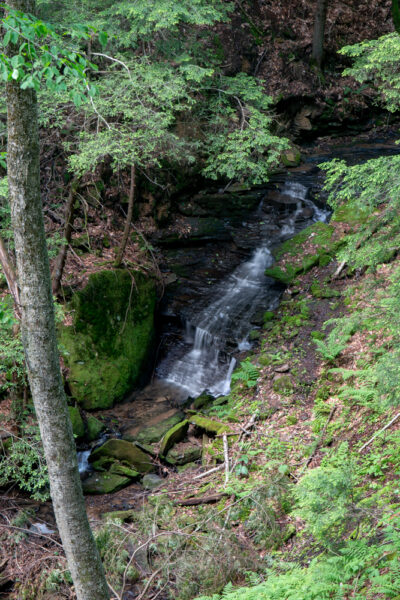 For those that like to use coordinates when they hike, you can find the viewing area at the following coordinates: 41.556694, -79.645139.
As noted before, Plum Dungeon is located deep in a ravine about 100 yards from the viewing area and is best seen after heavy rain as it can run dry during much of the year. It is only about 10-12 feet tall, but it is still quite a beautiful waterfall.
Once you're done enjoying this scenic spot, you could continue hiking further on the Gerard Hiking Trail if you'd like, but I simply opted to turn around and return to my car making for a hike of about 1.8 miles.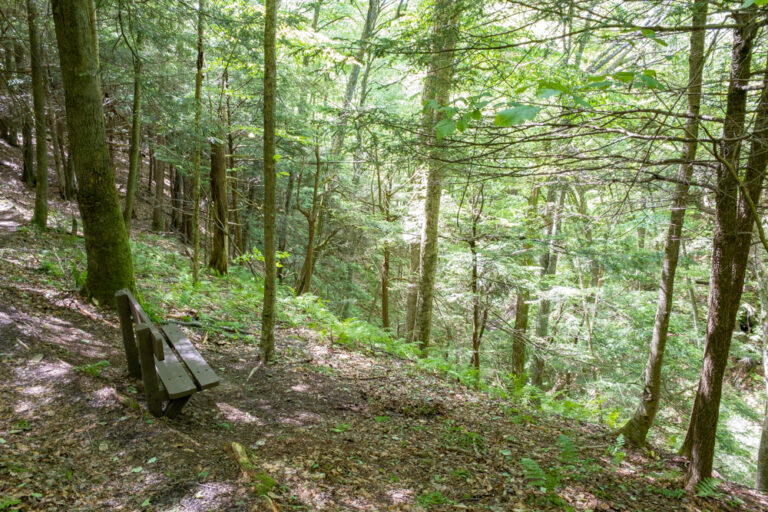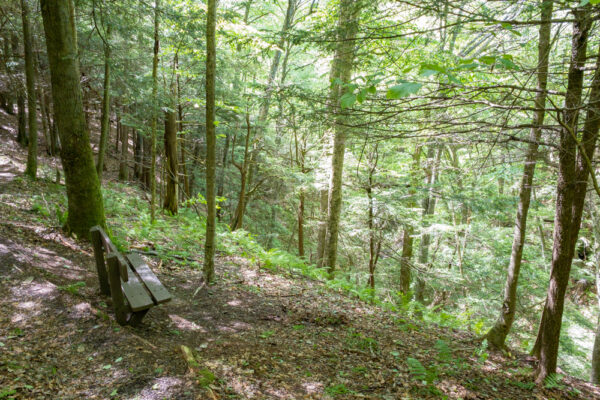 While Plum Dungeon Falls isn't one of the best things to do in Venango County, it's a nice hiking destination if you are exploring Oil Creek State Park.
So, if you are looking to explore some of the hidden gems of PA's Great Lakes Region or enjoy uncovering PA waterfalls, make sure to hike the Gerard Trail to Plum Dungeon Falls.
Looking for more places to visit nearby? Check out the Drake Well Museum, the Oil Creek and Titusville Railroad, and the Venango Museum of Art, Science, and Industry.
[Click here for information on how to use the coordinates in this article to find your destination.]