Disclosure: This article may contain affiliate links. We will make a small commission from these links if you order something at no additional cost to you.
When I'm traveling throughout Pennsylvania, I'm always on the lookout for unique places to stay. So, when I visited Huntingdon County and Lake Raystown, I started looking for places to stay that were right on the lake, the largest that's entirely within Pennsylvania.
I was surprised to discover that finding somewhere on the lake was rather difficult. In fact, other than a few campgrounds, there was only one option for a lakefront cabin and hotel rental: Lake Raystown Resort.
When planning my trip, I was excited that the resort offered to host me during my stay in the area. This gave me the chance to check it out and let you know if you should stay at Lake Raystown Resort if you are looking for a summer getaway on Raystown Lake.
Officially known as Lake Raystown Resort, Lodge, and Conference Center – An RVC Outdoor Destination, the resort is located on the southern half of the lake, close to both Trough Creek State Park and Tatman Run Recreation Area. While this location is far from things like shopping and dining, it does give you several excellent places to visit for outdoor recreation.
Lake Raystown Resort is a large complex that features nearly every kind of imaginable lodging experience. If you want to camp or bring your RV, they have space for that. Or, if you want a waterfront cabin or even a modern hotel room, they have those as well. The number of lodging options at the resort really is quite remarkable.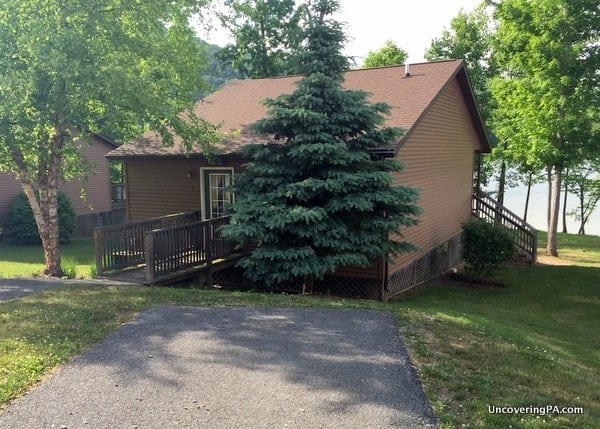 It's worth noting, however, that because they cater to so many different styles, there is a limited number of each lodging option. If you really have your heart set on something specific, it's best to book early or come during their low season.
During my stay, I had the chance to stay in a Villa, their nicest lakefront lodging. There are 25 villas that are together on their own peninsula, a good distance from the rest of the resort. Of these, 12 are labeled as waterfront and are directly on the water.
Inside, the villas feature a small kitchen, with a full-size refrigerator, stove top, and microwave. The living room features some comfortable seating and a table with bench seating. There are also two bedrooms and a shared bathroom.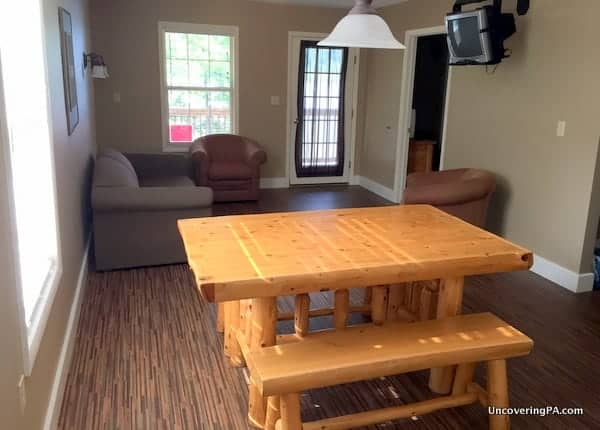 The villas are clean and spacious, and the ones on the water feature great views of the lake from their balconies. Every villa has a picnic table and fire pit outside, but for some reason, other outdoor furniture isn't provided. I would have really liked to have had even a couple of plastic chairs on the balcony so that there was somewhere to sit on the balcony.
While this was a strange exclusion to me, it really was my only complaint about my lodging. However, for those that don't like bugs, it's worth noting that the villas have a lot of fairly large spiders around them. While this is certainly to be expected given their wooded setting, it's worth keeping in mind.
To see the rest of the resort, I took a tour with Samantha Kozak, the General Manager and co-owner of the property. During our tour, she showed me around the different lodging options on the property, as well as some of their amenities.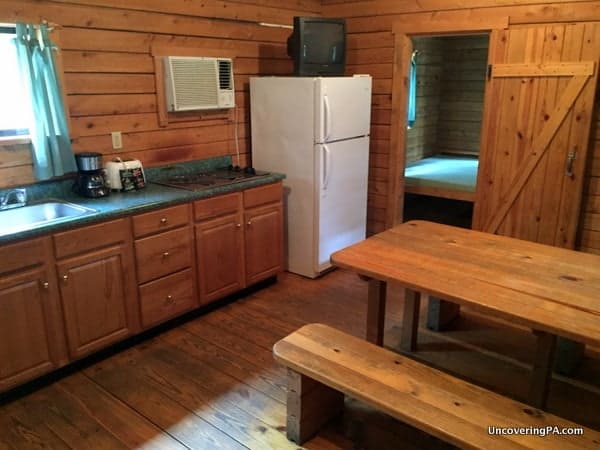 Lake Raystown Resort is really like a mini town on its own, with several general stores providing both food and camping necessities, two restaurants, a marina, the Proud Mary Showboat (which offers sightseeing tours of Raystown Lake), and even a water park.
The rustic cabins and camping areas are located on a separate peninsula from the villas and lodge. The spaces range from wooded, hillside locations to lakefront, but all are within close walking distance of Raystown Lake and most have at least a partial water view.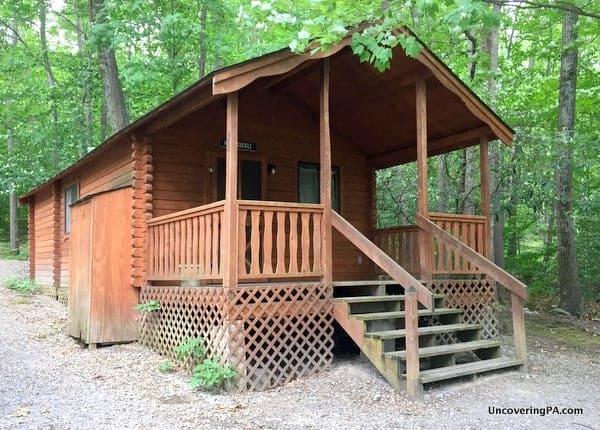 What impressed me as I walked among the different cabins, yurts, and camping sites was the quality and cleanliness of them. While some of them may have been rustic, they were certainly well taken care of.
Lake Raystown Resort is also home to a lodge the has everything from basic hotel rooms to modern rooms that you'd expect to find in a big city. While set away from the lake, these rooms are a great choice for those staying at the resort who are looking for a less rustic experience on the property.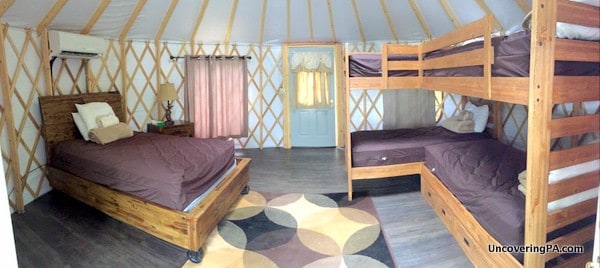 The resort is also home to the WildRiver Waterpark. The park is home to several water slides, a small swimming pool, and a splash area. Unfortunately, because it is on the small side, it is not included in the price of staying at the resort.
While I wasn't able to experience the park myself, it does look like a lot of fun, and I hope I have the chance to go back and ride the water slides.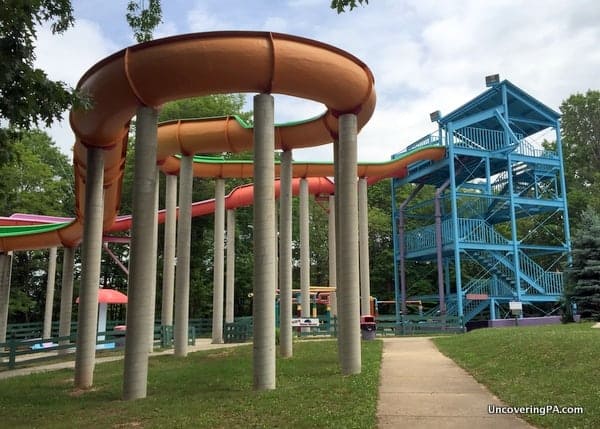 For those looking to go for a swim, Lake Raystown Resort does have a small beach located near the campground. The water here is a nice temperature and is great for cooling off at the end of a long day.
Overall, I really enjoyed my experience at Lake Raystown Resort. When I found out that they were the only choice for lakefront cabins, I was afraid that they might not try as hard. However, they haven't let this fact deter them from making their area of the lake a special place to visit.
If you're looking for a great lake experience for your summer vacation, I'd definitely recommend checking out Lake Raystown Resort. I know that I can't wait to visit again the next time I visit Huntingdon County, Pennsylvania.
For more information on Lake Raystown Resort's rates, availability, and amenities, visit their website. You can also read real user reviews of the hotel TripAdvisor.
Note: My stay at Lake Raystown Resort was hosted by the resort. However, the opinions expressed are my own.
See map below for other area attractions.