Disclosure: This article may contain affiliate links. We will make a small commission from these links if you order something at no additional cost to you.
From the photos I had seen online, Springfield Falls in
Mercer County
looked like one of the most interesting waterfalls in Pennsylvania.
At roughly 20-feet high and 40-feet wide, Springfield Falls (also known as Leesburg Falls) was unique for having a width that nearly doubled its height. There are a few other waterfalls in Pennsylvania that have this same distinction (like the nearby Freedom Falls), but they are certainly uncommon.
While many waterfalls look best at times of high water (like Table Falls or Cucumber Falls), other waterfalls lose all of their character when photographed in very high water. Springfield Falls is one of the latter.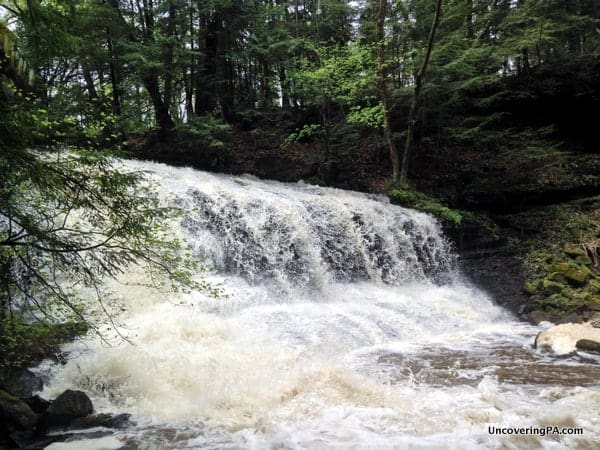 Normally, Springfield Falls offers a scenic rock face with several tiers of falls. However, if water levels are especially high, as they were during my first visit, the waterfall can lose a bit of its shape. Of course, if water levels are too low, that creates its own problems. However, no matter when you visit, this is still an impressive sight.
Springfield Falls is located only about 100 feet from the parking area on state game lands. Views overlooking the waterfall from above are quite easy to reach and offer a nice vantage point to see the falls. However, if you want to get down to the bottom of the waterfall, that's another story.
A steep ravine is the only access to the falls. And, while it's possible to get to the bottom, it certainly isn't the easiest waterfall to reach, especially if you carry a camera and tripod like I do. However, with a bit of care climbing down the roots, rocks, and trees that make up the hillside, it's possible to get to the best views of Springfield Falls.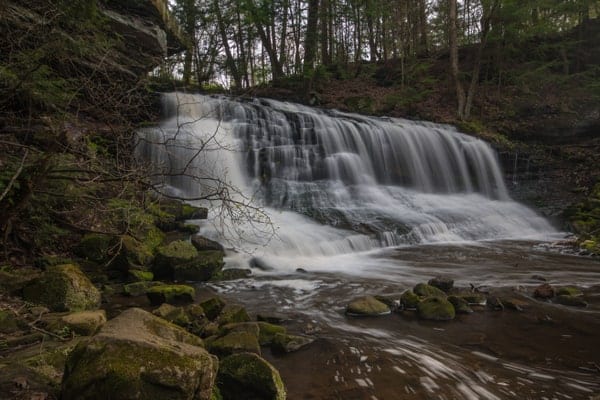 For those who do make it to the bottom, it's worth noting that the land on the far side of the stream is owned by Cobblehaus Brewing. They have a beer garden in the back that provides great access to the waterfall. Please only access their land if you are a customer and only during their operating hours.
On the far side of the stream, there are the remains of Springfield Furnace, also known as Seth and Hill Furnace after the men that built it. Built in the mid to late 1830s, this iron furnace operated until 1862.
It closed due to a lack of resources to make charcoal for the blast furnace. According to sources, this furnace once had a very large waterwheel, 38 feet in diameter, that powered it.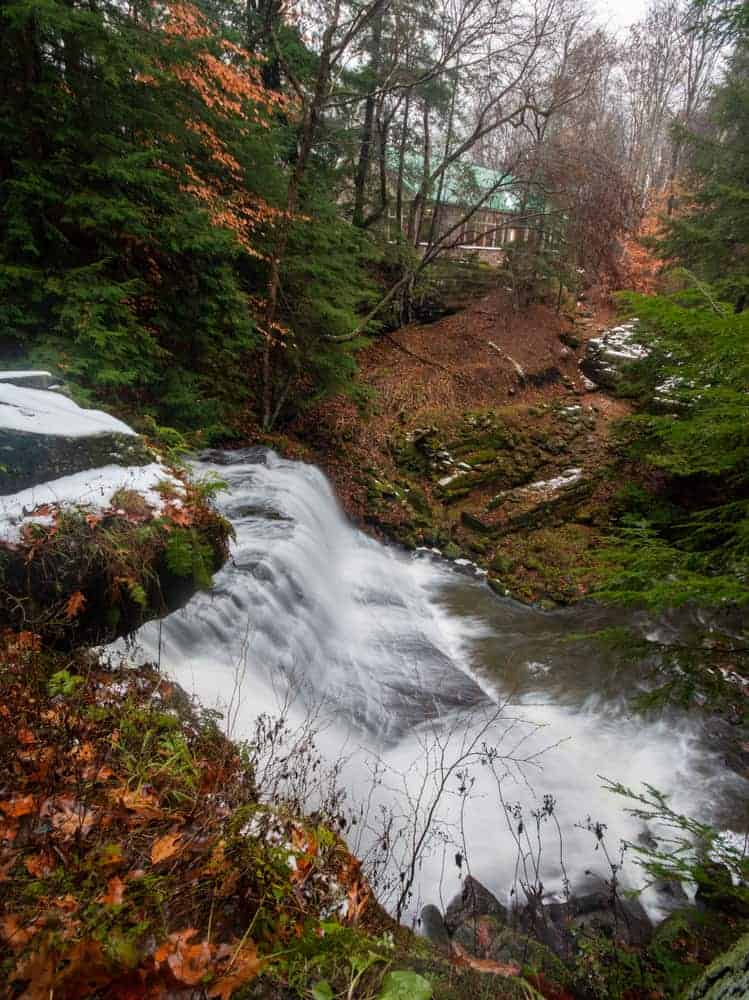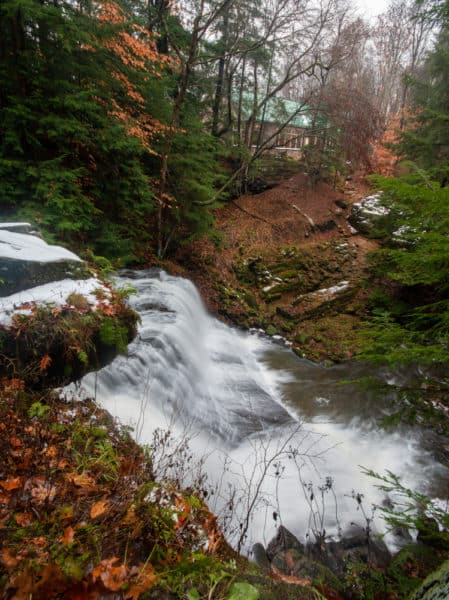 Today, just a small portion of the foundations remain. Make sure to enjoy the ruins from a distance, as I believe the furnace sits on private property.
Another interesting feature is the natural spring located just upstream of the parking area. While this spring has signs on it indicating that it is not monitored for cleanliness, there was a local man filling up several buckets during my first visit to the area. Use caution if you opt to try it, however.
Overall, Springfield Falls is a beautiful waterfall to visit that offers natural beauty, some interesting history, and easy accessibility. This should be on the list of any lover of Pennsylvania waterfalls visiting northwestern PA.
How to get to Springfield Falls in Mercer County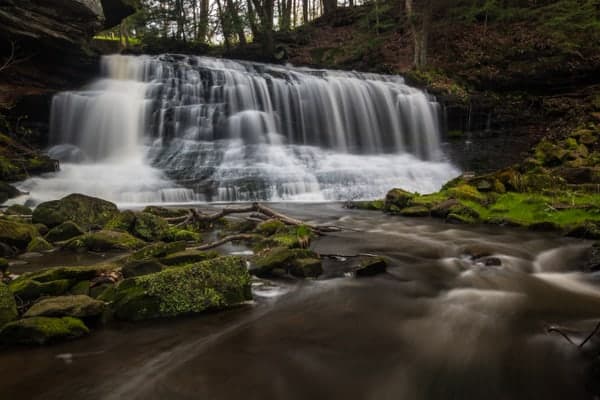 Getting to Springfield Falls in Mercer County is rather simple since it is located near the intersection of I-79 and I-80. No matter which way you come, you'll find yourself on Highway 19.
If you're driving south on Highway 19, those coming from I-80 or Mercer, you'll want to turn left onto Leesburg Station Rd. If you're driving north on Highway 19, from Grove City or I-79, you'll turn right onto the same road.
After less than a quarter-mile, Leesburg Station road will make a nearly 90-degree turn, with Falls Road going straight. Take Falls Road for a few hundred feet until you cross over the small bridge over Wolf Creek.
The dirt parking area will be on your right as soon as you cross the bridge at approximately the following coordinates: 41.143807, -80.217518.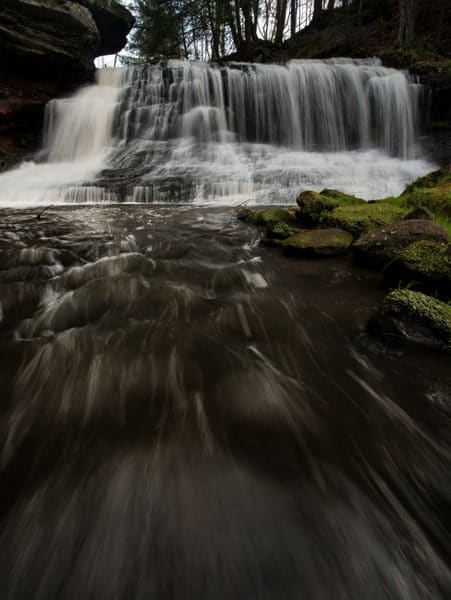 From the parking area, cross over Falls Road and follow the path to the top of the waterfall. While you can't see the waterfall from the road, you can hear it and can reach the ravine's edge in less than a minute of walking down the path.
While visiting Springfield Falls, make sure you use caution at the ravine's edge or if you decide to climb down to the stream below.
You can also access the opposite side of the stream by checking out the beer garden for Cobblehaus Brewing Company during their operating hours.
Want to see more of Pennsylvania's best waterfalls? Check out our Pennsylvania Waterfalls page!
You can also check out other great places nearby including the Falling Run Nature Trail, Harlansburg Station Museum, Air Heritage Museum, and Daffin's Chocolate Kingdom.
[Click here for information on how to use the coordinates in this article to find your destination.]
See map for other area attractions.