Disclosure: This article may contain affiliate links. We will make a small commission from these links if you order something at no additional cost to you.
Located in northern Mercer County just east of I-79, you'll find Maurice K. Goddard State Park.
The park was open to the public and named after Maurice K. Goddard. Goddard worked for the state for 24 years and is partially responsible for adding 45 state parks and 130,000 acres of land to the Pennsylvania state park system. Naming the park after him was an honor for his many years of service.
This 2,800-acre park is best known for its 1,700-acre lake, Lake Wilhelm. This lake is popular with fishermen, boaters, and hunters However, the park is also home to several nice hiking trails, most notably the Falling Run Nature Trail.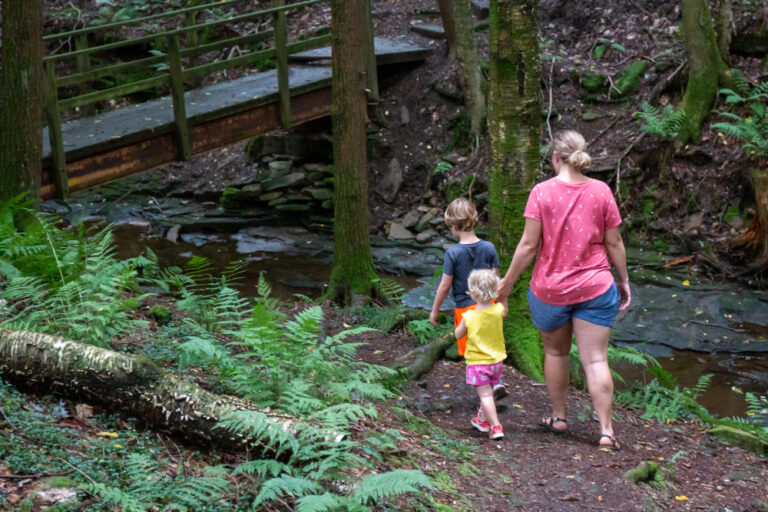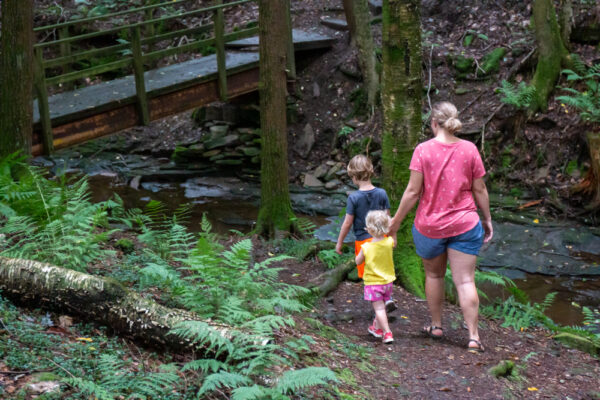 The Falling Run Nature Trail is located on the northwestern end of the park, near the interstate. In fact, if you are traveling the high, it is less than a 15-minute detour to reach this neat little trail.
This trail is relatively short, at only about three-quarters of a mile in length, and is a relatively easy hike that passes through a beautiful woodland and past some small waterfalls.
There are two trailheads for this hike located near to each other. I recommend parking at the bottom of the hill at the end of New Vernon Road. This spot can be found at the following coordinates: 41.431235, -80.158710.
This area not only provides slightly shorter access to the trail but also features many more places for you to park your car along the grassy edges of the road.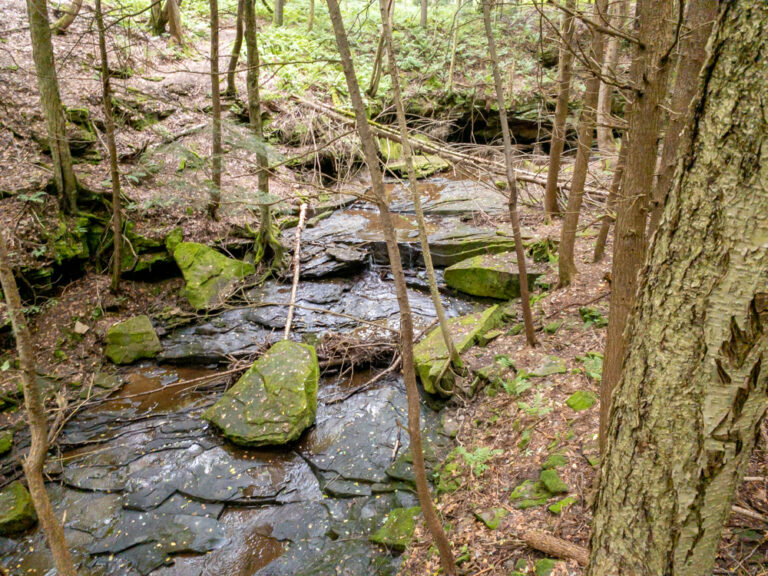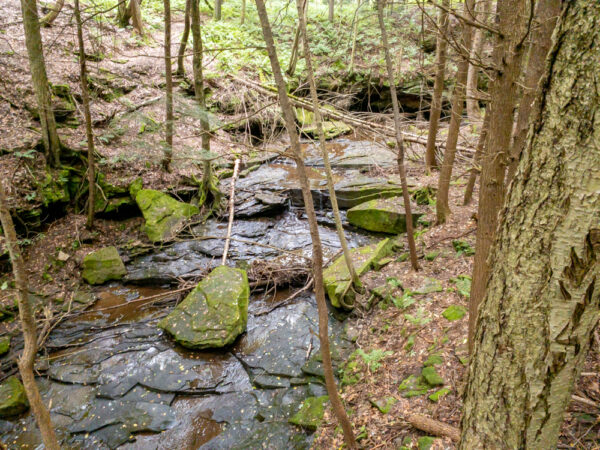 The other option is located just up the hill along Park Road at the following coordinates: 41.430958, -80.156941.
The problem at this secondary lot is that there is no clearly defined area to leave your car. However, it's worth noting that the road to the bottom of the hill and to the recommended parking area is a bit bumpy. While I was able to drive this road fine in the summer of 2020, it's possible that it might get worse and be hard to get to the lower area in the future.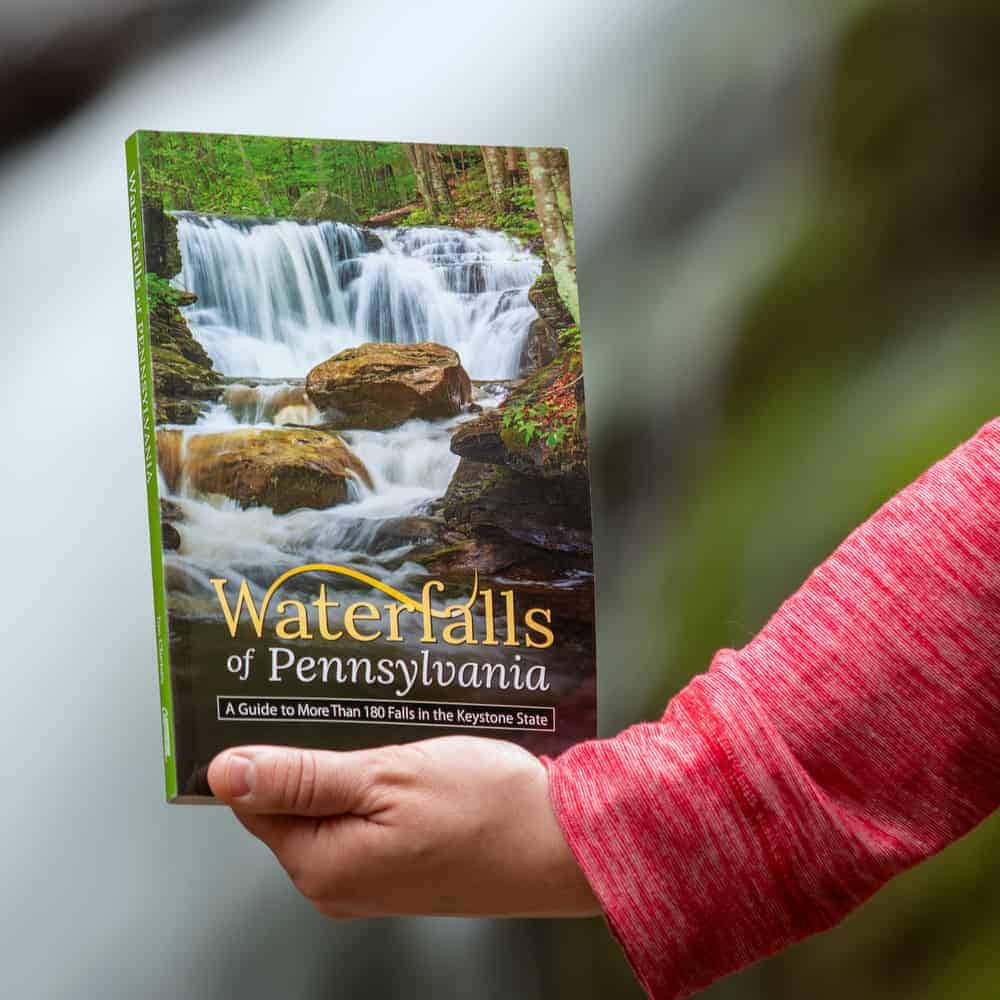 "Waterfalls of Pennsylvania" by Jim Cheney
If you love PA waterfalls, you won't want to miss this waterfall book from Jim Cheney, author of Uncovering PA, featuring more than 180 great waterfalls. Order it now on Bookshop.org or Amazon.
So, if you are unable to reach the bottom of the hill safely, park in this upper area.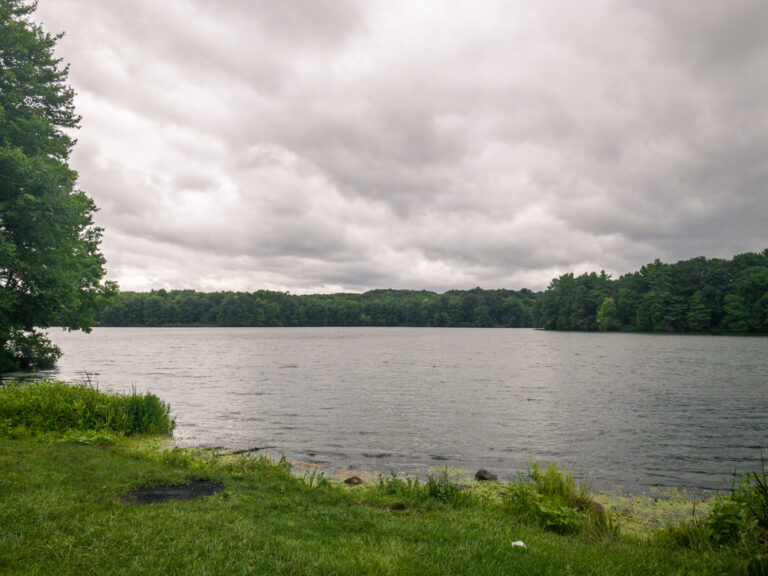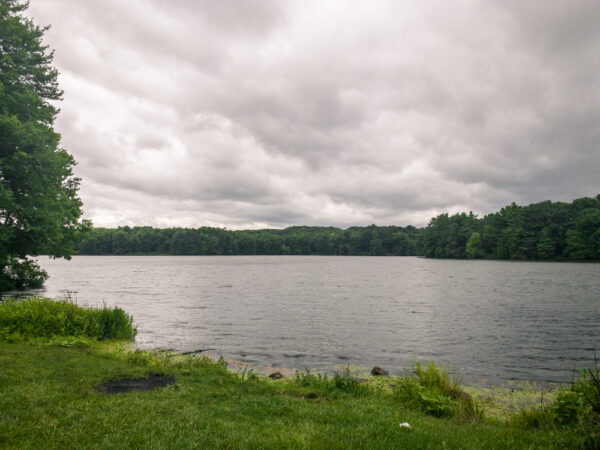 The lower parking area is located directly adjacent to Lake Wilhelm and provides nice views of this portion of the lake. While this isn't an official boat launch, it's possible you could put kayaks or canoes in at this point. You could also paddle to this parking area from elsewhere in the park, and then take a quick jaunt along the trail.
From the lower parking area, the Falling Run Nature Trail starts from the far end of the dirt traffic circle beyond two fence posts.
The trail quickly enters the woodland, and you'll soon see a path heading off to your right. At this point, you'll want to continue straight to do the trail in a clockwise direction. You'll return from your hike on this side trail.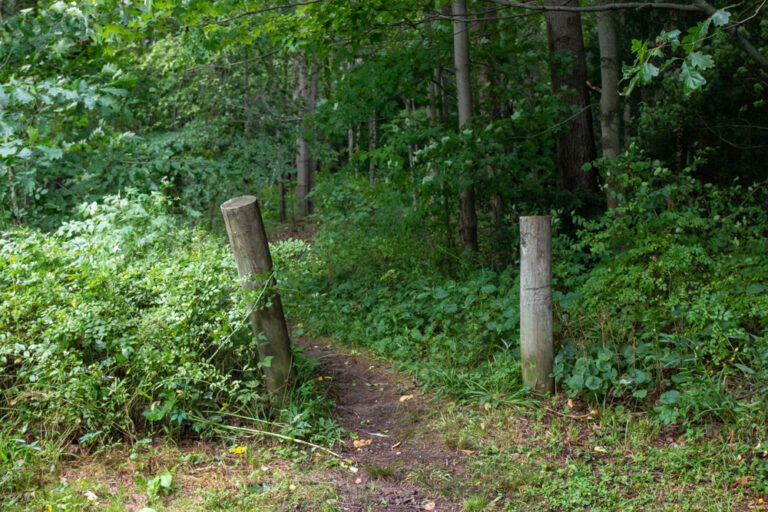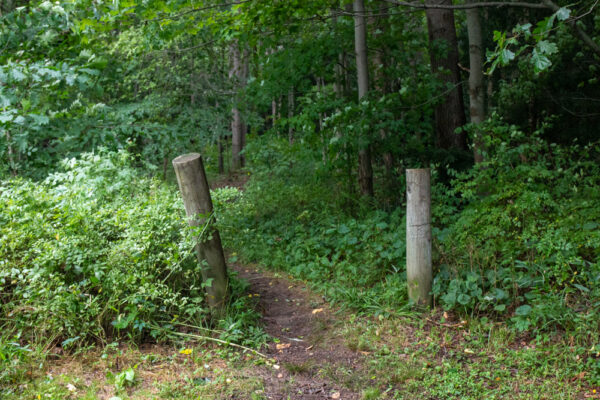 This corner of Goddard State Park is quite beautiful and is filled with tall trees. In fact, when I was hiking this trail on a cloudy day, the woodland almost felt foreboding the canopy was so thick.
After the trail enters the woods, it soon meets up with Falling Run, crossing over the stream on a nice wooden bridge. For most of the hike, the trail will follow near this stream.
Falling Run is a small stream that can often run dry in the summer months. In fact, when I visited, there was sadly very little water here.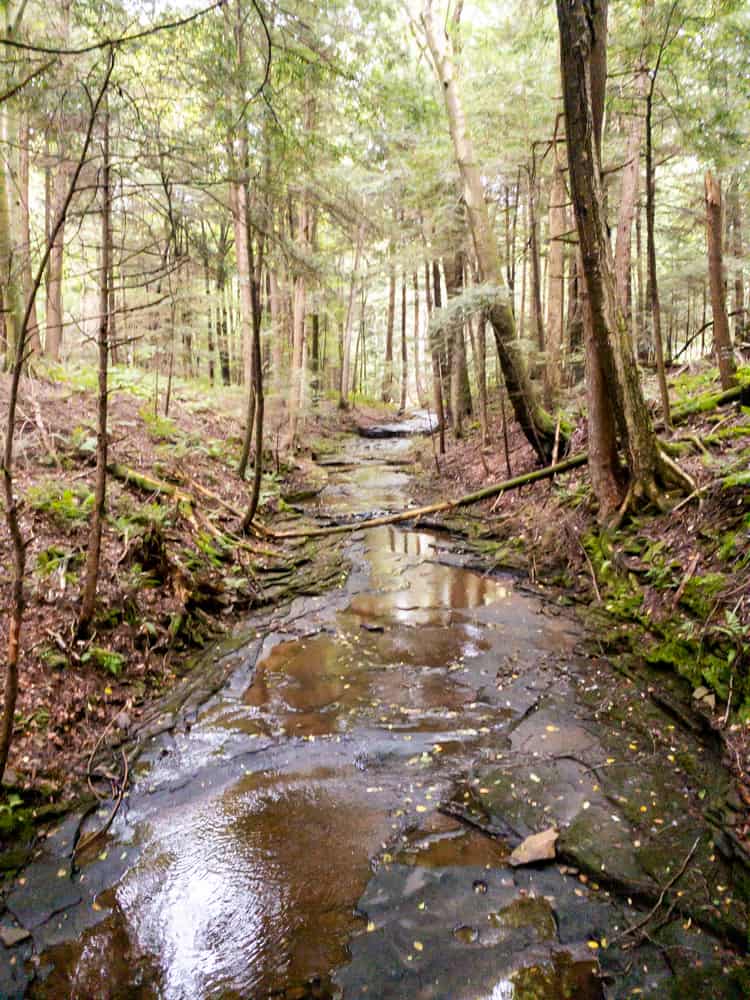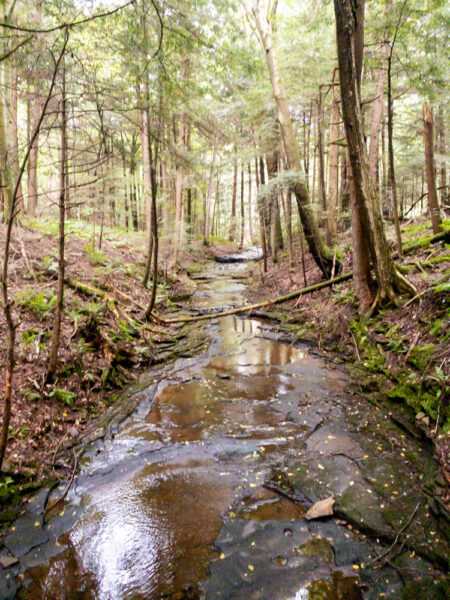 Along the trail, this stream is said to lose 90 feet of elevation in about 1,000 feet of distance along this trail.
Because of that, if water levels were higher, there is a series of small waterfalls along Falling Run. While I'd estimate the largest drop to only be about six feet in height, this is definitely a trail I'm planning to hike again in the future when water there is water in the stream.
As you continue, the Falling Run Nature Trail winds its way along the banks of the creek and is quite easy to hike. In fact, my two-year-old daughter was able to hike the entire trail by herself.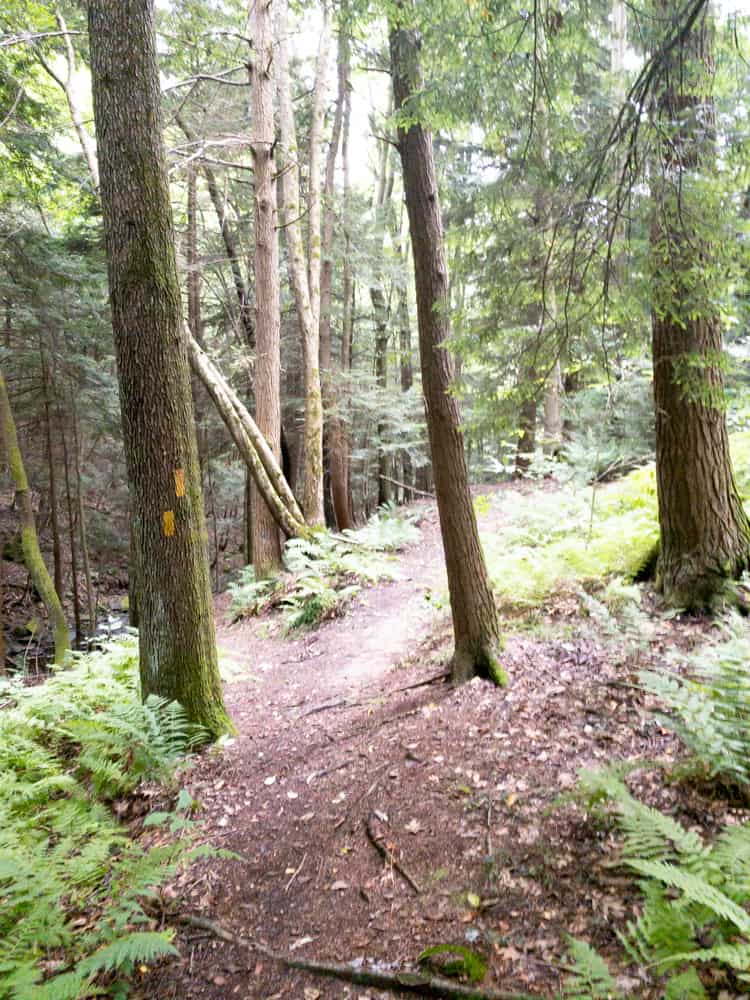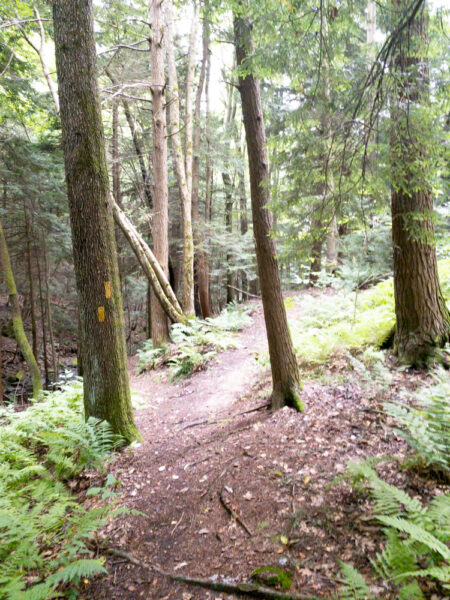 That being said, the trail isn't perfectly level and there is one small rise and one small descent along the trail. Still, it's a trail that just about anyone can hike.
Once you get about halfway through the hike, the trail crosses back over Falling Run on another beautiful wooden bridge. The trail then continues to follow the stream for a short distance until it peels away and into the woods.
Just before it leaves the creek, there is a small rock outcropping that provides nice views over the stream and looks down on the largest drop along Falling Run. If you opt to check this spot out, be careful as the hillside is a bit steep and might be slippery if it is wet.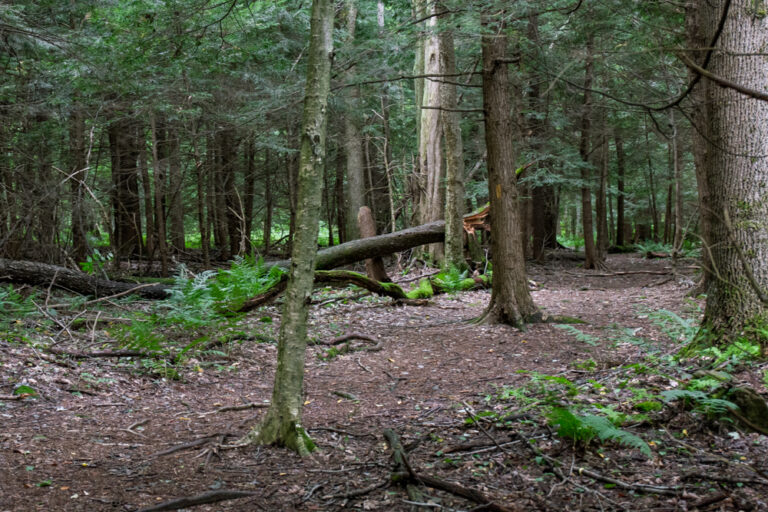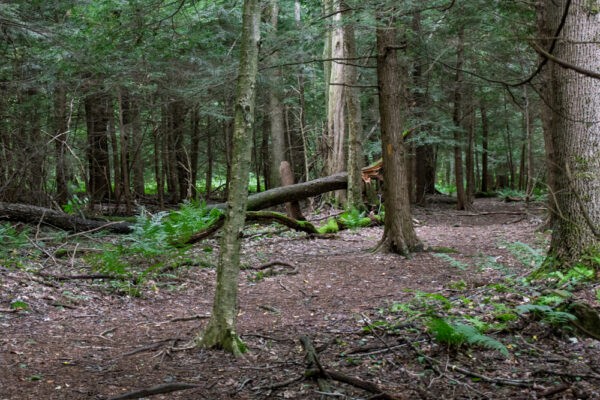 Continue following this beautiful trail through a woodland of tall trees and, in the summer months, many beautiful ferns. Eventually, you'll reach an unmarked, but obvious split in the trail.
If you go straight, you'll head towards the upper parking area. Assuming you parked in the lower lot, turn right on the trail. Then, a short distance later, turn left onto the main trail for the short walk back to your car.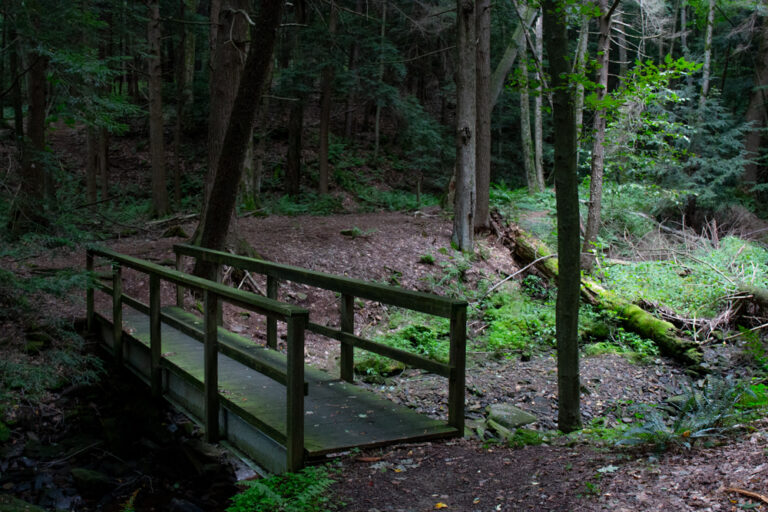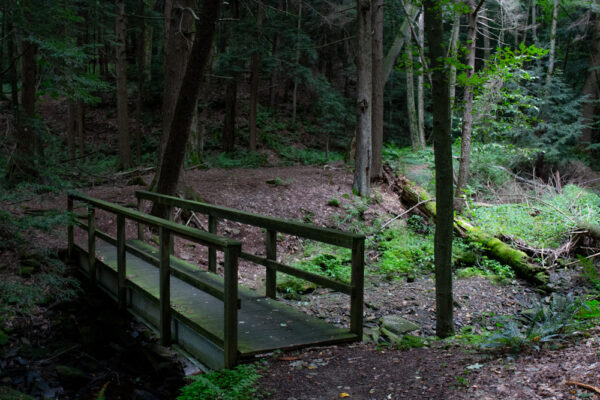 While the Falling Run Nature Trail is far from a challenging hike, it's an incredibly beautiful spot and makes for a perfect hike for the whole family in Maurice K. Goddard State Park.
The only drawback is that there is a bit of road noise from the nearby interstate. However, this trail is so beautiful that it's still definitely worth hiking even with this continuous hum.
Whether you are traveling through PA's Great Lakes Region on I-79 and are looking for a quick stop to stretch your legs, are looking for something to do while visiting nearby spots like Grove City and Meadville, or just want to see a beautiful stream that's filled with small waterfalls, the Falling Run Nature Trail is a great spot to check out.
Looking for more things to do nearby? Check out Springfield Falls, Kidd's Mill Covered Bridge, and DeBence Antique Music World.
[Click here for information on how to use coordinates to find your destination.]