Disclosure: This article may contain affiliate links. We will make a small commission from these links if you order something at no additional cost to you.
Like many people, I enjoy a good massage. Unfortunately, my budget only allows for one massage every couple of years. That's why I was especially thrilled when I was given the opportunity to get a massage at The Spa at the Hotel Hershey.
My time at the spa was unlike any other spa experience I've ever had. After checking in and filling out some paperwork (which is available on their website if you'd rather fill it out before your appointment), I was told that someone would be with me shortly to give me a tour of the facility.
Upon introductions, my attendant took me into the changing room and showed me to my locker where a pair of slippers and the comfiest robe I have ever worn were waiting.
She told me the slippers would fit sizes 5-8 and wanted to know if that was alright or if I needed a different size. I told her that my feet were a size 10, and she immediately got me a larger pair. It was nice that they offered larger sizes, so my Sasquatch feet weren't hanging off the back.
Next, she showed me around the changing room, which included bathrooms, showers, and vanities complete with hairdryers, lotion, hair products, brushes, razors, toothbrushes, toothpaste, mouthwash, and more. After a quick tour, I was told to change into my robe and slippers and meet her when I was ready.
From the changing room, she led me to a door that opened up to a beautiful foyer. She pointed out the herb-infused aromatherapy room and several quiet rooms, one of which allowed quiet conversations. All the rooms had pitchers of ice water, and one of the quiet rooms had coffee, tea, hot chocolate, assorted pastries, and of course, Hershey kisses.
After being shown around, I was encouraged to spend some time in the rooms and was told that my masseuse would find me when it was time for my massage.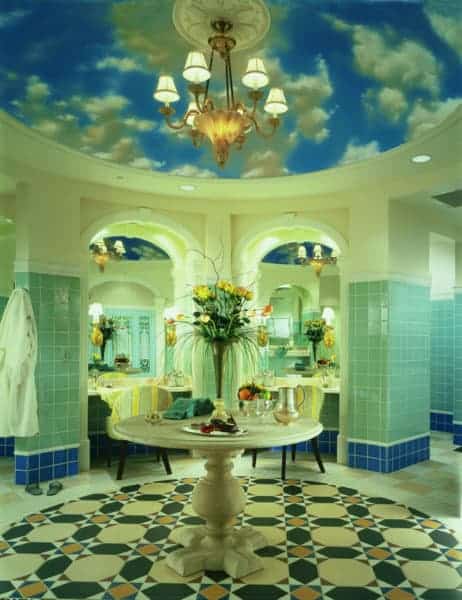 I chose a small quiet room, helped myself to some water, and sat down in a cushioned chair by a window that overlooked the grounds. They offered magazines in the room, but I chose to enjoy the quiet and unwind from my hectic morning.
By the time my masseuse, Zoi, came in and called for me, I was already quite relaxed. It was great to have those few peaceful minutes before the massage to unwind, rather than waiting until I was already on the massage table and taking up valuable massage time.
Being six months pregnant at the time, I elected to get a prenatal massage. Having never had a prenatal massage before, I was a little wary how relaxed and comfortable I would be able to get. I know that some prenatal massages are given with the client lying on her side, and that sounded awkward to me.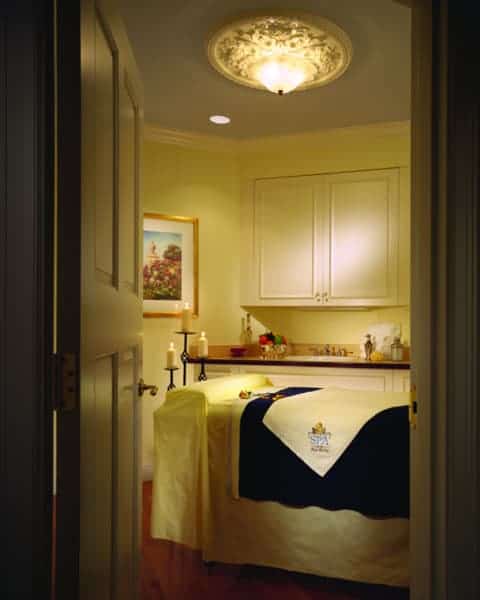 I was pleasantly surprised when my masseuse told me that I would be on my stomach and back, and showed me the special prenatal massage table with room for expanding bellies. She explained that it would be very similar to a traditional Swedish massage, with the exception of less pressure around the stomach.
Before leaving so I could disrobe, my masseuse let me smell three different oils and pick the one I wanted her to use. Being that this was The Spa at the Hotel Hershey, I went with the chocolate one.
After my extremely relaxing and enjoyable 50-minute massage, my masseuse encouraged my to spend some time in one of the relaxation rooms. I took her up on that and chose the one with the food (I was pregnant, after all!), where I had a delicious chocolate muffin. This quiet room was substantially larger than the one I was previously in and even had a balcony if I wanted to enjoy my tea and pastry in some fresh air.
The Spa at the Hotel Hershey does a fantastic job of ensuring you are in a relaxed state before, during, and after your massage. A 20% service charge is included in the price, which is actually really nice so you don't have to awkwardly dig up cash at the end of your massage.
You are also encouraged to take advantage of the fitness center and indoor pool, which are complimentary for all day spa guests. Even if you only book one spa service, it would be easy to spend half a day there with all the extra benefits they provide. While the price for services may be slightly higher than your average spa, the experience at The Spa at the Hotel Hershey is worth every penny.
To find out more about visiting The Spa at the Hotel Hershey, visit their website.
Note: Spa services were provided by the Hershey Harrisburg Visitor Bureau in order to facilitate this review. However, the opinions expressed in this article are the author's and were not subject to review. All photos are used courtesy of The Spa at the Hotel Hershey.
While in Hershey, find out more about the man behind the town at The Hershey Story.
See map for other area attractions.