Disclosure: This article may contain affiliate links. We will make a small commission from these links if you order something at no additional cost to you.
Tucked a few miles outside of downtown Pittston, Pennsylvania, is a warehouse. From the outside, this warehouse is no different than the thousands of others in Pennsylvania. However, if you happen to spot the sign outside this unassuming warehouse, you'd be clued in to the secret within; this Luzerne County warehouse is home to a brewery.
Susquehanna Brewing Company, or SBC as they are often known, opened to the public in 2012. However, the family's history in the brewing business goes back much further: six generations in fact.
In 1849, after working in some of the largest breweries in Germany, Charles Stegmaier immigrated to the United States. Stegmaier quickly got a job as a brewer, and in 1851, he brewed the first batch of beer in northeastern Pennsylvania. In 1857, Stegmaier and his father-in-law opened Baer and Stegmaier Brewing Company in Wilkes-Barre.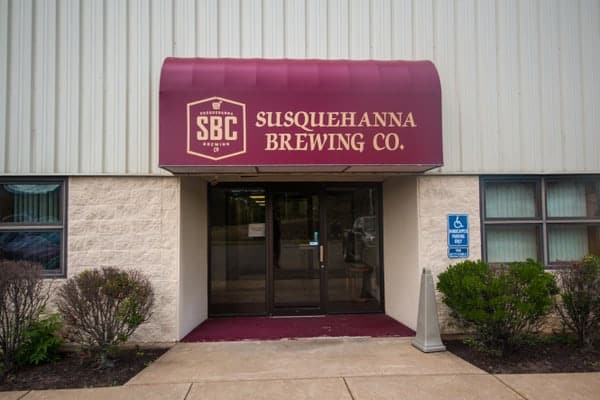 The family would continue brewing beer, minus a short break thanks to prohibition, until closing Stegmaier Brewing Company in 1974. Upon closing their brewery, the family opened a beer distributor. Eventually, this distributorship would lead them to operating out of a large warehouse on the outskirts of Pittston.
Deciding that they wanted to get back into the beer brewing business, the family sold their distributorship in 2010 and started the process of opening Susquehanna Brewing Company, which operates out of their old distributing warehouse.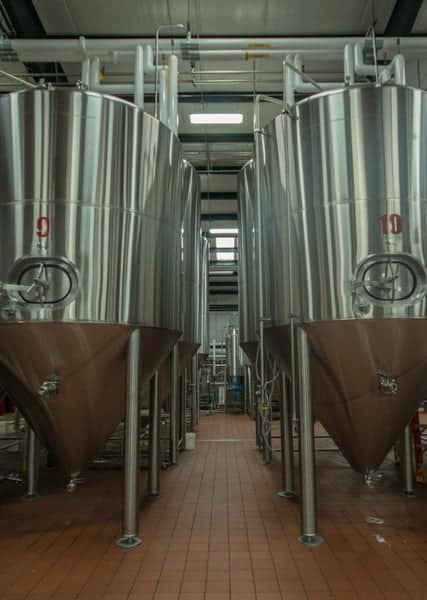 Today, Susquehanna Brewing Company brews a great mix of beers ranging from hoppy IPAs to shandies. In fact, their Shady Spot Shandy, a lemonade/beer mixture, won a gold medal at the 2016 World Beer Cup, one of the most prestigious beer competitions in the world. Even as someone who considers himself a bit of a beer snob and doesn't typically enjoy shandies, I have to admit that theirs was very, very good.
What I love about Susquehanna Brewing Company is that they make good beer that doesn't feel pretentious in the slightest. In my mind, their beer sits somewhere between Yuengling and some of Pennsylvania's finest craft beers. While its awards show that it is capable of competing with the best of PA's craft breweries, their pricing and working-class feel makes this feel like much more of a beer for everyone.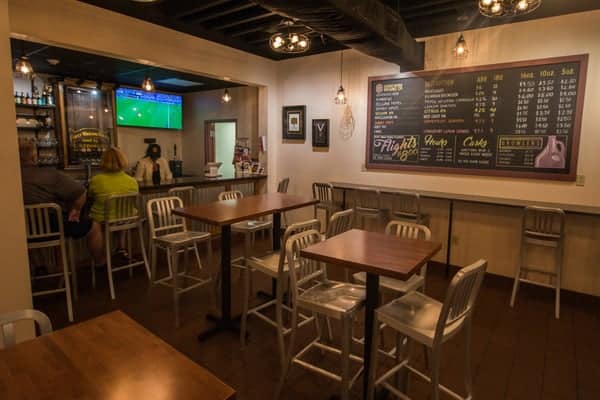 In late 2015, Susquehanna Brewing Company opened a small tasting room inside their brewery. This no-frills bar features room for only a few dozen. There are a few TVs on the wall playing the latest sports games and a wall devoted to SBC merchandise. Opposite the bar, a large window looks out over the brewery.
The bar features all of SBC's regular beers, as well as seasonal brews and beers that can only be found here. In an homage to their brewing past, the first wagon used by Charles Stegmaier to deliver beer in 1857 is prominently displayed behind the taps.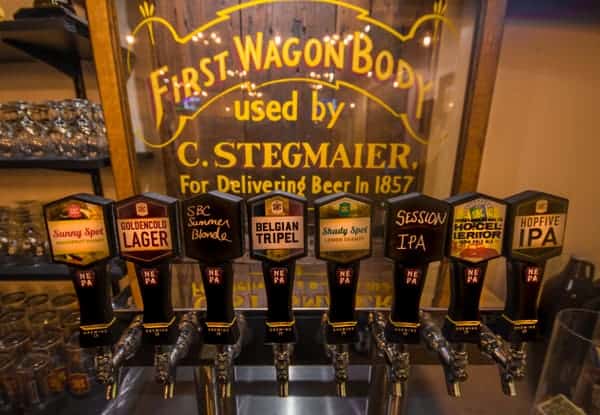 Tours of Susquehanna Brewing Company are offered on weekend afternoons. These free tours take visitors through the process that SBC uses to brew their beers, and even includes samples of their delicious beer.
Whether you consider yourself a beer snob or have been wanting to dip your toes into the world of craft beer, a visit to Susquehanna Brewing Company in Luzerne County should be on your list of places to visit in PA.
Their beer is delicious, but without the pretentiousness that sometimes turns people off of other craft breweries. Fittingly, their tasting room and tours feel much the same way and makes the perfect stop for anyone that loves beer, no matter what your favorite brand.
Looking for more to do in the area? Check out our favorite places to visit in Luzerne County, PA.
---
Susquehanna Brewing Company
Tasting Room Hours: Sunday-Tuesday: 12pm-8pm
Wednesday-Saturday: 12pm-10pm

Tour Cost: Free

*Tours offered every Saturday at 2pm

Website: SBCBeer.com

Address: 635 South Main St
Pittston, PA 18640
See map for other area attractions.
---